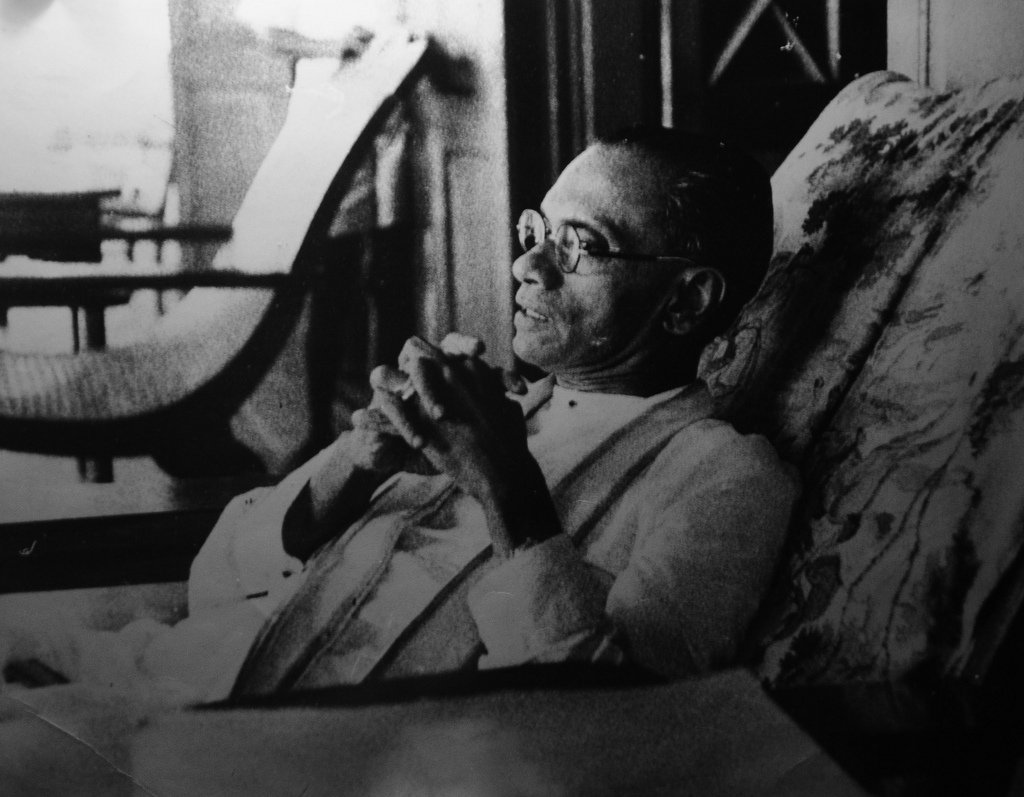 History teaches us of the accomplishments of past politicians, but rarely do we catch a glimpse into the private lives and hobbies of these men and women—not unless we pick up a bulky biography and spend time patiently perusing the pages! While many of our past politicians are known for laying the foundation for the nation state that came to be known as Sri Lanka, we know little of what they did to rest and relax in their spare time. Here we take a look at some of the non-political hobbies enjoyed by some of the leaders of the past decades.
'Father of the nation' Don Stephen Senanayake, who led the country to Independence, formed the United National Party (UNP) and was appointed the first Prime Minister of Ceylon. He was said to be never studious in school, preferring instead to play sports.
Educated at  S. Thomas' College, Mutwal, Senanayake wrestled and also played cricket. He played cricket for the prestigious Royal-Thomian and later for the Sinhalese Sports Club (SSC) and Nondescripts Cricket Club (NCC).
He also enjoyed horse riding. In fact, it was while riding the police mare 'Chitra', together with Inspector General of Police Richard Aluwihare and Cabinet minister G. G. Ponnambalam, on March 21, 1952, that he suffered a stroke that led to his death at the Colombo National Hospital several hours later.
Aluwihare, who had been riding some way behind the Prime Minister later said that he has seen the Premier lilt in an uncharacteristic fashion, and then fall off the horse. Uncharacteristic—because D. S. Senanayake was known to be a fine horseman.
D.S. Senanayake's son Dudley, who was appointed Prime Minister of Ceylon after his father's untimely death in 1952, excelled in sports and studies while at school. He engaged in hockey, boxing, athletics and cricket—going on to captain the college team at the prestigious Royal-Thomian cricket encounter. He was also awarded colours for hockey, boxing, and athletics at S. Thomas' College, where he had his education.
In later years , he took up golf and photography. An oft told anecdote exemplifying Dudley's humble nature is of how he apologized for his misdeed when stopped by a policeman while speeding in his modest Triumph Herald, on his way for a round of golf. During his stint as Agriculture and Land Minister, he was often seen in rural areas, his camera slung over his shoulder. Dudley, who enjoyed music and reading, also enjoyed eating and had a voracious appetite.
UNP break-away member and founder of the Sri Lanka Freedom Party (SLFP), S. W. R. D. Bandaranaike was said to be fond of cricket and tennis, as well as photography, music and reading and writing. He played cricket and tennis for his alma mater S. Thomas' College, and enjoyed photography, music and reading as a private pursuit. His writing was another story—in 1925, after spending six years away at college in Oxford, London, S. W. R. D. Bandaranaike returned to co-edit the 'Island Review' together with J. Vijayatunga. In 1926, he published The Kandy Perahera. He later wrote The Mystery of the Missing Candidate, a story about the life of a political candidate, Sunil Rajapakse, in the run up to an election, and styled his protagonist  John Ratsinghe as a Sherlock Holmes-type sleuth in The Horror of Mahahena and The Adventures of a Soulless Man.
Third Prime Minister of Sri Lanka, Sir John Kotelawala was known for his prowess in the military, moving up the ranks from Second Lieutenant in 1922 to Major in 1933. But Sir John was also known for his love of social gatherings and often hosted parties in his home in Kandawala.
In fact, in 1955, a barbecue hosted at his home came under censure, after news that a calf was roasted at the party caused furore in our Buddhist majority country. It was unfortunate that 1955 was the year that marked the 2500th commemoration of the passing of the Buddha, and religious fervour was at an all time high.
Sir John Kotelawala and the other UNP elites were contemptuously referred to as 'brown sahibs' by S. W. R. D. Bandaranaike who broke-away from the UNP to form the SLFP—primarily because they lived a 'Western' styled life,with whisky, ballroom dancing and race-going far removed from the Sinhala-speaking masses.
Sir John Kotelawala openly flaunted 'jodhpur pants' and commissioned 'exotic dancers' from the Middle East to his parties and it was these stark differences that precipitated the UNP's fall in the general elections of 1956.
A popular political cartoon from the time, the Mara Yuddhaya depicted the UNP characterized by an elephant and followed by drinking, ballroom dancing UNPers attempting to disturb the Buddha sitting in Samadhi under a bo tree.  The calf roasted at Sir John Kotelawala's party is also depicted in the cartoon.
Junius Richard Jayewardene, the second President of Sri Lanka, serving from 1978 to 1989, is known for introducing the executive Presidency under an amended Constitution to the country. J. R. Jayawardene was educated at Royal College in Colombo and excelled in both his studies and sports. In 1925 he made his cricketing debut at the Royal-Thomian cricket fixture and later captained the Royal rugby team at the annual Royal-Trinity (Bradby) encounter. Even while reading for a degree in English, Latin, Logic, and Economics at the University College, Colombo in 1926, Jayawardene showed a keen interest in sports.
J.R. Jayawardena was also an avid reader. His son Ravi Jayawardene reminisces in an interview with the Daily News that his father spent long hours reading on varied topics, and taught him that reading was a good habit—"You will never be lonely when you are old, if you are a reader," his father had said to him. In fact, at his death in 1996, he was reading the biography of General Patton.
Ranasinghe Premadasa, the second executive President of Sri Lanka, who was accorded the highest award to a civilian—the Sri Lankabhimanya—in 1986, spent a great deal of his time engaged in social work. As a young man, he founded the  Sri Sucharitha Movement, a volunteer organization that sought to uplift the economic, social and spiritual development of low-income families living in 'shanty' areas in Colombo. He also organized community development projects in these areas and encouraged youth who joined his development movement to desist from partaking in alcohol or smoking or gambling. In his later political life, too, Premadasa worked towards the upliftment of the 'downtrodden masses'. But he was also a poet and gifted lyricist. Premadasa lent patronage to 'ATHAKASA'—the Aganuwara Tharuna Kavi Samajaya (Colombo Young Poets' Association), springing out of his seat on one occasion during the 50th anniversary celebrations of ATHAKASA in Embilipitiya in 1985 to recite impromptu, "No one can claim that he or she is a poet just because he or she had composed four lines of words. A poet should necessarily have a fertile imagination, which could come only by having good habits and human qualities, only such a person could be a good poet". The lyrics Premadasa wrote were also incorporated into well-known Sinhalese songs like Samanala Mudune and Dagab Maha Waw.
Cover: Leader of the Sri Lanka Freedom Party S. W. R. D Bandaranaike. Image courtesy: dbsjeyaraj.com
Editor's note: An earlier version of this article had a typographical error that stated that J. R. Jayawardene was in university in 1962 rather than 1926.