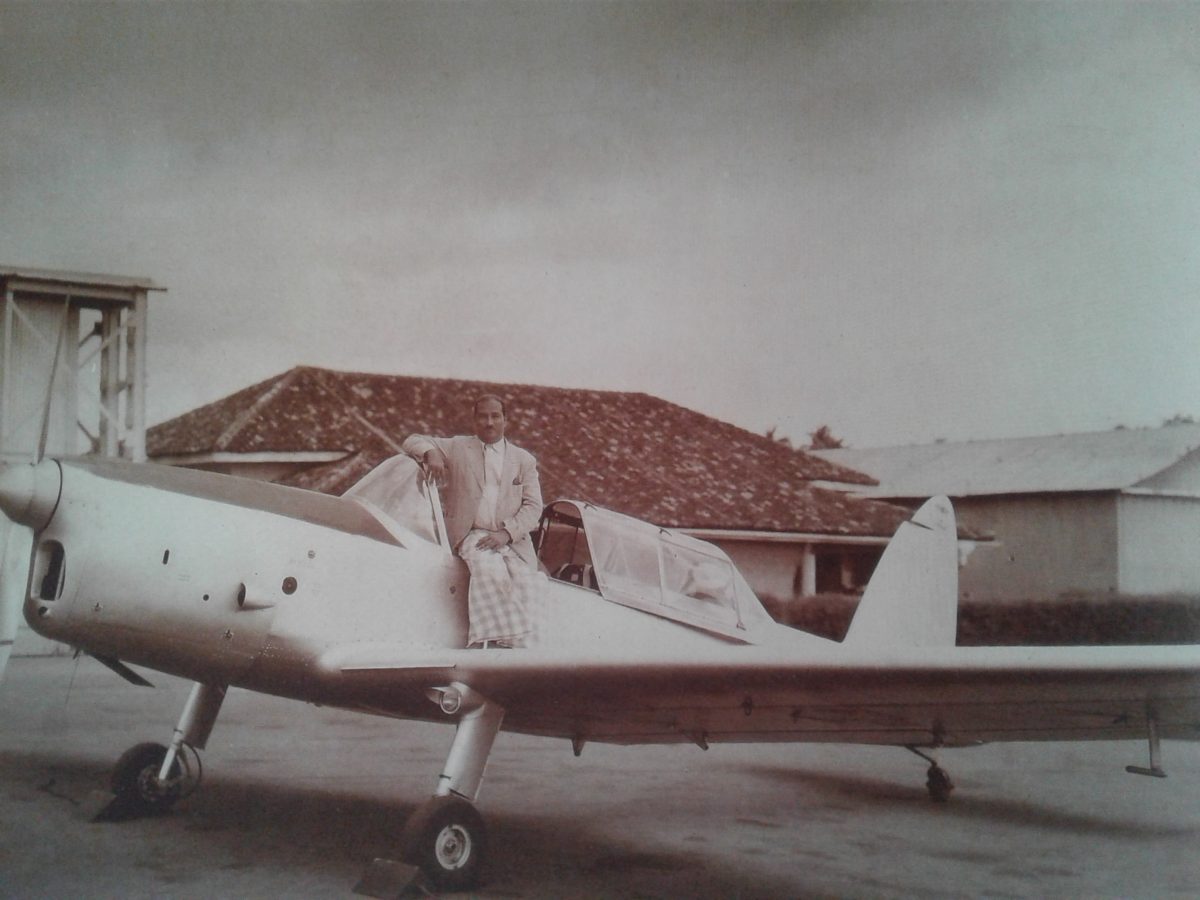 When you read of futuristic supersonic bombers capable of out-racing missiles, or see pictures of billion dollar spaceship-like stealth aircraft, it's pretty hard to imagine a time when the idea of powered flight was nothing but the stuff of fantasy.
For centuries, the concept of flying belonged to dreamers like Da Vinci, and myths like Icarus and Ravana's legendary flying machine. Then in 1903, the Wright brothers achieved the incredible with that famous 120-second flight in Kitty Hawk and threw open a whole vista of new dreams and possibilities. Aviation has not looked back since. In this day and age, aviation has skyrocketed to unimaginable heights, creating high-tech flying machines that Orville and Wilbur Wright would never have imagined in their wildest dreams.
While we may not have any hypersonic fighter jets sitting in the Ratmalana Airport, Sri Lanka too has seen remarkable growth in its aviation sector over the years. We have a national carrier that operates to over 94 destinations in 44 countries and a thriving international airport. Domestic flying now flourishes, with the country boasting numerous domestic land and water aerodromes, and new flying schools continue to produce batches of fledgling aviators each year. Of course, it hasn't always been smooth flying; the separatist war, for instance, greatly constrained civil aviation for three decades, and just within this year, not only did we learn of our national carrier's woeful 128 billion rupee loss, but we also saw Mihin Lanka nose-dive into closure. Nonetheless, in spite of the pockets of turbulence sometimes encountered, our little island's journey in aviation is nothing to sneeze at.
Few people outside aviation circles know much about the country's aviation sector or its fascinating journey through the years. Here are few little-known facts about the history of Sri Lanka's aviation which you might find interesting:
1. The Sri Lankan aviation scene is more than a hundred years old
Not many people are aware of the fact that as this year draws to an end, the Sri Lankan aviation scene will be celebrating its hundred and fourteenth birthday.
On December 7, 1912, just nine years after the Wright brothers made history with the first manned, powered flight over the wind-swept beaches of Kitty Hawk, Sri Lanka saw its own humble aviation story quite literally take to the skies. Two Frenchmen, Georges Verminck and Marc Poupre, became the first men to successfully complete a safe, powered and controlled flight in Ceylon's airspace when they rolled on the grassy Race Course Grounds of Colombo (of course, there were no airports back then) and took off into the glorious Lankan skies more than a hundred years ago.
The French pilots flew two Bleriot monoplanes christened La Curieuse and Rajah, and are said to have completed many flights, putting on a series of aviation 'exhibitions' which must have drawn crowds back then when flying was still a relatively new and fascinating concept. However, it is interesting to note that the governors of Ceylon were not very happy with these pilots' exploits. Apparently, they suspected them of aerial spying, and even impounded their airplanes for a while!
2. The first man to take off into Sri Lankan skies crashed ‒ more than once
The two Frenchmen may have been inscribed into the annals of Lanka's aviation history as the first pilots to successfully take off, fly, and land an aircraft on the island, but there was actually someone else who attempted to conquer the Ceylonese skies long before they did.
On Christmas day in 1911, in what must have been a well-patronised event in colonial Ceylon, a German pilot named Franz Oster climbed into the cockpit of his Etrich Taube monoplane and took off into the skies, establishing himself as the country's pioneer of flight. However, though his take-off was successful, the same can't be said of his flight; he lost control of the plane and crashed, in what was probably a disappointingly ignominious ending to a much-hyped affair. Moreover, records show a total of two more take-offs and crashes altogether ‒ in the last of which he was supposed to have run into a bamboo pole protruding from the Royal College building!
Still, we mustn't be too quick to judge poor Herr Oster; it was a time when aviation was still in its infancy, its progress littered with self-taught pilots, failed flights, injuries, and crashes. So let's take our hats off to the intrepid pilot anyway for being brave enough to keep doggedly venturing into our skies.
3. A little fighter plane called The Jaffna flew the war-stricken skies of World War I
Not only did the outbreak of the First World War bring an end to all pleasure in flying on a global scale, but it also saw a sudden standstill to Ceylon's newly founded foray into aviation. However, while Ceylon's skies remained silent, and aviators around the world began focusing on fighter planes and bombers, there is a fascinating story about a small group of Jaffna Tamils who had migrated to colonial Malaya. In spite of their modest means, they decided to offer their own small contribution towards the war effort of the British Government by sponsoring the cost of a little two-seater fighter plane. They christened it The Jaffna, in honour of the homeland they left behind.
Technically speaking, this doesn't really have anything to do with the country's aviation, but it is nice to know that back then in some battle-ridden sky in a distant part of the world, there was a little bit of Ceylon up there too.
4. Ceylon's early air traffic controllers stood on the beach and waved flags
When you speak of air traffic control (ATC), the image that comes to mind is probably one of a bunch of people with headphones sitting in front of high-tech consoles and watching blinking luminous blips moving across a RADAR screen. But did you know that we have had air traffic control as far back as the 1930s?
Of course, there were no fancy towers and screens back then. Instead, the 1930s air traffic controller of Ceylon directed air traffic by simply standing on the beach ‒ and waving flags.
That's right ‒ long ago ATC was done with flag waving, along with a little help from Morse code and lights. The method was crude at best, but it was effective. Since the main route taken by aircraft at the time was from Madras to Colombo, the Indian controller would stand somewhere along the Southern coast of India, while his Ceylonese equivalent would be across the Palk Strait on the coast of Mannar. Morse code messages sent on the departure of the flight from Madras let him know approximately when to expect the aeroplane. On sighting the aircraft (which typically flew low and did a 360 degree turn to ensure it is spotted), he would wave his flag, and then convey a Morse Code message to the airports in Madras and Ratmalana, as well as the Ceylonese controller, who then did his own flag waving when the aeroplane was sighted. On reaching Ratmalana, authorisation to land was given to the pilot with signal lights or flare signals.
Of course in this day and age, with the skies nearly as busy as the roads, an air traffic controller could hardly get by with waving flags on the beach. The present day air traffic controller is the 'tower man', sitting in his high-tech enclosed room in the control tower and watching moving blips travel across screens as he guides aeroplanes to safety. Only one thing remains unchanged ‒ just like it was back then, there would be no aviation if not for the air traffic controller keeping vigil over the skies.
5. The first national carrier of our country was Air Ceylon
While nearly every Sri Lankan knows of Sri Lankan Airlines' predecessor Air Lanka, not many are aware that we had another national carrier before that, one which was established as far back as the late 1940s.
In December 1947, just a few months before the country gained independence, Ceylon's new airline, Air Ceylon, saw its first international flight take off from the Ratmalana Airport with its cargo of passengers. The flight, which was headed to Jaffna and then Madras, and was due to return the following day, was a success, and greatly celebrated by a country that was nearing the end of its colonial occupation.
The new airline started off with three second-hand Dakotas which were christened after Ceylon's ancient female royals, Sita Devi, Viharamaha Devi and Sunethra Devi, with most of the pilots being Ceylonese fighter pilots trained by the RAF. Initially starting off with international flights to Madras and Trichinopoly, the fledgling airline gradually expanded its number of destinations to include places like Sydney, Jeddah, and Maldives.
Sadly, in spite of ‒ or because of ‒ partnering with business giants like Australian National Airlines, KLM and BOAC, Air Ceylon was eventually forced to shut down due to bankruptcy. The national carrier had managed to proudly stay airborne for thirty-two years without any fatalities on its record.
6. Ceylon produced the first ‒ and probably only ‒ pilot to fly a plane in a sarong
And no, we aren't pulling your leg.
Back then, when the world of flying was reserved for only the 'elite', upper-class folk from wealthy, English speaking families, the idea of a village mudalali in a sarong flying an aeroplane must have been laughable. Yet it happened, and buried in the annals of aviation is the story of one intrepid man who defied all social norms and obstacles to reach his dream of becoming a pilot.
Paulis Appuhamy was a 'bus mudalali'. He wore a sarong, shirt, and coat, walked barefoot and wore his hair in a knot at the back of his head like a typical native villager. He spoke no English. However, when he turned up at the Ceylon Air Academy in Ratmalana amidst snide looks and scoffs, the instructors decided to look beyond his native bearing and take a chance on him. Their faith in him paid off ‒ Paulis Appuhamy went on to get his Private Pilot License (PPL) in 1953, shattering all notions of stereotype and social barriers and becoming the first (and as all evidence points to, only) pilot to fly a plane in a sarong!
7. The first batch of commercial cargo to be transported by air from Sri Lanka was vegetables
Air cargo operations are now a thriving industry. Sri Lankan Cargo, the cargo segment of the national carrier, transports over 200,000 metric tons of cargo each year to various destinations around the globe. Whether it concerns sending consignments of Ceylon tea out into the world or transporting a batch of books to a relative across the globe, sending goods overseas has never been as easy, quick, and hassle-free as it is today. But where did it all begin?
While Ceylon saw its first official air mail flight (a special flight carrying Christmas mail collected in India) in 1936, commercial air cargo operations in Sri Lanka were commenced by Air Ceylon, way back in the nineteen sixties. And the first goods to have the honour of crossing the ocean by air were… vegetables. That's right; the earliest consignment of cargo sent out of Sri Lanka was recorded to be batches of veggies sent out to the Maldives Islands where many Sri Lankans worked as teachers and in other posts. It's a bit unexciting if you were expecting something exotic or romantic, but it's interesting to compare those early deliveries of cargo to the thousands of different goods that fly their way in and out of Sri Lanka in this day and age.
The Sri Lankan Government once identified aviation as one of the main centres for economic growth, with all the potential to make the country an aviation hub in the region. Disappointingly, things have not been looking too promising lately with the recent debacles of SriLankan Airlines' colossal losses and Mihin Lanka's termination still fresh in everyone's minds. Still, there is hope; not only do we have a strategic geographical location, but we've also got a hundred and four years' worth of lessons learned and stories to draw inspiration from. With careful planning and tactical navigation, Sri Lankan aviation should be able to take off and reach for the skies, burgeoning into a thriving, prosperous industry.
Information sourced from A Centenary Sky by Capt. Elmo Jayawardena