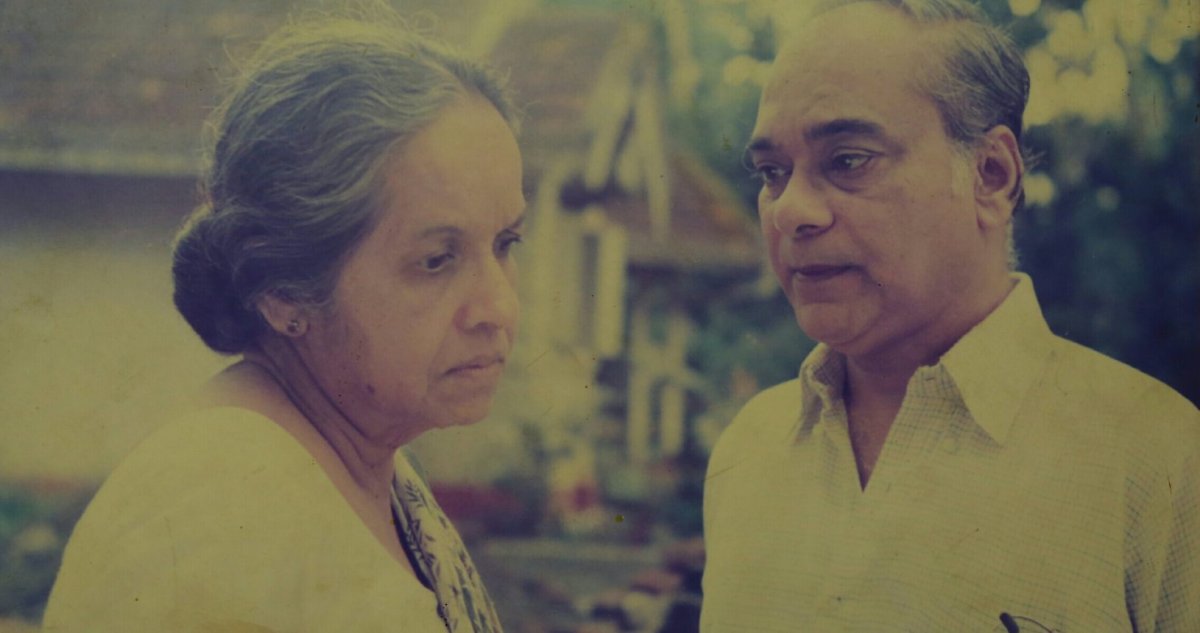 It was only 39-years ago that television was introduced to the tiny isle of Sri Lanka. Businessmen Anil Wijewardene and Shan Wickremasinghe established the country's first television station—the Independent Television Network (ITN), which started broadcasting on April 15 , 1979.  ITN remained independent for two monthly only, before the government of Sri Lanka, under the aegis of President J.R. Jayawardene, took over the station on 5 June 1979. Sri Lanka's second state-owned television station—the Sri Lanka Rupavahini Corporation (SLRC)—was established on 15, February 1982. Since then, Sri Lanka has added many private television stations to her portfolio, on which a number of teledramas, films, and other programmes have been broadcast to mass public appeal. But some teledrama series are little better known than others. Here is a list of seven of the most iconic teledramas in Sri Lanka's television history.
1. Dimuthu Muthu
'Dimuthu Muthu' receives the honour of being Sri Lanka's first teledrama and South Asia's first 'colour' teledrama. Directed by the legendary D. B. Nihalsinghe, a pioneer in professional television production, the series aired on Rupavahini in 1982. With a cast that included Devika Mihirani, Amarasiri Kalansuriya, Navanandana Wijeysinghe and Chitra Wakista, the story revolves around a girl named 'Nanda' (played by Mihirani), and portrays the strength of love, compassion, and traditional village values.
2. Palingu Menike
'Palingu Menike' was the first teledrama produced by a newly formed 'Teledrama Division' of the Sri Lanka Rupavahini Corporation. Directed by Dhamma Jagoda, with Somaweera Senanayake as scriptwriter, the series was written in 1984 and telecast in 1985.
With a cast that included Rohana Beddage, Sriyantha Mendis, Jackson Anthony, Menike Attanayake and Anura Bandara Rajaguru, the story revolves around a traditional village dancer in the Southern province (played by Rohana Beddage) and a man called Surasena (Sriyantha Mendis) who comes to the village after making money in the city. According to Somaweera Senanayake, the subtext of the teledrama series was on how the open economy affected the traditional values of rural society. The series, which ran into 18 episodes, was wildly popular and has been re-telecast ten times in the past 33 years, a testament to its enduring appeal.
3. Kopi Kade
'Kopi Kade' is currently the longest-running teledrama series in Sri Lanka. Originally telecast on 1 April 1987, the series is still aired on the ITN on Wednesdays. Conceptualized by Thevis Guruge and Andrew Jayamanne, and initially directed by  Janaka Mahalpath, the series has to date seen more than six directors.
'Kopi Kade', which loosely translates to 'Coffee Kiosk', is a series of single-episode dramas based on a village shop that sells coffee, groceries and other food items. The shop is frequented by men and women alike—men to play draughts and women to buy their daily supplies. The shop is where village gossip is exchanged and the creators of the show used the platform to discuss social issues. With a cast that initially included veterans Denawaka Hamine, Chandrasiri Kodithuwakku, Susila Kuragama and Damitha Saluwadana, it now counts Rathna Sumanapala, K. A. Piyakaru, Rodney Fraser, K. D. Siripala, Geetha Bulathsinghala, Srilal Abeykoon and Chithra Wakishta among its cast.
4. Doo Daruwo
'Doo Daruwo', meaning 'offspring', is a family-oriented teledrama series that was aired on Rupavahini. It was the first 'mega' teledrama series in the history of the country, spanning five years (199 0 to 1995). Directed by Nalan Mendis, with Sandhya Mendis as producer and Somaweera Senanayake as scriptwriter, the series starred Iranganie Serasinghe, Henry Jayasena, and Yashoda Wimaladharma. The story revolved around Iranganie Serasinghe, who played the role of the 'Sudhu Achhchi', and the lives of her various offspring and their children. Producer Sandhya Mendis told Business Today that it was important to her that the television series was one the whole family could watch together. For this reason, she said, she made sure to steer clear of topics such as murder and adultery and instead promoted family values.
At the time 'Doo Daruwo' was telecast, it was the longest running teledrama series in Sri Lanka, which, according to Sandhya, even had viewership in India.
5. Dandubasnamanaya
'Dandubasnamanaya', or 'an arrow's range' was the first action-thriller television series released in Sri Lanka. Directed by  Jayantha Chandrasiri, with music by Premasiri Khemadasa, the teledrama series is a gripping tale: action, romance, and history packed into one punch. The story is based on 'angampora', an ancient form of martial arts, and its cast included actors Kamal Addaraarachchi, Sriyantha Mendis, Buddhadasa Withanarachchi, Damitha Abeyratne, W. Jayasiri, Wasantha Vittachchi, Deepani Silva and Edward Gunawardane. A chieftain of a village (played by Sriyantha Mendis) teaches his nephew the ancient form of angampora, but his nephew betrays him by teaching a villager (Kamal Addaraarachchi) the art form in exchange for help gaining the hand of a woman. The chieftain kills his nephew for betraying the family tradition and is challenged to a duel by the villager. It also became the first award-winning teledrama in Sri Lanka. At the Sumathi Tele awards in 1995—Sri Lanka's first awards ceremony for teledramas—Dandubasnamanaya won 11 awards, including the award for the best teledrama.
6. Akala Sandhya
'Akala Sandhya' is Sri Lanka's very first television series to devote itself to the topic of time travel—a popular theme for science fiction across the world. The story is based on a 17th century legend and revolves around a long-standing fight between two Kandyan clans—the Sudaliya and Maruwalliya.Directed by Jayantha Chandrasiri, the teledrama series tells the tale of the Sudaliya leader who fatally injures the Maruwalliya leader after gaining powers through Kundalini yoga, that allows him to travel through time and visit his past and future. The teledrama series told a tale of history, using the tool of time travel to appeal to audiences. Its cast included actors Jackson Anthony, Sriyantha Mendis, W. Jayasiri, Edward Gunawardena and Sabeetha Perera.
7. Koombiyo
'Koombiyo'  is a 2017 teledrama series that is making its mark even as we speak. Starring Thumindu Dodantenna, Kalana Gunasekara, Senaka Titus Anthony, Andrew Pulle, and Yureni Noshika, the series focuses on the lives of  Jehan and Priyantha, who exploit loopholes in the law to make a living. The series was initially rejected for portraying the lives of conmen but was later agreed to by the Independent Television Network which began airing it on August 26, 2017. Koombiyo was written by Lakmal Dharmarathna and Damitha Chandrasiri, and directed by Lakmal Dharmarathna. Within a month of its release, Koombiyo became the highest rated crime television series on the IMDb (Internet Movie Database) receiving a score of 9.9/10 , displacing US crime series 'Breaking Bad' and 'The Wire'.
Cover: 'Doo Daruwo' was the first 'mega teledrama' series to air in Sri Lanka, running for five long years. Image courtesy youtube.com