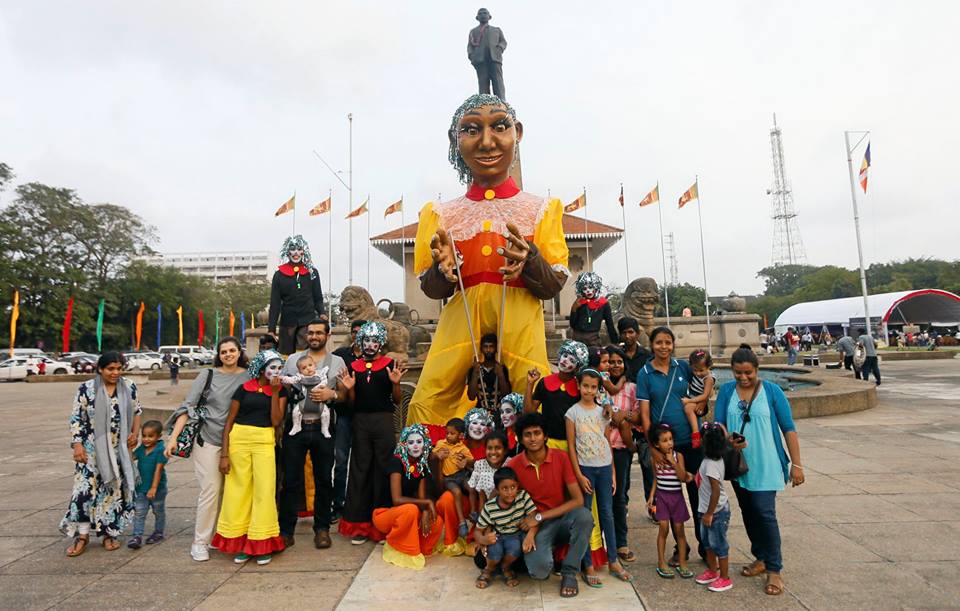 Different forms of theatre—such as indoor stage dramas, street drama and puppet theatre performances—have been a part of Sinhalese culture for centuries. In fact, puppet theatre performances, known as rukada sandarshana in Sinhalese, have been traced back to the days of the Anuradhapura and Polonnaruwa kingdoms.
At present, such puppet theatre performances are almost unheard of within the country, for the traditions of this art form are limited to the area of Ambalangoda. But there are a few people interested in reviving this form of theatrical storytelling.
From Anuradhapura To Ambalangoda
The Sinhalese word rukada derives from the Sanskrit words rupa and kadha which translate to miniature replica or doll. Historically the tradition of puppetry is said to have originated in India, which has a long history of string puppets or marionettes.
According to professor Kamal Waleboda, a lecturer at the University of Colombo's Media Unit, even though puppetry was brought to Sri Lanka from India, over time our island developed its own unique style of the art, which was much different from that in India and also Thailand and other Asian countries.
"In Thailand, for example, the small sized puppets are used and the puppet shows are performed indoors. Light and shadow are also two devices which are used in these shows," said Professor Waleboda. "However, in Sri Lanka, puppet shows have always been performed outside—which is why local performances call for large sized puppets," he added.
Some of the stories which were told through puppet theatre performances include Buddhist jathaka katha and historical incidents such as the execution of King Sri Wickrama Rajasinghe and the execution of Ehelepola Nilame's family.
Professor Waleboda also revealed that the kolam dances—which are part of the Ruhunu tradition of dance from Western and Southern Sri Lanka—too, have influenced some of these performances. The reason behind this is that Ambalangoda has become the centre for the craft of puppet making and puppet show performances.
How Colombo Celebrated World Puppetry Day
While Ambalangoda is still famous for this form of art and craft, because of several families in the area who still engage in making puppets and organising performances, Professor Waleboda noted that not many others are not taking an interest in preserving the art of puppet making and puppet theatre.
Which is why every year, the Department of Cultural affairs hosts an event for World Puppetry Day—which is on the 21st of March. Speaking to Roar Media, Anusha Gokula—Director of the Department of Cultural Affairs—mentioned that this year's event took place at Independence Square,  Colombo 07 and brought together both traditional and contemporary Sri Lankan puppet makers and puppeteers to showcase various performances.
Puppetry For Youth Employment And Female Empowerment
This year, World Puppet day celebrations in Colombo were organised by the department, together with the Merrill J. Fernando Charitable Foundation, Power of Play—a company that utilizes puppetry and performing arts for communication, awareness and reconciliation of communities—and Compania Pirata—a Swedish-Chilean Puppet company which specialises in making giant puppets.
Preceding World Puppet Day, a three week workshop on giant puppet construction and performance was hosted at Foundation's centre in Moratuwa.
The long term goal of the workshop was to promote giant puppetry as a method of generating income for lesser privileged youth. During these three weeks, the participants learned to create giant puppets out of recycled materials like wood, steel, elastic and plastic bottles. Traditional Sri Lankan puppeteers, too, were invited to the workshop and their knowledge and expertise was also applied to create giant puppets.
The workshop also saw the creation of a giant little girl puppet—the tallest female puppet currently in Sri Lanka. The idea behind the creation of such a female puppet was to use it as a tool for female empowerment among the younger generation, and its debut performance took place at Independence Square.
Speaking to Roar Media, Sulochana Dissanayake, founder and artistic director of Power of Play, said that a giant puppet such as this was a suitable medium to gently draw attention—in a non-aggressive way—to the many issues surrounding the wellbeing of young girls and women in our country.
According to Dissanayake, the puppet will also be available for other outdoor events, and they plan to take the puppet on a performance tour within a few months to selected primary schools in Colombo, Kalutara, Panadura and Puttalam.
"We have been awarded a grant from the Voices and Choices initiative of the British Council, Sri Lanka, to create a performance on gender parity and equal opportunities for girl children, which will be based on this little girl giant puppet," said Dissanayake.
"We will create a story about a little girl who grew up with all the 'do's' and 'don'ts' society subjects little girls to, yet is encouraged to follow her heart by very strong feminist presence in her life," she added.
Dissanayake also told Roar Media that the Merrill J. Fernando Charitable Foundation, Power of Play and Compania Pirata have plans to create many more giant puppets for outdoor puppet theatre performances.
Puppet theatre is an art form which is not as popular as it once was, but organisations like Power of Play and the Merryl J Foundation hope to create more public interest towards this unique and fascinating form of storytelling.
Featured image courtesy: Facebook/Power of Play (PVT) LTD