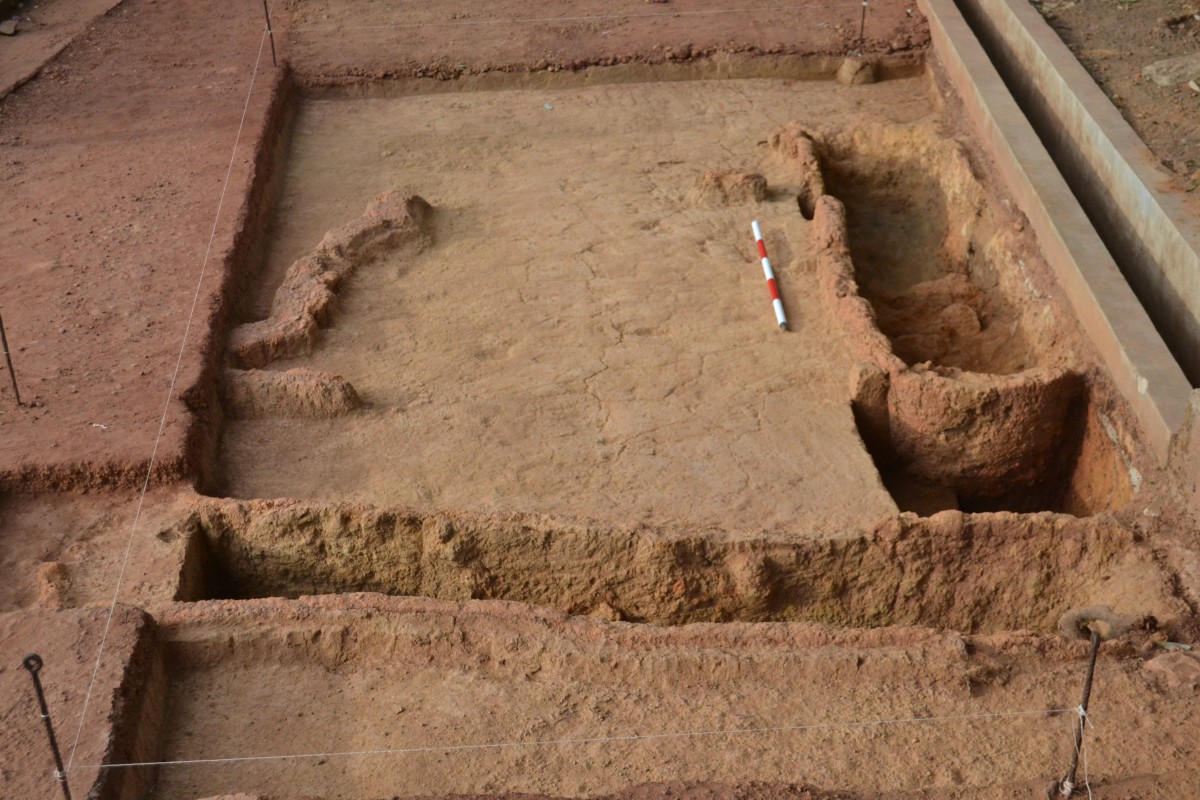 In September last year, people walking along the gravel road leading to Devalapola Ananda Vidyalaya in Minuwangoda noticed a line of brick-like clay emerge gradually from the soil. Curious, they discovered that it continued for a few feet, and that it was something which was in place before the road came to be.
They contacted the Archeological Department, which was how Dr. Mangala Katugampola, a senior lecturer at the University of Kelaniya and one of the Directors of the Central Cultural Fund (CCF), began excavations in the area. The excavations were fruitful: the team of archaeologists attached to the university discovered an ancient burial ground, with burial rites unique to Sri Lanka.
Dr. Katugampola spoke extensively to Roar Media about what the archaeologists unearthed, the issues they face, and what could be learnt by studying what the dead of yore left behind.
What Do These Discoveries Mean?
Contrary to popular belief that the island became civilised shortly after Mahinda Thero's arrival and the spread of Buddhism around 236 BC, history of a civilised Sri Lanka based on archaeological evidence can be traced back to 125,000 years, stressed Dr. Katugampola.
"The dating given for these civilisations based on evidence is between 2,500 BC and 200 AD. Through these, we can see how the ancient people had expert knowledge of pottery, of clay, and of its firing techniques. We can see that they had an aesthetic sense as well, based on the different shapes of urns found in burial chambers. These communities from over 2000 years ago had a thorough understanding of how to use metals and create utensils. Add to that, memorialising your dead and building them monuments signifies an advanced civilisation," Dr. Katugampola said.
Further findings in Ibbankatuwa—the largest burial site unearthed in Sri Lanka to date—include beads made of carnelian. According to the archeologist, this particular stone is not found naturally in Sri Lanka, with the closest mine located in the Deccan Plateau in India. How it arrived here, and how became part of local burial procedures, is yet to be discovered.
Stone And Clay Cist Burials
Moving on to the types of burial systems in the country, Dr. Katugampola told us that two types of ancient burial systems were found in Sri Lanka: cist burials and clay cist burials. The latter is also known as 'earthen canoeing', where an oblong oval is dug and lined with clay, which is then burnt to harden. This particular system is unique to the island, with no reports of it being found elsewhere.
Cist burials (which are usually of stone) have been studied since the early 1900s. In 1970, former Archeological Commissioner Dr. Raja de Silva excavated a site in Ibbankatuwa for the first time. A cluster of 21 burial chambers were discovered there. Additional excavations in 2015 conducted by the Central Cultural Fund, involving Dr. Mangala Katugampola, unearthed more burials, including 26 stone urns containing ashes.
Meanwhile, only a handful of clay cists have been found to date. A few of these are in Rangchamadama, Nikawaramulla, Beragala, and Aththanagala, with the most recent finding—excavated in 2016—being in Devalapala, Minuwangoda.
Distinctive Features Of Clay Cists
A stone cist is a simple stone grave, either circular or rectangular, lined with granite slabs.  The clay cist is a tub-like hollow lined with clay, which is then fired to harden. This tub (or earthen canoe) has three distinct layers. The first is a massive layer of charcoal lining the bottom of the tub. The second layer is of different sized urns, filled with ash. The topmost and final layer contains fist-sized clay spheres.
Dr. Katugampola speculated that the earthen canoes and the layering of clay spheres could have been used to preserve heat and char corpses faster.
"We don't really know why they're there, but it's possible that it was to help inter bodies faster. Another thing we can surmise is that this could be a secondary burial, especially since the ashes are collected and then buried in urns. Given that there's a layer of charcoal at the bottom of the tub, it's possible that the corpse (or corpses) were interred within the cist itself, before being placed in the urns for burial," he said.
The stone and clay cists are segregated by geography. All stone cist burials found to date were discovered in Sri Lanka's dry zones, whereas the clay cists found to date are exclusively in the wet zones.
"The geographical distribution is interesting, but we can't say anything conclusive about this as yet. If we're hazarding a guess, we could assume that this could be because there are more rocks in the dry zones, and plenty of clay in the wet zones," said Dr. Katugampola. Reiterating that this is a non-conclusive observation, he affirmed one conclusive fact: based on the artefacts found in all the cists, burial practices were the same regardless of whether they were stone or clay cists.
Challenges And Aims
Last year's excavations in Devalapola has raised several concerns, mainly because the site is located within the premises of a school in the area. This leads to issues concerning funds, land ownership, maintenance, and much more. The most pressing issue at the moment is to decide if to cover the site up once more or not. According to Dr. Katugampola, archeologists are supposed to restore a site to its former condition—by covering it up with soil—unless they decide it is of national importance and should be preserved as an open exhibit. Currently, the lack of funds and enthusiasm by school authorities is a concern with this particular site.
Other challenges that plague places of historical importance throughout the island include 'treasure hunters' who destroy sites seeking treasure.
"The term itself is problematic—the media really shouldn't use it as it implies that there's gold and precious stones buried within ruins. This isn't the case here in Sri Lanka, but you still get people digging up historical places of value hoping to strike gold," he explained.
However, Dr. Katugampola is hopeful. Excavating at Devalapola attracted massive publicity, with hundreds of school children visiting the site and learning about it. Likewise, undergraduates studying archeology were able to go to the field and gain practical knowledge. He also intends to introduce burial archeology as a component in archeological degree programmes in an attempt to disseminate more knowledge about Sri Lanka's ancient history.
For those interested in seeing evidence of our earliest ancestors first hand, the Kelaniya University has a few artefacts from Ibbankatuwa on display. However, the proto-historic burial site itself is open to the public. It's on the Ambepussa-Trincomalee highway, about an hour away from Dambulla. Going further back into history, the Colombo National Museum also has a section dedicated to the Balangoda Man.
This glimpse into the past is doubtless fascinating, especially considering how much in common contemporary society has with ancient man based on burial rites alone; from using tools, honouring the dead, and ceremoniously memorialising them.
Cover image courtesy Dr. Katugampola.