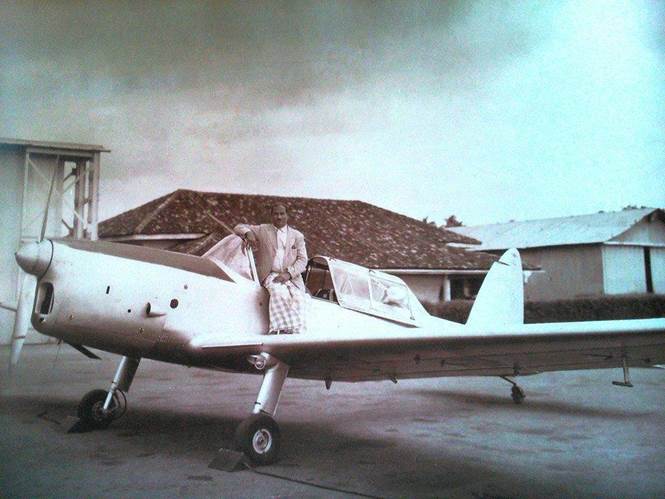 It was in 1912 that the first plane took off into Sri Lankan airspace when two Frenchmen, Georges Verminck and Marc Poupre, flew two Bleriot monoplanes, christened La Curieuse and Rajah, from Race Course Grounds in Colombo. They became the first men to successfully complete a safe, powered, and controlled flight in Ceylon's skies.
Since then, Sri Lanka has had a very interesting history in terms of aviation. One story of particular interest is that of Paulis Appuhamy, the first—and only—Lankan pilot to fly a plane while dressed in sarong.
From humble beginnings to greater heights
When commercial aviation in Sri Lanka took off in the 1940's—with the establishment of Air Ceylon—it brought about a serious need for the country to have an institution which could train professional pilots. In November 1950, the government set up the Ceylon Air Academy in Ratmalana, which was declared open by the then Prime Minister D. S. Senanayake.
While the academy or 'flying school' was well equipped with different planes for different purposes, its main purpose was to train pilots to fly commercial planes. Many of the students who trained to become commercial pilots were from wealthy, upper-class English speaking families.
Paulis Appuhamy stood out from the other students. Hailing from the rural area of Attanagalla in Gampaha, he was a bus mudalali and had no knowledge of the English language. He dressed in the traditional Sinhalese attire of sarong, belt, shirt, and coat, with no shoes, and his hair tied at the back of his head in a knot or konde.
In spite of his being from a rural area, Appuhamy was interested in planes and was keen on enrolling at the academy in order to obtain a Private Pilot's Licence (PPL). And that is just what he did.
According to Capt. Elmo Jayawardena's A Centenary Sky: 100 years of Aviation in Sri Lanka, Paulis Appuhamy studied English purely to study aviation at the academy. He sat for and passed the relevant theory examinations, took flying lessons, and on 5th October, 1953, he received his PPL.
Back then, in a time when becoming a pilot was an ambition reserved mainly for those who were educated and wealthy, the idea of someone from a village becoming a pilot may have seemed impossible, even ridiculous. Even today the thought of someone flying an aeroplane while dressed in sarong seems amusing.
But the story of Paulis Appuhamy is in fact a story about defying social norms and overcoming language barriers to achieve one's dreams.
According to Capt. Elmo Jayawardena, "Paulis Appuhamy was a very determined man; someone who loved piloting so much that he overcame all barriers to become a pilot… He flew Tiger Moths and Chipmunks in the Air Academy, breaking all barriers of social demarcations that erroneously separated people by the clothes they wore. Paulis Appuhamy blazed a trail no one dared to follow." [1]
After Appuhamy had obtained his license he was able to fly a Tiger Moth biplane, and later on, after he had more experience, he was allowed to fly the then more advanced de Havilland DHC-1 Chipmunk monoplane. He flew these planes until the year 1955, when he gave up piloting to continue managing his bus company. Sadly, in the early 1960's, he suffered a crippling stroke but survived for another ten years, until he passed away on the 23rd of February 1973. Even though he is no more, Paulis Appuhamy is still remembered as the country's first non-English speaking, sarong-clad private pilot. His tale is one of many encouraging stories about determined Sri Lankans who have overcome various obstacles to achieve their goals and ambitions.
[1]  Capt. Elmo Jayawardena A Centenary Sky: 100 years of Aviation in Sri Lanka (2012). Published by the Civil Aviation Authority
Featured Image courtesy groups.google.com