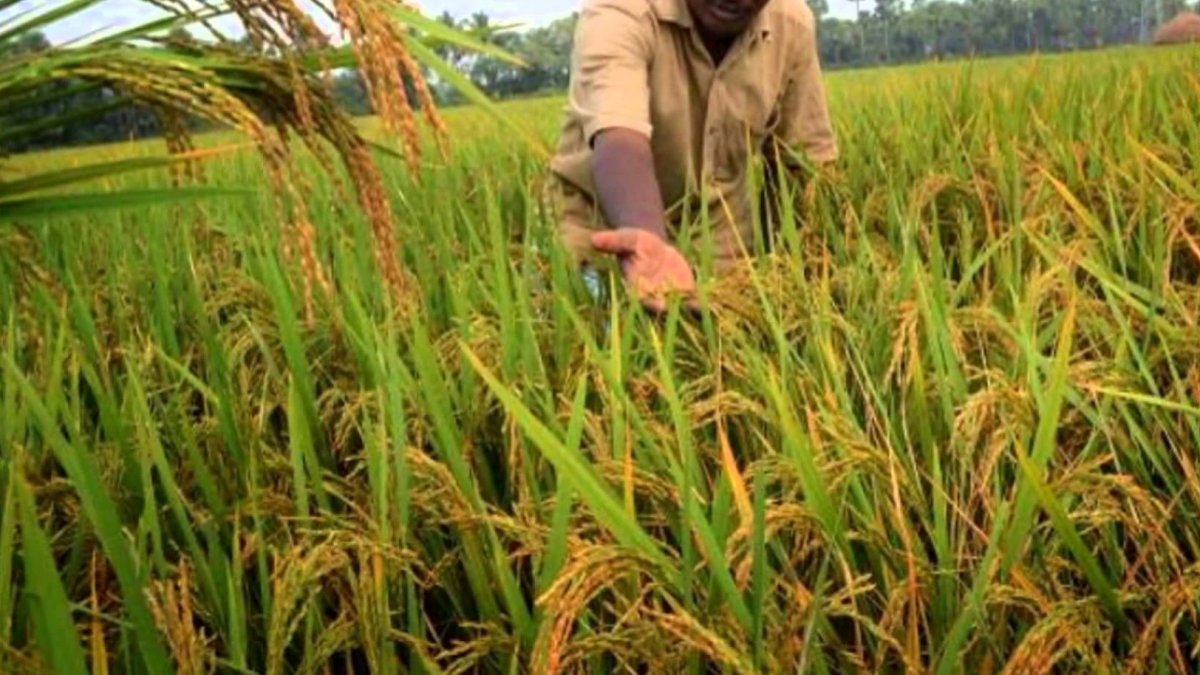 Historical evidence—like irrigation tanks and canals in the dry zone—are evidence that rice farming has been one of the major occupations in the island over the past two millennia. This was because rice was—and still is—the staple dish in Sri Lankan cuisine.
During the days of the ancient Sinhalese kings, hundreds of varieties of rice—or paddy—were cultivated. In the past, these traditional varieties of rice were widely used for the preparation of healthy dishes such as lunu kenda—a type of rice gruel—and kola kenda—gruel made with rice and herbs or leafy greens.
Right now, however, the traditional—or heirloom—varieties of rice which were cultivated have been widely replaced with New Improved Varieties (NIV) of rice. This is mainly because rice farmers can obtain a higher yield from these varieties of rice in the same time taken to seed, grow and harvest the traditional varieties.
Even though they do not produce a high yield, these traditional varieties of rice have more nutrients and health benefits when compared with the New Improved Varieties.
Here are twelve heirloom varieties of rice which are still grown in certain areas of Sri Lanka.
Kuruluthuda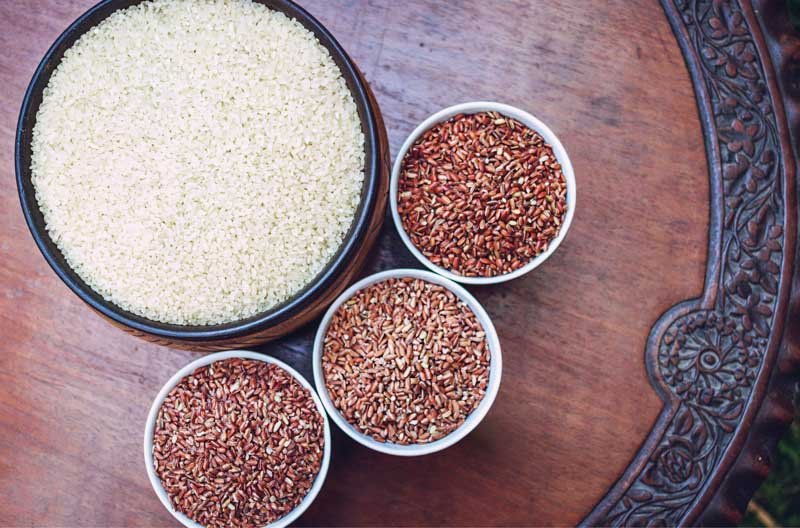 Kuruluthuda is a variety of red rice that has medium sized grains. The crop generated from this variety can be harvested in three months and farmers can cultivate these plants in places where the salinity condition of the soil is relatively high. Kuruluthuda is high in protein, fibre and fatty acids and is said to have properties which can control the level of cholesterol in the blood.
Dahanala
Dahanala is a type of long-grain red rice grown in Sri Lanka. It is a variety of rice which is widely cultivated in the wet zone areas and is harvested after three and a half months of cultivation. Traditionally dahanala was used in preparing kola kenda. It is rich in protein and zinc and the high presence of iron in these grains makes it a good food source for those suffering from anaemic conditions. Indigenous doctors also recommend dahanala for lactating mothers, young children and diabetic patients.
Dik Wee
Dik wee is a medium-grain sized variety of red rice cultivated in Sri Lanka and it is popular among farmers of the wet zone. The crop from these plants can be harvested between four to four and half months after the seeding process takes place. When the grains begin to ripen, the stems of the plant take on a light bluish tinge. It is said to be rich in zinc and antioxidants and has a low glycemic index, which is beneficial for those who have diabetes.
Suwandel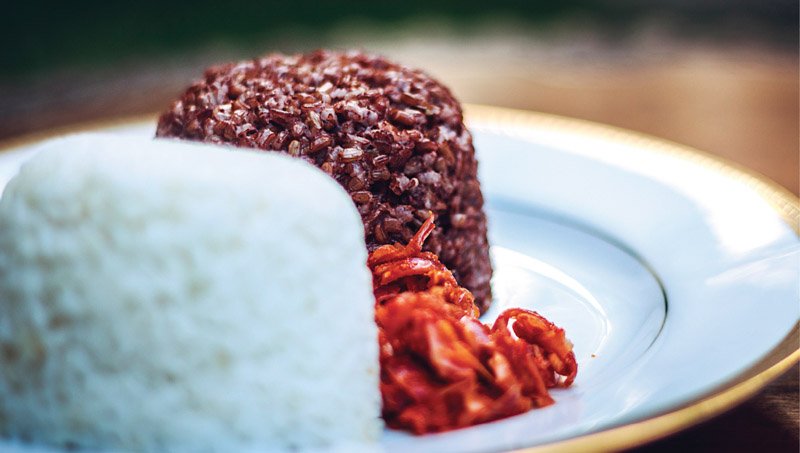 The name suwandel is derived from the Sinhalese word suwandha—meaning fragrance—and refers to the fragrant smell of this rice after cooking. These short, round grains of white rice also taste better than many of the other traditional varieties of rice—which is why it is popular at festivals and other religious and cultural ceremonies. Suwandel is said to contain high amounts of carbohydrates, vitamins, fat and micronutrients, and is beneficial in reducing high blood pressure levels in the body. Like dik wee, suwandel, too, has a low glycemic index, which make it a good source of food for diabetic patients.
Rath suwandel
Rath suwandel is a crop cultivated in both the dry and wet zones. It has red, medium-sized grains which are high in protein and zinc, and in traditional medicine, it is used for the treatment of diabetes and oxidative stress. It is a popular type of rice used for milk rice, because of its aromatic fragrance and slightly milky taste.
Pachchaperumal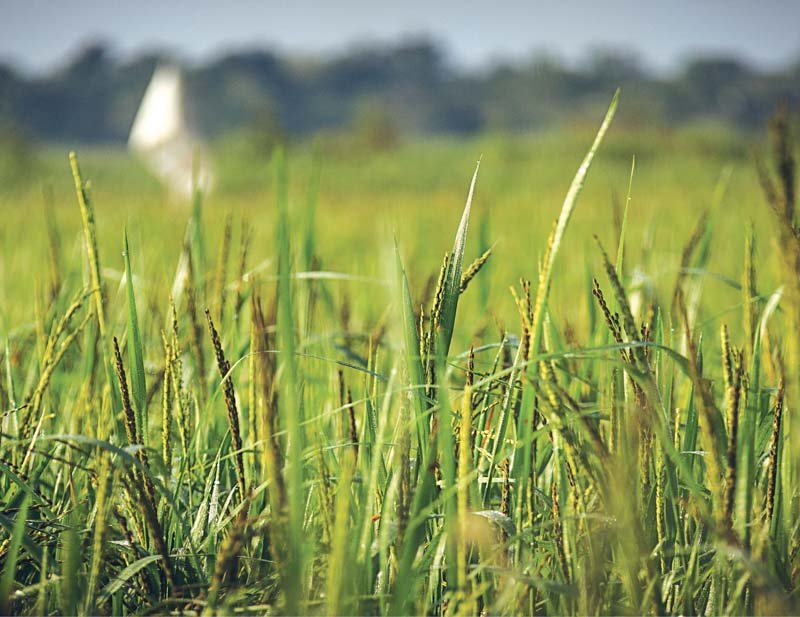 This type of rice is also known as Siyapath el. It is one of the most popular traditional varieties of rice grown in Sri Lanka and is also one of the most nutritious varieties of red rice found here. The grains of this crop are medium sized, and turn a deep shade of red or maroon during cooking. It contains high amounts of protein, vitamins, antioxidants and micronutrients, and is recommended by doctors for daily consumption. Pachchaperumal, just like dahanala and rathal, also has a high content of iron which make it a good food source for those with anaemic conditions.
Pokkali
Pokkali is a popular variety of red rice traditionally cultivated in Sri Lanka. The pokkali rice plants can tolerate salinity in the soil they grow. It is crop which is currently cultivated along the coastal belt of the Western and South Western provinces, and it is a staple in the Hambantota and Puttalam districts where the level of salinity in the soil is high. It is a type of rice which is rich in protein and traditional doctors believe that it has antibacterial properties.
Madathawalu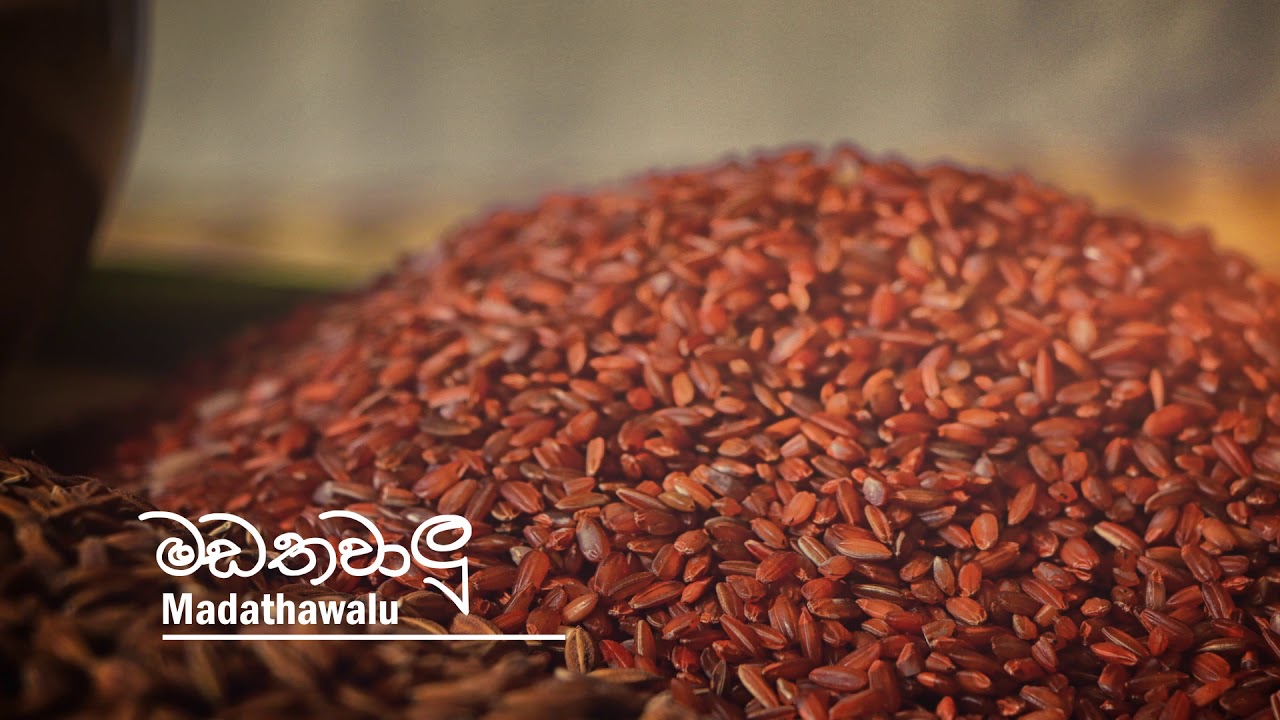 Madathawalu is another type of red rice which has traditionally been cultivated in Sri Lanka. The protein, mineral and fat content of these grains are comparatively higher than most of the other heirloom varieties of rice. Madathawalu is a good source of vitamins as well, and it is beneficial for lactating mothers and their infants as it has components which help to strengthen the immune system.
Rath el
The small grains of the rathal rice plant are said to be able to control the effects of cirrhosis, virus fever, skin rashes and diseases in urinary tract when used as treatment in traditional medicine. It is also recommended by doctors for those who have diabetes and anaemia, and it is believed to be able to prevent the formation of stones in the urinary tract. The crop can be harvested in three to three and a half months, and is mainly grown in the wet zone region of the country.
Kalu heenati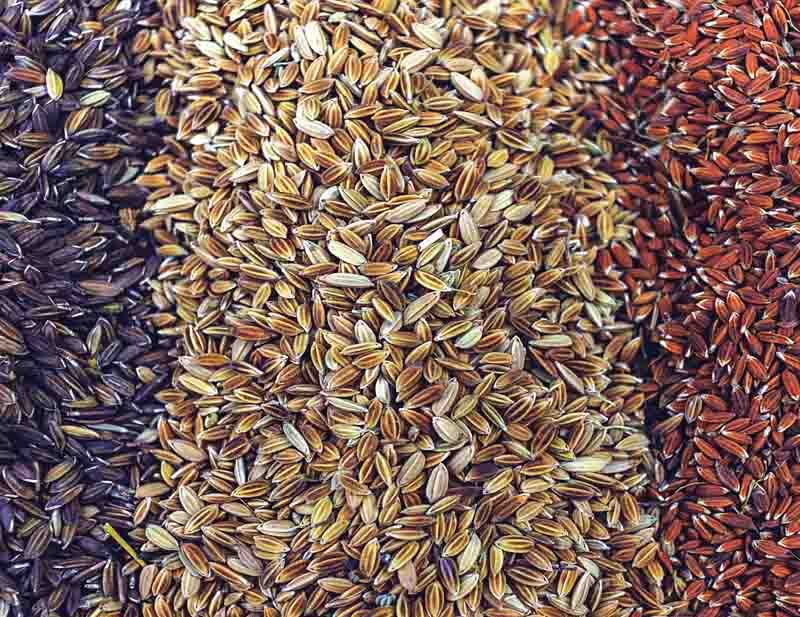 This variety of rice is has red, medium-sized grains, and the name kalu heenati is given to it because the outer husk of the grains turn black (kalu) when they ripen. It is a crop which grows well in the dry zone areas. Kalu heenati is rich in iron, zinc and fibre and it is used in traditional medicine for the treatment of snake bites.
Sudu heenati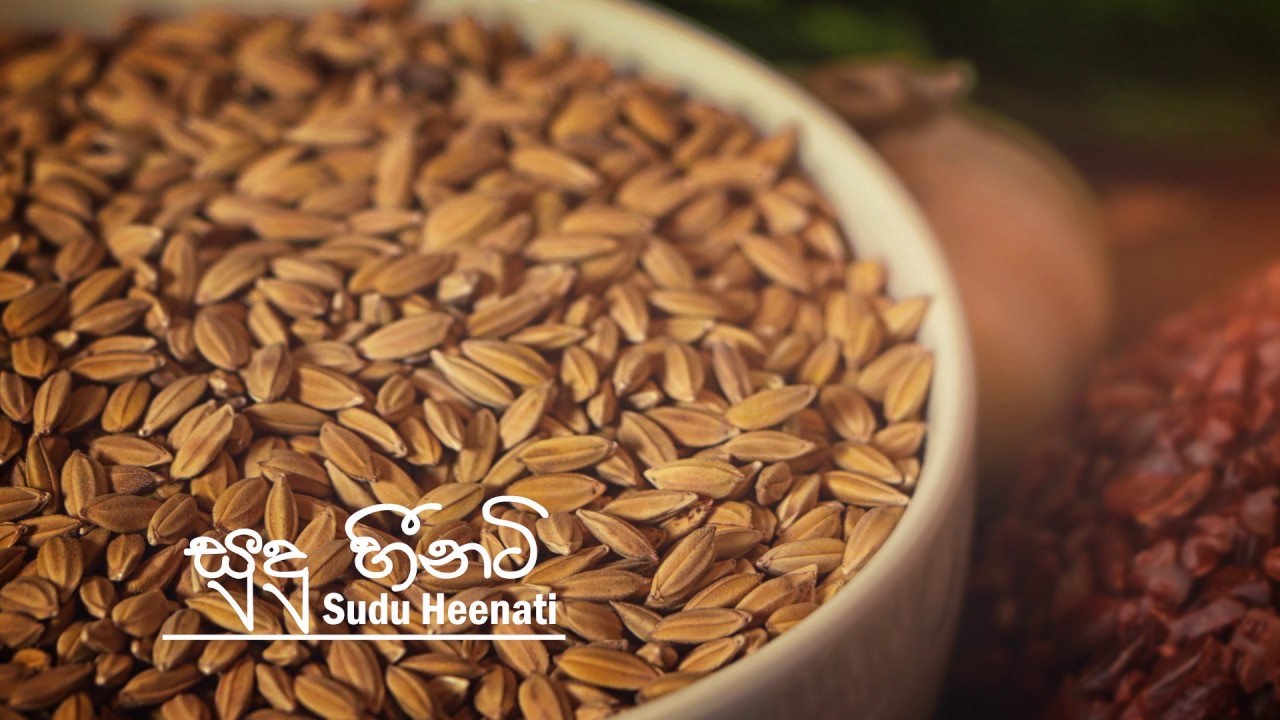 Even though the name of this type of rice implies that it has white grains, it is actually a type of red rice—the grains have white outer husks. This variety can be cultivated in all areas of the island, and grows well even during the monsoon season. It is a good source of vitamin E, iron, zinc and other natural antioxidants. It is said to to be suitable for consumption by people with diabetes, cholesterol, constipation and oxidative stress. When cooked, these grains have a slightly sticky consistency.
Suduru samba
This is a popular variety of white rice which grows in many areas of the island. The crop generated by the plants of this variety of rice can be harvested in about four and a half months. Suduru samba is high in good quality dietary fat, and is a popular variety is because of the aromatic smell it produces after it is cooked.
A study conducted last year, on the nutritional properties of certain types of traditional varieties of rice in Sri Lanka, highlighted that the consumption of rice in the country contributes to 45% of the per capita dietary energy. However, according to Kamani Wijesena, the Assistant Director of Agriculture (Research) at the International Rice Research Institute (IRRI) of Sri Lanka, the cultivation of traditional rice varieties constitutes about 0.46% of the total amount of rice cultivation in the country.
The research institute and other institutes under the Ministry of Agriculture do not widely promote the traditional varieties of rice in Sri Lanka, but Wijesena hopes that the research institute will be able to develop some of these heirloom varieties so that they can produce a higher yield.
Featured image courtesy YouTube/suresh vishva
Editor's note: A previous version of this article erroneously identified New Improved Varieties of rice as genetically modified rice.