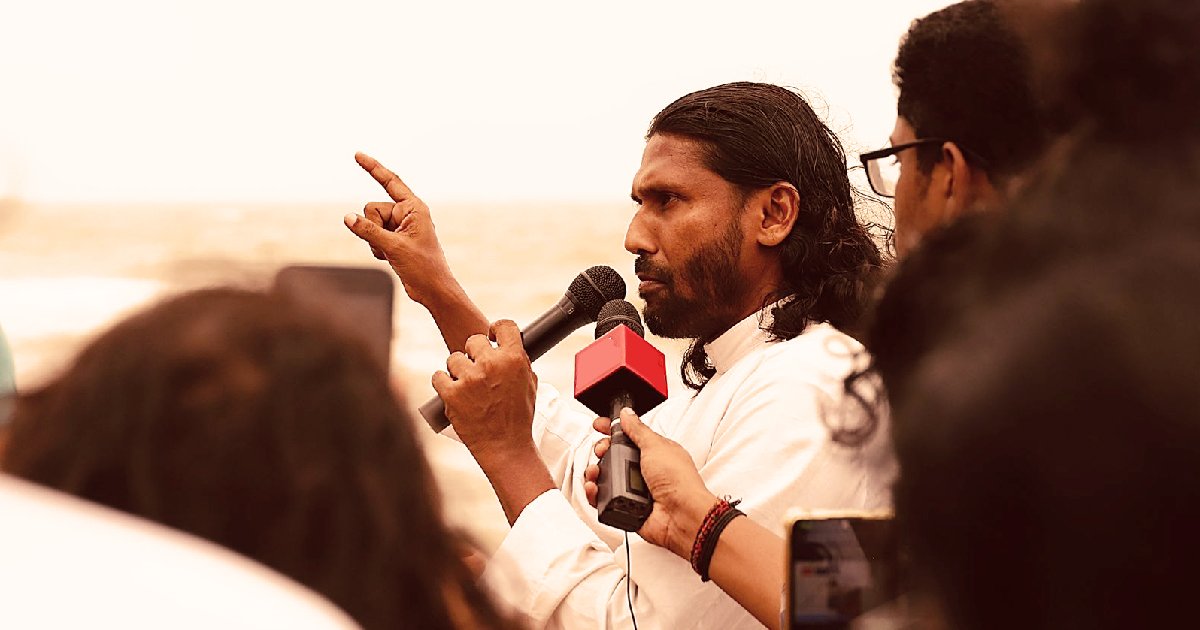 He speaks in a calm and relaxed tone — the same tone that pacified angered protesters, preventing them from reacting in violence, after violence was first unleashed on them on 09 May and 22 July.
Fr Amila Jeewantha Peiris speaks as he would in a homily. His time in hiding from authorities seeking to arrest him — political revenge taking, he accuses —  has not made him give up hope. 
"My faith has [only] been fortified," he said. "It never faltered. I always knew this harassment and persecution were part and parcel of our journey: 'Blessed are those who are persecuted because of righteousness,'" he said, quoting Paul the Apostle from the Bible. "What we have achieved is a labour of love, our demands have been just. We did a good thing for the country."
Peiris has been at the forefront of the non-violent protests that broke out in earnest in April 2022, seeking to oust former President Gotabaya Rajapaksa. The protestors also demanded a systematic change to political and social structures and culture.  
But the ascendance of Ranil Wickremesinghe to the presidency and the reprisal that followed has put the priest in the crosshairs of the government. He now has three separate court cases filed against him, accusing him of illegal occupation of state land and the destruction of state property. The beloved 'Gota Go Gama' hamlet that sprang up at the demarcated protest site has been removed. Peiris celebrated his 45th birthday in hiding.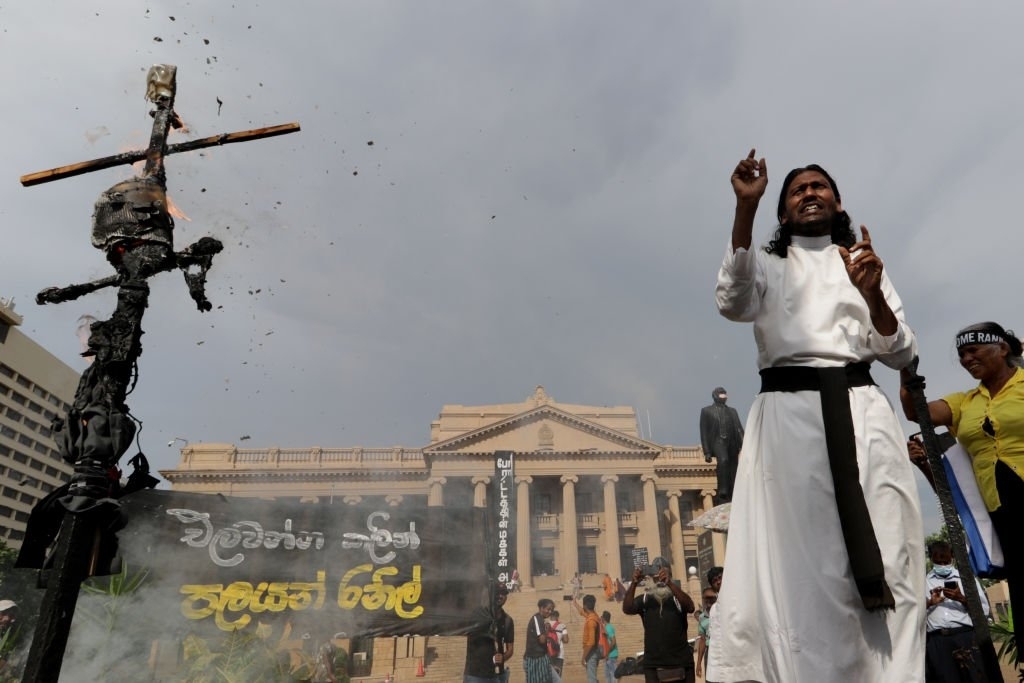 Life underground, he told Roar Media, was a string of daily online meetings with protesters and activists. Besides this, it's the meetings he conducts with community leaders in Doloswala, Ratnapura, his parish of plantation workers. 
"There is no running water there, no traversable roads. Our children were denied a proper education because they didn't have the facilities to go online," he said. "To this day, my community is neglected by the government — I have seen the unspeakable tragedies my parish faced in the last two years. Charity can only help so much."
—"What did your congregation say when you joined the 'aragalaya' and were always in Colombo?"
—"My people always knew why I was in Colombo. I was representing them at the Gota Go Gama. I was fighting for them."
Peiris's passion for social justice came early. He was still in his late teens, growing up in Lunawa, Moratuwa — one of the poorest fishing villages in the Colombo district to date — when he was deeply impacted by the poverty he saw around him. 
"I was born into a family with a deep Catholic influence. And even though I was a middle-class child, I saw the suffering of the people around me — my parents never hid that reality from me. And so I was a depressed and angry teenager," he said. 
Looking to channel his anger and frustration in a productive way, Peiris — while still 19 — mobilised a group of young people to help disadvantaged communities in the area by tutoring children – something he continues in his parish to date. 
Even before being ordained in 2009, he worked with communities in various parts of the island, including in the north and the east in the aftermath of the civil war. He decided after, to work with the plantation workers in the Central and Sabaragamuwa Provinces, and moved to the Doloswala village in the Ratnapura district to be both preacher and community leader. 
—"So while you were at the aragalaya, who took care of your parish?"
—"Our work in the community is decentralised so that the work is carried out by the lay leadership. It does not depend on one person. But, I always made sure to leave Colombo on Friday and arrived in my village the next morning."
— "So you never missed the Sunday sermon?"
— "Never."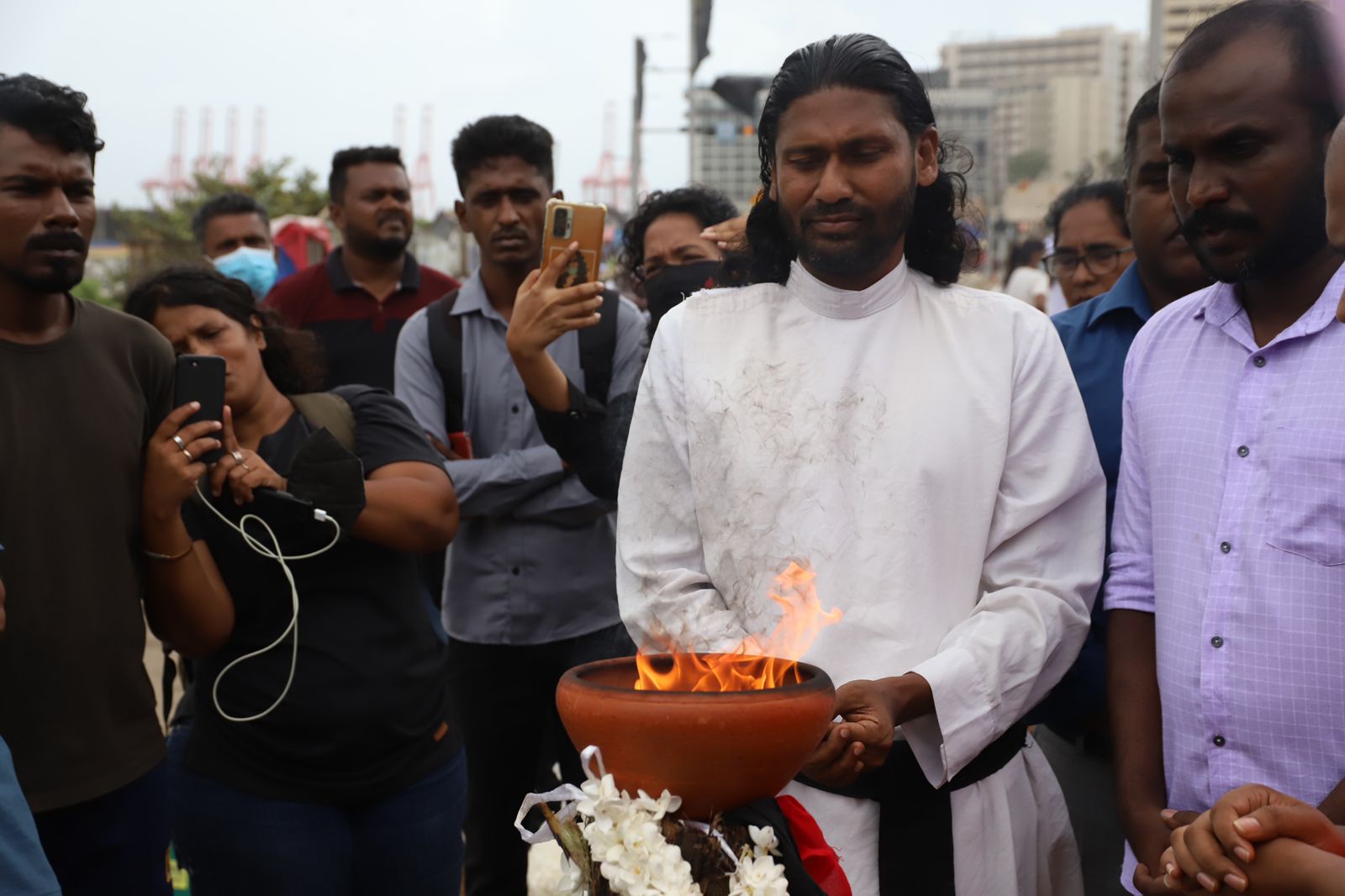 Peiris reads Jesus Christ as a revolutionary and claimed his understanding of Christianity was to liberate the oppressed poor. The liberation theology he espouses evokes memories of Latin America's 'radical priests' and the 'revolutionary church' that fought for the country's freedom from despot rulers in the late 70s. This movement was never famous in the west, dominated by its obstinate rules. Similarly, Sri Lanka's Catholicism is synonymous with conservative politics and traditional values: something Peiris wants to shatter when preaching revolution as the way to Christian liberation. 
"Liberation is my calling as a Catholic priest," he said. "This is to take the 'option for the poor' [to live one's life for the destitute]. That's why I came to Colombo on 09 April. Wasn't it the correct moment to come together and organise the rest of the country for a structural change? I believe it was."
This is why Peiris' calling in life and 'struggle' resonated strongly with the one unfolding in the country before him: the aragalaya — like most revolutions — was at its heart a class struggle; an economic crisis that brought people to the street, educated the masses of the government's many transgressions and eventually, ousted its unpopular leader. 
While this interpretation may be considered leftist or Communist by many and panders to the narrative that the aragalaya was infiltrated and later taken over by left-wing politicians, Peiris vehemently disagrees with this. 
"That is just mudslinging," he said. "What we saw was the sovereignty of the people. It was overwhelming and it filled my heart to see people organising themselves without any political support. There were people from all religions, all ethnicities and various political ideologies. In no way, was the aragalaya manipulated by political power."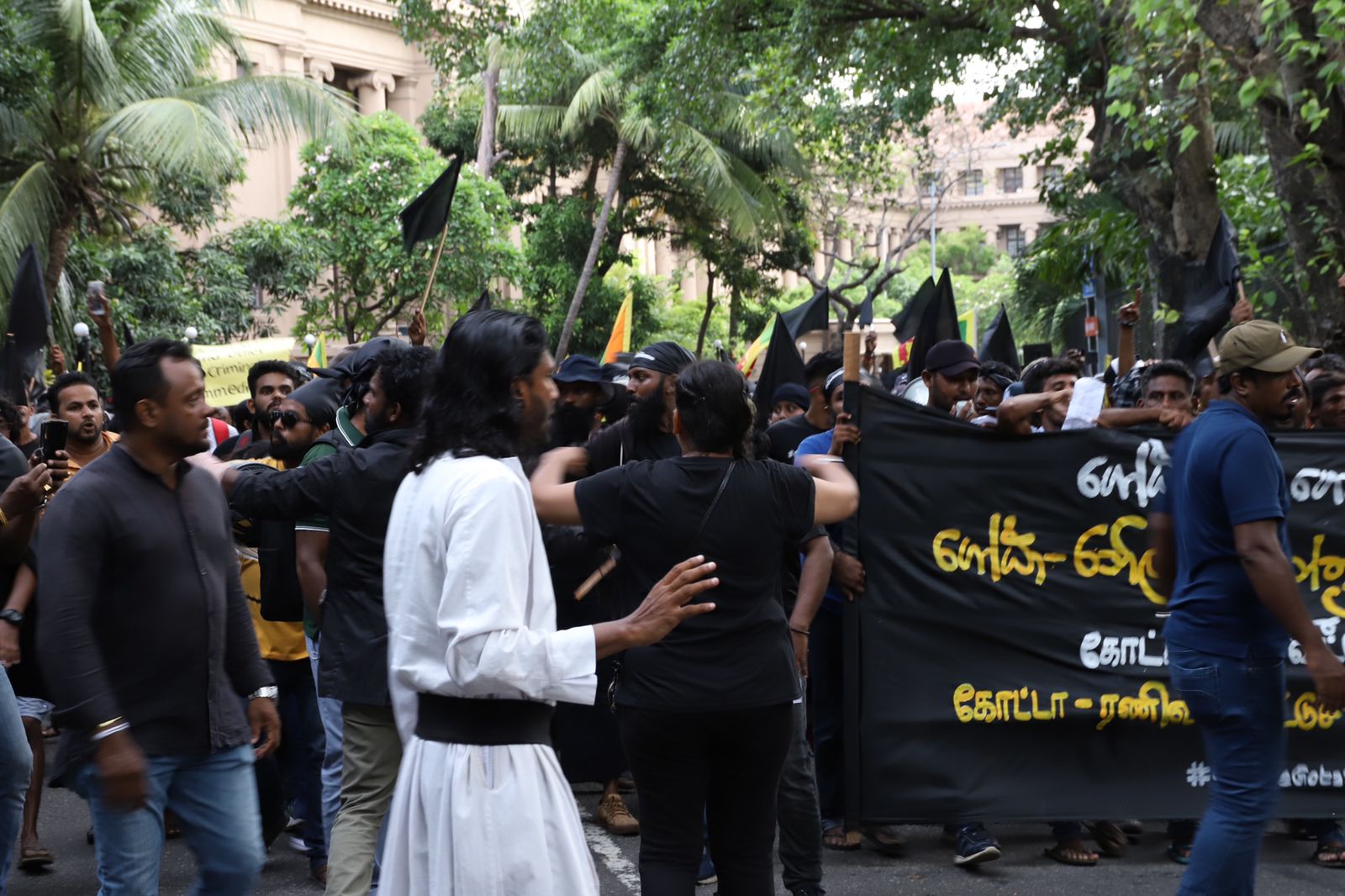 Jesus the Revolutionary is not an easy hero to emulate, and Peiris is aware of that. He finds inspiration in St Óscar Romero (assassinated for speaking against El Salvador's government in 1980) and Fr Michael Rodrigo (also killed by unidentified gunmen in 1987) but considers Sri Lanka's struggle a golden opportunity to serve and follow in Jesus' footsteps. 
"Jesus was accused of conspiring against an empire. He was crucified for asking for change. As a Catholic priest, resurrection is only through persecution, pain, suffering and a crucifying experience," he said. 
— "But what about the people who criticise you?"  
— "Those who say what I do is not the Catholic calling? That in itself is anti-Catholic. What we see today is a superficial, popular practice of Catholicism. This is not what Jesus wanted. All his followers — Peter, Paul and Stephen — gave their lives to a social, spiritual, and structural change. They didn't want to worship the existing political leaders. Instead, they said, 'Thy kingdom come!'"
And towards that goal, Peiris perseveres. As a result of continued police raids in search of him, he is forced to remain underground but — like with his Sunday sermons — he is yet to miss court summons. 
"As long as I present myself at the court, there's no need to raid or arrest," he said. "There's law and order in this country. We, my fellow protesters and I, don't have to give in to the government's intimidation." 
This comes at a cost — Peiris has not met his flock now, in a month. He remains hopeful, however, never letting his faith falter. But a touch of sadness shadowed his eyes when he recalled how his ageing parents in Moratuwa were being continually surveilled by the authorities. "I haven't gone home and visited them in so long," he said. "I don't have direct contact with them now, [because] I want to make sure they are safe as well."