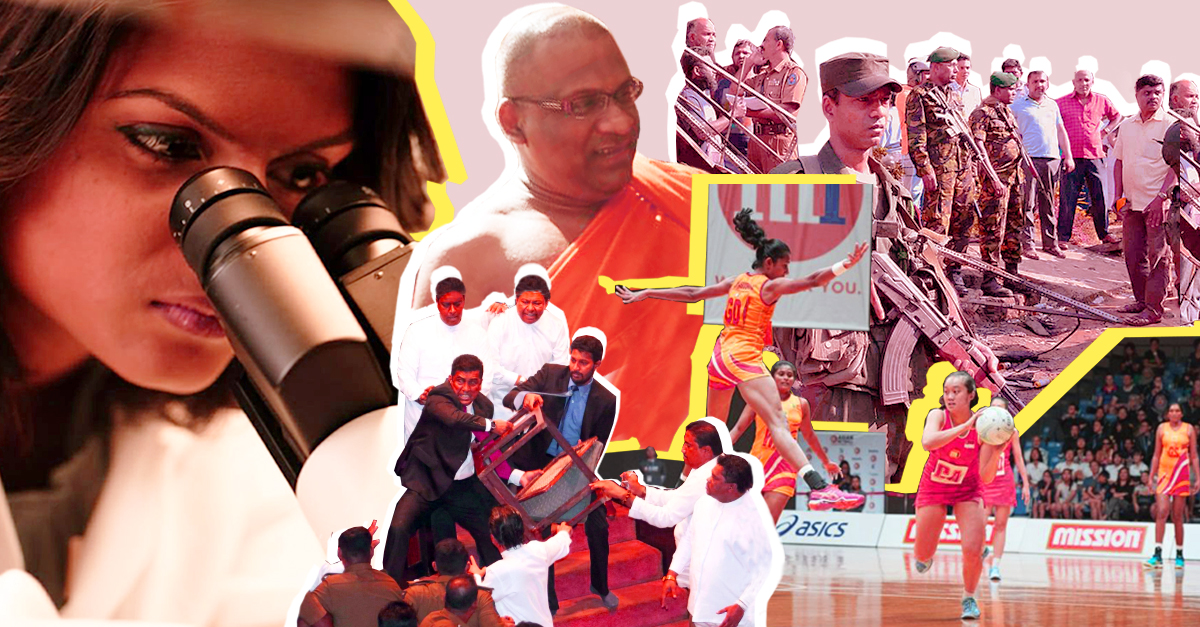 An eventful year is coming to a close, and as we enter a new one, we think it is fortuitous to remember the old adage by which Confucius swore—"Study the past if you would define the future." Political infighting resulted in a mega-crisis that shook the stability of the country; racial riots erupted in the Eastern and Central provinces, and several other matters of little consequence took up national headlines. On the bright side, Sri Lanka made some progress in a number of areas, won awards and became sporting champions. Here is a summary of the highs and lows of this year:
Constitutional Crisis
The events that contributed to the 'Constitutional crisis' are probably the freshest on our collective minds. Tensions that had been simmering all year between the leaders of the two biggest parties representing the national unity government—President Maithripala Sirisena and Prime Minister Ranil Wickremesinghe—caused the President to try on more than one occasion to remove the Prime Minister from the post. He covertly sponsored a no-confidence motion against the Prime Minister in April, which was successfully defeated. But in a surprise move in October, he engineered the defection of the UPFA from the coalition and used that as grounds to appoint a new Prime Minister — none other than his erstwhile nemesis, former President Mahinda Rajapaksa. The move sharply divided the country on the question of the constitutionality of the President's actions, which was finally put to rest by the Supreme Court earlier this month. The apex court ruled that the President's actions were, in fact, unconstitutional. Rajapaksa subsequently resigned from the post, ending a seven-week long siege on democracy. Ranil Wickremesinghe took oaths as Prime Minister two days later.
Racial Riots
While tensions were simmering beneath the surface of the national unity government, racial riots broke out on an unprecedented scale in the eastern and central provinces in February-March this year. The riots were precipitated by solitary events. In Ampara, a group of Sinhalese men accused a Muslim 'hotel' owner of attempting to cause infertility by adding 'sterilisation pills' to their food, and in Teldeniya, four Muslim men assaulted a Sinhalese lorry driver for causing minor damage to their vehicle, resulting in his death. Angry mobs reacted in both situations, burning mosques and Muslim-owned shops and homes.
Fanned by flames on social media, the violence spilled over to other districts in the central province, prompting the President to declare a state of emergency. The police, Army and STF were sent in to regain control, and social media was banned to stop the proliferation of racially-instigated, inciteful content. Over 200 people were arrested, and the riots were finally quelled on March 10. A three-judge panel was subsequently set up to investigate the incident. Meanwhile, Bodu Bala Sena General Secretary Galagodaaththe Gnanasara Thera, who played a role in inciting communal violence against Muslims in 2014, was convicted in a separate case of four charges of contempt of court and sentenced to 19 years of rigorous imprisonment, to be completed within six years.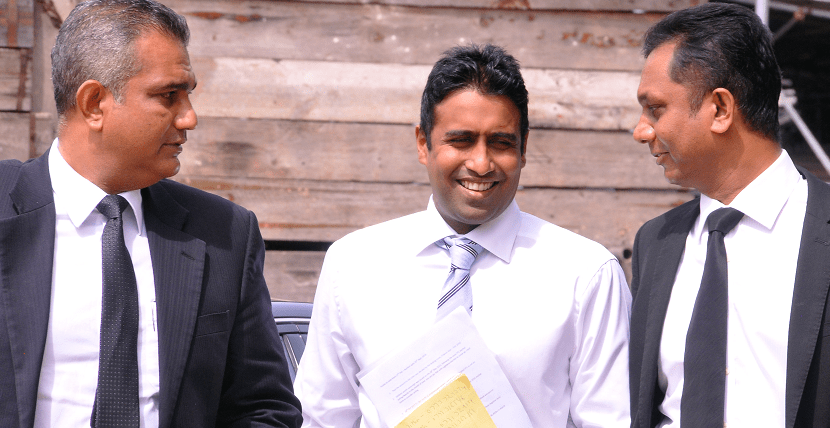 Bond Scam
The investigation into the Central Bank bond scam, which has its roots in 2015, saw some progress this year, with the former owner of Perpetual Treasuries Arjun Aloysius and CEO Kasun Palisena being arrested. The two are currently in remand custody. Former Central Bank chief Arjuna Mahendran is still on the run, despite repeated attempts to have him arrested. Mahendran was at the helm of the country's monetary authority when Perpetual Treasuries, the company founded by his son-in-law Aloysius, made unprecedented profits, which led to suspicion that the two had engaged in insider trading. The case is still in court. Meanwhile, UNP MP Ravi Karunanayake, who resigned as Finance Minister after he was implicated in the bond scam by a key witness, was asked to stand down as Assistant Leader of the UNP by an investigative committee looking into the role of UNP MPs implicated in the bond scandal (there were others too). But he refused to do so.
Women's Rights
Sri Lanka made some progress on the rights front this year, specifically in women's rights. But these small victories were marred by regressive policies. Finance Minister Mangala Samaraweera started the year by lifting a 60-year-old ban on selling alcohol to women. He also revoked regulations on employing females in places selling alcohol. Unfortunately, the decision was reversed by President Sirisena five days later, despite then Economic Affairs Minister Harsha de Silva describing the law as encouraging gender-based discrimination and Verité Research, a prominent independent think tank, pointing out that the President's actions were unconstitutional and an infringement on fundamental rights.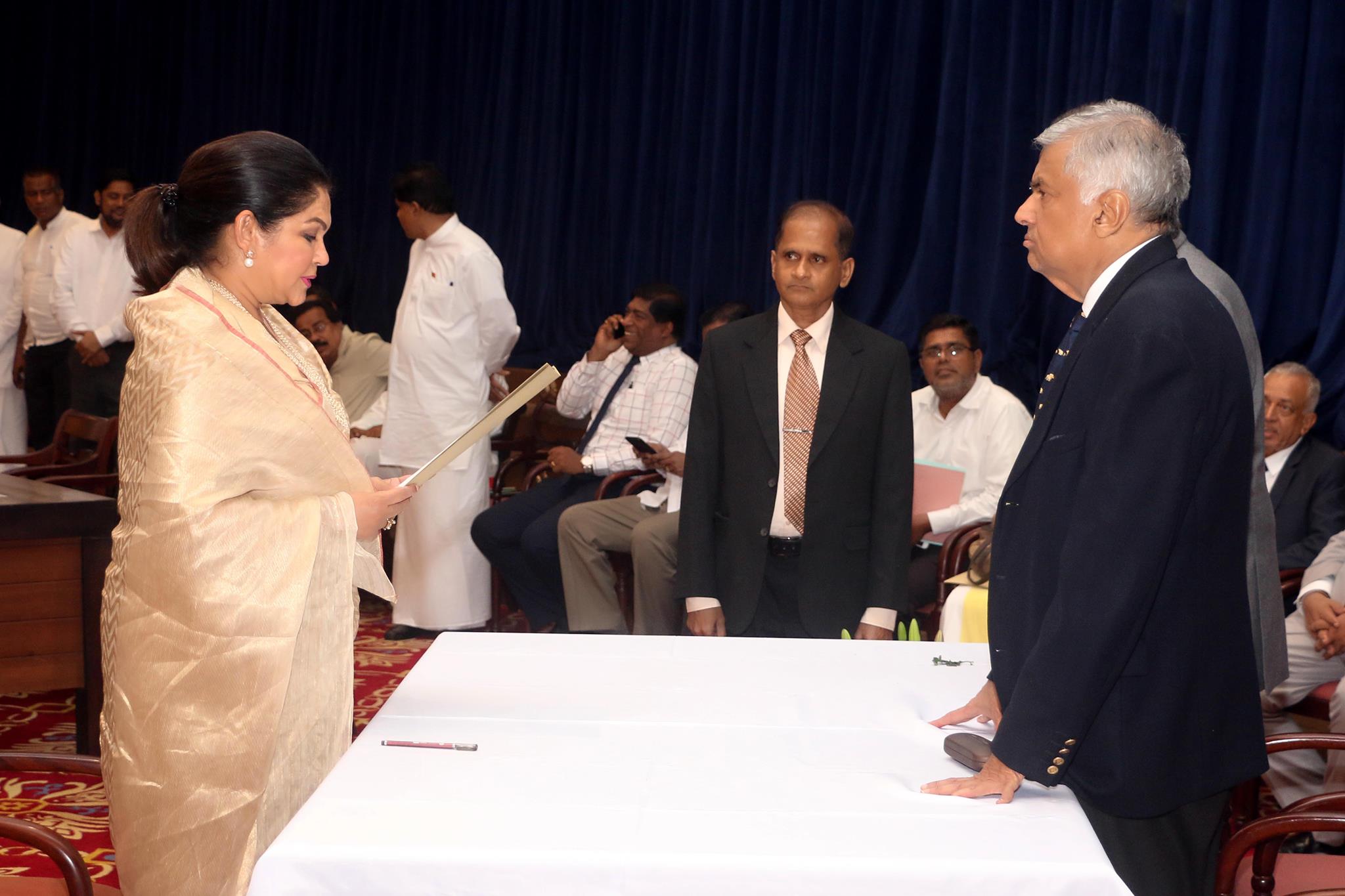 In preparation for the local government elections in February, the Human Rights Commission set up a dedicated Elections Desk to handle complaints, but also to 'pay particular attention to the rights violations of women candidates'— a laudable move. But although 25% female representation in Parliament was made mandatory in 2016, party leaders in Parliament decided to disregard 25% mandatory female representation in local government bodies due to 'practical difficulties', a move UNP MP Rosy Senanayake challenged in the run-up to the election. Senanayake was later elected the first female mayor of Colombo.
Marking small victories, in May, erstwhile Education Minister Akila Viraj Kariyawasam ruled that school teachers were no longer required to wear sarees during advanced stages of pregnancy, and a law allowing women with two or more children only 42 days of maternity leave was amended to allow all new mothers 82 days maternity leave. Later in the year, the Supreme Court changed a law in effect from 1978 by allowing female attorneys-at-law to wear dresses and trousers.
Awards And Achievements
Sri Lankan-born scientist Hasini Jayatilaka was thrust into the public eye when she found a mention on the 2019 edition of the Forbes '30 Under 30-Science' list. Jayatilaka was nominated for her discovery of a signalling pathway that controls how cancer cells metastasize through the body, now dubbed the 'Hasini Effect', and a concoction of drugs she had created to slow—and in some cases stop—certain cancers from spreading.
Marine biologist Asha de Vos won a Professional Achievement award at the British Council Global Alumni Awards and also made it to the BBC 100 Women 2018 , a list of 'women leaders, trailblazers and everyday heroes from more than 60 countries', for her work on ocean conservation.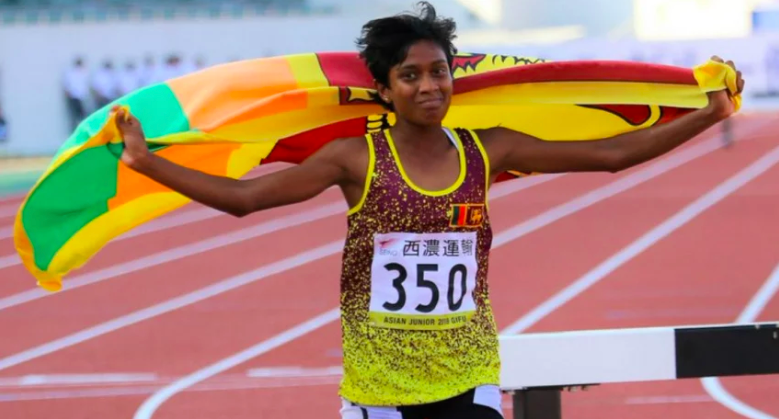 Sports
In sports, Sri Lanka continued to perform dismally in cricket, with the administration coming under fire for mismanagement. Accusations of pitch fixing followed, and former cricketing stalwarts Kumar Sangakkara, Mahela Jayawardene, Roshan Mahanama and Muttiah Muralitharan refused Sports Minister Faiszer Mustapha's invitation to be involved, even as consultants.
Despite these lows, Johann Peiris completed his trek up Mt. Everest to become the second Sri Lankan, and first Sri Lanka male, to summit the world's highest mountain. Sri Lanka also won the 2018 Carrom World Cup. The national women's netball team won the 2018 Asia Netball Championships for the fifth consecutive time; Hasini Ambalangodage won gold at badminton (mixed), and Parami Maristella won bronze at the 2,000-metre steeplechase at the first ever Youth Olympics. The year ended with 'Sri Lankan Hulk' Lucion Pushparaj winning in his category at the WBPF World Bodybuilding and Physique Sports Championships, despite being locked in a feud with the national governing body.
In all, it's been a mixed year, with lots of lows tempered by some highs. We look forward to what is to come in 2019.