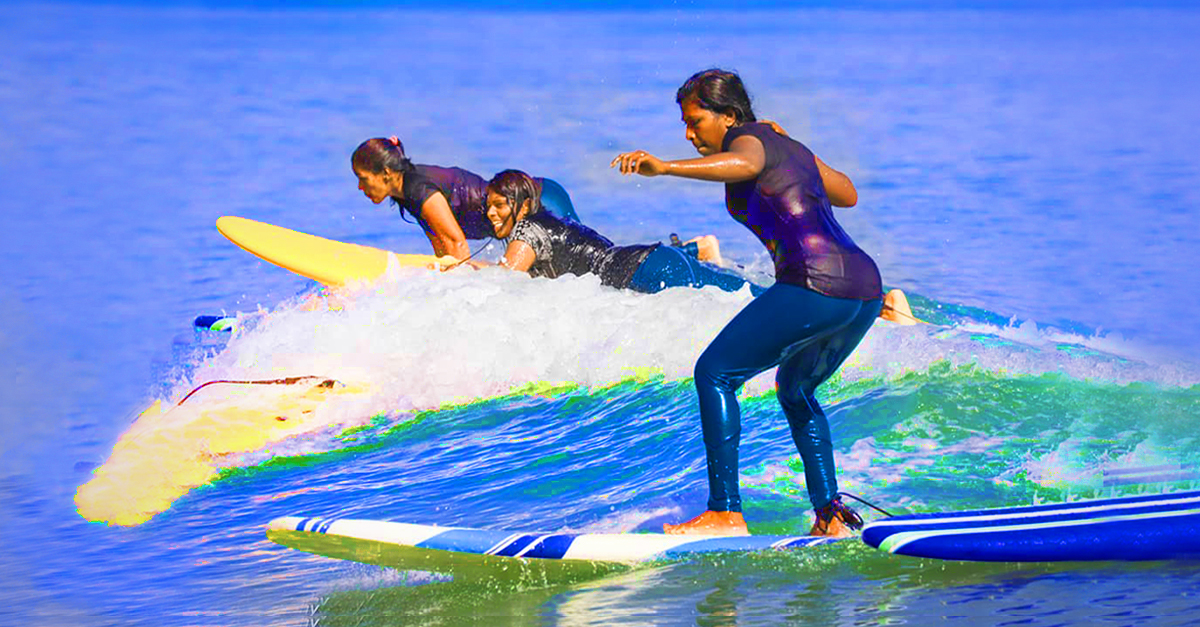 Surfing is not a sport that is commonly associated with Sri Lankan women. The stereotypical image of a female surfer is often a hypersexualized one, featuring someone tall and blonde.
Instead of looking at this lack of representation as a setback, the Arugam Bay Girls Surfing Club has taken it on as a challenge. The club consists of 12 members, the majority of whom are local women from Sinna Ulla, a neighbouring village in the Arugam Bay area, ranging in age from 13 to 44.
The club's president, Shamalie Sanjaya, is determined to make her mark in the water. A new mother in her early 30s, she has only limited time available to surf, but that doesn't stop her from getting into the water whenever she can.
As Sanjaya paddles out into the water, her bright yellow surfboard blazes in the sun. She catches wave after wave with ease, and in some instances, rides them through until they break into the shore. As her mum practises, Sanjaya's infant plays on the beach, trying to shovel handfuls of sand into her mouth. She is swiftly stopped by her father, who is on babysitting duty for today.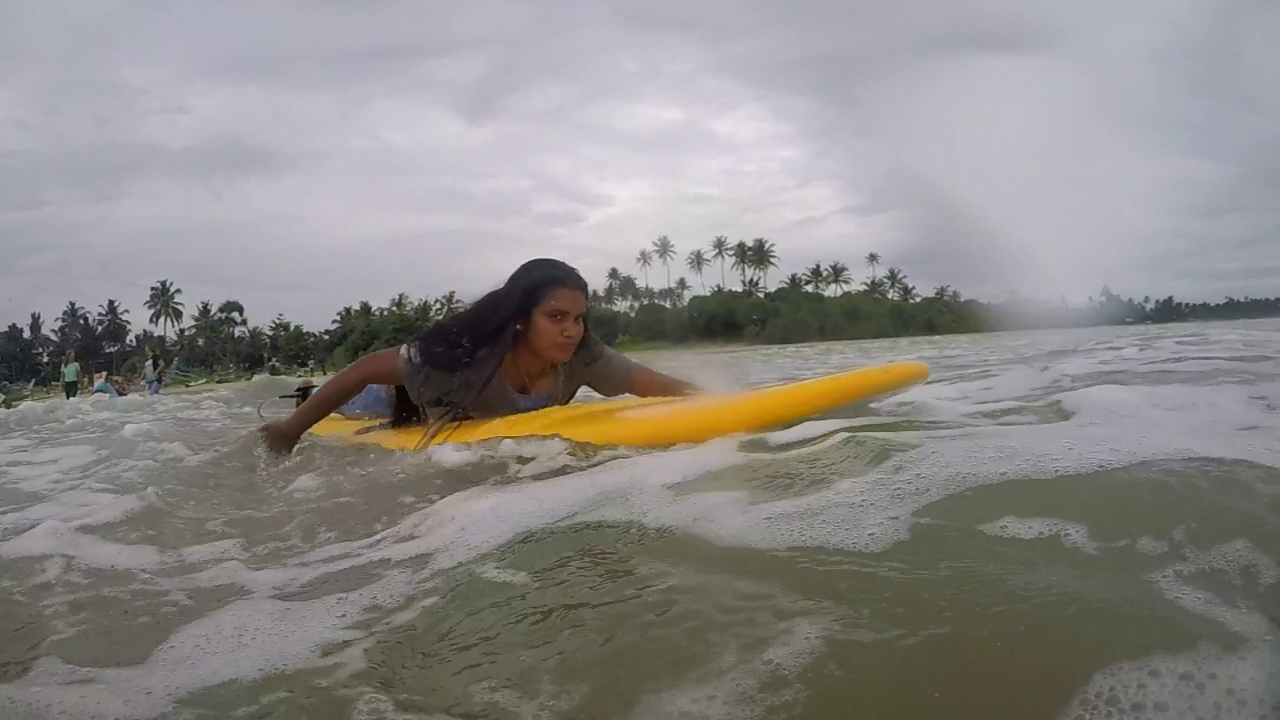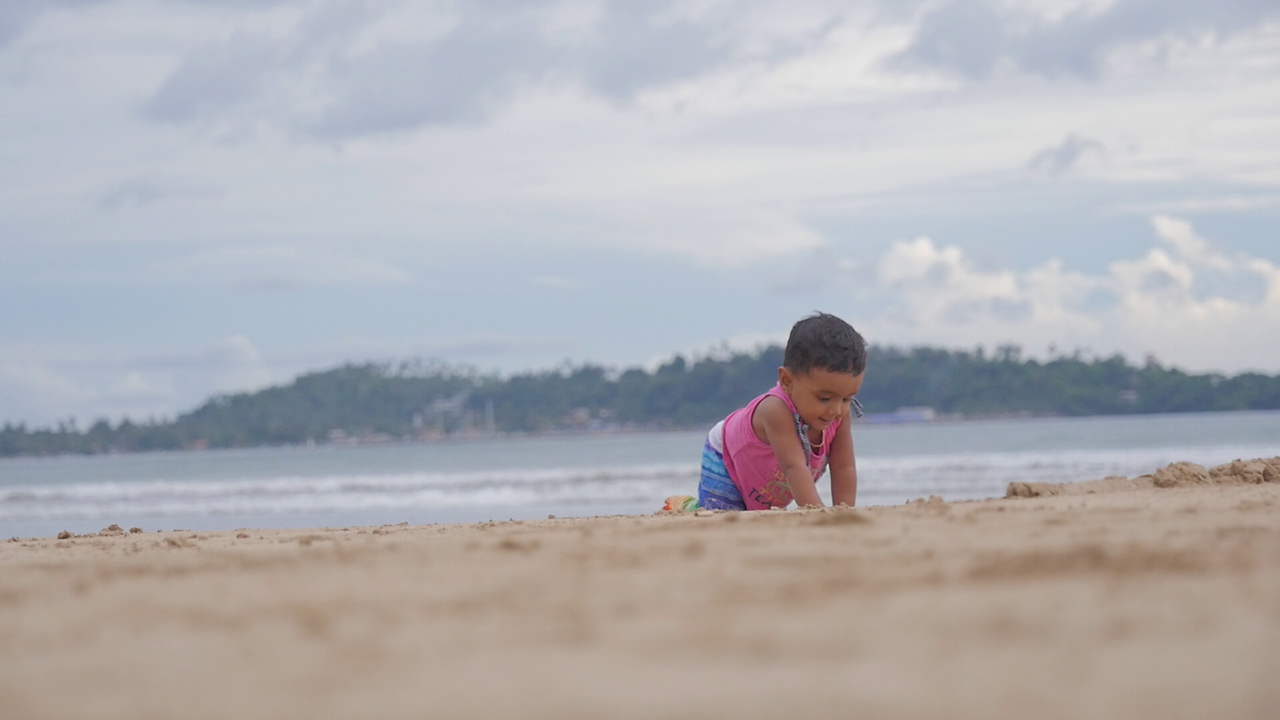 Sanjaya comes from a long lineage of surfers. Her father and brother are both pro surfers. From a young age, Sanjaya believed that she possessed a natural talent for surfing, but didn't get too many chances to go out into the water. Despite being a pro surfer himself, her brother felt the sport was too dangerous for Sanjaya to pursue, and would often get angry with her when she returned home after being in the water.
"I never let that go," she said. "I told [my brother] that I wanted to surf, and I continued to do it against his wishes. I've been doing it for over seven years now. Myself and a few other girls were interested in starting a club to surf so we could go out together and it wouldn't feel too dangerous. With the help of some [foreign] girls we were surfing with, we managed to make the club official, and now we try to practice surfing whenever we get the chance."
A Woman's Place
Although it officially became a club this August, the girls have been surfing together for many years, through weekly events called 'Girls Make Waves'. These events were initiated by Tiffany Carothers, an American who moved to Sri Lanka eight years ago, and found that there was a startling lack of local women surfing in Sri Lankan waters.
"For me, it was more about just wanting friends to surf with and that's just how it began," said Carothers. "Then, three years ago, we started an event called Girls Make Waves, where we rallied together girls who wanted to go surfing. After that event, the girls loved it so much that they wanted to do it every week, so we just kept it going."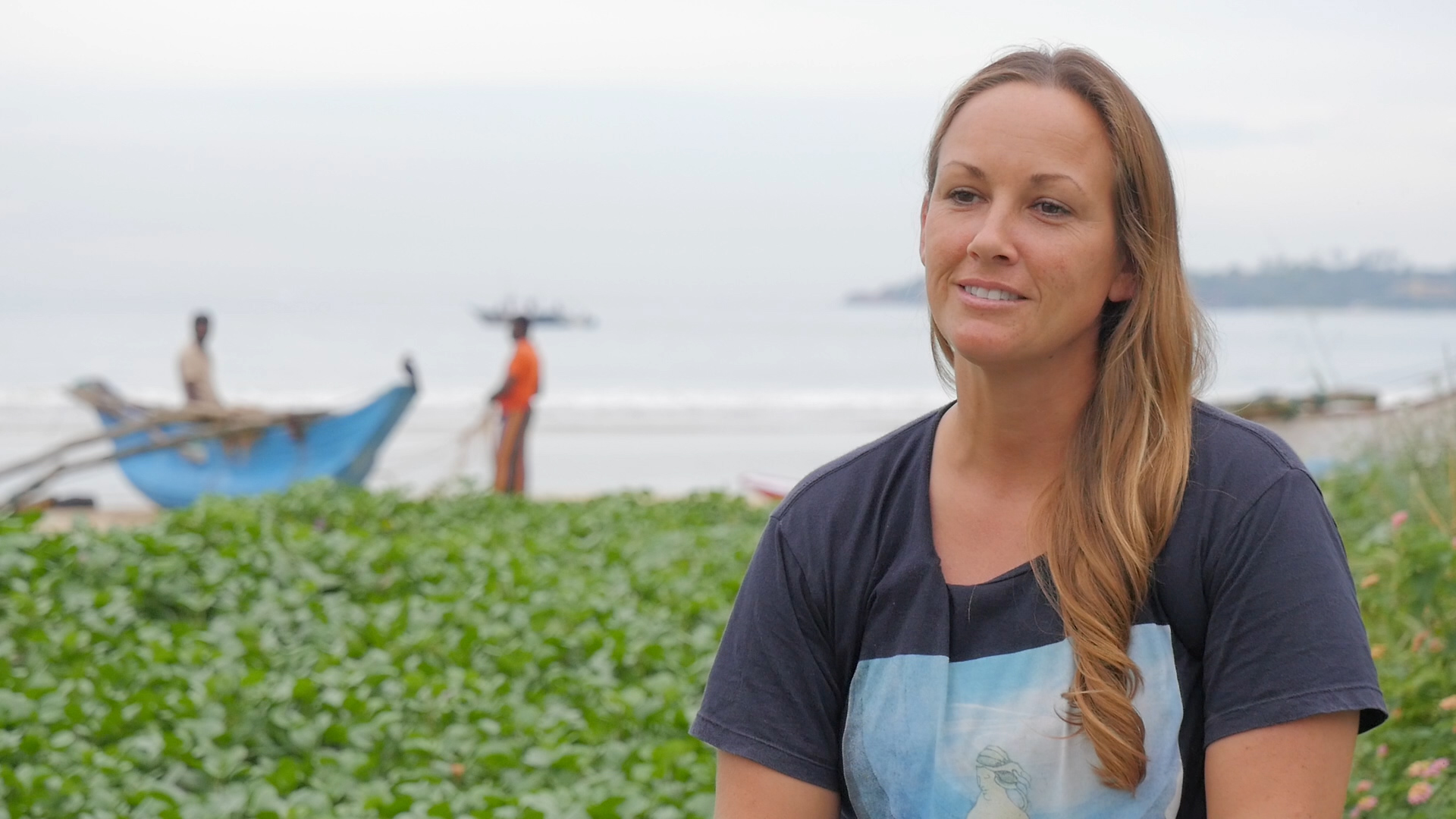 Initially, these events were not very well received among the local community. Although locals were accustomed to seeing foreign women surf, they didn't like the idea of women from their own communities engaging in it.
"When we first began, people from the village weren't very comfortable with the idea of girls surfing," says Isuri Anupama, the club's treasurer. Anupama is 22 years old, and has been surfing for over three years now. "They said that only boys are allowed to surf. Girls should go to school and classes and work at home. That was the idea."
A source of tension was the perception that the involvement of foreign girls implied that there were ulterior motives behind the initiative.
"People were telling the police that the foreigners were taking us out for various other reasons and giving us drugs," says K. Nahanthani, who at 40 years old, is one of the oldest members of the group. Nahanthani is happily married and has four children; the idea that she could be coaxed into taking drugs seems ridiculous to her.
During this time, the police even came to Carothers' home and questioned her, causing a lot of fear among the girls as well.
"Comments were made to the girls when we would go out surfing that they should be at home and cooking and not out surfing, and these things were really hard to deal with," Carother said. "We took a lot of breaks because of that. There were some girls that dropped out because they were scared of the police coming to their house like they did to mine."
Paving The Way
Despite the initial backlash, many girls continued to go out surfing everyday, and through their love and commitment to the sport, they have helped shift the tides in their favour.
"The girls have been surfing for many years and have been proving that they don't want to change the local culture or surf in bikinis or become [these] stereotypical Western surfer girls," says Martina Burtscher, an Austrian who returned to Sri Lanka last year to help the girls achieve their goal of forming an official surf club.
For her master's degree, Burtscher wrote her thesis on how surfing can be used as a tool for women's empowerment — by helping them feel stronger and more independent. Burtscher's research brought her to Sri Lanka, where she met the girls and became inspired by their pursuit. After completing her degree, she returned and along with her friend Amanda Prifti, helped the girls make their dream of forming an official club come to fruition.
Prifti herself returned to Sri Lanka after completing her masters degree on environmental hazard in coastal areas. She joined the facilitating team and draws from her background in environmentalism to facilitate beach cleanups and conservation events hosted by the club.
Although surfing is currently just a leisure activity for the girls, many of them do feel that it has had a significant positive impact on their lives.
"When I first learned how to ride a bicycle, I felt like I wanted to do it everyday, which is exactly how I feel about surfing now" says Sanjaya. "I want to do it all the time, and more than anything, it makes me feel good."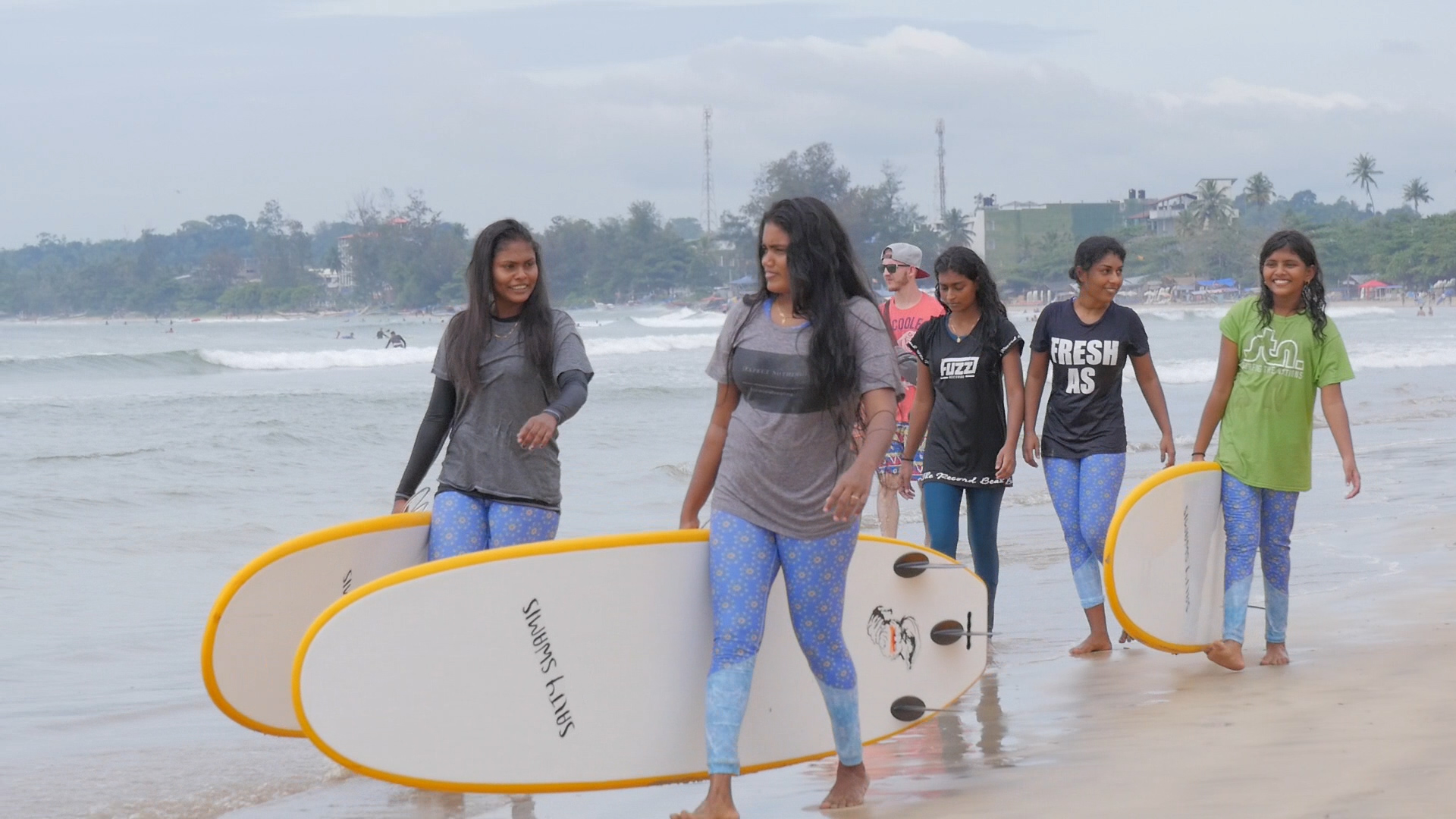 Apart from personal benefits, surfing could prove to have financial benefits for the girls as well. The Surfing Federation of Sri Lanka has begun encouraging more women to surf, especially since it will soon be recognised as a sport by the Olympics.
Countries that send national teams to the Olympics without a girls' team are liable to fines. Now more than ever, there is an actual need for more Sri Lankan women to be surfing.
Although the Olympics still seems like a far reach for many of the girls, they are all interested in training to compete on a regional level. Some girls also hope to become surfing instructors in the future. Since many women don't feel comfortable with male surf coaches, there is a growing need for female coaches in towns like Arugam Bay. This is a void that some members of the club could potentially fill.
"I'm open to doing anything that is related to surfing," says Anupama. "For now, my goals are to train and compete in regional competitions. But if later down the line I can become a coach and make that my profession, I am open to the possibility."