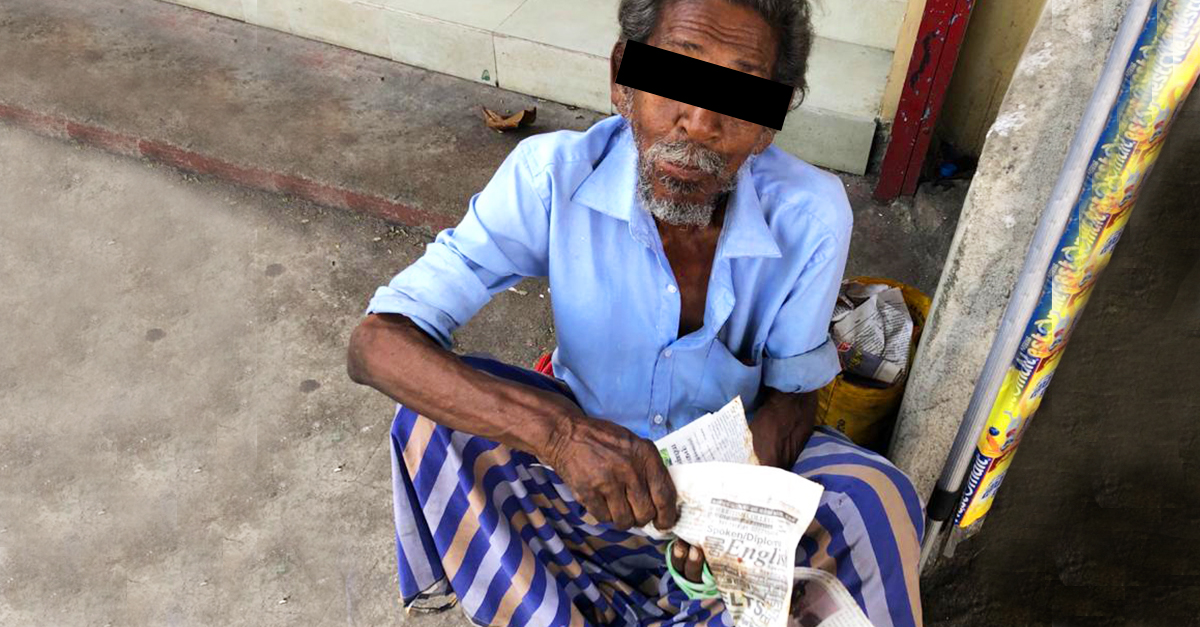 No one knew how old Lawrence was when he passed away. He died at the bus stop he took shelter at, amid rain or the unbearable noon heat. The bus stop in front of the construction site with the massive white Buddha statue next to it became his haven—where no one bothered him or asked him to leave. 
V. A. M. T. Lawrence was homeless. He was one of many homeless people in Colombo, stranded and exposed to the elements, doubly vulnerable during the state-imposed COVID-19 curfew. He survived on whatever was given to him when begging in the Kirulapone area. But his ailments—he was asthmatic—made it difficult for him to walk long distances.  
Lawrence had not always been homeless: he had a family back in Puttalam but had been stranded in Colombo during the government-mandated COVID-19 curfew that lasted almost two months. 
And after two months on the street, Lawrence was found dead at the very bus stop he slept at. 
'Give Me Shelter'
"He [Lawrence] spoke and wrote English perfectly well. He told me that his daughter cared for him at his home in Puttalam," Christopher Dias, a resident of Kirulapone who had met and spoken to Lawrence prior to his demise, told Roar Media.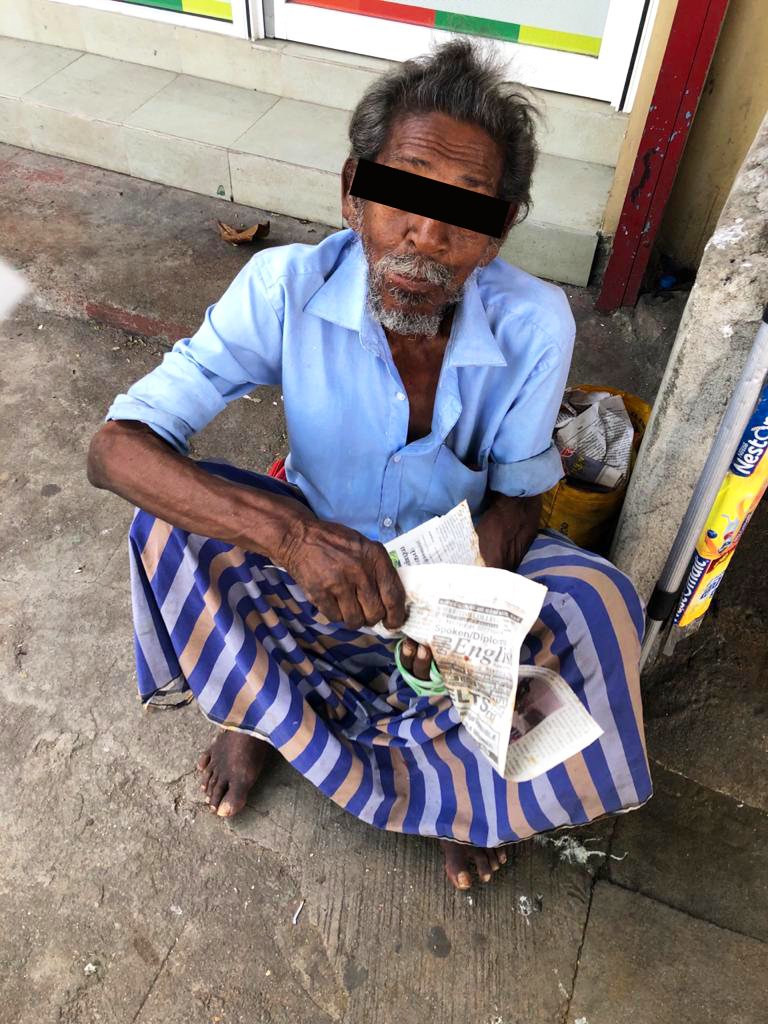 Dias said Lawrence had travelled from Puttalam to Colombo in March, right before the COVID-19 curfew was imposed. "He came to get his Employees' Provident Fund money sorted. But the curfew was imposed, and he got stuck here," Dias said.
"He didn't have a place to stay. He wanted to go to a homeless shelter, which we thought could be provided. But it didn't work out the way we planned," he added.
Care for homeless elders falls under the purview of the National Secretariat for Elders and the Department of Social Services. The Department manages 104 state-sponsored shelters in the Western Province that provide basic facilities for homeless elders, as well as assistance to procure necessary medicines and care. The Department also supports private shelters, which make up the majority of elders' homes and shelters in the province. 
But with the increased threat the COVID-19 outbreak poses to the elderly and senior citizens, the Department has now introduced a new policy. 
"We will not provide shelter to anyone seeking such facilities without a PCR [polymerase chain reaction] test; this includes the homeless and the disabled community. We have decided to do so because of the high risk involved," Chandima Dissanayake, Director of the Social Service Department of the Western Province told Roar Media.
At present, government hospitals have prioritised conducting PCR tests on people suspected of COVID-19, or those who have shown symptoms of the virus—tests are not conducted on demand. In the case of private hospitals, a patient must be admitted prior to the test, which is estimated to cost a maximum of Rs. 6,000 per test. 
These obstacles can only be circumvented if a social service officer intervenes—then a PCR test can be carried out at a government hospital free of charge. This process was available for private homeless shelters as well.  
"The senior population and the disabled persons community are the most vulnerable to this disease. We don't want to take unnecessary risks. If we take someone in without a PCR test, wouldn't we put the occupants at the shelter at risk? Who will take that responsibility?" Dissanayake asked.
According to her, there are two social service officers and the area's Grama Sevaka office, who would intervene whenever an elderly homeless person was found on the road, seeking shelter. Through these officers, an individual can hope to find shelter.
Dissanayake said however that she was unaware of Lawrence's predicament.
But Dias is unconvinced. "We contacted the social service officer of the area. He told us that Lawrence cannot be taken in without a PCR test. But these are homeless people. The area's social service officer, even after being contacted several times, didn't even bother to come visit Lawrence. And the Police refused to do anything either, saying that he may be infected [with COVID-19]. This is a pathetic situation!" 
Lawrence reportedly passed away on 20 June. "The last I saw him, he looked dehydrated and the deterioration was very visible," Dias noted.
Those who knew of Lawrence tried to locate his family, to no avail.
No Space, No Resources
At present, the province's state-run shelters are at full capacity. According to Dissanayake, the most significant problem the Department of Social Services faces at this juncture is the lack of space and facilities.
"We cannot provide a bed to all those who come asking for it," she said.
"Let's assume a homeless senior citizen who enters a shelter at the age of sixty will live at the shelter under state care for at least thirty years. During that time, we cannot afford to bring in another occupant because we don't have enough space," Dissanayake said. 
This very lack of available space may have resulted in another death of a homeless person. 
Kali Muttu, 74, was working as a cobbler earlier this year, according to Keethika Augustine, another concerned citizen who had attempted to procure the services of the Department of Social Services, with no success. 
"Kali Muttu's legs were paralysed. He was working as a cobbler but people used to steal from him because he was handicapped. He was also very sick," Augustine told Roar Media.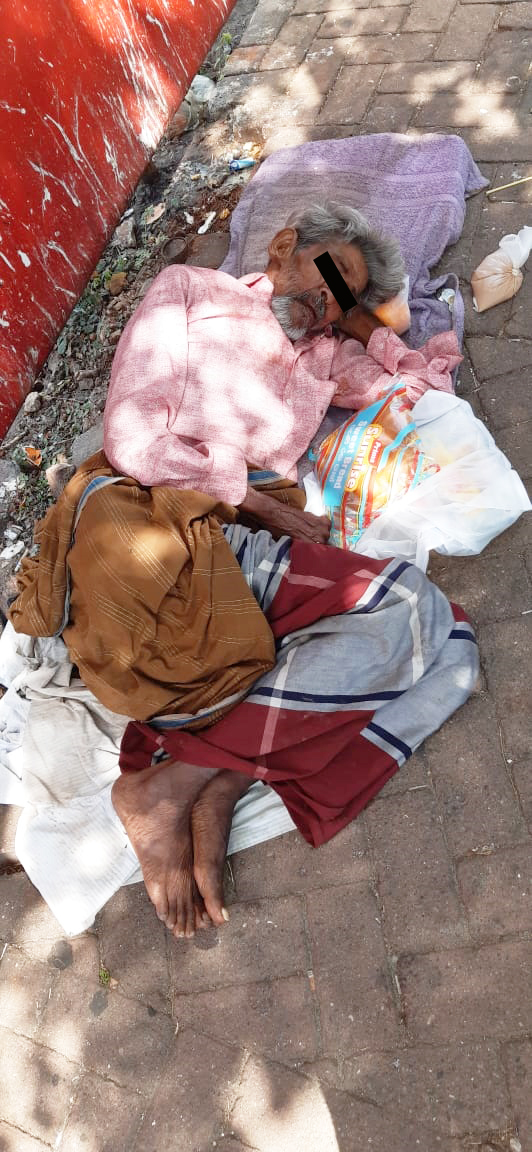 "On several occasions, we contacted the Department of Social Services, but they claimed they didn't have the adequate resources to deal with Kali Muttu. They said he would have to look after himself. How could he do that? He's disabled," she said.
According to Augustine, Kali Muttu passed away in March, a few days before the COVID-19 lockdown was imposed, proving that the dilemma faced by the homeless is not unique to the pandemic, but is a pre-existing issue. The lack of a functioning system aimed at assisting the homeless was only exacerbated during the lockdown.   
Unrecorded Deaths
Sri Lanka currently does not maintain any statistics of homeless deaths that take place in the country. Their deaths are recorded as unclaimed/unidentified cadavers by the relevant authorities and they are buried in unmarked graves in a public cemetery. 
With the current pandemic, the existing ad-hoc system of dealing with the destitute risks more homeless deaths that go unrecorded and ultimately, are discarded disgracefully.  
At the height of the COVID-19 lockdown, over 300 homeless people were removed from the Gunasinghepura area in Colombo 12, after a Covid-19 patient was discovered there. They were relocated to various quarantine centres where they were subjected to PCR tests. Many tested negative for COVID-19 and were released after the mandatory two weeks of quarantine.
However, the question remained as to whether they would return to the same locale. According to Dissanayake, the solution was to transfer them to state-run shelters or private shelters for the homeless, based on availability of space.
Ad-hoc quick fixes such as these measures taken by state authorities and institutions only provide temporary solutions. The 300 individuals from Gunasinghepura—if transferred to shelters as said—were undeniably the lucky ones out of the many homeless who struggled (and in all likelihood, continue to struggle) during these trying times. 
Lawrence and Kali Mutti were not among the lucky. They fell victim to an ineffective and under-resourced government programme, their deaths not gracing the footnotes of history.