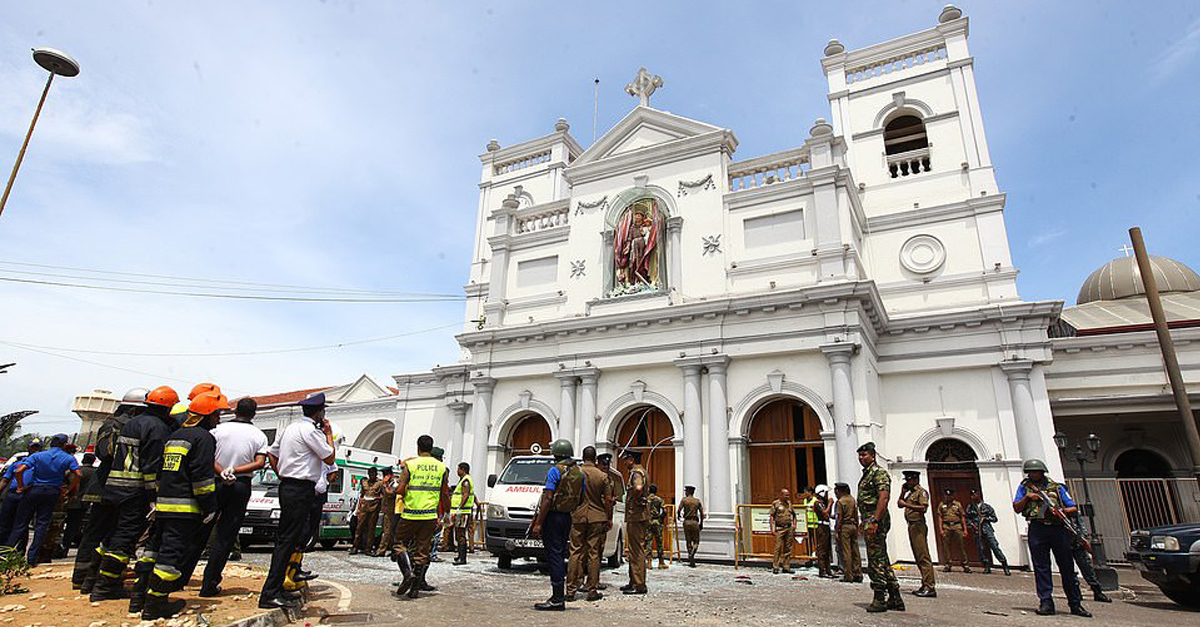 A series of devastating bomb explosions occurred on Easter Sunday morning (April 21) targeting multiple churches around the country and three luxury hotel complexes in Colombo.  Two days after the attacks, here is a timeline of the events so far.
Tuesday, April 23
00.00 am: Sri Lanka declares state of emergency from today following the deadly attacks. President Sirisena issues the extraordinary Gazette declaring the emergency.
04.00 am: State-wide police curfew has been lifted, Police Spokesperson announces.
05.00 am: Reports of a supposed video by the Islamic State claiming responsibility for the attack surface. The video claims that the attack was carried out by its members.
08.30 am: Three minutes of silence observed in memory of the victims of the Easter Sunday terror attack.
09.00 am: Police announce the death toll from Sunday's attack has risen to 310.
The funeral services of those who died in the St Sebastian Church bombing are carried out in a public burial ground in Katuvapitiya. The procedure is preceded by a large and sombre Catholic service with many of the local residents participating.
09.30 am: Police Spokesperson notes that 40 persons have been arrested so far over the attacks; 26 of them are currently being questioned by the CID and three are being held by the TID.
11.00 am: Sri Lankan police have held a Syrian national in custody for questioning over attacks: Reuters
2.00 pm: Prime Minister Ranil Wickremesinghe addresses Parliament. He says the group was trained and the attack was planned, and involved great secrecy. Says security forces committed to apprehending those involved/linked. Emergency Regulations to empower security forces to apprehend and detain suspects.
3.00 pm: Police Headquarters advises all police stations in Colombo to be on high alert about a lorry and a van suspected to be carrying explosives.
Initial investigation reveals that Islamist extremist group National Thowfeeth Jamath carried out the attack in response to NZ Christchurch attack. This group also has close links with another organization called JMI, State Minister for Defence Ruwan Wijewardene tells Parliament.
In Parliament, Opposition Leader Mahinda Rajapaksa says a government that cannot ensure the safety of its citizens is of no use. "When I handed over the government, it was free of terrorism. No such attack would have happened on our watch," he says.
3.20 pm: Police Spokesperson notes that two men have been arrested for spreading false information on water contamination around the country and remanded till May 06.
4.00 pm: Islamic State claims responsibility for Sri Lanka bombings through its Amaq news agency: Reuters
5.00 pm: Police curfew to be imposed from 9 PM tonight to 4 AM tomorrow: Police
6.00 pm: At a press conference, Prime Minister Ranil Wickremesinghe says there seems to have been foreign involvement in the attack. "Some have travelled abroad and returned. It's why we have asked for international assistance." He says some, but not all, attackers have been identified.
He adds that an inquiry has been launched to why the prior information on the attack did not reach his office. "If we had known we could have prevented or reduced number of attacks," he says.
Postmaster General says sealed packages will no longer be accepted. Packages will need to be sealed in the presence of officers.
8.45 pm: President Sirisena says he hopes to restructure the leadership of the security forces during the next 24 hours.
Monday, April 22
6.00 am: Police Spokesperson announces that the statewide curfew imposed on Sunday (April 21) has been lifted.
9.45 am: Justice Ministry requests all coroners to carry out post-mortem examinations on persons killed in terror attacks to facilitate the release of bodies.
11.30 am: Government Analyst's Department confirms that the attacks on the three churches and three hotels were carried out by suicide bombers.
12.00 pm: Several May Day rallies organised by political parties are cancelled.
12.15 pm: President Maithripala Sirisena appoints a three-member committee with Supreme Court Justice Vijith Malalgoda, former IGP N. K. Illangakoon and former Law and Order Ministry Secretary Padmasiri Jayamanne to investigate the attacks.
1.00 pm: Government Information Department announces that as per Presidential decree, police curfew is to be imposed from 8.00 pm on Monday until 4.00 am on Tuesday, April 23.
Police Spokesperson debunks rumours that poison has been mixed into water supplies in several areas of the country.
1.15 pm: All night mail trains scheduled for Monday night are cancelled, according to the Railway Control Room.
1.30 pm: Defence Secretary Hemasiri Fernando, speaking to journalists gathered outside the St Anthony's Church in Kochchikade, says that the Defence Ministry had received information about a potential attack but did not expect it to be of this magnitude. He emphasised that the reports suggested that the attacks would come from a small but well- coordinated and funded group that would carry out independent attacks, targeting high profile political members. He justified the Ministry's actions, adding that the information was not enough to take proactive measures prior to the Easter Sunday attack.
1.45 pm: Gold News reports that three people have been arrested for idling near Mahawila Gardens, Dematagoda where the last explosion occurred on Monday.
2.00 pm: Government declares Tuesday as a National Day of Mourning.
Death toll stands at 290, including foreigners. Over 500 injured.
2.20 pm: President's Media Division (PMD) announces that a conditional state of emergency has been declared after a National Security Council meeting headed by the President.
The President has also decided that articles on combating terrorism will  be gazetted and come into effect at midnight. The legislature will give powers to security forces to ensure public safety, PMD highlighted.
During a media conference, Cabinet Spokesperson Rajitha Senaratne and several Government officials accuse the group known as National Thowheed Jamath for the attacks. Senaratne noted that the intelligence report had been distributed to certain prominent members of Parliament. According to him, the accused organisation is said to have international support.
2.45 pm: Police Spokesperson reports that the Police has discovered 87 detonators at the private bus stand in Bastian Mawatha, Pettah.
3.30 pm: Nine suspects arrested for their involvement in the attack at the Shangri- La Hotel, Colombo remanded till May 6 by the Colombo Magistrate's Court.
3.45 pm: Police note that the three officers who were killed on Sunday have been promoted posthumously.
4.00 pm: Officers of the Special Task Force and Sri Lanka Air Force bomb disposal unit defuse a suspected parcel withholding a bomb, in a controlled detonation inside a van near the St. Anthony's Church in Kochchikade. Police evacuate the public nearby before the detonation.
5.00 pm: President Sirisena tweets that authorities have been ordered to do what is necessary to root out the terror connections behind this attack.
ත්‍රස්තවාදයට සහයෝගය දක්වන සියලු විනාශකාරී බලවේග මුලිනුපුටා දැමීමට අවශ්‍ය සියලු පියවර ගන්නා ලෙස ආරක්ෂක අංශ වෙත මා ලබා දුන් උපදෙස් පරිදි මේ වන විටත් තත්ත්වය සාර්ථකව පාලනය කිරීමට හැකි වී තිබේ. ඒ් සඳහා ආරක්ෂක අංශ වෙත ජනතාවගෙන් ලැබෙන සහයෝගය මම අගය කරමි.

— Maithripala Sirisena (@MaithripalaS) April 22, 2019
Police search a house behind a church in Enderamulla in Wattala. They subsequently arrested two suspects from the house for questioning.
Reports come in of a suspicious vehicle at the Nawaloka Grounds, Welisara; Police commence search operation.
Negombo- Colombo road temporarily closed; Police arrest two individuals for probable suspicion.
5.30 pm: Pope Francis tweets about the situation in Sri Lanka.
Today, too, let us join in prayer with the Christian community of Sri Lanka, which was struck by terrible violence on Easter Sunday. We entrust to the risen Lord the victims, the wounded and all the suffering. #PrayForSriLanka

— Pope Francis (@Pontifex) April 22, 2019
5.40 pm: Colombo Magistrate's Court allows Colombo Crimes Division to detain and interrogate a youth who filmed the explosion in Dematagoda.
6.15 pm: All Catholic private schools will reopen for the second term on April 29.
6.30 pm: INTERPOL announces that it will deploy a team to Sri Lanka to support investigations.
Sunday, April 21
8.00 am- 8.45 am: Six explosions occurred simultaneously across Sri Lanka, three of which targeted Catholic and Christian churches and three luxury hotels in Colombo. Explosions are reported in the Shangri-La, Kingsbury and the Cinnamon Grand Hotels.
Explosions are said to have occurred during Easter Sunday service at the churches.
9.00 am: Reports of the attacks on the St Anthony's Church in Kochchikade in Colombo 13, St. Sebastian's Church, Katana and Zion Evangelical Church, Batticaloa, are confirmed by Sri Lanka Police. Number of injured are not confirmed; injured from all six locations rushed to nearby hospitals.
Among the injured are a large number of churchgoers and several foreigners.
10.00 am: Cardinal Malcolm Ranjith Fernando condemned the attack. The Cardinal requested the public to remain calm and advised not to "take [the] law into their hands". He urged the public to help the victims and also donate blood if possible.
11.00 am: President Maithripala Sirisena expressed shock and dismay at the attack. He noted that the Police and tri-forces have already commenced investigations and urged the public to stay calm and refrain from spreading misinformation.
Department of Government Information issued a public notice expressing condolences to those affected by the attack. The Department urged the public to not to get swayed by gossip.
British High Commission in Colombo issued an updated travel advisory to those travelling to Sri Lanka.
#Sri Lanka: There have been a number of explosions in Sri Lanka, including Colombo, on Sunday 21 April. Please follow the instructions of local security officials and follow travel advice for updates. https://t.co/vWOodfYNtg pic.twitter.com/U3nmVKJmCx

— FCO travel advice (@FCOtravel) April 21, 2019
11.30am: Emergency Security Council meeting took place with the Prime Minister and Secretary of Defence. A special Cabinet meeting is to follow.
11.50am:  Education Ministry issued a notice closing all schools in the island on Monday, April 22 and Tuesday, April 23.
Passengers are requested to be at the Bandaranaike International Airport four hours prior to their flights. Visitors have been restricted from entering the airport until further notice.
12.20 pm: Prime Minister Ranil Wickremesinghe condemned the attack. He highlighted that the government is taking immediate steps to contain the situation.
12.40 pm: Director General of Health Services of the Ministry of Health, Dr. Anil Jasinghe, noted that the death toll has increased to 138, including nine foreign nationals. Nearly 300 have been injured, including 13 foreigners; 45 in Colombo; 67 in St Sebastian's Church in Negombo; 25 at Zion church in Batticaloa, in the east.
Archbishop's House cancelled all Easter sermons across the country that were scheduled for the evening.
12.45 pm: Minister Harsha de Silva tweeted photos of an emergency meeting between Prime Minister, Cabinet ministers and senior military personnel.
PM @RW_UNP met w ministers n senior military personnel; all measures taken to maintain peace. Security tightened. Please stay calm. Please act responsibly. Please NO politics. We must all act together as #SriLanka citizens. My condolences to all families who lost loved ones. pic.twitter.com/j6e3qEPgNt

— Harsha de Silva (@HarshadeSilvaMP) April 21, 2019
12.55 pm: Opposition Leader and former President Mahinda Rajapaksa condemned the attack.
It is absolutely barbaric to see such violent attacks on such a holy day. Whoever is behind these attacks must be dealt with immediately. My thoughts and prayers are with the families that lost loved ones and all of Sri Lanka.

— Mahinda Rajapaksa (@PresRajapaksa) April 21, 2019
1.00 pm: Karu Jayasuriya, Speaker of Parliament issued a statement condemning the attack.
Multiple cowardly attacks this morning were not against any religion or ethnic group, but the whole Sri Lankan nation, bound together by friendship and brotherhood. In this difficult time, let us stand stronger to wipe out these heinous forces from our country, whoever they are. pic.twitter.com/n31N5GVTbG

— Karu Jayasuriya (@KaruOnline) April 21, 2019
1.15 pm: Police noted that death toll has increased to 156, including 35 foreigners.
1.30 pm: Death toll rose to 185; 46 dead and 469  injured at the Colombo General Hospital; 17 injured in Colombo South; 74 dead and 113 injured in Negombo hospital; 31 at the Katana General; 7 dead and 30 injured at the Ragama General; 27 dead and 80 injured at Batticaloa General; unconfirmed number of injured children admitted to the Lady Ridgeway Hospital, Colombo
1.35 pm: Hemasiri Fernando, Secretary of Defence, addressed a media briefing acknowledged the attack. Condemning the incident, Fernando urged the public to refrain from spreading misinformation. He noted that the authorities are on top of the incident.
1.40 pm: Speaker's Office announced that Parliament will be convened on Tuesday (23rd April) in order to discuss the emergency situation.
2.00 pm: Social media and online messaging platforms, including Facebook and Whatsapp, stopped functioning; a reported geo-block in effect.
2.10pm: Explosion reported at a small hotel lodge opposite the Zoological Gardens in Dehiwala. Two individuals reportedly dead; zoo temporarily closed.
2.30pm: Prime Minister Ranil Wickremesinghe visits the St Anthony's Church in Kochchikade. Prime Minister claimed stern action against those behind the attacks.
2.35pm: Islandwide curfew to be declared from 6.00 pm on Sunday, April 21 to 6.00 am on Monday, April 22, as per the instructions of the President to the Inspector General of Police.
State Defence Minister Ruwan Wijewardene noted that the government will pay for the funeral proceedings. Noted that foreigners in affected hotels have been moved to different accommodation. Security tightened across the country. Wijewardene noted that the situation is under control; authorities will take every possible action to prevent further attacks and to arrest all perpetrators.
2.40pm: Eighth explosion reported in Dematagoda, Colombo 09. Explosion reportedly took place at a house; fire reported as well. Three people admitted to Colombo General Hospital.
2.45pm: Social media and online messaging platforms such as Facecbook, Whatsapp and Viber blocked in order to prevent further dissemination of false information.
3.15 pm: Suspicious parcel found in Jampettah Street also known as K. B. Christy Mawatha. Police has deployed Bomb Disposal Unit of the Special Task Forces for inspection.
3.19 pm: Inspector General of Police imposes immediate curfew island wide, ahead of schedule. Curfew will be in effect until further notice.
3.20 pm: Another explosion is said to have occurred at the same house in Dematagoda as the previous explosion.
3.30 pm: Four individuals arrested by the Police after an intense firefight in Dematagoda, following the explosions. The suspects were arrested in the same housing complex where the explosion occurred.
Three police officers killed in the Dematagoda explosion.
3.45 pm: Police Spokesperson claimed that a special operation launched around Kotahena and Dematagoda areas. Reporters on the ground claim Sri Lanka Police are utilising drones for surveillance activities around the residential areas.
4.10 pm: Pope Francis, head of the Catholic Church condemns the attack, during the Easter Sunday homily, at St. Peter's Square in the Vatican City. "I wish to express my heartfelt closeness to the Christian community [of Sri Lanka], wounded as it was gathered in prayer, and to all the victims of such cruel violence. I entrust to the Lord all those who have tragically perished," he said, "and I pray for the injured and all those who suffer as a result of this tragic event"
4.20 pm: Leave for all police and military officers cancelled.
All night mail trains scheduled tonight also cancelled.
University Grants Commission announced that all government universities are shut down and exams postponed.
4.45 pm: State Minister Ruwan Wijegunawardene said that seven suspects have been arrested in connection with today's coordinated attacks in Colombo, Negombo and Batticaloa. Government confirmed that most of the blasts were suicide bomb attacks, organised and carried out by one group.  
4.50 pm: Minister Harsha de Silva tweeted during a media conference that at least 160 casualties were reported, including approximately 30 foreigners.
@RWijewardene says 7 people under arrest for morning attacks that killed at least 160 people including perhaps close to 30 foreigners (Source: Sec/Foreign Affairs) at meeting now w heads of media. Asks for responsible reporting. pic.twitter.com/kKrwdr0uJt

— Harsha de Silva (@HarshadeSilvaMP) April 21, 2019
5.00 pm: State Minister Wijewardene noted that the three police officers—one Special Investigator and two police constables—who were killed in an explosion, died while pursuing the suspects in Dematagoda.
Defence Secretary Hemasiri Fernando noted that the Government is not considering declaring a state of emergency yet. A decision on this will be made after a meeting with President Maithripala Sirisena tomorrow morning.
5.20 pm: Police Spokesperson SP Ruwan Gunasekara, addressing the media, noted that the explosions in Dematagoda occurred when the Police arrived at the location, based on a tip-off.
Three police officers were killed in the incident and another was injured.
At the moment, there are 207 known casualties according to the Police Spokesperson with approximately 450 injured. These include 66 dead and 260 injured at the Colombo National; 104 dead and 100 injured at the Negombo General; 2 dead and 6 injured at the Colombo South; 28 dead and 51 injured at the Batticaloa General and 7 dead and 37 injured at the Ragama General Hospital.
5.45 pm: Addressing the media, Military Spokesperson Brigadier Sumith Atapattu highlighted that over 1000 military personnel from the tri-forces have been deployed to Colombo alone for investigation and security purposes.
5.50 pm: Foreign Secretary Ravinatha Aryasinha has said that 27 foreigners were among the casualties. At least five still reported missing. Heads of foreign missions kept informed about the foreign casualties. Foreign Ministry will not release the nationalities of the casualties right now.
7.00 pm: Police confirm that a van suspected to have transported explosives to Colombo has been apprehended and its driver arrested in Wellawatte.
7.10 pm: Colombo National Hospital reports that 35 foreigners have been killed in the incident. Among the victims are nationals of the United States, Denmark, China, Japan, Pakistan, Morocco, India and Bangladesh.
8.30 pm: Bodies of a woman and two children recovered from under the debris of the house in Dematagoda, where several explosions took place.
8.50 pm: Prime Minister Ranil Wickremesinghe addressed the nation on live television. He claimed that there had been intelligence reports warning of a potential terror attack, which the law enforcement authorities failed to investigate prior to today's event. "We must look into why adequate precautions were not taken. Neither I nor the Ministers were kept informed."
9.30 pm: Police confirm they have found a house in Panadura allegedly used by the suspects.
9.40 pm: President has appointed a special investigation board headed by a Supreme Court judge,  to inquire into the attacks. The board has been asked to submit a report within two weeks.
10.00 pm: Number of arrested suspects up to 13. Of these, 10 have been handed over to the CID for further investigations, according to the Police  Spokesperson.
22.30 pm: The Eiffel Tower in Paris, France turns off all lights in memory of the lives lost in today's attack while Real Madrid FC held a minute of silence before kick off.
23.15 pm: An improvised explosive device (IED) found in Katunayake within close vicinity of the Bandaranaike International Airport; Sri Lanka Air Force Spokesperson Group Captain Gihan Seneviratne noted that the bomb was successfully diffused.