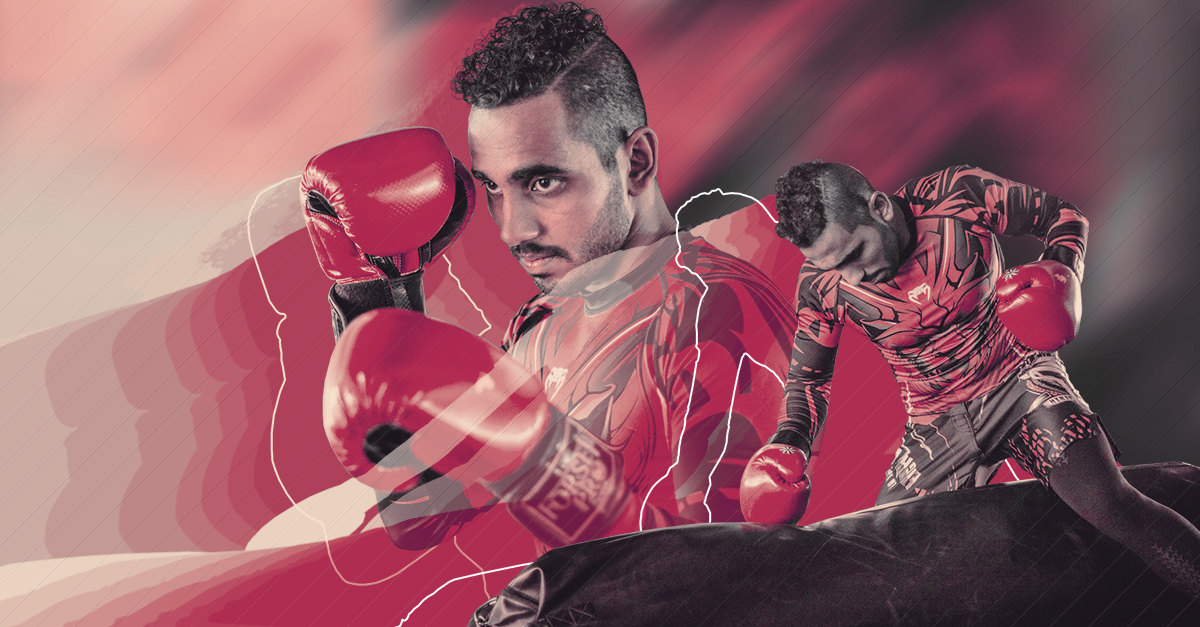 Ajmal Yakoob is 24, and he is originally from Slave Island. He is young, wiry, and thrumming with energy, and intensely focused on one goal: to win gold and bring fame to Sri Lanka by winning international Muay Thai tournaments.
The national sport of Thailand, Muay Thai is called both an art—and a science—of eight limbs. Muay Thai combatants learn to use not just their hands and feet, but also their elbows and knees to attack. Muay Thai is not meant for self-defence like karate or judo; it is hands on aggression, a combat sport where you go straight for the attack.
"The hands become the sword and dagger; the shins and forearms were hardened in training to act as armor against blows, and the elbow to fell opponents like a heavy mace or hammer; the legs and knees became the axe and staff. The body operated as one unit. The knees and elbows constantly searching and testing for an opening while grappling and trying to spin an enemy to the ground for the kill."
– As described by Kombat Group, Thailand, which is run by six-time Muay Thai world champion Christian Daghio.
Yakoob talks, walks, and breathes the Thai kickboxing sport. Having trained in Dubai, his coaches — who also trained UFC (Ultimate Fighting Championship) fighters — honed him to expect to win whenever he walked into a ring.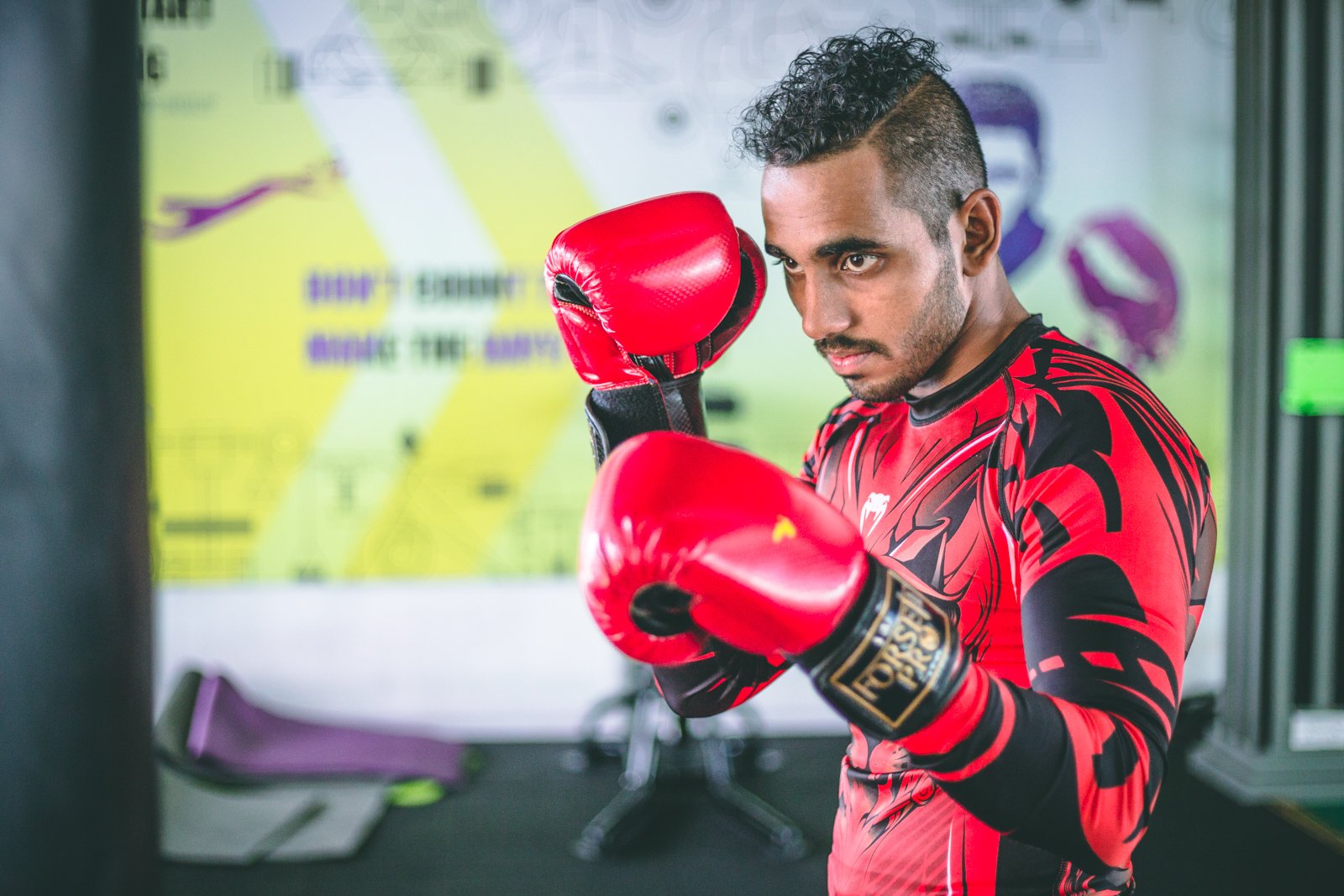 "When I fight, I think about the training, time, dedication, and energy I put into it. When I fight, I have to win it. I can't lose because we train hard," he explains. "I'm not afraid of losing either. When we go into the ring, I expect to win. The coach also expects us to win," he adds.
Having trained in mixed martial arts, martial arts, and Thai kickboxing for four years, Yakoob made it to the national pool after knocking out his competition at the National Muay Thai Championships in May this year. Thereafter, he got selected to fight in the Asian Muay Thai Championship held in China last October. He is also supremely confident that he would have bagged gold at the Asian Muay Thai Championship and thereby placed Sri Lanka on the map of combat sports, simply because losing was not an option.
"I came this far on my own, without government support," he says repeatedly. "The Sports Ministry said they would support us to go fight in China." Alas, the government then cited lack of funds and backed out, and "in the end, I missed it."
We meet Yakoob where he currently trains, at Zimantra, a multi-storeyed complex that houses a gym and training facilities in Battaramulla. Dressed in his fitness gear, he leads us to the topmost floor just above the cafeteria, a large hall filled with exercise machines and a single punching bag — the one he uses.
"Combat sports aren't popular yet in Sri Lanka," he tells us sadly. "The basics are lacking."
A Once Fat Kid
The son of a motorbike mechanic, Yakoob never imagined pursuing combat sports as a profession while growing up. Instead, he dabbled with circuit lights and wires, developed an interest in electronics and decided to be an electronic engineer. His interest changed by the time he was ready for his Ordinary Levels, as he became intrigued by automobiles instead.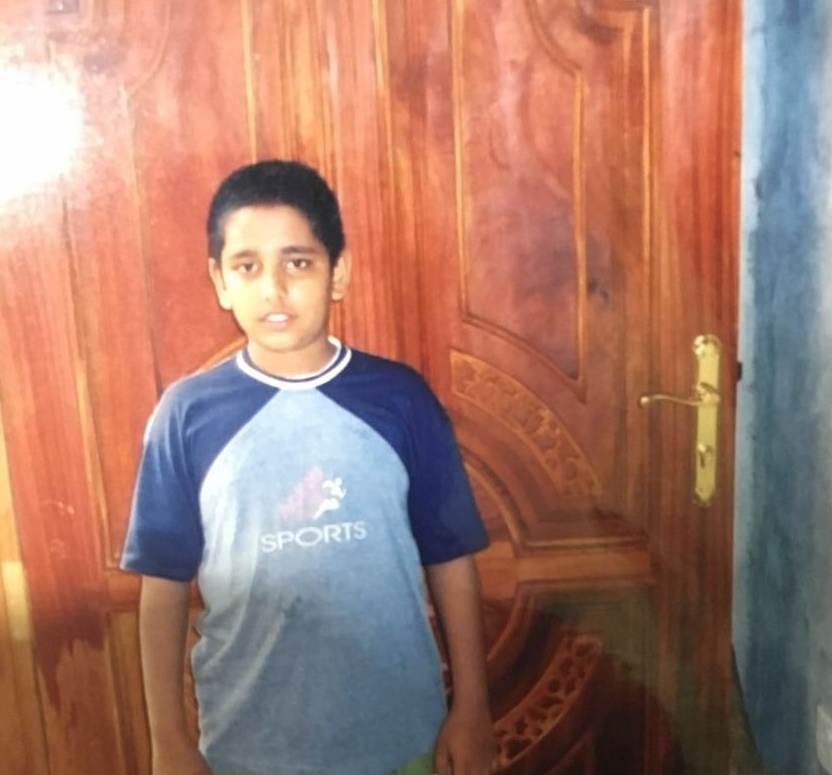 "I used to be a fat kid in school," he laughs. "But then I started athletics. And then I started learning kung fu in 2010, after leaving school."
Learning martial arts back then was just an interest and nothing more. He pursued a a diploma in automobile engineering, then moved to the United Arab Emirates in 2015 for work.
The work he got wasn't bad, but it was energy consuming: he worked six days a week as an automobile technician with Mercedes-Benz. As he put it, "it was pretty hard work, you know. It was a hands-on job."
However, it was the friends he made while in Dubai who led him to where he is now. These friends were 'really into fitness', and became his gym-buddies. That's where he was introduced to Muay Thai, and immediately loved it. From then on, he dedicated as much time as he could to the sport, skipped meeting friends, and focused all his energies on training.
"So I'd finish work at 6:30pm…the gym [was] far from my workplace. It was about two hours away, so it was four hours of travel," he said. "I'd train for maximum two hours during weekdays, and come home around 1 in the morning." He also spent his weekends there, and intensified his training sessions. Sparring with highly trained professionals from other countries meant a lot of injuries. Yakoob laughs as he recollects how he would keep getting injured, but persist with work and training nonetheless, not giving the injuries time to heal because he could not miss training for so long. He holds up his left hand, and shows us a protruding joint. It has a tendency to occasionally pop out, and his hand doesn't work like it once used to.
"I'd get swelling, and one or two fractures. Mostly bruises."
Constant practice and healthy living would take priority, to the point where he would forego fasting during the holy month of Ramadan because he had to maintain a strict diet that kept him fit for training.
If You Like It Put A Ring On It (Or Get Into The Ring)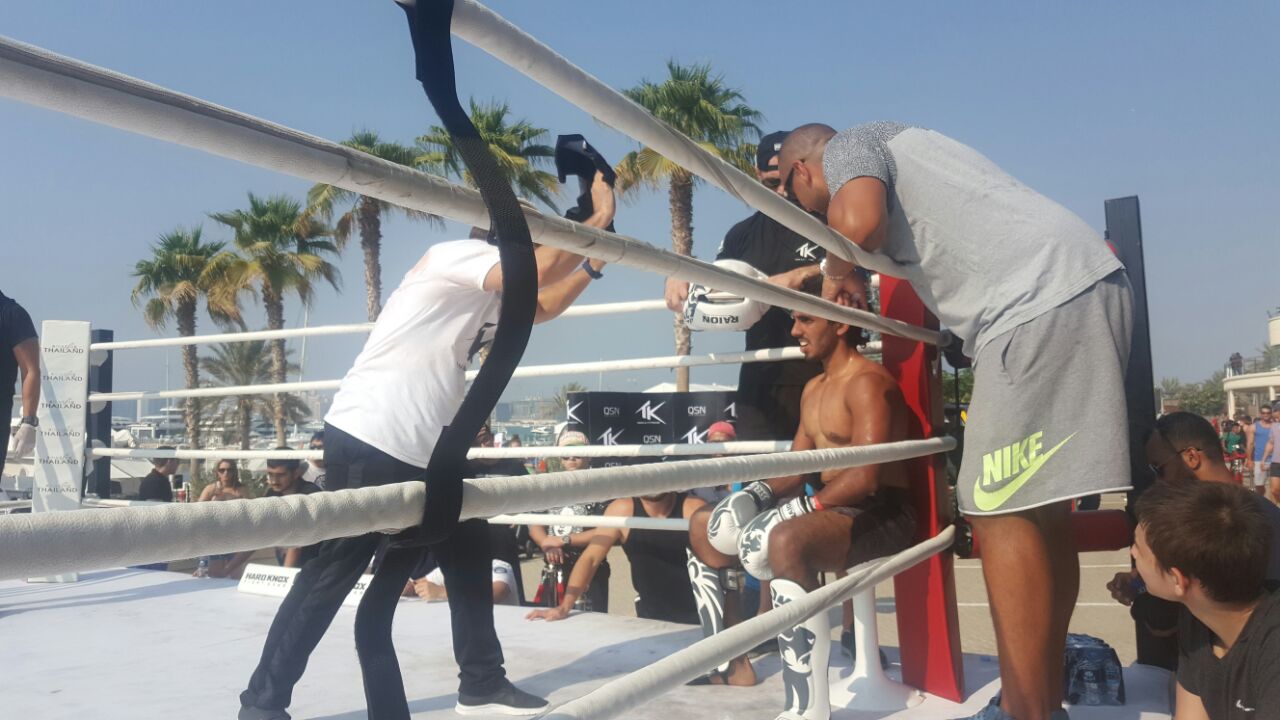 Speaking about his life in Dubai, he casually tells us that he got into a 'couple of fights while in Dubai' and that was how it all began. Our curiosity is piqued — real street fights? We are wrong: what Yakoob means is tournaments, or what he calls ring fights. He trained and fought intensely against professional Muay Thai fighters in Dubai for three or four years, and regularly posted updates on his social media accounts. This got him noticed by the Sri Lanka Muay Thai Association, and they reached out to him via Facebook, asking him to 'come and fight [in Sri Lanka], and get into the national team, and get the gold medal.'
At the same time, he was looking for different work in Dubai. Unable to get a job he liked, he returned home in mid-2018, and took up the Sri Lanka Muay Thai Association on its offer. Given that he had already made a name for himself in Dubai, he was able to sign up directly for the Muay Thai championships and get selected into the national team, just as the Muay Thai Association had predicted.
"I had two fights — the semi-finals and final. I won both by knockouts, and got selected for the national pool," he said. Thereafter, in mid-October, he was selected to fight in the Asian Muay Thai Championship in China.
Underdogs In The Industry
According to Yakoob, the Ministry of Sports had promised to fund the team for the Asian Muay Thai Championships, but later balked citing lack of funds.
He had been selected for two tournaments: one in China, through the national team, and the other in Dubai. He opted to go for the former because it meant he got to represent Sri Lanka, and forfeited the opportunity to fight in Dubai. Subsequently, he missed the opportunity to play in either tournament.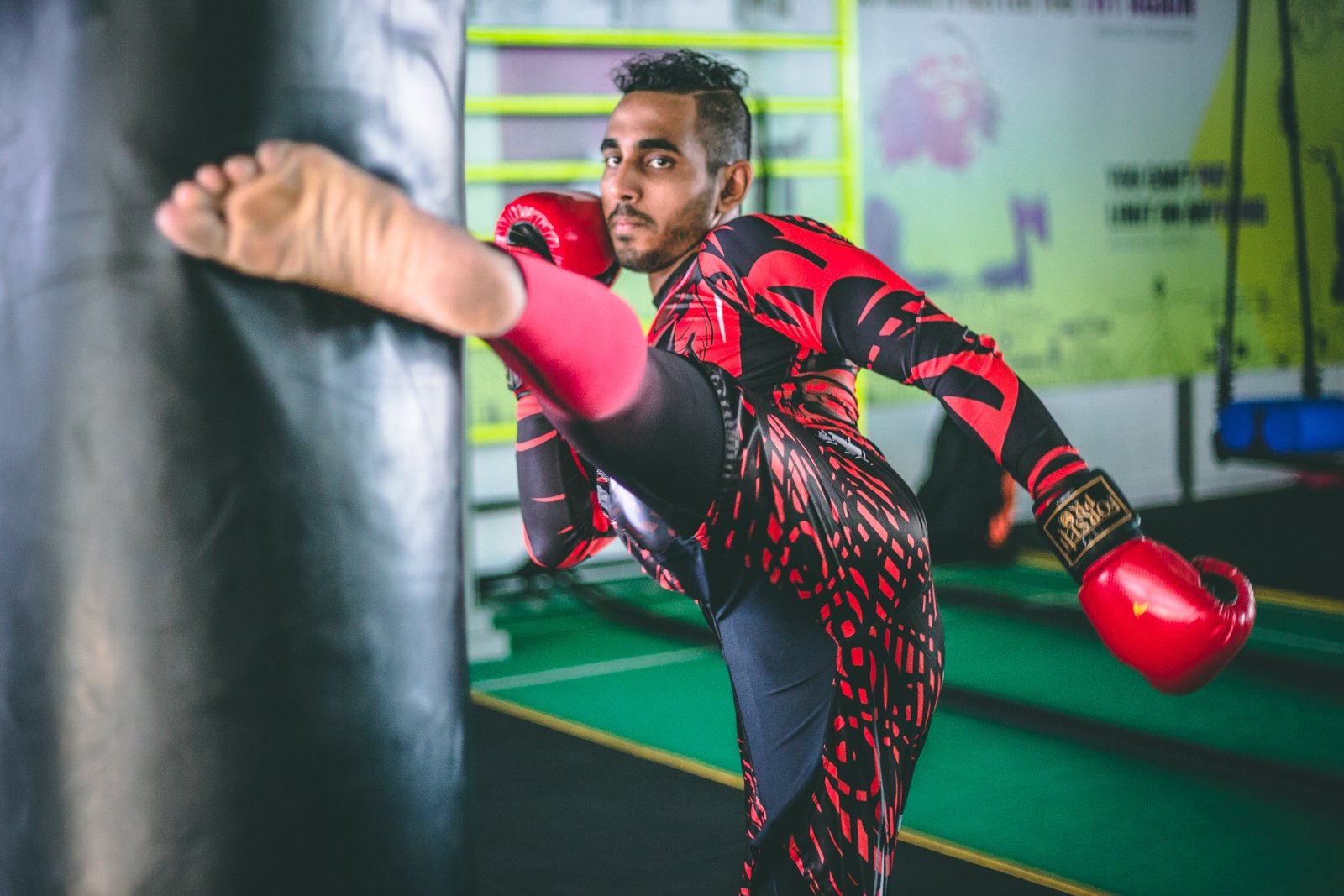 "I came this far on my own, without any government support or anything," Yakoob reiterated, stressing that the government needs to invest more in sports and sports people, especially if Sri Lanka is to make a mark in the international arena.
He highlighted that it was important for individuals and corporates to support—through sponsorship or otherwise—skilled athletes, and to further combat sports in the country.
Comparing Muay Thai in Sri Lanka to that in Dubai, he noted that trainers here are not as qualified as the trainers in Dubai.
"I'm planning to go to Thailand next year to train and fight for a couple of months. I can see the difference between the trainers there and here. We need to go abroad and develop in that specific marital art, either kickboxing or MMA," he said. While there are a few good trainers in the country, most of them are not well qualified in combat sport training.
"I've seen a few trainers here, and they are even lacking in basics." He hastily clarifies: "I'm not criticising anyone, but this is honestly what I feel. My coaches used to train UFC fighters, and I plan to fight internationally too. I personally think he or she should first have fought professionally in order to train someone properly".
This is the reason he plans to go to Thailand for training. He estimates that seven months will be sufficient for him to prepare, and then sign up, for international fights.
Given the lack of professional trainers, he finds it difficult to continue training and keep in shape. The Muay Thai Association itself is only about an year old. However, Yakoob happily notes that they do a "great job by helping young, talented athletes to participate in international amateur fights".
Eyes On The Prize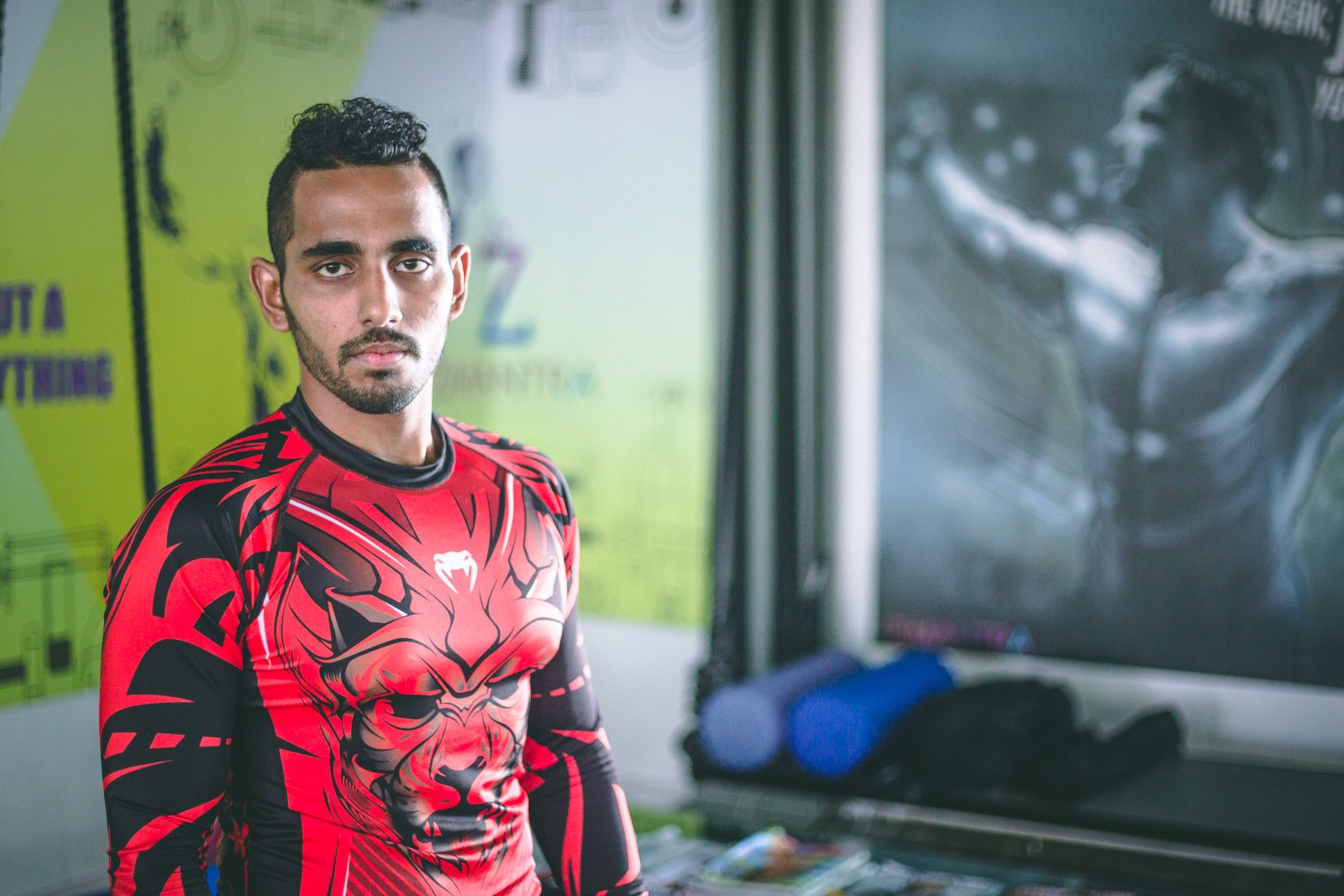 Reminiscing about his early fighting days, he recalls that his mother wasn't too happy about his leaning towards combat sports, given the injuries it caused.
"But I continued in this, and convinced her otherwise because it is my passion. I think parents should encourage their children to go for this, whether they are boys or girls. We don't do enough for combat sports here," he says earnestly.
To date, he has won gold in the 2015 Muay Thai Championship at the Dubai Muscle Show, 2016 TK Championship (2016 MMA & Muay Thai), TK championship 2017 (Muay Thai), and 2018 National Muay Thai Championship Sri Lanka.
The support he received in Sri Lanka was mostly due to the fitness community that he met and befriended online. Naming a few Instagram fitness influencers, Yakoob said they helped him establish himself as a trainer when he landed in Sri Lanka earlier this year.
As a trainer, his youngest client is six years old. You don't need to be physically very strong, but you do need to be fit, he said. He also stresses the need to be dedicated. He is one of those people who spends all his time training others, or training himself.
"If you really want to do something you need to do it no matter what. That's why I'm doing this as a full-time career," he says. He takes a deep breath and laughs again, because he says, he is going to be Sri Lanka's future world champion.