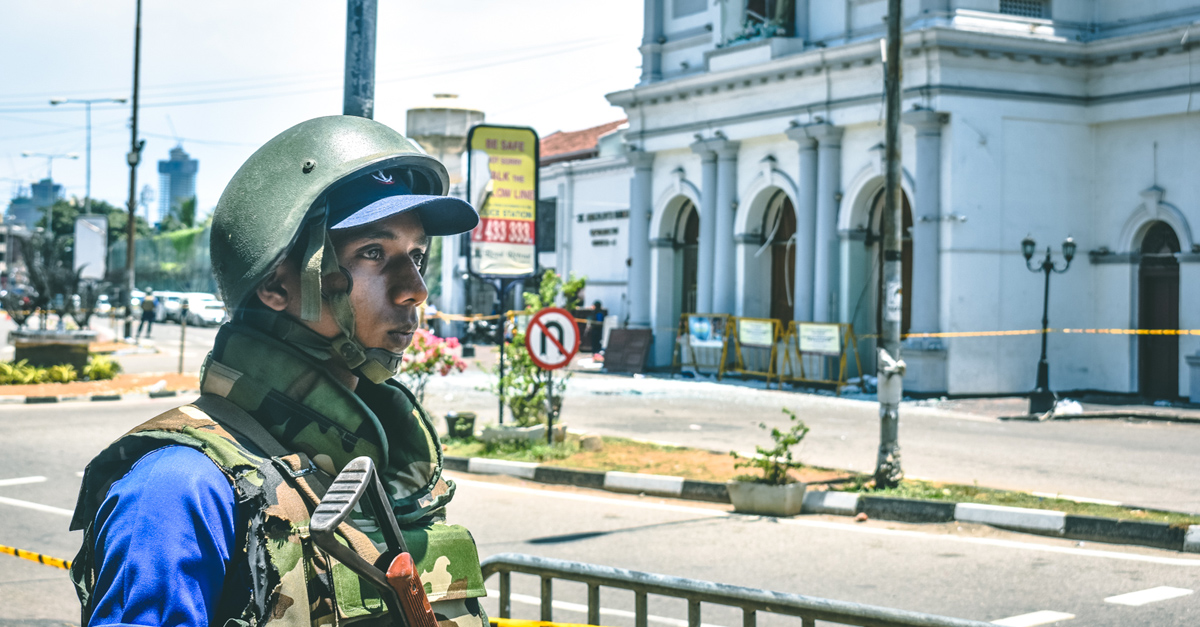 High security prevails over the country as Sri Lanka enters the fifth day after deadly terror attacks struck the island on Easter Sunday. Police and security forces have been searching buildings and patrolling streets to prevent further attacks and explosions, with Prime Minister Ranil Wickremesinghe saying the government is on the lookout for 'sleeper' cells of terrorists that may unleash second and third rounds of attacks. Declining to provide a number, the Prime Minister said Police were looking for suspects that were on the run, possibly with explosives.
An internal security memo that was leaked to the public indicated that two Muslim sects were possible targets for attacks. Muslim theological organisation, the All Ceylon Jamiyyathul Ulama, advised Muslims to pray at home instead of at mosques on Friday, April 26, if there was a need to protect family and properties. They also appealed to Muslim women to refrain from wearing the niqab to help authorities with identification. Additionally, a rumour on Thursday, April 25 that there would be an attack in Colombo between 10 AM and 2 PM caused widespread panic, with many employers advising employees to stay indoors and return home early.
Investigations Ongoing
Police Spokesman SP Ruwan Gunasekara said yesterday that over 70 suspects had been rounded up in connection to the Easter bombing; 33 were in the custody of the Criminal Investigations Department (CID), while four were being held by the Terrorist Investigation Department (TID). Meanwhile, the images of seven other suspects were released to the media, seeking public assistance in tracking them down. The Police got the image of at least one of the suspects wrong, causing an uproar on social media. At least seven international police agencies are aiding Sri Lanka in its investigations, including the FBI and Scotland Yard.
Meanwhile, 200 detonators were found in Hawaeliya, Nuwara Eliya and 21 hand-grenade type low-explosives in Mutwal. An explosive in Pugoda caused panic, as did a suspicious vehicle parked in the Bandaranaike International Airport premises, causing authorities to cordon off the area for investigations. In Balangoda, a man was arrested with a map of the Parliament and a number of Parliament passes. Meanwhile, a lorry that the Police were looking for, registered in the name of Zaharan Hashim, leader of the National Thawheed Jamath, was also found. But the explosives it was feared to be carrying were not aboard.
Death Toll Revised
Health Services Director-General Dr Anil Jasinghe said the death toll from the Easter Sunday attacks was not as high as previously estimated. The revised figure now stands at 253, not 359. In a statement, the Health Services Director-General said the miscalculation had occurred as a result of the difficulty in numbering body parts. "In bombing such as this, bodies are subject to great harm and in some cases destroyed. Since bodies are in parts it is difficult to identify them as a whole. For this reason, it is very difficult to give an accurate number of those dead and we can only give an estimation," he said.
Meanwhile, on the ground, there is mounting frustration at the government, not just for not acting on previously received information of possible attacks, but for the political blame game that is being played out, with the President and Prime Minister trying to insinuate that the other should be held responsible for the security lapses that led to the attacks. It is also clear, in the absence of communication to the public, that the government is still unable to work together to allay fears and ensure the safety of people.