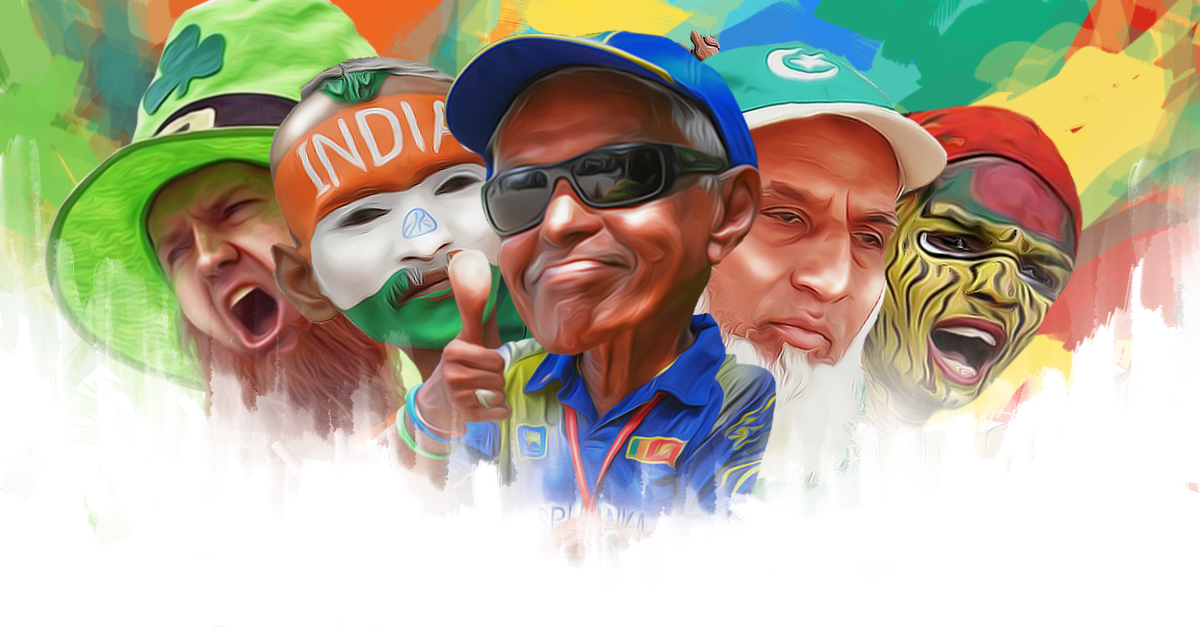 Fandom in sport is paradoxical: there are the puritanical connoisseurs on the one hand, and fanatics in fancy dress on the other.
The latter conjure up a carnival atmosphere that is so wild and memorable that the magnetism of their antics lingers beyond the boundary for decades. This is why we fondly call them 'super fans'.
Here's a tribute to some of the legendary super fans in cricket, for their contribution to the game.
The Numero Uno: Percy Abeysekera (Sri Lanka)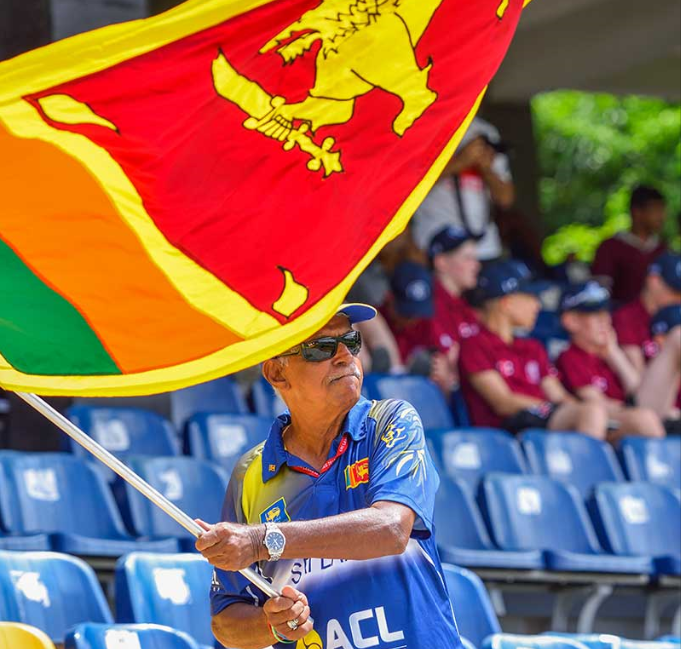 In 1979, thirty years after having watched Sir Don Bradman in action, 'Uncle Percy' began carrying the Sri Lanka flag to matches, becoming the most recognisable spectator at cricket grounds.
Well known for his off-the-cuff commentary, Percy once directed his limericks at Australian opener David Boon, who was on his way to open the batting.
'David Boon
Tasmanian goon
Come back soon
Before noon.'
Boony duly obliged!
In an unofficial Test in Colombo in 1977, England off-spinner Jeff Cope was having a barren spell. To this, Percy said:
'Mr Cope
There's no hope
Until you call the Pope.'
When captain Tony Greig retorted with a nasty remark, he shot back:
'Hey, Greigy
You've got your height
I've got my might
I'll send you up like a kite
If the air is right
And I'll have you for a bite
Specially if I am tight.'
Until his demise in 2012, Greig remained a dear friend of Percy's.
In an email in 2014, legendary New Zealand captain Martin Crowe told Percy, "You are the number one ranked fan in cricket." Need we say more?
'Yabba': Stephen Harold Gascoigne (Australia)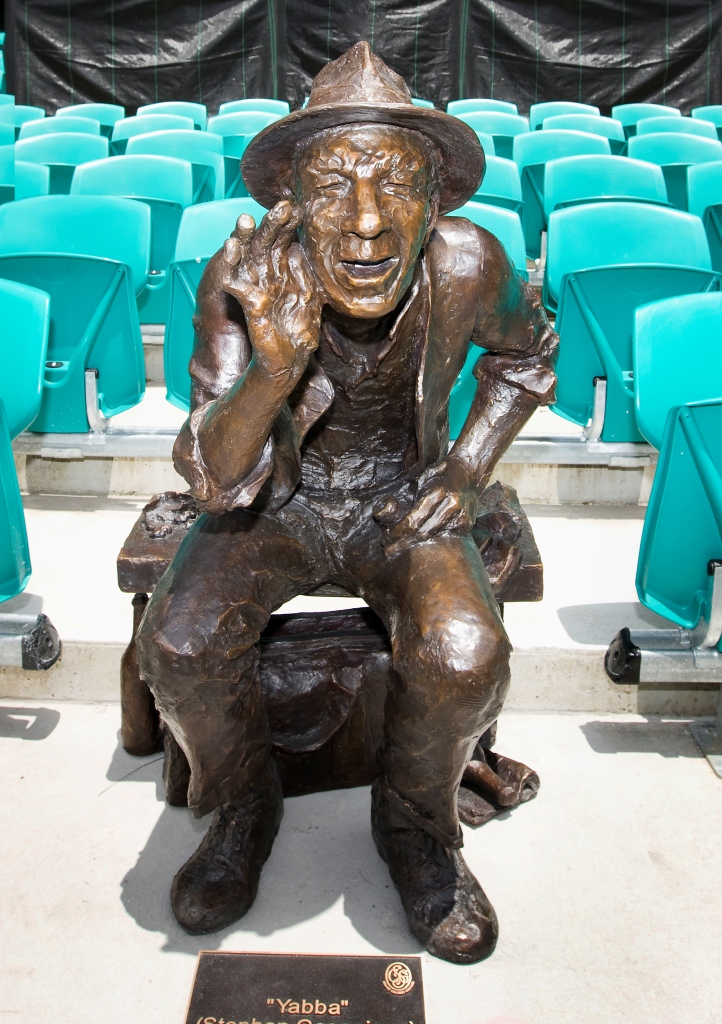 There is a life-like bronze statue of a man sitting through sun and rain at the Sydney Cricket Ground. Right hand cupped to resemble a megaphone, the sculpture at the Victor Trumper Stand symbolises the good-natured heckling of Stephen Harold Gascoigne, popularly known as 'Yabba'.
In the 1920s and '30s, Yabba, a rabbit seller by profession who was always amply stocked with beer, regularly pitched his tent opposite the scoreboard. As the Aussies' opponents quickly learned, he heckled them with colloquial wit and a booming voice.
During the acrimonious 'Bodyline' series in 1932-33 between England and Australia, which became infamous in cricketing history for the intimidating bowling tactics directed by the English bowlers at the Australian team, England captain Douglas Jardine had been swatting flies on the field. Yabba's bellowing voice rang out: "Leave those flies alone, they are your only friends here."
Once when the Australian Bill O'Reilly went to bat, Yabba had trumpeted, "The O might be in front of your name now son, but have a look where it is on the way back."
Boring or wayward batting would incur his wrath. When a hapless batsman played and missed many a time, Yabba yelled: "Bowl the bastard a grand piano and see if he can play that instead."
The jibe for wayward bowling was 'your length is lousy, but you bowl a good width."
Tricolour Bearer: Sudhir Kumar Gautam (India)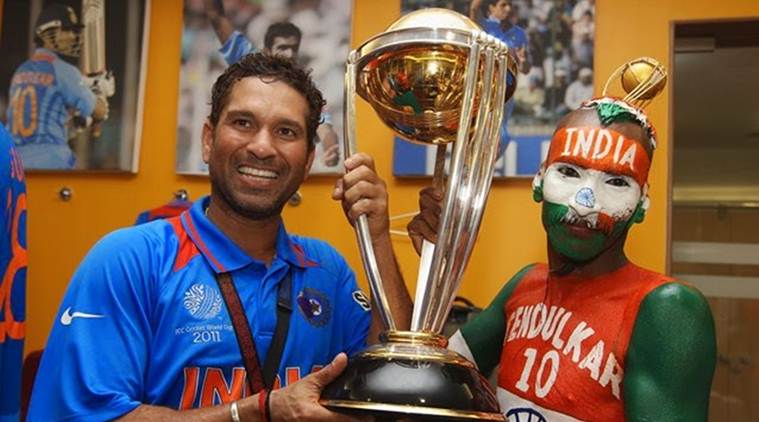 His entire torso and face painted green, white and saffron, and his scalp shaved to outline the map of India, Sudhir Kumar Gautam is India's most celebrated cricket fan. A little cameo against England in 2002 by the Little Master made Sudhir give up everything to follow and display an unparalleled devotion to Sachin Tendulkar.
Having cycled 1,700 kilometres to Mumbai to meet his hero, he finally realised his long-standing dream, with Tendulkar inviting him to his home to acknowledge his loyalty.
Gautam again touched his idol's feet in reverence when Tendulkar scored a century against Australia in Hyderabad. Although the Little Master had requested the cops not to harm his fan, due to a language barrier, Gautam bore a severe beating, which resulted in him being on 'medical leave' during the match that followed.
Since Tendulkar's retirement, the white paint on his chest has changed from 'Tendulkar 10' to 'Miss U Tendulkar 10'.
Now, Sudhir has vowed to blow his conch shell and support Team India until his last breath.
'Gravy': Labon Kenneth Blackburn Leeweltine Buckonon Benjamin (West Indies)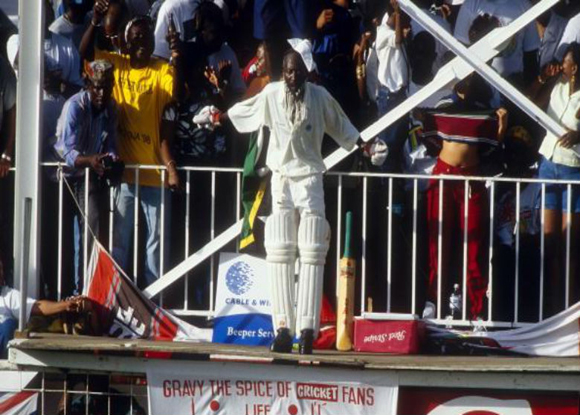 Dressed in drag, with colourful shawls and platform boots, he clambered on the supporting structures of the tiered stand of Antigua Ground. Between 1988 and 2000, Gravy's dance all day long was a spectacle that one could not forget. His ample break dancing talent entertained legions of fans and gave him a global audience.
Legendary West Indian cricketer Sir Viv Richards himself once said, "Gravy, what you're doing, keep on doing it, 'cause the world is happy when you do it."
The pioneer of music on the cricket field, DJ Chickie, provided the soundtrack for Gravy's dancing. However, multi-talented Gravy was starved of financial support and announced his retirement in 2000. He bade goodbye in a white wedding gown!
Making a comeback to promote the 2010 World Twenty20, Gravy declared that he was, "retired but not hurt", although he is not a huge fan of the Twenty20 version of the game.
Although he continues to attend Test matches, he has sadly ceased to be the cynosure of the stadium, shorn of his dancing and other antics.
'Chacha Cricket' – Chaudhry Abdul Jalil (Pakistan)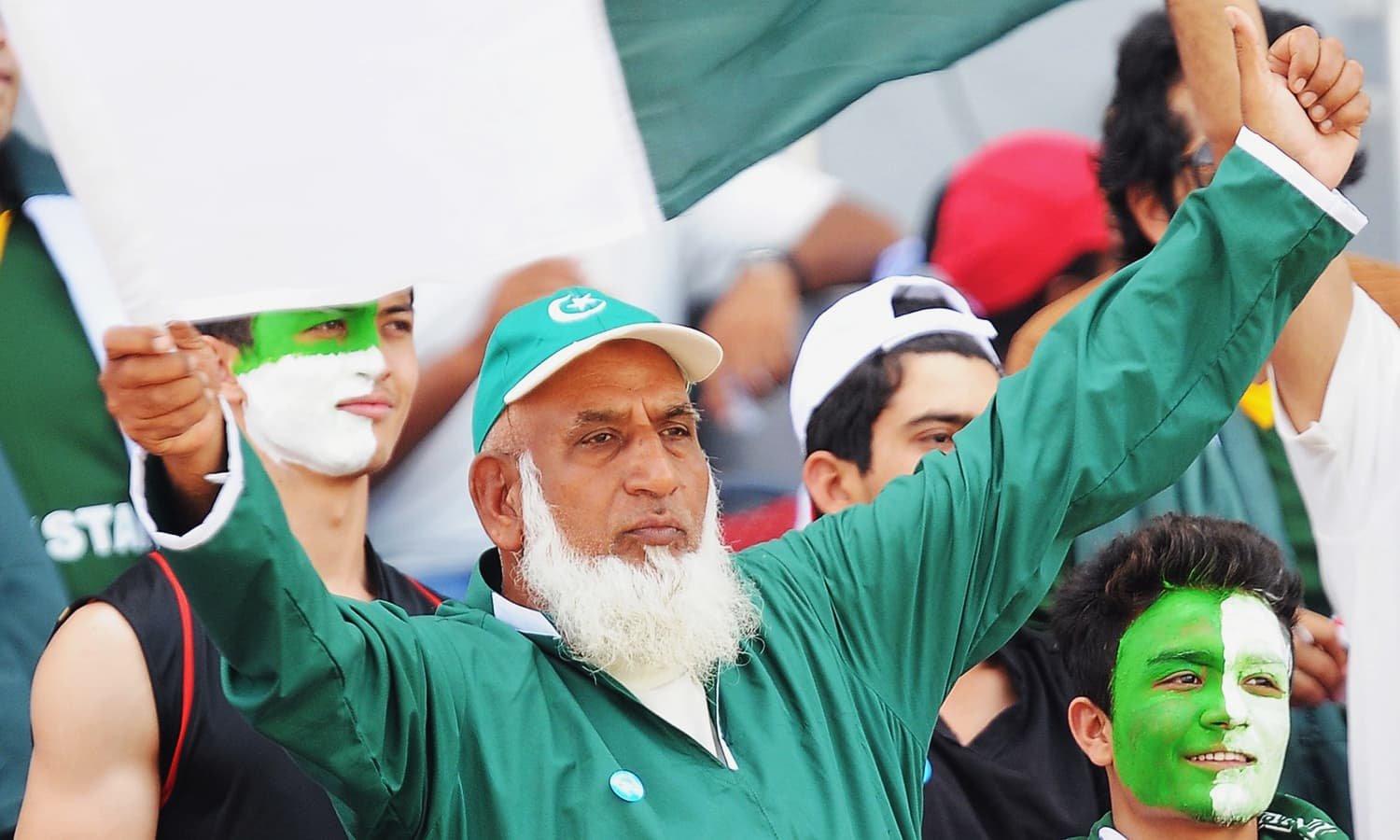 Sporting a prominent white beard, decked out in green from head to toe in a salwar kameez and cap that resembles the Pakistani flag, Chaudhry Abdul Jalil has been the most dedicated supporter of Pakistan since the 1980s.
Chacha's chants such as 'Pakistan Zindabad' and 'jeetay ga bhai jeete ga, Pakistan jeete ga' (Pakistan will win, brothers)', made him famous the world over.
Impressed with his uncanny ability to inspire other fans, the Pakistan Cricket Board hired him to be the team's mascot. They sponsored him to follow the team around the world on a full-time basis until he 'retired' at the beginning of 2015. "I have been showered with a lot of respect from all over. I feel privileged to be attached with the game, and it will go till my death," he says. Despite retiring, his presence continues to be felt whenever and wherever Pakistan plays.
'Tiger': Shoaib Al Bokhari (Bangladesh)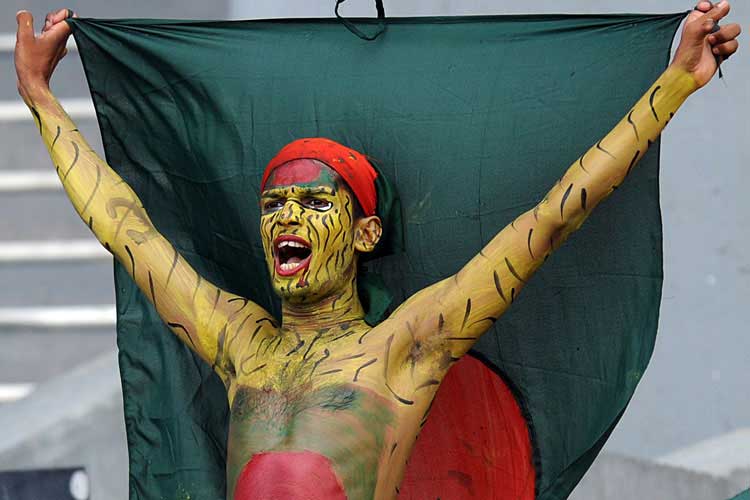 Painted in yellow and black stripes, wielding a giant flag in his hand, Shoaib Al Bokhari is the face of Bangladesh cricket. His torrent of Bengali can be heard all day, whether in chilly Christchurch or in the searing heat of the Indian subcontinent.
Shoaib first got hooked on cricket after watching Sourav Ganguly and Shahid Afridi in action. He made his debut as a 'tiger' in the 2012 Asia Cup final in Mirpur, where Bangladesh beat India by five wickets and Tendulkar scored his hundredth century.
Explaining why he chose to paint himself as a tiger, he says, "It is a symbol of courage. I wanted my team to play like tigers."
His eye-catching costume and unwavering devotion made him the official mascot of Bangladesh cricket, and fans began calling him Tiger. Since then, Tiger has become a regular in all home matches. He visited Sri Lanka on his first overseas visit, when Bangladesh toured the country in 2013.
'Larry Leprechaun': Adrian Raftery (Ireland)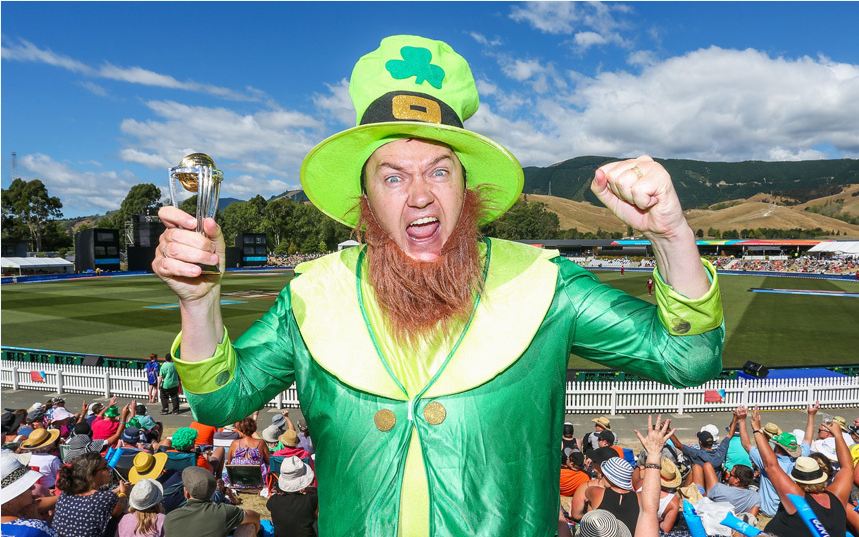 Sporting a fake beard, a beer in his hand and a replica of the World Cup in the other, Larry in leprechaun costume surged to the spotlight at the 2015 Cricket World Cup.
His incantations revolved around the popular and versatile fruit, the banana. "Peel a banana, mash a banana, throw a banana, and let's go bananas!" was his chorus, complete with the now famous shuffle.
With his son Hamish, the 'Little Larry' in tow, Larry enlivened the stands with his fun and frolic to ensure that there was never a dull moment.
Born and bred in Melbourne, Larry's dedication to the Ireland cricket team began when he discovered that a former schoolmate, Jeremy Bray, was playing for the national team in the 2007 World Cup. He made the trip over to the West Indies to support the team. From then on, Larry transformed himself into the most vociferous Irishman and Ireland's representative beyond the boundary at the 2015 World Cup venues.
The Ultimate Fan: Robert Padmore (England)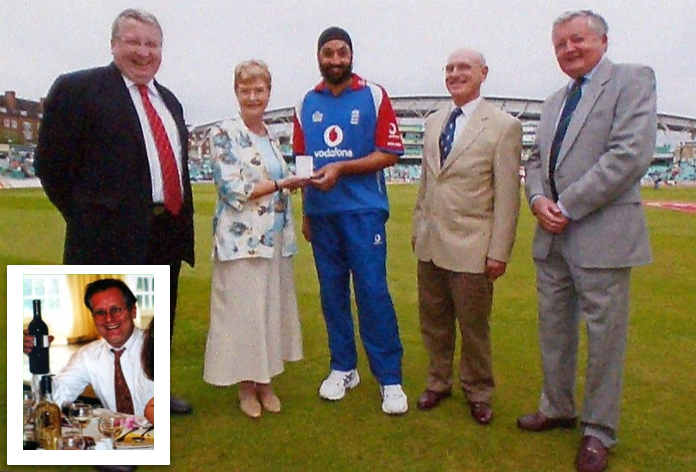 Known among his friends as 'the ultimate cricket fan', and a devoted member of the Barmy Army, Robert followed the England team around, visiting all the Test-playing countries several times.
Sadly, he passed away at the age of 43, while following England's tour of Pakistan in 2005. England players wore black armbands during the following day's play. Subsequently, the hotel that he stayed in had a ceremony and a memorial plaque was unveiled.
In remembrance, the two boards agreed to award a medal at the end of each Test series between the teams to the player who had contributed in a special way to his team's success.
The Rainbow Jester: Gayan Senanayaka (Sri Lanka)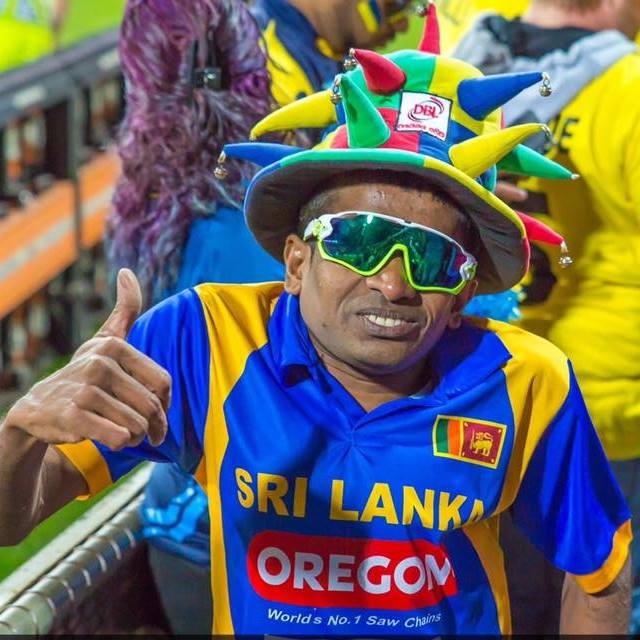 Sporting his trademark jester's hat in the colours of the rainbow, Gayan's cheerful chants and words of encouragement seem to uplift the team's spirits in the middle. With 'Uncle Percy' nearing his retirement, he has seamlessly taken over as the Sri Lankan team's cheerleader.
Inspired by Sri Lanka's '96 World Cup victory, Gayan has hardly missed a home international since 1999. He counts a few big celebrities among his friends; even the Bollywood star Shah Rukh Khan had given him tickets for IPL matches.
Bangladeshi spinner Rafique had hosted Gayan and his friend in Dhaka during Sri Lanka's tour in 2006 and had driven them personally to the airport for the return journey. "It was a big thing for us as we didn't have much money," Gayan recalled. "To save money, we had flown from Colombo to Chennai. Then we took a 30-hour ride in a train from Chennai to Kolkata, and spent 15 hours in a bus from Kolkata to Dhaka."
"I know Rohit, Virat and many other players from their U-19 days. I'm friends with most of them," said Gayan during Sri Lanka's tour of India in 2017.
When it comes to following the Sri Lankan team around the world, his loyalty is absolute. "It doesn't matter if the team wins or loses, I'll be there for them," he says.
Ranjan Mellawa is the author of "Winds Behind The Willows – A Sri Lankan's life in love with cricket."