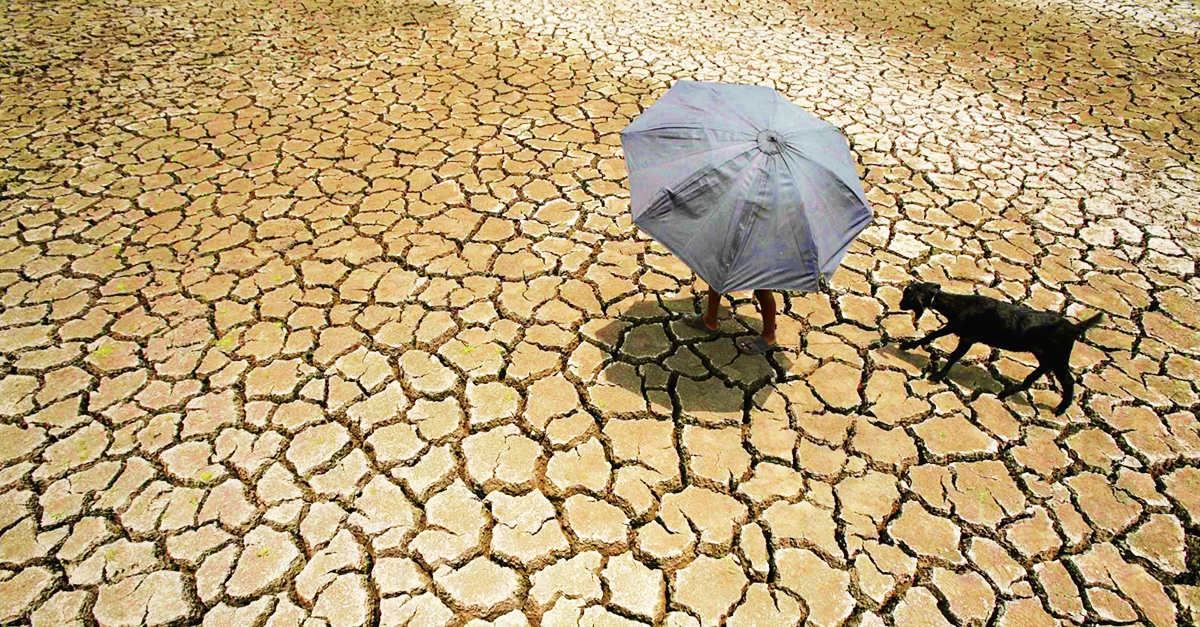 While Sri Lanka has been grappling with a new threat to national security, a short distance away, our regional neighbour India has been dealing with a crisis of its own. 
The northern and central regions of the country—an area inhabited by over 500 million people— have been suffering from an unprecedented heatwave, with temperatures climbing as high as 50C in some parts.  
The scorching heat has triggered widespread drought that has affected almost half the country, with 2019 recording the lowest rainfall ahead of the monsoon season in over six decades. 
As a consequence, many villages less than 250 miles south of Mumbai have been evacuated, and thousands of residents  in northern states have fled from their communities, where fighting has broken out over scarce resources. 
In the eastern state of Bihar, 180 people have died from heatstrokes, a number that is projected to rise as hospitals continue to be inundated with heatstroke victims. Further south, Chennai, one of the country's largest cities, has almost completely run out of water.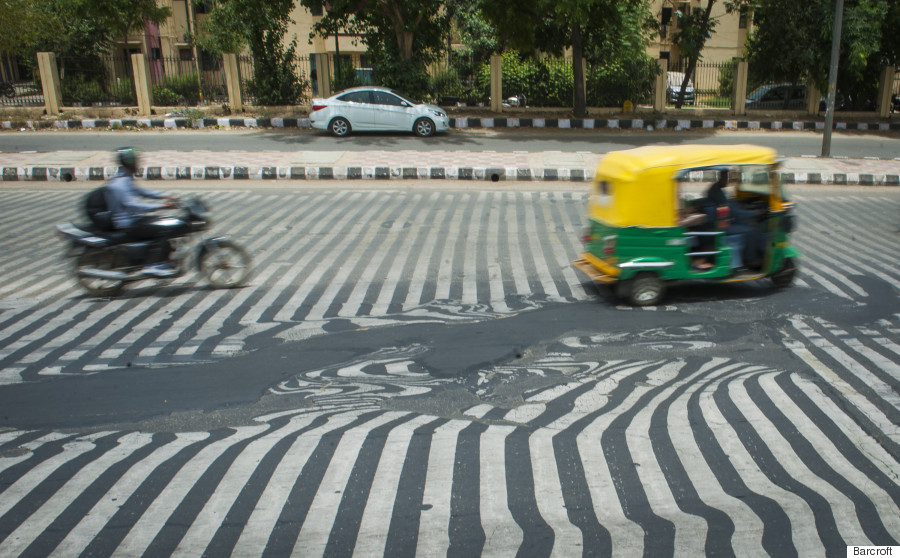 India's extreme weather conditions have garnered global attention, particularly because it is the most severe example of a rising global trend. This month has seen unparalleled heat waves break out across Europe, with temperatures climbing over 20 degrees above the seasonal average in some areas.
The record-breaking temperatures are a pivotal representation of the once hypothetical horrors of rising global temperatures coming to life. And while the effects of global warming are far-reaching and wide-ranging—melting polar ice caps and mountain glaciers and affecting animal migration patterns across the world—the close proximity of the heatwave in India portends disaster for Sri Lanka. 
Just A Short Distance Away
Although Sri Lanka has not suffered heatwaves on par with India, we have also been feeling the adverse effects of climate change. Earlier this year, the Department of Meteorology issued an 'extreme' weather advisory requesting the public to take necessary precautions to deal with the increasing heat. 
These measures included staying indoors wherever possible and preventing children from playing outside during the day.
A large portion of the North and Central regions of Sri Lanka was also flagged as 'dangerous', meaning the possibility of heat strokes occurring with increased activity there was high. But Sri Lanka is yet to issue 'extreme danger' warnings, which is when the risk of heat stroke is imminent. 
"Since we are an island nation, our temperatures are moderated to a certain extent [by the] oceanic winds," Dr. Erandathi Lokupitiya, an ecologist who focuses on climate change, told Roar Media. "But we are definitely experiencing the effects of climate change. The increasing frequency of droughts and floods we have seen over the past few years proves that."
Lokupitiya explained that prolonged droughts followed by floods are one of the main indicators of rising global temperatures, as the heat causes more water to evaporate, thus creating more water vapour in the atmosphere. This increase in water vapour invariably leads to more heat being produced, further compounding the problem.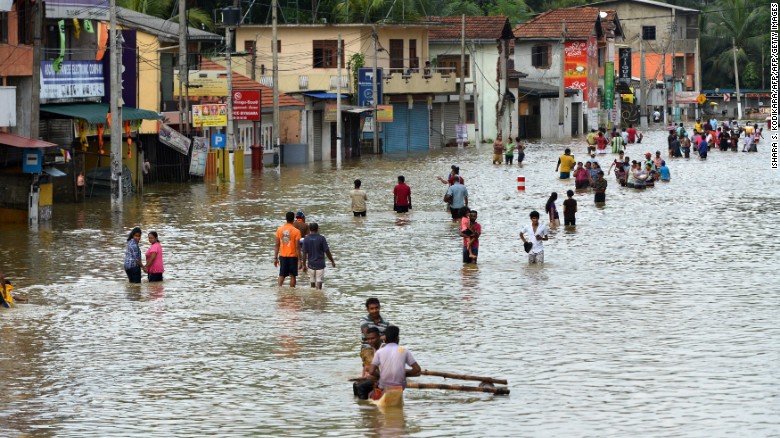 Although this monsoon season has not yet caused widespread flooding, last year marked the second consecutive year of extreme flash floods, which affected over 80,000 people around the country. This is in addition to 890,000 people being severely affected by prolonged drought in the Northern province the same year.
"The South Asian region is extremely vulnerable to climate change and extreme weather events, and it is something all Sri Lankans should be more worried about," said Athula Seneratne, a researcher at the Climate Change Policy Network of Sri Lanka, explaining that the impending climate crisis did not have 'administrative boundaries'. 
"It affects every sector, from agriculture to fisheries. It is definitely something that needs to be priority, not just for people, but the government as well," he said. 
The Unequal Effects
In a landmark speech on climate action at the UN Headquarters in 2018, UN Secretary-General Antonio Guterres described the climate crisis as an "existential threat facing humankind." But even as the world begins to face the consequences of global heating, it has become clear that there are those that are sheltered from this impending threat. 
India's heatwave has been felt most viciously by the poorest segments of society. The affluent are equipped with the resources to survive the heat, but the country's poor have been compelled to walk for miles for water that is often muddy and unclean, and have suffered from wide-scale power outages.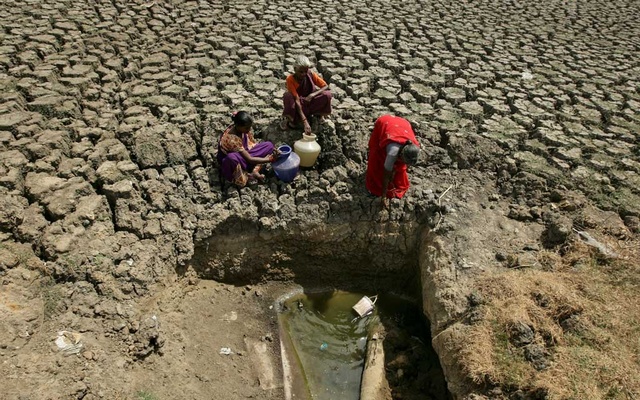 This trend is prevalent in Sri Lanka too. 
"Every year, Sri Lanka's flash floods have destroyed people's livelihoods, their homes, and given way to water shortages, disease outbreaks and mass evacuations," said Lokupitiya. "[And] this was felt most severely by those in situations of poverty — especially urban poverty."
Urban areas are particularly vulnerable to rising temperatures, because, in Sri Lanka, many are located in the wet zone, making them more prone to flooding and droughts. For the country's urban poor, this could mean losing access to drinking water and increased exposure to disease outbreaks.
"It is not surprising that the most vulnerable will be the first to feel the effects of this," said Lokupitiya. "But at some point, it will come for everyone."  
Climate-related issues currently fall under the ambit of the Environment Ministry, which is concerned with the long-term effects of climate change, and the Ministry of Disaster Management, which handles sudden occurrences — such as floods and drought. But a lack of cohesion and coordination between them has prevented optimal results, Seneratne explained. 
In the course of his work, Seneratne has realised that a change in government policy is only possible in a country like Sri Lanka if sufficient pressure is put on policymakers by the people.
"Our government functions in a manner [in which] they give the most politically pressing issue at the moment [the] most of their attention. We need to make this a politically pressing issue for them, in order for policy to move forward," he said.
Lokupitya echoes this sentiment. She believes that the severity of the problem is something that the public needs to be made more aware of, as that is the only way change will come into effect. "We no longer refer to it as 'climate change'," she said, "but a 'climate crisis'. Because that is what it is. [And] Sri Lanka really needs to start treating this as a crisis as well."