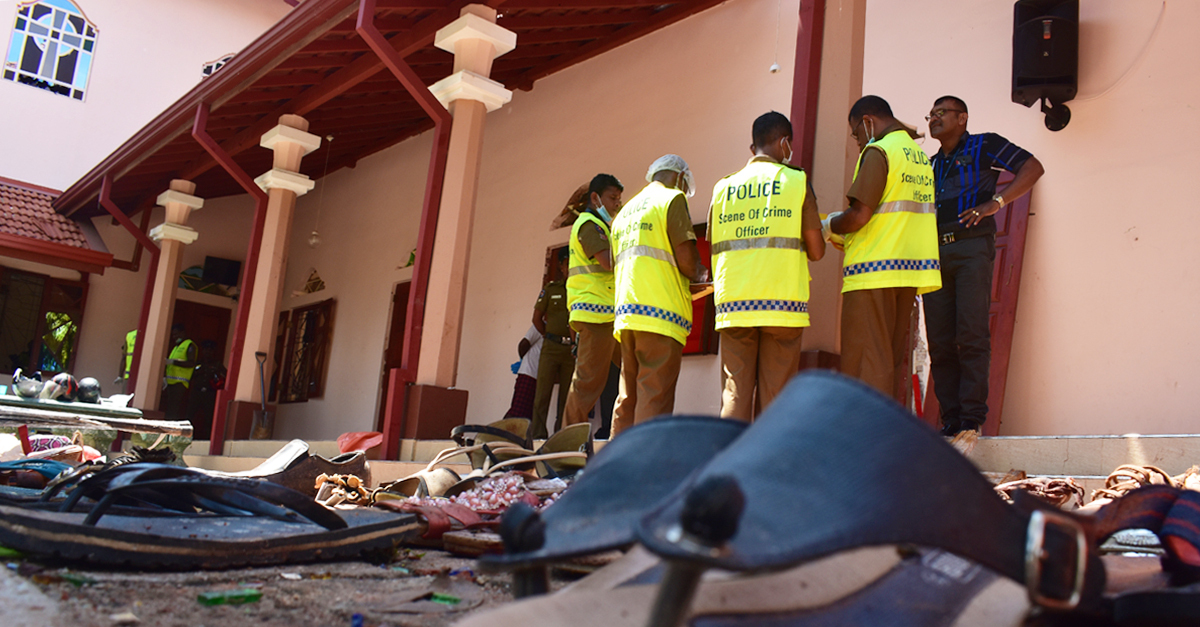 White flags of mourning are strung up over small lanes in the Katuwapitiya town in Negombo. Like the silk strands of a spider's web, the lines are drawn to the centre, where the church of St. Sebastian still stands, despite being the site of the most horrific of the terror attacks on Easter Sunday, killing over 100 worshippers.
A church of the Catholic majority of Katuwapitiya, believers congregate to St. Sebastian's for the miraculous healing powers of its patron saint. St Sebastian, who has the power to avert pestilence and contagious diseases, is also known for granting a holy death.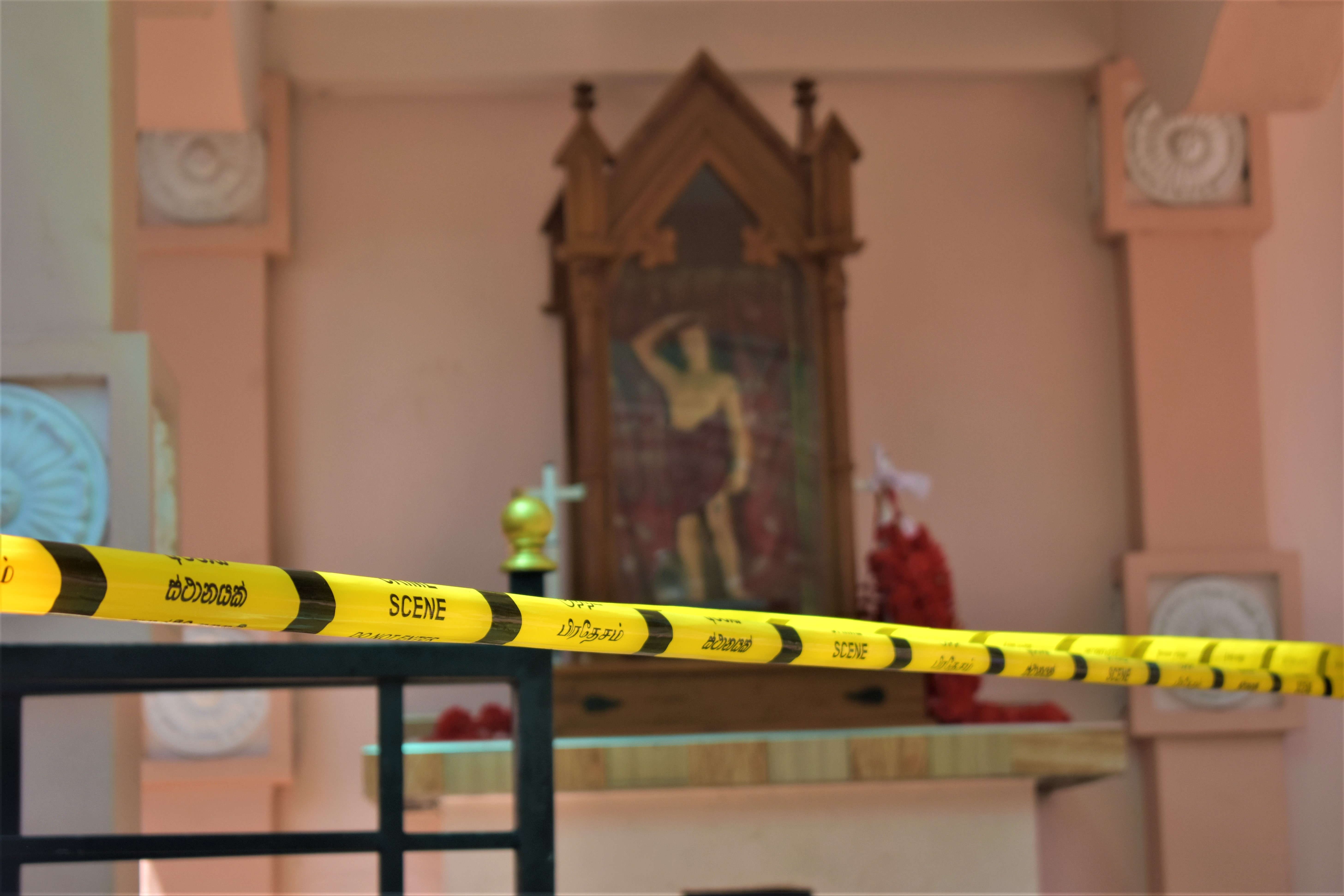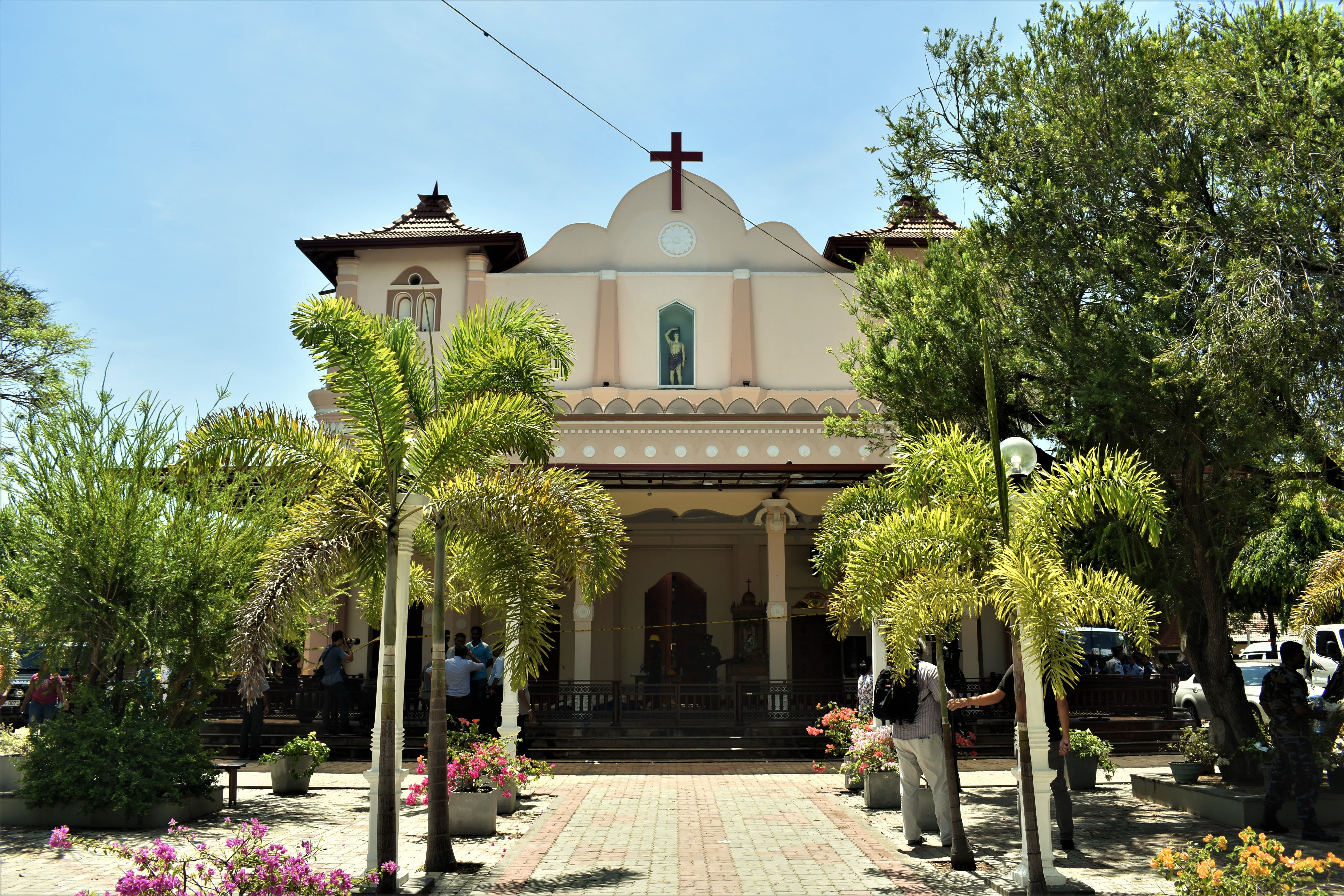 "My son was at the church at that time and now he's with God. He died at the church and he is now in heaven," said Callistus Perera (63), who lost his 11-year-old son in the Easter Sunday attack. Like him, many of those left behind, now believe that dying at the church of their patron saint has granted their loved ones the holiest of deaths.
Chamod Sivan Perera was the only child of Callistus Perera, who, with his wife, were well into their fifties when their son came along, brightening up their lives. But Chamod was only 10 when his mother passed away to cancer, and having devoted all his time to caring for ailing wife, Callistus is now unemployed, doing odd jobs every now and then, just so that they can survive.
"Earlier this month, putha received a pair of new shoes. It was a gift from one of our relatives. He wanted to wear it for the Good Friday service, but I told him to keep it for another occasion. So he decided to wear it for the Easter service. He wanted to show it off to his friends, " Callistus reminisced from within the pain.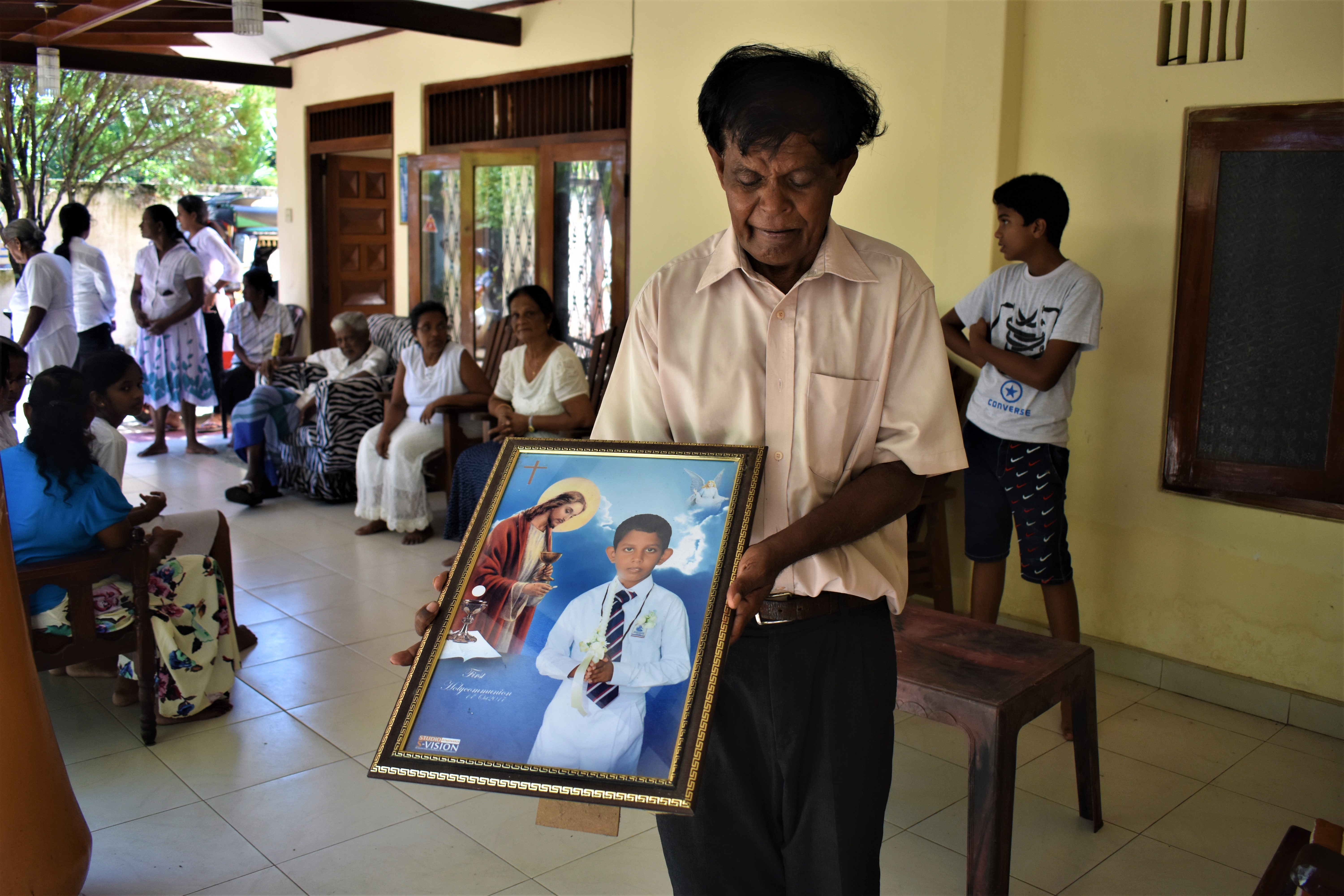 In Katuwapitiya town, the Sunday Easter service is preceded by a small procession of villagers who gather together and walk to the church singing hymns. The congregation arrives at the church at 8.00 AM, when the church bells ring and the service commences. On that day, Chamod went to church with his aunt, because his father was not feeling well.
"That morning, he wore his Sunday best. A blue shirt with white polka dots and his new shoes. Putha tapped on the shoes and asked me, 'Do I look good?' and I told him that he did. Then he left to the church. That was how I recognised him," a broken Callistus said. "His shoes. I saw his shoes. After the explosion, when I was searching for him, someone called and said putha was there. I saw his shoes. That's how I recognised him. It was the first time he wore those shoes."
Like any child his age, Chamod was an active boy. He loved sports and according to Callistus, excelled at cricket, hockey and volleyball. He was an average student but a religious child and even served as an altar boy, occasionally assisting in Sunday services.
Today, the burden of the memories weigh Callistus down; with every recollection, the pain of his loss and the realisation of how alone he is in the world permeates deep into his soul.
Not Just The Catholics
Negombo is the home to many Roman Catholics, but other ethnoreligious communities have coexisted peacefully there too. And while it is clear the Catholic community were the targets, it was not only Catholics who fell victim to the Easter Sunday bombings.
Fathima Asla (14)'s father is Muslim, and a well-respected businessman in the area. Her mother is Roman Catholic. Wracked with grief, Fathima's father was not willing to talk to us— he pointed instead at his nephew, asking him to speak to us instead. Farzan Ahmed, Asla's cousin, recalled how, together with her two sisters, she had accompanied the mother and her materal grandmother to the church service that day.
"The grandmother– the maternal grandmother, and the three sisters were at the church. Asla went because most of her school friends were there as well. And normally, when something like this happens, the entire village gets together. The grandmother sustained injuries from the attack. But Fathima did not survive," her cousin Ahmed told us.
Inside the house, Fathima lay on a bed of white cloth. Garbed in equally virginal white, the quiet repose on her face—pale and slim with a thin prominent nose—made her look as if she were in a deep sleep. It was an unusually quiet funeral home, with everyone grieving alone. Only her mother would occasionally break the silence–her sobs, made reverberating in the room.
Grieving Parishioners
On the first day after the attack, Kumar Churchill (53) came to the church with a bouquet of white carnations. He tied it on the closed church gate, and there, he wept.
"After the explosion, I heard people cursing and wishing others unwell. But that is not the way. This is God's wish. We are all brothers. This community has lived together for so long," Churchhill grieved. "We were all part of the parish. My wife and I were married in this church that is now destroyed. We recently celebrated the 150th Church Feast. We spent millions on it. Maybe God didn't like that very much either," he said brokenly.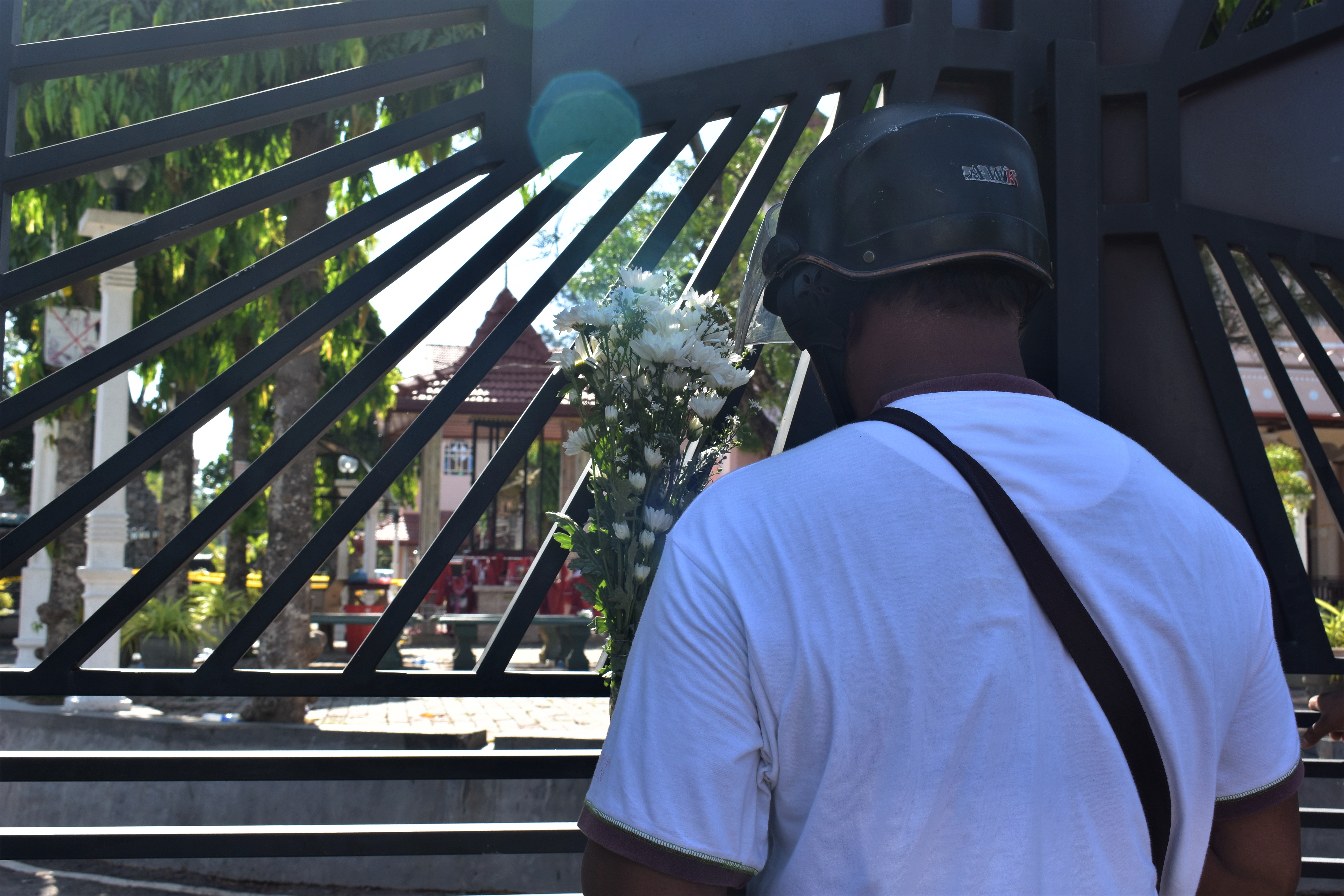 A week after the attack, the town of Katuwapitiya is still in mourning. The mass burials took place two days after, presided over by the Archbishop Cardinal Malcolm Ranjith Perera, who has called for adherents to keep the faith, even in these trying times.
Father Daya, a priest attached to a nearby school that both Chamod and Fathima attended, arrived at the St Sebastian's Church, a mere fifteen minutes after the explosion went off. "When you walked through the main doorway [of the church] you would [witness] a massacre," he said. "I have visited this church so many times but have not seen the church in such a gruesome state. It was red, a deep red all over."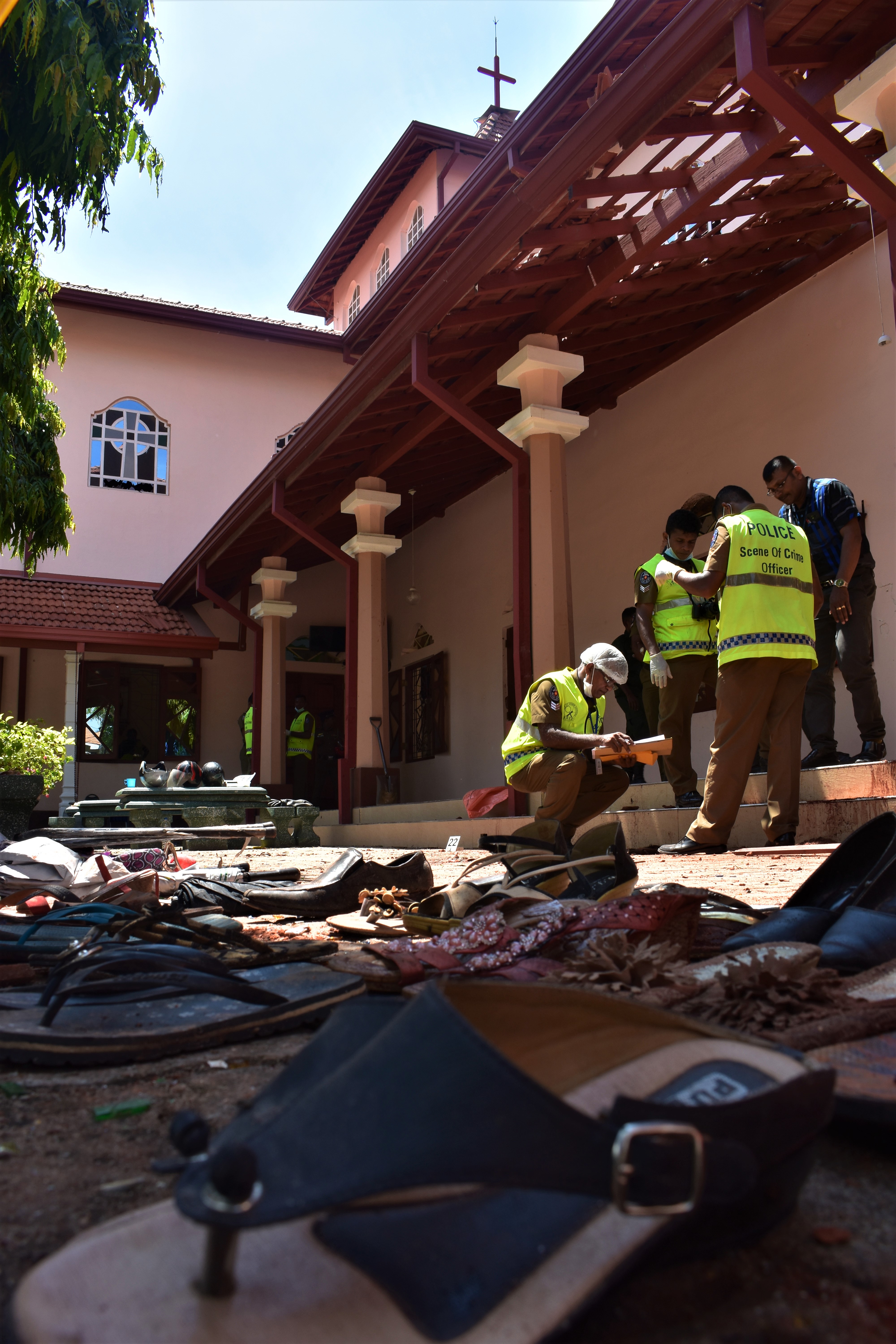 While Father Daya, busy ministering to the families struggling with the loss of a loved one, seemed calm and collected, his description of the carnage from the Easter Sunday bombings, was chilling. Piles and piles of bodies, perforated church walls. Blood mixed with dust, the dust from the clay shingles that fell after the explosion, are seared in his memory.
"I lost my best friend in the attack," he said. "He attended the service with his wife—they were married at this church 11 years ago. He died on the spot. They were together when the explosion occurred, but it was my friend who sustained severe injuries, to which he succumbed. His wife survived. I was at the hospital helping the families until 1.00 AM, so my face may not express any sadness, but I—." Here, his voice broke and the look in his eyes completed what he wanted to say.