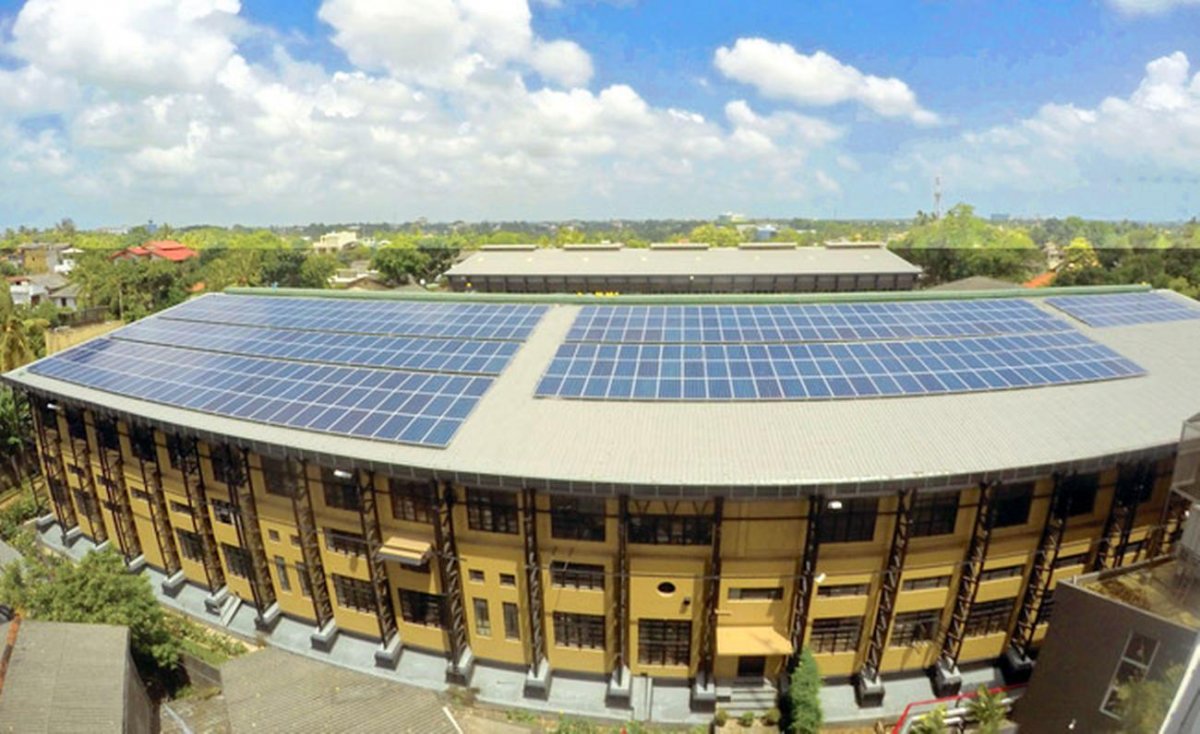 The recent months have brought home Sri Lanka's energy crisis like never before. In the last week of July alone, the country experienced a technical failure at the Kerawalapitiya power plant, a petroleum union strike, and a three-hour power cut warning. Worse yet, the drought still continues, in spite of a few spells of heavy rainfall in mid-August at certain hydro-catchment areas.
Sri Lanka's conventional energy sources are thermal and hydro-power. However, the heavy dependence on hydro-power created a tricky situation in late July when a petroleum union strike was in effect: 47% of the daily power requirement of the country was being produced using diesel due to insufficient levels of water, thanks to the long-drawn-out drought.
According to the CEB, in July, 73.3% of power was being produced through thermal power plants, with 47% of that being supplied by diesel power plants. The remaining 23.4% was produced using coal. Only 20% of the daily power requirement was being supplied by the hydro power stations—down from almost 48% in 2013, while about 5% of power was being added to the national grid through wind and solar power, leaving a shortfall of 1.7%.
The Solar Solution
However, given Sri Lanka's geographical positioning close to the equator, we are in a particularly favourable spot to generate more energy through solar power, thereby equipping ourselves to better handle an energy crisis.
Electricity in Sri Lanka comes from many Renewable Energy (RE) sources, which include hydro-power, solar power, and wind. Sri Lanka is said to be the 39th greenest country in the world, in terms of RE share in power generation. Our current electricity need is 15,000 million units, with a growth of 6% each year.
Sri Lanka is also fortunate not to have any emission commitments—this means that the country only pays the true cost of renewable energy. "We contribute only 1/2000th of the global emissions. But we can even further reduce this insignificant amount because we have such a good solar resource. That is an enviable position," said Harsha Wickramasinghe, Deputy Director General (Strategy) of the Sri Lanka Sustainable Energy Authority (SLSEA), in an email interview with Roar.
A Shining Example
During the World Sustainable Development Summit held in New Delhi India last year, the rising popularity of solar energy in India was highly spoken of and touted as a viable solution to the energy crises of regional tropical countries.
By May this year, India had cancelled plans for 14 gigawatts of coal-fired power stations as their solar tariffs fell to record lows. India's solar power is now cheaper than coal power and the implications for the global energy markets are huge.
Could Sri Lanka ever experience as low a tariff as India? "We have just tasted success with the first bidding round for 1MW solar power plants. We have achieved [a] much lower average price of LKR 17.01 per kWh, compared to the price ceiling of 18.34LKR/kWh. This is just the beginning. We can imagine the price reductions coming from 10 MW and 100 MW plants in future, with much better economies of scale," said Wickramasinghe.
In April this year, it was reported that Sri Lanka was in talks with India to connect the power grids of the two countries to boost power generation within the next five years.
How Does The Soorya Bala Sangramaya Fare?
The Soorya Bala Sangramaya (Battle for Solar Energy), a community-based power generation project, was initiated by the Ministry of Power and Renewable Energy in September 2016. The SLSEA, Ceylon Electricity Board (CEB) and Lanka Electricity Company (LECO) have joined hands to promote the setting up of small solar power plants on the rooftops of households, religious places, hotels, and commercial establishments and industries.
The consumers have options to generate and use electricity in their premises. The excess electricity can be sold to the national grid or you could bank it for later use (not more than 10 years, within a 20-year contract period). According to one's electricity usage, you could choose from three schemes: Net Metering, Net Accounting, and Micro Solar Power Producer.
For those interested in installing solar panels and joining the Soorya Bala Sangramaya, the SLSEA has a list of registered service providers. Many banks offer loan schemes towards installing solar panels and local government officials are empowered to offer technical assistance in the form of monitoring, supervision and quality assurance.
The Ministry of Power and Renewable Energy has set up guidelines for all solar power companies and any company hoping to operate such a business in Sri Lanka must register with the SLSEA. According to this scheme, the CEB pays Rs. 22 per unit for the first seven years of a 20-year contract period.
"Look for several service providers before selecting one. Compare their capability, credibility and price before making a decision. Also, visit many banks for debt financing before you decide on a loan," said Wickramasinghe.
The SLSEA website even offers an interesting little tool, with which you could find out the Global Horizontal Irradiation (GHI) of any given area of Sri Lanka, which could give you a fair indication of the viability of installing solar panels. Sri Lanka has an average irradiation of 5.5 KWh/m2/day. In layman's terms, this means we have ample, quality 'sunlight' to produce solar energy. Let's compare that to Mexico, which is planning to massively increase its solar power generation, and the city of Mumbai in India, which is using solar energy with great success. While Mexico has an average annual irradiation of 5 kWh/m2/day, Mumbai has an annual irradiation of 5.35 kWh/m2/day.
Although seemingly an obvious solution, harnessing renewable solar energy is not without its own set of challenges.
Chief among them is that renewable energy is intermittent in its natural form. For example, solar power is variable on a cloudy day and not available at night, which is when energy consumption is at its highest. Around 57% of the power demand occurs outside of sunshine hours.
In early August, Minister of Power and Renewable Energy, Ranjith Siyambalapitiya announced that the Government will establish solar panels on the roofs of all public institutions as part of the Soorya Bala Sangramaya with Cabinet approval and budgetary allocations already in place.
Sri Lanka's Bright Future
Speaking to Roar, Dr. Suren Batagoda, Secretary to the Ministry of Power and Renewable Energy, was hopeful about the future of the Soorya Bala Sangramaya project. "We have set an ambitious target to have 100 million households in 2025 [and generate] 200 MW of power in 2020 and1000 MW by 2025," he said. "I think the Soorya Bala Sangramaya project is very successful even at this stage—see how the solar unit prices have fallen, at least by Rs.100,000."
According to Batagoda, many large scale industries are also connecting their rooftops to solar power plants, in addition to the 20,000 households that are currently part of the project. He added that more than 150 service companies are registered with the SLSEA at present.
Wickramasinghe is also upbeat about the future of solar power in Sri Lanka. "We see a great future for solar energy, with a lot of solar rooftop installations and several large-scale, ground-mounted projects in the mid-term horizon," he said.
Featured image: JLanka solar installation at D. Samson & Sons (Pvt) Ltd, Nawinna. Image courtesy dailynews.lk