It is drizzling, and the courts at the Sri Lanka Tennis Association are largely empty. However, in one of them, a trio of people sit under a shelter, waiting for the rain to stop. One of them is Jagath Welikala, a veteran tennis coach who has been coaching for the last three decades. The other two are tennis players – they wield rackets and spin them around as they watch the skies and talk to each other. You would just take them for two regular players waiting for the rain to abate, if not for the two wheelchairs idling in a corner.
"Wheelchair tennis in Sri Lanka started as a sort of rehabilitation programme for disabled soldiers," Welikala tells us. "That was what the army commander—and even I— had in mind back then, to give these people something to help them heal." Welikala is one of Sri Lanka's most experienced tennis coaches, and it was he who initiated wheelchair tennis in Sri Lanka, in 2003. The sport's beginnings were humble. Welikala himself was new to the concept, and they kicked off with just 20 players and a demo match. "We never even dreamed of going international, and we certainly never dreamed that we could come this far," he says.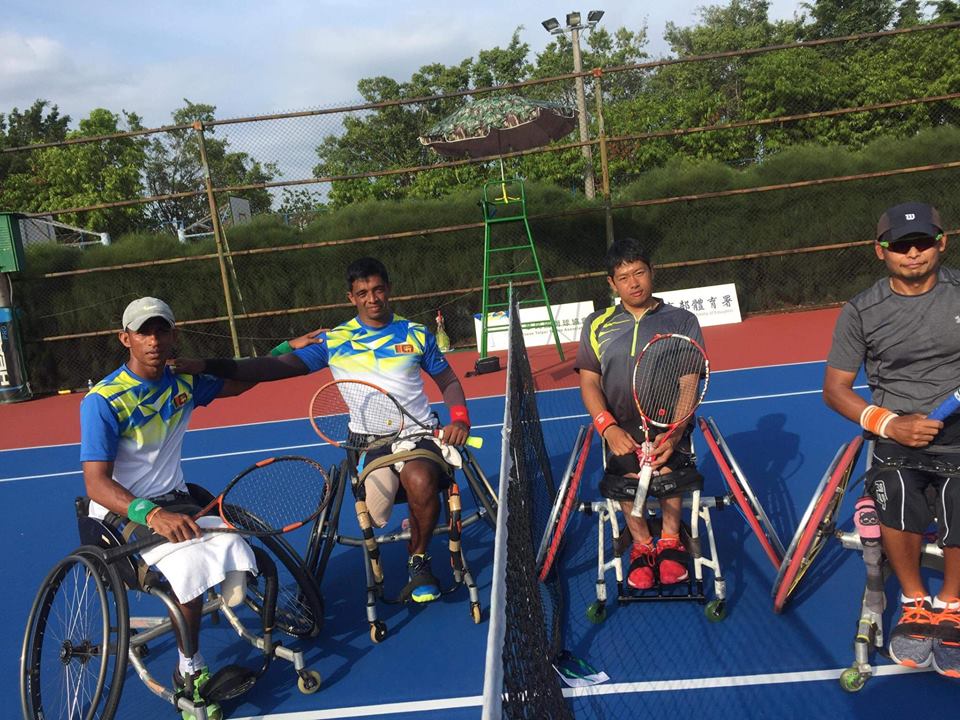 When we ask him just how far they have come, Welikala laughs. "Since the year 2003, our players have won more than 60 trophies around the world," he informs us. "At the moment, we have 16 players in the country. All of them have world rankings." Most of them, he tells us, were still reeling from their injuries when they started out. But they have now healed and grown — both in the sport and because of it. The sport has given them a purpose in life, and they in turn have taken it to towering heights.
War Heroes Turned Tennis Players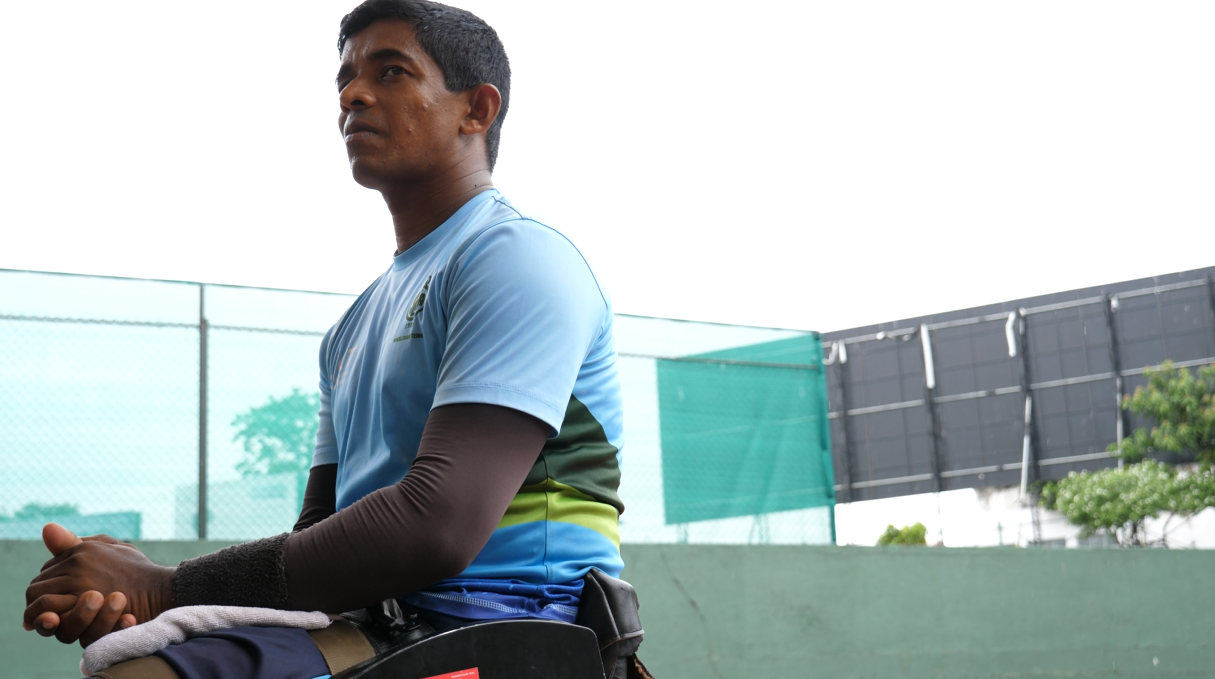 Corporal Lasantha Suresh Ranaweera is fresh from his victory at the Taipei International Wheelchair Tennis Tournament in June. He and his doubles partner, Lance Bombardier D.A.S.R. Dharmasena, had won the gold for wheelchair tennis doubles, while Dharmasena was runner up at the men's singles, even beating a former world champion from Japan.
"I used to play about five different sports before I became injured," Ranaweera reminisces, listing archery, badminton, basketball and marathon running as sports he excelled in. "I always loved sports. Then when I was injured in the year 2005, I couldn't do anything anymore."
However, when he started playing wheelchair tennis in 2011, things slowly started to take a turn for the better. "This is more than just a physical activity," he tells us. " This has helped me mentally too. You see, the game requires peace of mind and intense concentration, and you have to be strong in both ways."
Besides, since many of the tournaments involve a cash prize, Ranaweera says the sport has given the players a financial boost as well.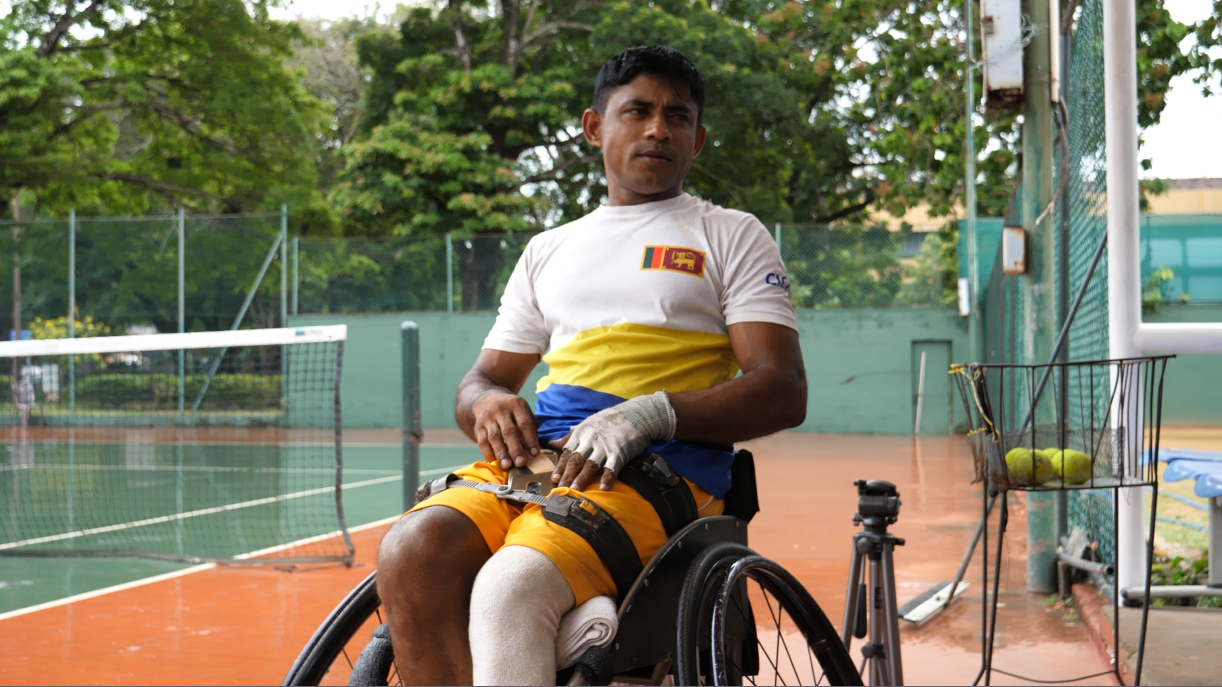 Corporal Gamini Dissanayake is the country's highest ranking tennis player at the moment. With a world ranking of 56, he has been playing wheelchair tennis for the last 15 years, ever since the sport's inception in Sri Lanka.
"I had never played tennis before in my life," he says. "I didn't even know the sport existed until I went to the Kuruwita camp where they initiated this."
One of the main reasons he loves wheelchair tennis is because it has opened several doors that would have otherwise remained closed to him — such as travel. Having travelled extensively for tournaments around the world for the past 15 years, Dissanayake tells us that he has been to more countries than he can count. "Apart from America, Australia and France, I must have been to nearly every other country," he laughs. One of his most notable achievements was his victory at the 2016 Malaysian Open tournament, where he clinched the top spot in the men's singles.
Wheelchair Tennis: The Ins And Outs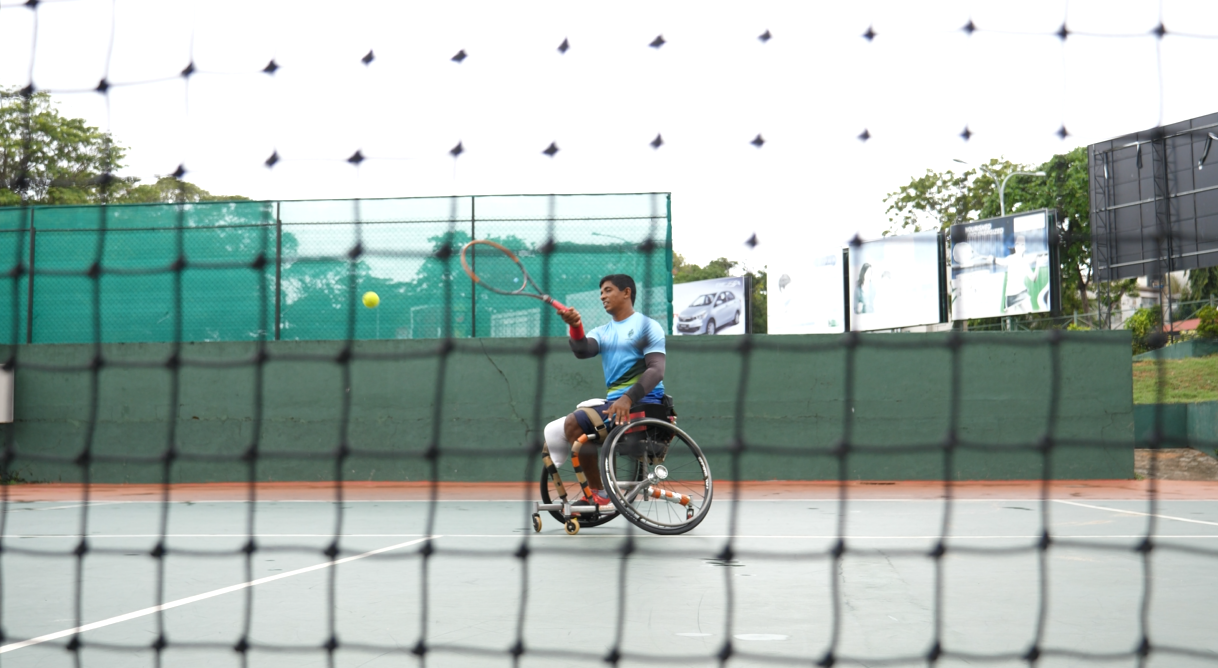 The origins of wheelchair tennis date back to the year 1976, when aspiring skier Brad Parks began toying with the idea of using tennis as a form of recreational therapy. Having suffered a skiing accident that left him paraplegic at just 18, he created the sport as an opportunity—and outlet— for differently abled athletes. The concept grew rapidly, with the first wheelchair tennis tournaments being held in 1986.
The wheelchairs used for wheelchair tennis are very different from the bulky ones you might see in a hospital ward. Smaller and more lightweight, they are specially designed for speed and manoeuvrability, fitted with two large angled wheels and two smaller ones. Newer models have a fifth wheel, increasing the players' ability to accelerate and rapidly change direction.
"These chairs currently cost about 4,000 dollars (or approximately Rs 640,000)," Welikala tells us. "The latest model costs about a million rupees." The players are funded by the SLTA or by the players' sponsors, but with the models and specifications constantly evolving, it is difficult to keep up. "When we started in 2003, the chairs weighed 14 kg," says Welikala. "The newer ones these days weigh only about six or seven kilos. Every extra kilogram means added weight for the players to push."
According to Welikala, the players sometimes get disheartened on seeing the state-of-the-art wheelchairs and resources their wealthier opponents can afford. "More often than not, they have doctors and ball boys and therapists and trainers and the latest wheelchairs, which could be very dispiriting for our players," Welikala tells us. "But I don't accept that as an excuse. I tell them that they should discount all that and just do the best they can."
Changing Lives For The Better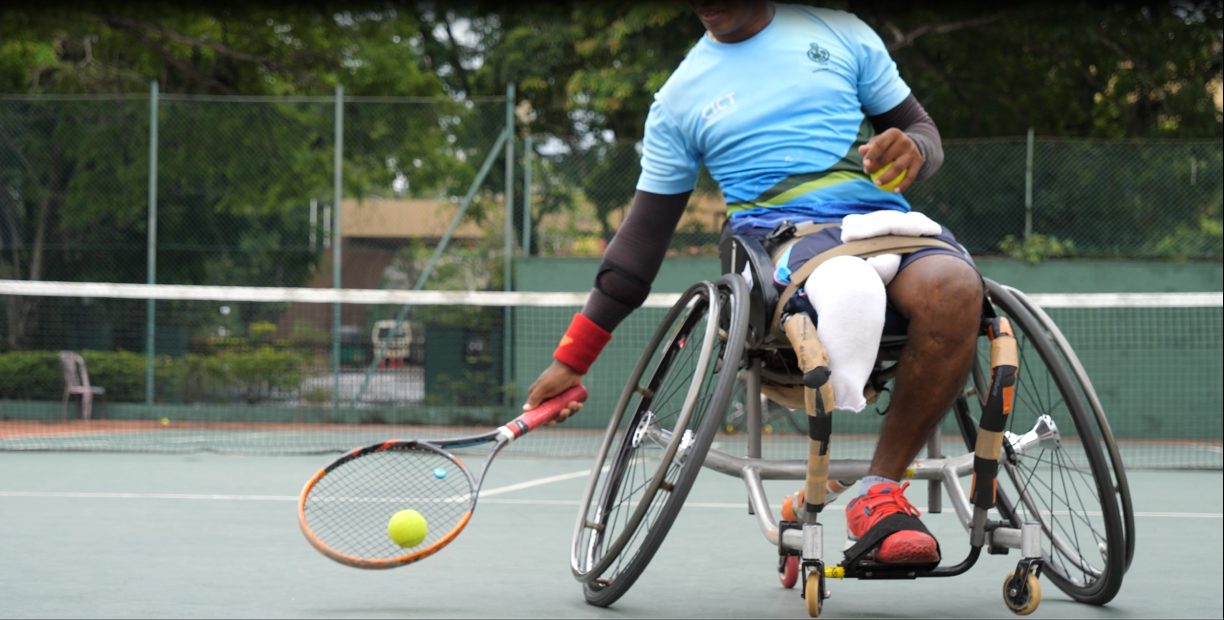 All the current competitive players in Sri Lanka are from the army, but Welikala says that he is more than willing to train other people with disabilities as well. For instance, there is a group of children from the Sevana Lama Nivasa Children's Home who come to the SLTA every Saturday to play wheelchair tennis. "They do not come often enough to be able to play competitively, but it helps them," he says. One of them, he tells us, is a boy with cerebral palsy, who now manages to swing a racket in spite of his constantly shaking hands.
Unfortunately, many parents perceive disability as something to be ashamed of. As a result, they consider a sport like wheelchair tennis as stigmatizing. The logistics involved also make it difficult to get people interested. "Travelling to and from the courts is difficult and costly," he says.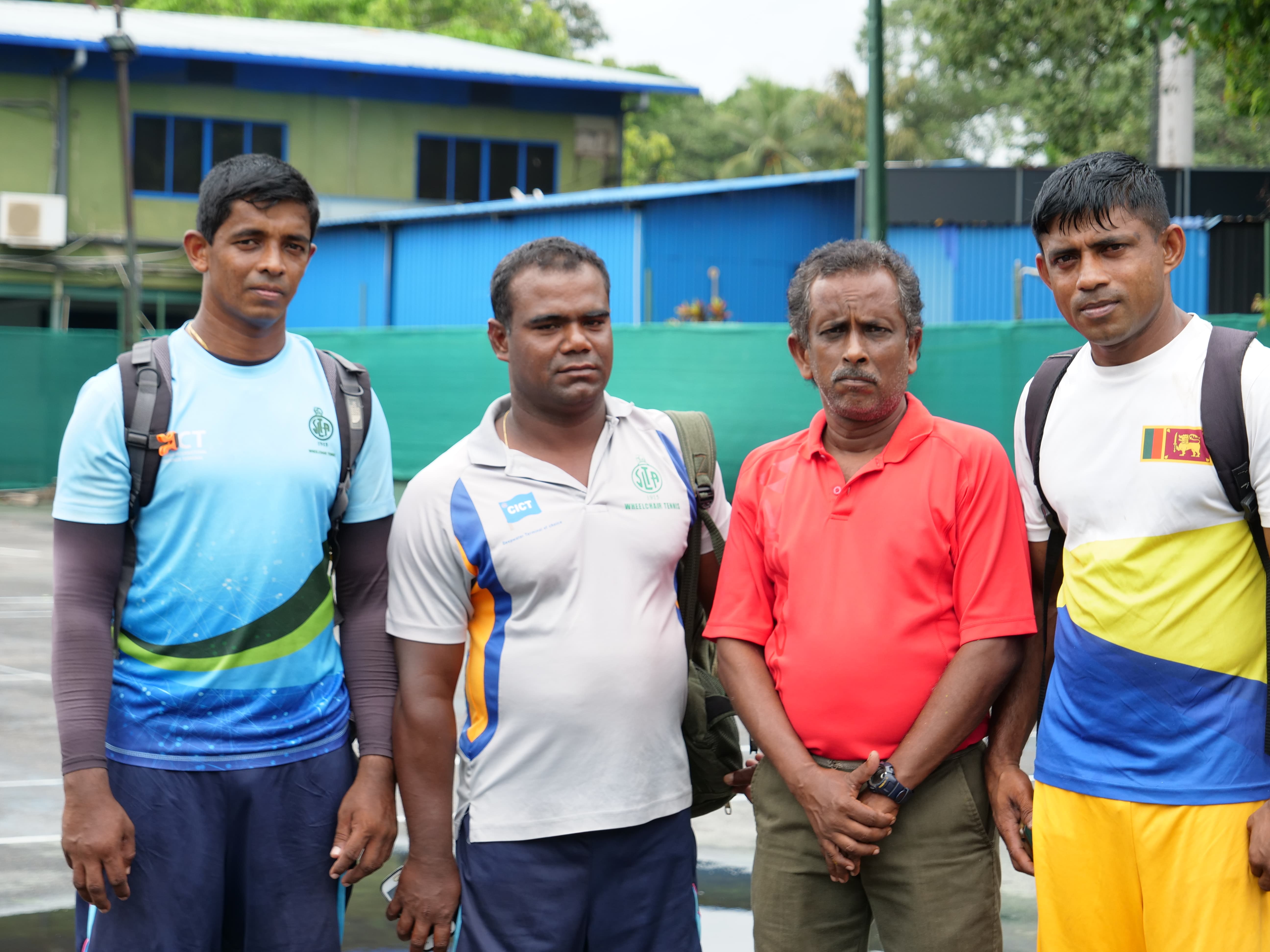 As for the players, Welikala says it has had a far larger bearing on the players off court. "When they first started playing tennis, I realised at once that they had a lot of potential," he recalls. "But it took them about five years to believe in themselves."
The players practice for four hours a day on weekdays, and follow a rigorous gym regime which helps them keep fit. Ranaweera tells us that he also meditates regularly. "You see, it is difficult to play if your mind is not at peace," he explains. "So to play a good game, your family life should also be good."
It is easy to see what Welikala means when he says that this sport has changed lives. We can see the animation on the players' faces as they strap themselves into the wheelchairs and whiz onto the courts as soon as the ground is somewhat dry. "They used to be so unsure of themselves," says Welikala. "Now they are heroes in their villages."