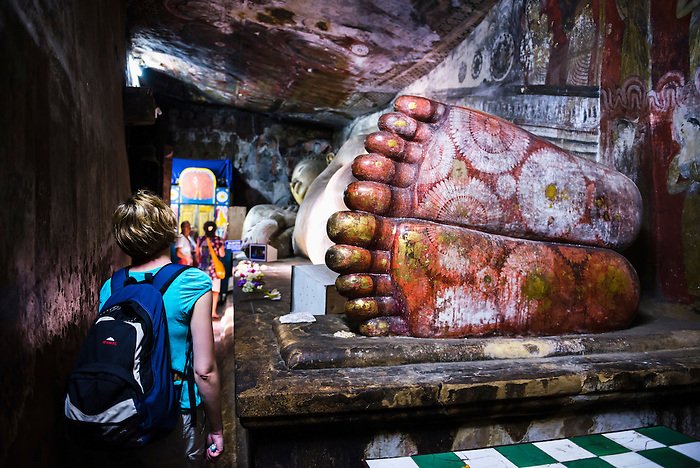 Tourism has seen an increase in Sri Lanka, with the Sri Lanka Tourism Development Authority (SLTDA) recording 2.1 million arrivals in 2016, up 14.0 percent from the previous year's 1,798,380. While the upward trend can be seen as an indicator that tourists are satisfied with their experience, there is some evidence, especially on user-generated websites like TripAdvisor, or on personal blogs, that some tourists are disenchanted with the price of some of the tourist sites.
'Backpacker Lee' in his blog post titled 'India and Sri Lanka: Ripping off Johnny Foreigner' writes, "Ever wondered why we, as foreigners, get charged up to 10 times more for admission to major tourist attractions in India and Sri Lanka? This has been a bugbear of mine for a long time, and the discrimination doesn't show any sign of abating anytime soon."
He accedes, "The belief is that the average "Johnny Foreigner" has more money to spend compared to the locals, therefore the price must vary accordingly. However, this is not a reasonable pricing structure and it, as you can imagine, draws a lot of criticism." He adds "Some backpackers even blindly refuse to travel in Sri Lanka and India on principle."
Sri Lanka has eight UNESCO World Heritage sites; Polonnaruwa, Sigiriya, Dambulla, Galle, Anuradhapura, Kandy, the Sinharaja Forest Reserve and the Central Highlands, and entrance to these vary from between USD 15-30 for a tourist, while locals are typically charged Rs. 60. Tourists from SAARC countries are also given a rather large discount.
It is this 'unreasonable' pricing scheme that is being criticized by certain tourists travelling Sri Lanka, with some resorting to underhand methods to gain access to certain sites. Michael Turtle in his blog Time Travel Turtle writes, "Constantly looking over my shoulder; lying to the police; surreptitious drive-bys. This isn't how I imagined I would be seeing this World Heritage Site. My driver slows the car to a halt and I wind down the window and stick my camera out. Click. Then on we go. It doesn't have to be like this."
He explains in his blog post 'Why is Sri Lanka so expensive?', that he didn't buy a ticket to see Anuradhapura the 'right' way, because he didn't feel the entrance fee added value for money  "The reason I didn't buy a ticket to see the ancient city of Anuradhapura is not because I couldn't afford it. It was more about value. I was passing through for just an hour or two and was limited with my time. Buying a day pass to see all the parts of the city was going to be a waste. If it had been cheaper, I probably wouldn't have minded, but it seemed hard to justify at that price."
The Central Cultural Fund (CCF) which manages the 'Cultural Triangle' – Anuradhapura, Polonnaruwa, Sigiriya, Dambulla, and Kandy,  justifies the levy imposed on tourists, saying it was on par with tourist attractions in other countries. CCF Working Director Karunaratne Herath speaking to Roar Media said, "Compared to other countries in the world, this is not a big amount. Look at other ancient monuments in the world, they charge just as much—if not more."
Herath also explained that the monies earned by the CCF were put to good use: "Twenty-five percent of our income is shared with the Archeological Department," he said, adding that the rest was used to maintain existing sites as well as identify other sites of national importance for preservation. "We launched a national project last year to identify 1, 000 temples in rural areas, with intention of developing infrastructure and facilities around them," he said.
"Furthermore, we also use funds for several 'intangible heritage' projects – such as supporting artists; we are mandated by the Central Cultural Fund Act to look after artists. We launched a insurance programme for artists last year," he explained, adding also that the monies were used for projects such as the production of the drama 'Ramayanaya' as well as the publication of the 'Mahavamsa', in order to preserve and perpetuate the culture of Sri Lanka among its inhabitants.
CCF Director General Professor Prishantha Gunawardena also defended the decision to charge foreign tourists more than local tourists, saying that cultural tourism was an important income generator for the tourism industry. He said levies were imposed on tourists and locals according to a pre-formulated pricing scheme—not willy-nilly—and that the same pricing scheme was visible  in other  forms of tourism such as wildlife and adventure.
But is overpricing negatively affecting tourism? It is clear that while a certain strata of society is willing to spend to travel and sightsee, there  is a burgeoning number of low-budget travellers, backpackers and the likes, who also want to see the world, albeit at a more reasonable price. By targeting those with disposable incomes, is Sri Lanka losing a sizeable portion of a potential tourist market?
The SLTDA, in its document Sri Lanka Tourism Strategic Plan 2017-2020 writes that a 'reliable and secure online payment scheme' must be implemented. "Because Sri Lanka has myriad cultural, nature-based, and religious sites, each with its own ticketing system and pricing structure, the potential for travellers to become confused and disenchanted is great."
"Many social media reviews complain about the total costs involved in multiple visits and the expectation of drivers and guides to receive substantial tips. A common ticketing approach, advance purchase, seasonal passes, low-season passes, student deals and other packages could be developed to streamline the system and offer savings to visitors," it writes.
"This system would result in a one-time payment so that visitors do not have to complete multiple forms and pay multiple times. The ticket 'bundles' can combine different choices and feature lesser-known attractions to promote alternative sites and disperse tourism throughout the island," it writes in its strategic plan.
But while the SLTDA speaks of rehauling the ticketing system and offering concessionary packages and passes, it does not specifically address the issue of pricing, which is what has earned the ire of many travellers, who label the two-tier approach as discrimination.
Roar Media spoke to Rasika Jayakody, Consultant, Media and Communications at the SLTDA who said, "These prices are not within the control of the SLTDA. But we are working with various state authorities to fix some of these issues. Having said that, you can't expect progress overnight."
"We, as the state tourism body, have adopted many measures to ensure value for money for tourists visiting these sites.  One aspect of this is developing infrastructure and giving them better services. Our Domestic Tourism and Community Relations Department has been entrusted with the task of developing infrastructure and they have already made progress within a short period of time."
"Another part, is giving value additions and complementary services that will benefit tourists. For instance, developing apps and the utilization of virtual reality for key tourists destination are tasks that we have already embarked upon. Such initiatives will justify the money they spend to visit these places," he said.
Plans are also afoot to increase the ticket prices for locals, CCF Director General Professor Prishantha Gunawardena said. "Everything has been discussed, the proposal has been put forward to the Board of Governors; within a week, we expect an answer on that," he told Roar Media.
Fair prices are essential to the development of the tourism industry and if Sri Lanka is to achieve its ambitious plans of earning 7 billion US dollars through its tourism sector by 2020, it is important that it adopts measures that ensure it is not perceived as a country that offers a third-world service at first-world prices.
Cover: Tourists visit the Dambulla caves. Image courtesy matthewwilliamsellis.photoshelter.com