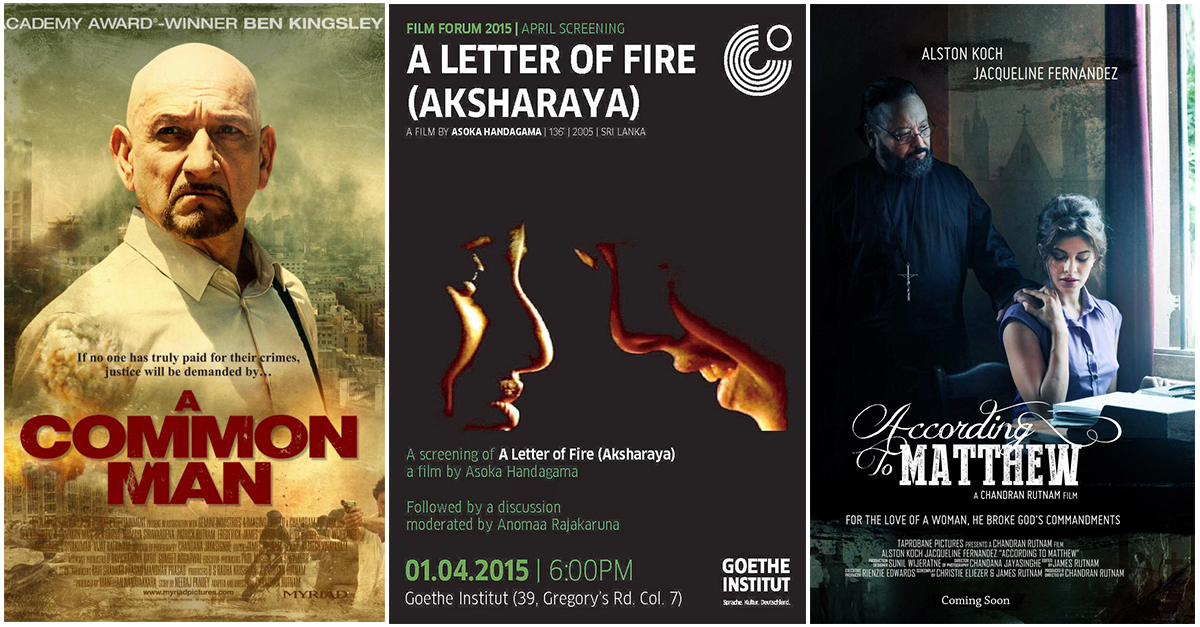 Sri Lankan cinema is overwhelmingly Sinhalese—the language of its majority, but that doesn't mean that only Sinhala films were made here. Tamil cinema had some humble beginnings but was nipped in the bud by the unrest in the country. It's only recently that it's shown signs of a comeback, with the stellar Komaali Kings. As far as English films go, Chandran Rutnam's 'According to Mathew' is gaining traction. But what are the other English films the country has produced?
International productions
The British made quite a few documentaries about Sri Lanka. One well-known example is 'The Song of Ceylon', a documentary by the famed Basil Wright, made for the "Empire Marketing Board" and the Ceylon Tea Board. With a contract but no guidelines, Wright made a film that was more personal than material for marketing. Groundbreaking for the time, it won awards, although critics later pointed out that it avoided the question of colonial labour and the economic exploitation of the colonies. Narrated by Lionel Wendt,, the film began with a focus on Buddhist rituals and Sri Lanka's natural beauty, moving onto native industries and on how modern British technology affected the people.
Many other documentaries on British Ceylon by newsreel maker Pathé News can be viewed on their Youtube channel. There have also been many Western movies that have used Sri Lanka as a location.
It's a Matter of Time (1991)
It was only a matter of time until Sri Lankans made their own English language film. In 1991, the first locally made mainstream English language film—It's a Matter of Time' was made. It was written and directed by Roy de Silva, famed for his body of comedic work. Indeed, 'It's a Matter of Time' was a romantic comedy of the same form; only this time the dialogue was in English. The cast comprised well-known names such as screen legend Gamini Fonseka and Rosy Senanayake, as well as (then) newcomers Kamal Addaraarachchi and Sangeetha Weeraratne, who went onto become screen stars. The film was a moderate success and ran at the Majestic Cinema for 75 days.
Speaking to the Daily News in 2012, on the release of the spiritual sequel to 'It's a Matter of Time', 'It's a Matter of Love', director Roy de Silva said "Many people still discuss 'It's a Matter of Time' with me. Many of the film's DVDs had been sold taken abroad. Maybe the audience is not as big as those who enjoy Sinhala movies but I wish to see more film-makers following my avenue. I wish to see producers who are able to put money into making English movies using the latest technological devices to make better productions. If this materializes I am sure we would be able to popularize our creations by running our films for at least a week in countries like USA and India."
It's a Matter of Love (2013)
This 2012 sequel to 'It's a Matter of Time' follows as many of the same themes of romance as the former, and features an all-star cast ranging from screen veterans like Irangani Serasinghe, Vijaya Nandasiri and Lucky Dias, as well as the returning Rosy Senanayake, and newcomers like Saranga Dissasekara, Anarkali Akarsha and Keshia Leitch. However, the superfluous tone of the film, and numerous clichés employed in the story ensured that the tale of Marlon and Natasha didn't fare as well with audiences, two decades after the first film was made.
A Common Man (2013)
Director Chandran Rutnam's first English film gained much attention for a surprise casting: Academy award-winning British superstar Sir Ben Kingsley and British actor Ben Cross. Filmed in Colombo, the story is about a mysterious man played by Kingsley, who plants five bombs in the city, demanding the release of four major terrorists from Deputy Inspector General of the Colombo Police Department, played by Cross. The film was a winning entry at the 2013 Madrid International Film Festival, winning Best Film, Best Director and Best Actor, as well as a bronze medal at the New York Festivals' International Television and Film Awards.
According to Mathew (2018)
With years of anticipation behind it, Chandran Rutnam's second English language film 'According to Mathew' hit theatres in November. Based on the real-life events encapsulated in Professor Ravindra Fernando's 'Murders At The Vicarage', it tells the story of the infamous Father Mathew Peiris who had an affair with his secretary and then killed his wife and her husband. Sri Lankan-born Australian singer-songwriter Alston Koch plays the lead role of Father Mathew while the role of his secretary is played by Sri Lankan Bollywood star Jacqueline Fernandez.
Notable Mention: Aksharaya (2005)
Ashoka Handagama's films are no stranger to controversy, but his most controversial work is probably 'Aksharaya' or Letter of Fire, released in 2005, deals with psycho-sexual trauma in the family of a high court judge. The film was banned in Sri Lanka because government officials were concerned about its immorality. While it is generally classified as a Sinhala film, significant portions of the film consist of English dialogue.