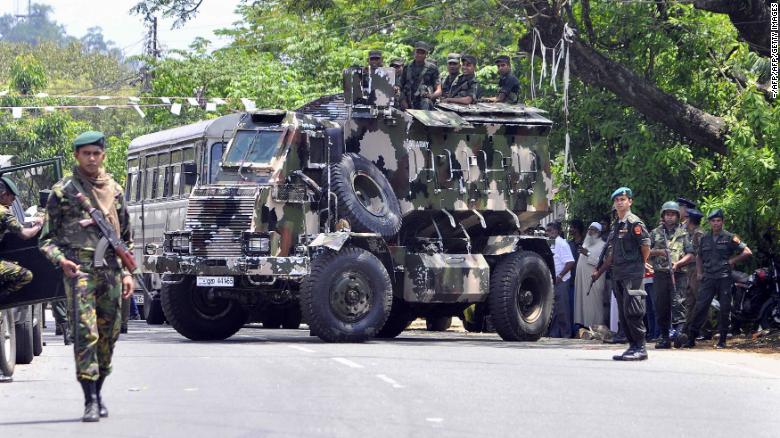 This page will be updated with new information as it comes in. (Latest update: 13 March 12.30 pm)
Sri Lanka is in the midst of a state of emergency. The government imposed it on Tuesday (06), following incidents of racial violence in the Kandy-Digana area. This means that normal constitutional procedures are set aside, and the police and military powers are heightened, allowing them to arrest and act at will.
Racial tensions have been simmering these last two months, especially after a Muslim restaurant was mobbed in Ampara by Sinhala extremists. A customer claimed that the restaurant had mixed in 'sterilisation pills' into his food, and called reinforcements in the guise of friends who attacked the place. This escalated as the mob continued to attack property, including homes, vehicles, and mosques. Police claimed that 'investigations are underway.' News reports state that the issue was 'amicably settled', though other reports state that the culprits were immediately released on bail, prompting Prime Minister Ranil Wickremesinghe to call for another investigation.
Last Saturday (March 03), a Sinhalese man died after admittance to the ICU for two weeks. The deceased was a (Sinhalese) lorry driver, who got into an argument with four (Muslim) men in a three-wheeler. The quarrel resulted in a fight serious enough to leave the lorry driver hospitalised, and lead to the arrest of the four passengers in the three-wheeler. The violence was not racially motivated, and the victim's family was assisted by everyone in the neighbourhood—including the Muslim community.
His death, however, sparked off a series of violent incidents, leading to sporadic curfews in the Kandy district, heavy police and military presence, the imposition of a state of emergency, and as of today, social media clampdowns.
Timeline
27th February: A clash in the early hours of the morning in Ampara saw the damage of four shops and a mosque. At least three people were reported to be injured.
3rd March: The victim who sustained injuries following the clash in Kandy died. Following his death, local religious leaders, along with the police, allegedly met to ensure that communal tensions would not pop up and to establish that the death was a private quarrel, not a racial issue.
4th March: Active 'anti-Muslim' campaigners, including Dan Priyasad Amith from the 'Mahason Balakaya' Facebook group, Ampitiye Sumana Thera from Batticaloa, and Gnanasara Thera from the Bodu Bala Sena (BBS) arrived in Kandy. This coincided with the mobs which arrived by the busload from different parts of the country.
Gnanasara Thera visited the funeral house.
Attacks began a few hours later, targeting shops, homes, and mosques. A 27-year-old died inside his burning house, but an official report as to the cause of death has not yet been released.
Police intervened and arrested a few rioters.
Curfew was imposed in Kandy, and schools closed for the following day.
5th March: A mob surrounded the police station and demanded the release of their associates.
6th March: A state of emergency was declared as tensions continued. Curfews in the Kandy region continue to be lifted and reimposed.
The President's Media Division issued a special announcement, stating that the government is dedicated to taking necessary actions.
7th March: The Telecommunications Regulatory Communication (TRC) instructed service providers to restrain internet access in the Kandy District. Several other areas including Colombo and its suburbs report inability to access social media.
The TRC starts monitoring content for hate speech.
Travel advisories were issued by the UK, USA, and Australia, urging their citizens to 'monitor local media for updates' and 'exercise safety precautions'.
Riots spread to Akurana, despite military presence.
President Maithripala Sirisena visited religious and political leaders in Kandy, urging them to maintain peace and harmony.
A grenade blast kills one, and injures three others. Police arrested seven people connected to the incident but made no further comment. The grenade was in the hand of one of the rioters.
8th March: UNP Minister Ranjith Madduma Bandara sworn in as the new Minister of Law and Order, replacing Prime Minister Ranil Wickremesinghe.
Civil organisations and the Frontline Socialist Party protested against racism in front of the Fort Railway Station.
One of the main suspects who instigated the Kandy riots, Mahason Balakaya Facebook group leader Amith Weerasinghe and nine others are reportedly arrested.
81 suspects were arrested in total, of which 10 were arrested under the Terrorism Investigation Division.
10 March: President Maithripala Sirisena visits New Delhi, while social media restrictions continue.
PM Ranil Wickremesinghe states that the government will compensate damaged properties in full.
Several VPNs are also restricted, according to multiple users online.
11 March: Despite claims that social media sites would be restricted just for 72 hours, it is finally announced that Facebook will be shut down until the state of emergency is lifted.
13 March: Minister of Telecommunications Harin Fernando informs BBC that officials from Facebook are due to visit Sri Lanka on Thursday (15), and that the social networking site will be accessible to the general public by Friday (16).
Off The Record Vs. Misinformed Fear Mongering
Despite curfews, numerous reliable sources from affected areas confirmed that armed mobs continued to patrol the streets and attack property, even with policemen watching on. The Hindu correspondent Meera Srinivasan reported residents stating that "Police and STF were around when our places were attacked by the mobs. But they did nothing to prevent escalation".
Likewise, Sinhalese families who were suspected of protecting Muslims were also threatened. Chilling audio clips of the mobs, and of people caught in the crossfire, have also emerged.
Internet access seems to be erratically restricted—with certain social media apps being accessible to some and inaccessible to others.
To top it off, numerous unsubstantiated reports kept circulating on the nights of 05 and 06 March. These included tensions in Aluth Kade, Grandpass, Peliyagoda, and Dehiwala, including claims of hearing gunshots. Residents in these areas, however, refuted these claims.
Similar stories of violence and mobs are continuing to make their rounds around the country, most of them sensational.
Government Responses
The government's lack of action has done little to allay fears among the Muslim community. As mobs ran amok last night, what most Ministers did was to condemn the act on social media: both on Facebook and Twitter. They also demanded the police to take action—also on Twitter.
Reports of police inaction—especially with regard to the incident in Ampara—compelled Prime Minister Ranil Wickremesinghe to order another inquiry into the event.
Government Information Department Director Sudarshana Gunawardena also issued a statement condemning the violence, "hate, and mischievous information campaigns….with the objective of creating disharmony."
President Maithripala Sirisena's silence over the course of the week continues, especially as his Twitter account, even at the time of writing, has not acknowledged the violence at all.
The last heard of him regarding the riots was on the government news portal two days ago, which was updated thus:
"President Maithripala Sirisena had directed the police and security sector to hold an unbiased, independent investigation into incidents at Digana Kandy today. President has also instructed government officials to start new special programme [sic] with all responsible parties to create peaceful situation in the area".
However, his media division released a special announcement through which he expressed his condolences and stressed on the need for unity.
The last update concerning Kandy-Digana was made on Monday (05), with the official statement claiming that "the suspects have been arrested and the law will take its course".
Further updates:
(08 March, 12:16pm)
President Sirisena has since visited Kandy, and met with religious leaders in the area. The religious leaders had informed him that minor incidents exaggerated through social media were one of the main reasons for the unrest. The President had then issued further instructions to the security forces, to take necessary steps to keep people in the area safe.
A hand grenade in the hand of the rioters exploded. Rumours immediately circulated about injuries to clergy, and temples. However, BBC reporter Azam Ameen, quoting Prime Minister Ranil Wickremesinghe, stated that 'no harm has come to any member of the clergy in Kandy.'
1pm, 11 March
The government's restriction of Facebook has meanwhile, made international headlines, with some going as far as claiming that "Sri Lanka Did What US Can't." Surprisingly, Facebook responded to CNBC, stating that the company is "responding to the situation in Sri Lanka and are in contact with the government and non-governmental organizations to support efforts to identify and remove such content."
Local critics, meanwhile, allege that blocking Facebook and social media networks does not resolve the root problems concerning ethnicities and a deficient political culture. This is especially heightened thanks to government responses claiming they are "waiting for Facebook to remove them [pages and posts spreading racism and hatred]."
Meanwhile, what can we do?
As individuals and organisations, the best we can do at the moment is to help maintain peace, and not reshare unverified updates and messages.
Cover image: cnn.com