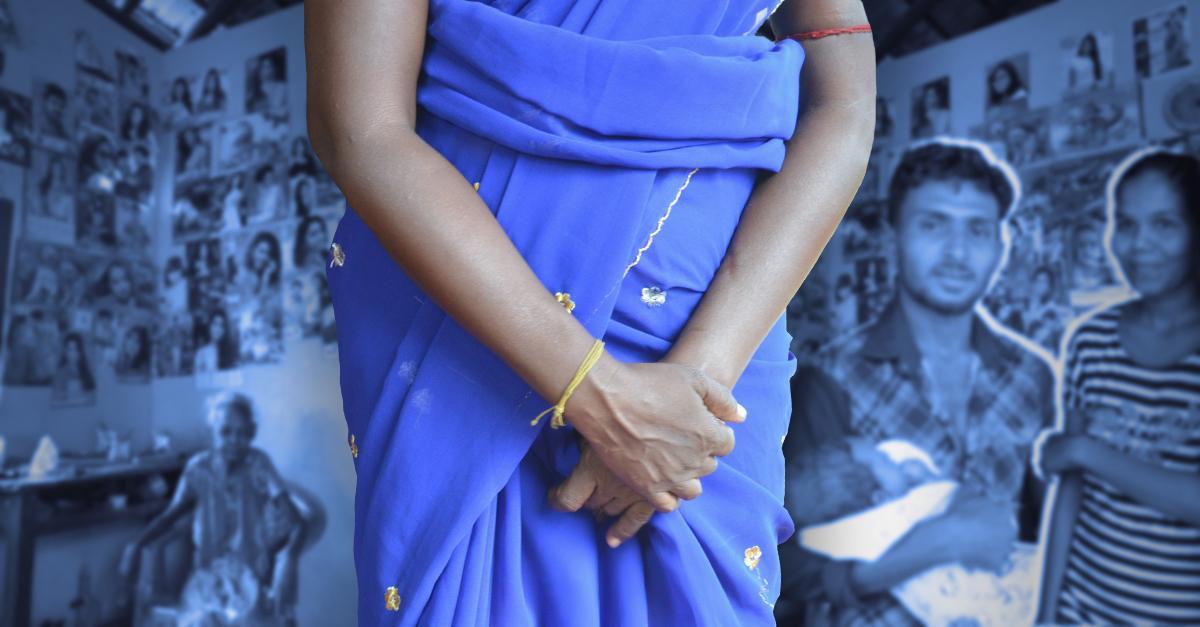 Some 30 kilometres from Kilinochchi town, the slick, tarred A9 road veers sharply off onto a dusty track to the left, taking us on a bumpy ride towards Iyakkachi. The road is mostly desolate, except for a few people riding slowly on bicycles under the hot northern peninsula sun. Vast tracts of land lie undisturbed on either side, until quite suddenly, you come upon a large construction; a new Hindu kovil glistening in the morning sun. Around the kovil is the usual humdrum of human religious activity, but the dusty road ploughs straight past onto more uninhabited land. But within moments, we spot, on the right, a small compact house in pink – and another one, metres away, and yet another one in equidistance. This is the 'village' for war widows we've come looking for, the 'Param Puja Papa Ashram'.
"The Param Puja Papa Ashram was established in 2013 by a 73-year-old philanthropist, Ponnambalam Paramalingam", said Navitheesan (41), who oversaw the ashram. Paramalingam, by birth a Sri Lankan, now domiciled in India, was motivated by his guru Swamy Raamadhasar to commit his life to help others, and had funded the 'village' himself, with the specific purpose of providing war widows with homes. "Widows, and children, are left most vulnerable by the war," Navitheesan, who goes by the name Neethan, said as he explained why Paramalingam had decided to support them. There are about 60 homes on 60 acres, of which 50 homes are inhabited by war widows. Other families, affected by the war in other ways —the death of a father or the disability of a primary breadwinner — have also been included in the village.
Trauma
Kovi Regan Kovila Santhi is a 26-year-old, whose husband is missing since the end of the war. She now shares her home with her grandparents and ten-year-old son, on whom their hopes are pinned. A slim young woman with vacant eyes and an expressionless face, Kovila Santhi contributes very little to the conversation, preferring to let her grandparents take the lead. Rajalakshmi, 67, is a tiny, emaciated-looking woman, dressed in a bright green kaftan, with wisps of white hair tied tightly in a knot at the back on her head; a livewire, berating her 78-year-old husband Lechamanan Ganapatty in Tamil, whenever he spoke out of turn, deftly taking control of the narrative, relating the events of the past and situation of the present.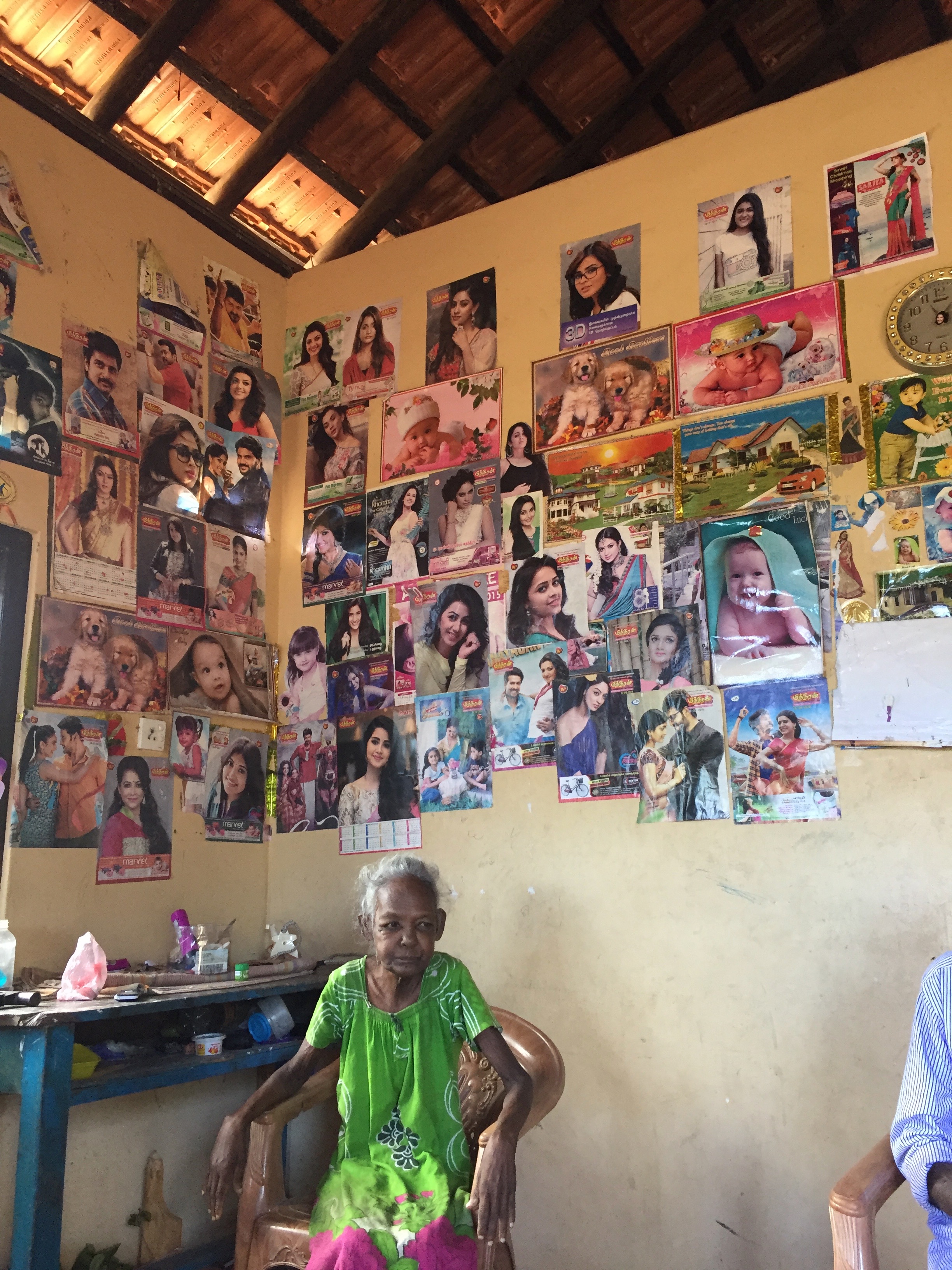 The hallway in the two-bedroom house is dark and unfurnished, except for a small, blue, wooden 3 x 1 table in one corner on which is a heap of paper cuttings and a bottle of coagulated glue. A number of plastic chairs have been dragged out from one of the rooms for us to sit on. The absence of furniture and decor is offset by the bright walls, on which are glued the colourful, smiling faces of Tamil and Hindi teledrama stars, chubby babies, fluffy puppies and Hindu deities. Lechamanan Ganapatty is the sole breadwinner, Rajalakshmi said, earning Rs. 9, 000 a month as a security guard in Kilinochchi. The family barely manages to get by. "We cook and eat one day, and we don't eat the next day," Rajalakshmi said gesturing in hopelessness. "That is how we manage."
Despite having a fairly comfortable and new home, with the promise they will never be turned out and can live there for generations to come, Kovila Santhi and her family live in isolation and dire poverty. "No one looks out for us," Rajalakshmi said bitterly. "Not the government, not NGOs, not anyone. And we don't go to ask the neighbours for anything," she said, with a touch of pride. Kovila Santhi would like to work someday, in agriculture, but there are no jobs nearby and she is still unwell, dealing with trauma from the end of the war, and the loss of her husband. Kovila Santhi had no closure, Rajalakshmi explained, as it was not even possible for her to find her husband's body. His presumed death, just one in many casualties at the end of the brutal war that waged on for over 30 years.
Loss
Further down in the village, we come to a wild garden, brimming with life and bright colourful flowers. At the entrance, we are met by 48-year-old Mohandas Padimani, a tall and graceful woman clad in a blue silk saree, who greets us with a welcoming smile and hands folded in greeting – 'vanakkam', she said. Padimani, who lost her husband Sinnathurai Mohandas in March 2009, arrived at the ashram in 2014, and lives there with her 17-year-old-daughter and 15-year-old son. Padimani performs menial labour at the ashram and earns Rs. 13, 000 a month, which, she admits with some difficulty, is barely enough. To make things easier on her purse strings, Padimani and her teenage daughter tend to their garden where they grow a variety of fruit and vegetables they can use to supplement their diet.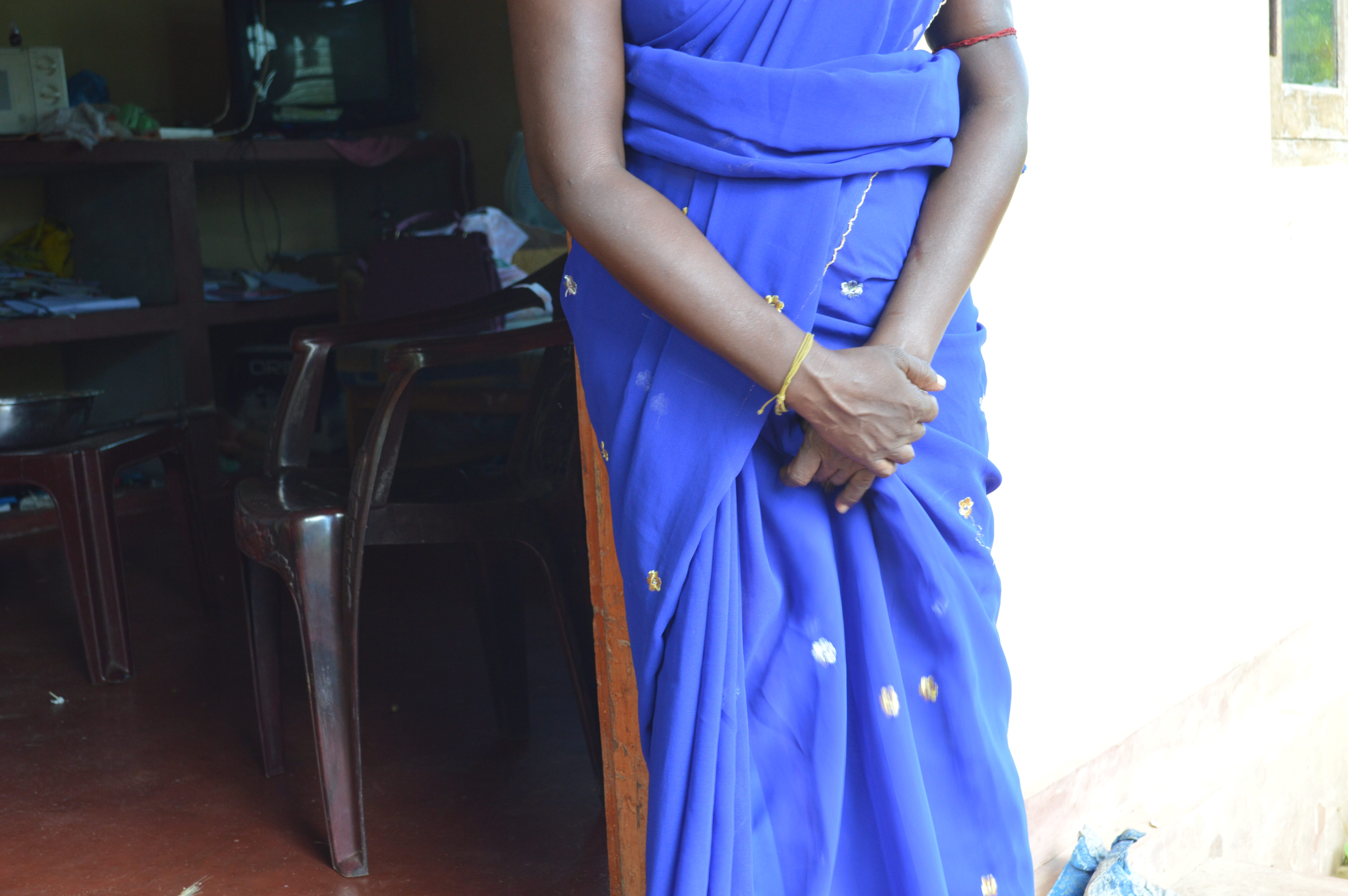 Padimani's house too, is dark and crowded. There is a mattress on the floor of the hallway, and a bale of barbed wire lies wound tight in a corner. Miscellaneous household items, shopping bags, garlic, and a slipper lie around, while from the kitchen comes the sound of Padimani's daughter scraping coconut in preparation for lunch. Her two teenage children are not all she had, Padimani tells us, she had five. Two are with her, two are married, and one is missing. Padimani suddenly breaks down in tears, telling us of the 18-year-old son she lost in February 2009, a month before her husband died. "They were shelling," she said, in broken sobs, tears coursing down her face, as she fiddled with the knotted end of her saree, "and we packed up to leave. He went ahead with some things strapped on his bicycle, and we never saw him again."
Padimani has been looking for her son since. "If he is still there, he will come to us," she said to us, brokenly, "but at the same time, I can't believe he is dead." She recounted how she had been to the Boosa, Trinco and Batticaloa camps to see if her son was held there, but was not able to find him. "He was so loving and caring," she said. "He would wake me up in the morning and give me my milk, he was the good one." The families of the disappeared protesting in the North and East have often asked her to join them to pressure the government to reveal the whereabouts of their loved ones, but Padimani could only attend once. "Who will look after the rest of the family if I go?" she asked. But when asked if she blames anyone for her losses, she is quick to emphatically shake her head, "No," she said in quiet resignation. "It is our fate."
Hope
Outside, on the porch of a compact pink house within the 'village' premises, a squalling baby of not more than two months lay in a plastic bassinet, naked and slathered in oil. The uncomfortable cries of the tiny infant in the afternoon heat soon drew the attention of his youthful parents, who came outside to pick him up, greeting us as they did. Sajipa is 22 and lives with her 25-year-old husband Rasaiah Santharas, a labourer. The home was given to her mother, Vijayamani (49), after her father Selvarasam took his own life at the end of the war in 2009. Originally from Chavakacheri, Sajipa and her family moved into the ashram in 2015, after they were recommended as suitable for aid by the area Grama Sevaka (village officer), and have been living there since.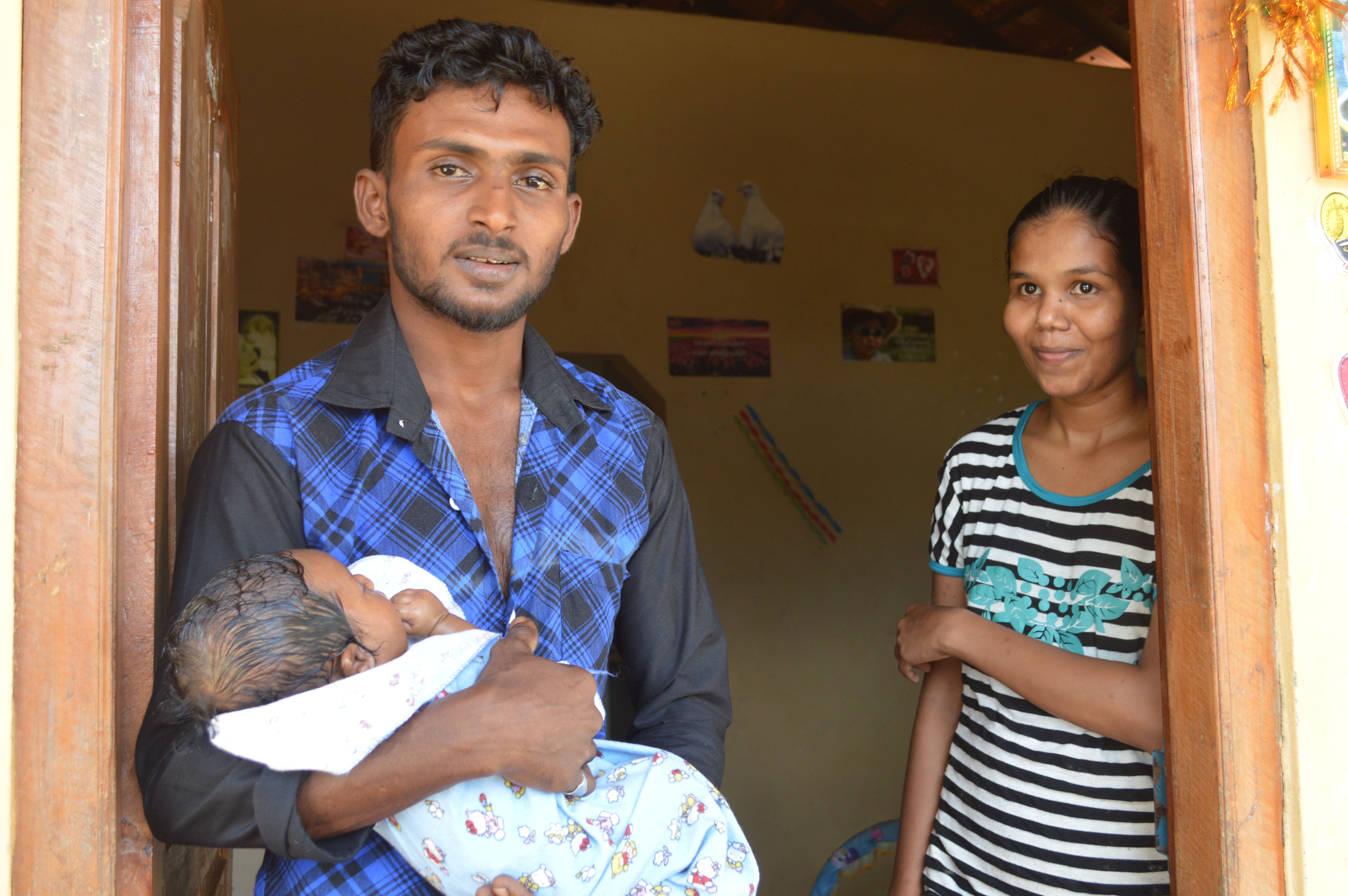 Sajipa, who has been married for three years now, tells us she worked briefly in Saudi Arabia, but left because she was unhappy. Now, here in Kilinochchi, she has no prospects. "We would like to open a 'fancy items' shop," she said, but they need a vehicle and lack the funds. With Sajipa's mother, who works at the Holy Cross Hospital in Jaffna and lives with her sister elsewhere in Jaffna, Sajipa and her baby rely on the money her husband Santharas makes as a mason. But work is not steady, Sajipa told us, and with the rainy season coming, it will become harder to manage. Still, the young couple appears buoyant with youthful optimism, their world centred around the tiny life in front of them. As the baby cries, Santharas soothes him, swaddling the infant lovingly in a soft cloth.
Future
The Param Puja Papa Ashram is arranged in neatly allocated lots, with large sandy roads running through them. The houses are separated from each other by fences made from saplings bound tightly together, covered over with plaited coconut palm fronds. The ashram is administered from a small yellow office within the village, manned by a staff of about five people and employs about 15 residents for upkeep and labour, paying them about Rs. 600 a day. The results show; the ashram is cleaned, watered and well-maintained. Pointing to a lake in the distance, Neethan explained that one of the first things Paramalingam did was to build a lake, because "everything centres around water". The water is used for the village and also for agriculture, that Paramalingam encourages villagers to be involved in.
Reminding us to remove our footwear, Neethan led us into an airy hall, in which large framed pictures of Paramalingam's guru Swamy Raamadhasar were hung. This was the 'prayer' hall, where the villagers met morning and evening, although Neethan was quick to point out prayers are not mandatory. "Anyone can come if they want to," he said. The ashram's philosophy is simple; "We have no class, caste, or race distinctions here," Neethan added. "Everyone is equal." He explained that vulnerable families were chosen in conjunction with the area grama sevaka and gifted a home and an alternate lifestyle and encouraged to live freely in the village for as long as they wanted to, and their children after them. But although they are allowed to live for free and not asked to pay rent, the land is is not written to them, to prevent the villagers from selling the property.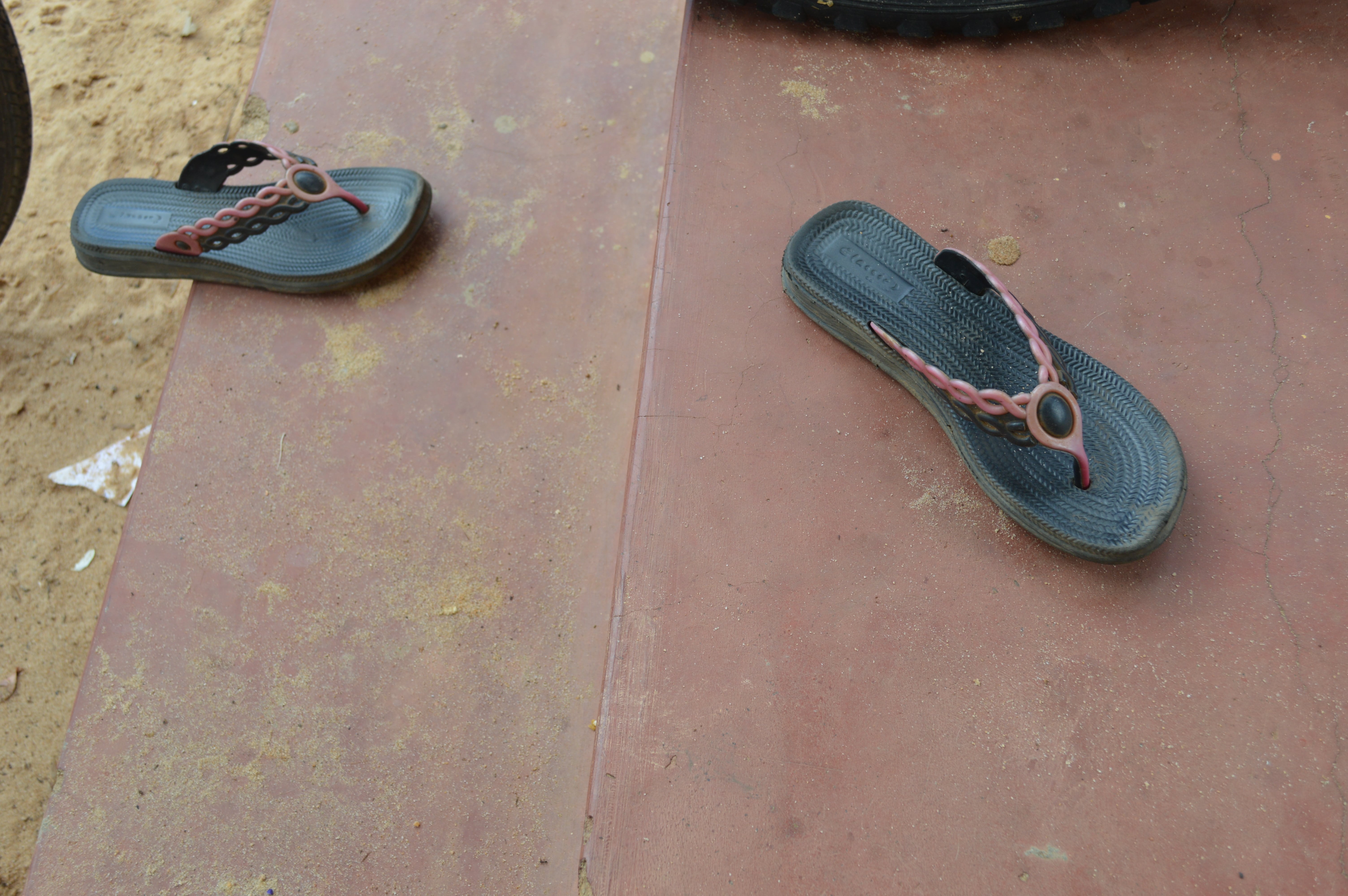 Neethan himself lives in the village with his wife Kamalini (40) and 4-year-old son Biranad. He was working with Paramalingam in Dubai when the philanthropist asked him to take over management of the ashram, and Neethan complied. Paramalingam visits the village about once a year, to inquire into the wellbeing of the villagers, and is often accompanied by other spiritual gurus, teachers and students, who live in separate quarters in the ashram and hold special sessions for the residents while they are there. The village, or ashram, is largely isolated from the rest of the district, and while it subscribes to the spiritual ideals of its founder, it cannot offer solutions to the economic hardships faced by its inhabitants. Indeed, as Neethan explains, the 'village' does as much as it can. The rest is up to the government, which must expand on its plan to develop the northern province, providing income opportunities for all.