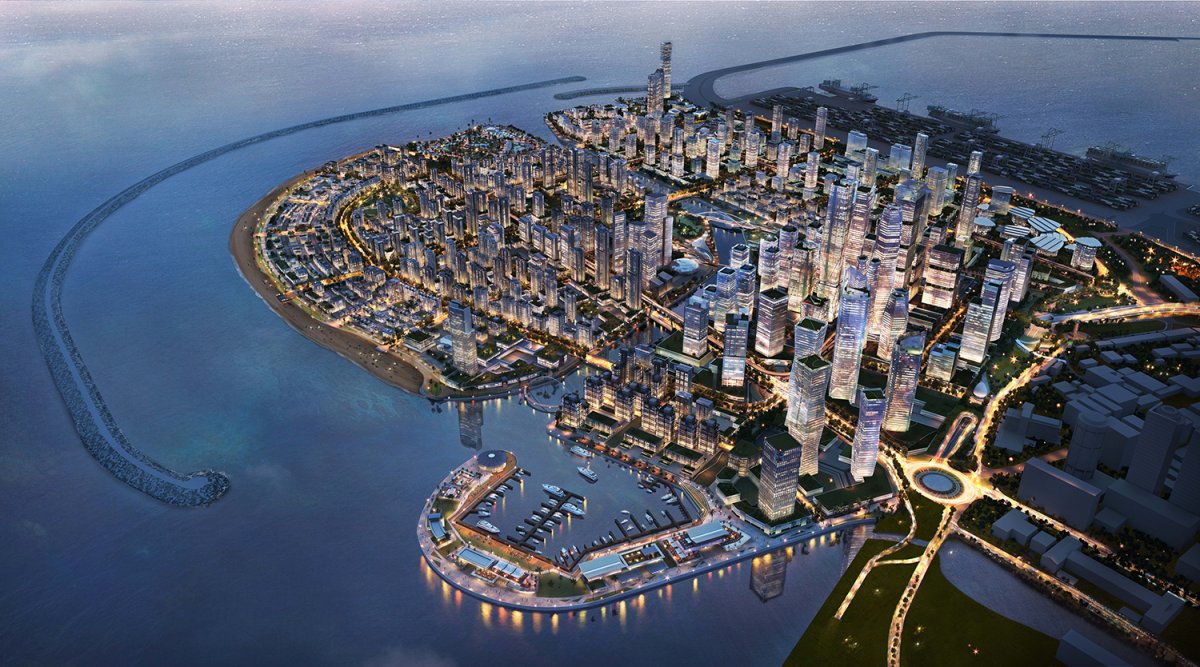 The Port City Project has been at the front and centre of public scrutiny in the past, but no new details on the progress of the project have reached the media in recent days. While the issue of the Port City Project hung in the balance during the transition of the new government in 2015, very little is being said of it now, which begs the question, what is happening to the Port City Project and where do things stand now?
Part of China's ambitious 'One Belt, One Road' plan, the Port City Project seeks to reclaim 269 hectares of land adjacent to the Galle Face Green and develop it into five different precincts;  at a total initial cost of USD 1.4 billion. The deal—struck between the government of Sri Lanka and the Chinese government-owned China Communications Construction Company (CCCC)—uses the China Harbour Engineering Company (CHEC) to handle master-planning, land reclamation, and infrastructure.
Development is set to be implemented—at an expected overall investment of  USD 15 billion—in three phases over 25-years, of which only the first stage has yet begun.
What's The Plan?
The Port City project envisions five different precincts on the reclaimed 269 hectares of land. These are the Financial District, Central Park Living, Island Living, The Marina, and the International Island. As at 30th November 2017, 60.7% of land has been reclaimed by the Port City project.
When completed, it is estimated to have some 5.65 million square meters of built-up space, with Grade A offices, medical facilities, educational facilities, resorts, retail destinations, hotels, and various lifestyle developments.
Of the 296 hectares of total reclaimed land, 178 hectares of the 269 hectares will be marketable land, CHEC Port City Colombo (Pvt) Ltd told Roar.
Public land—that is, roads, public spaces, and utility areas etc.—are allocated 91 hectares of the reclaimed area, while approximately 45 hectares will be set aside for a public park.
A length of 1.5km will be set aside for a public beach area, while total protected water areas for public use i.e. for recreation and watersports is 125 hectares.
It is expected that the marina will hold a total of around 150-200 boats, based on size.
Resident population, as envisaged over 25-30 years is 75,000, while resident and transient population over 25-30 years is expected to reach 250,000.
Approximately 60-65% of the reclaimed land will be used as an open space—i.e will not be occupied by buildings.
What Developments Are Permitted?
Permissible developments within Port City will include the following, CHEC Port City Colombo (Pvt) Ltd said:
Commercial: Banks, Offices and retail, hotels, and restaurants
Residential: Dwelling houses/units, apartment building, serviced apartments
Institutions: Healthcare, educational and R&D institutions, diplomatic embassies
Small businesses, services, and allied activities: associated with the mixed development activities
Entertainment: Indoor amusement and entertainment establishments, outdoor recreational spaces
Community: Art galleries, socio-cultural establishments/community centres
Other: Marina and related facilities, tourism business, convention and event facilities, cultural events and festivals
Who Partners With The Government Of Sri Lanka?
The government announced that legislation will be introduced to transform Colombo into an International Financial Centre. It has been proposed that in the short term, the Colombo International Financial City (CIFC) will be set up in an existing building within the Central Business District (CBD) of Colombo, and upon the required infrastructure being made available, the CIFC would shift to Port City Colombo.
The Tripartite Agreement—signed between the Ministry of Megapolis & Western Development, the UDA, and the CHEC Port City Colombo (Pvt) Ltd. in August 2016—allows  for CHEC Port City Colombo (Pvt) Ltd. to extend all reasonable assistance to the Government of Sri Lanka (GOSL) in the planning of the proposed CIFC on reclaimed land, subject to the successful outcome of a technical and financial viability assessment to be undertaken by CHEC Port City Colombo (Pvt) Ltd.
Where Is the Construction Material Sourced From?CHEC Port City Colombo (Pvt) Ltd. said that according to the Supplementary Environmental Impact Assessment (SEIA) of December 2015, rock materials will be extracted from Geological Survey and Mines Bureau (GSMB) approved quarry sites in identified districts of Sri Lanka.
It is stated in the SEIA report that Port City would use 3.5 million cubic metres of quarry material for the reclamation stage of the project and this would account for only 7% of the available reserves in 11 identified quarries in the Colombo and Gampaha Districts.
Based on the quarry rock requirement for building construction, the cumulative requirement over a 23 year period is 1.7 million cubic metres, working out to an average requirement of 0.08 million cubic metres per annum.
This quantity is easily sourced in Sri Lanka from approved quarry sites and would be a negligible quantum of rock material compared to available resources in districts such as Gampaha, Colombo, and Kalutara, CHEC Port City Colombo (Pvt) Ltd. said.
The cumulative requirement of sand for the envisaged buildings at Port City over a 23 year period is around one million cubic metres or around 53,000 cubic metres per annum. Annual demand for construction sand in Sri Lanka is estimated at 12 million cubic metres. Hence the demand for sand for construction of buildings within Port City will be just 0.4% of the annual demand for sand in Sri Lanka.
Assuming a significant portion of sand demand for Port City will be met with sea sand obtained by Sri Lanka Land Reclamation & Development Corporation (SLLRDC), the demand for river sand for Port City would be as low as 0.1% of the annual demand for sand in Sri Lanka.
The required sand quantity for the purpose of reclamation is about 65 million cubic metres. The GSMB has estimated the total potential sand deposit at site 2 to be 68 million cubic metres, CHEC Port City Colombo (Pvt) Ltd. said.
What About The Environmental Impact?
An Environmental Monitoring Plan (EMP) involving 26 government agencies (ministries, departments, authorities, etc.) has been implemented by CHEC Port City Colombo (Pvt) Ltd. The Port City project is probably the only private-public partnership that has 24/7 monitoring by 26 government agencies. The EMP covers the mitigation and prevention of any monitored adverse effects to the environment.
Speaking to Roar Media, environmentalist Jagath Gunawardena confirmed that there was very little environmental impact on the project site itself – "but some issues may arise from dredging for sand," he said, also pointing out that issues may arise when quarrying for gravel.
"These issues will have to be resolved on a project by project basis," he said.
Fishing communities and civil organizations have protested the move to dredge for sand from areas along the Western coast, citing soil erosion, and disruption to traditional livelihoods. However, the Supplementary Environmental Impact Assessment  (SEIA) has held that the impact would be negligible.
When Will All This Be Done?
The reclamation, dredging, and construction of the protective structures of the Colombo Port City project commenced in 2016 and is scheduled to be completed in the year 2019.
Phase 1 infrastructures and utilities began in the second half of 2017 and is expected to reach completion in the first half of 2020. First development (building construction) is scheduled to start in the second half of 2018.
Stage 1 Marketing and Development will take place between the years 5 to 13 and will cover 42% of the land area adjacent to the Central Business District—the entire Financial District, Marina and Central Park Living will be completed in this stage. The implementation of infrastructure including services, roads, landscaping and the construction of the majority of medium rise to low rise buildings will also take place during this phase.Following that, Stage 2 Marketing and Development will be carried out between the years 10 to 23 and will cover 58% of land area towards the offshore breakwater. Completion of the International Island and Island Living will be targeted during this phase, while main construction activities will be the implementation of infrastructure including services, roads and landscaping and the construction of low rise, medium-rise, and high-rise buildings.
Despite the suspension of the Port City Project for over a year, development has been continuing apace and the project is well set to meet its targets, CHEC Port City Colombo (Pvt) Ltd. Public Relations Head Kassapa Senarath told Roar Media.   
There were fears that Sri Lanka would be made to bear the brunt of a USD 143 million lawsuit for breach of contract after the project was suspended in March 2015, but the CCCC dropped the case against Sri Lanka as a gesture of goodwill, and work began once more after the tripartite agreement was signed in August 2016.
The project, initially envisioned by former President Mahinda Rajapaksa, later drew the criticism of the former President and his informal 'Joint Opposition' on the charge the newly-appointed Sri Lankan government was 'selling' assets to China.
Upon completion, the Port City Project will become the country's central business district, creating 80,000 jobs for Sri Lankans, CCCC Vice President Sun Ziyu told the South China Morning Post, making this the biggest project undertaken by the Asian superpower in the country.
Editor's note: In a previous version of this article, hectares was mistakenly labeled acres in a few instances. This has been corrected.