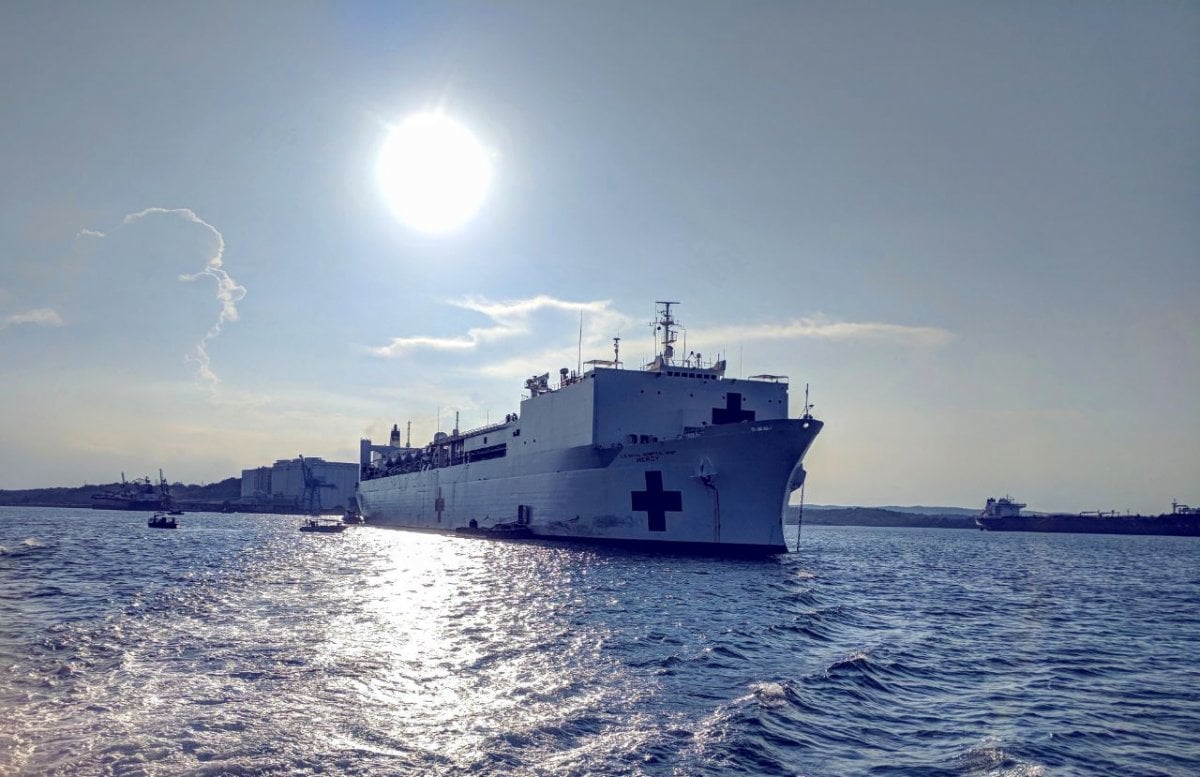 On 25 April, the US Navy hospital ship Mercy docked at the Trincomalee harbour. Reputed to be the largest in the world, the ship boasts of a 1000-bed capacity and state-of-the-art medical equipment.
"Welcome to the largest—and best!—medical ship in the world," the ship's Captain L. Boamah, said.
Addressing several media personnel on a tour of the ship, Captain Boamah stressed that the ship was a fully capable hospital, complete with a blood bank, emergency room, pre-operation area, ICU, and an isolation room to name a few.
Its staff includes approximately 800 military and civil personnel, from Canada, the United Kingdom, Australia, France, Peru, and Japan, in addition to those from the United States.
Why Is It In Sri Lanka?
The ship, along with its personnel, is here for the Pacific Partnership mission—a humanitarian assistance and disaster relief preparedness mission in the Indo-Pacific region. During its mission, they spend a couple of weeks in each country. It was in Sri Lanka from 25 April to 09 May, and will be stopping at Vietnam next.
The team does not consist of just military and medical personnel—it also includes civil engineers, and humanitarian and disaster relief experts. The visiting officials work in tandem with local professionals in their host countries; for instance, in this case, community projects in the area were conducted in partnership with local hospitals, schools, and engineers.
The health camps conducted here were full—each had approximately 800 patients visit each day.
"We have medication, respiratory specialists, and even physical therapy training so the patients can go home and practice it themselves. We even trained them on how to use an inhaler," US Navy Captain, Tony Han, said.
The ship also had a Sri Lankan Navy doctor, Yasitha Weerasinghe, on board, who joined the mission from Guam. According to Dr. Weerasinghe, there were seven Sri Lankans in total on board, including a dentist and several engineers.
What It Is Like
The Mercy has 12 fully equipped operating rooms, a pharmacy, a medical laboratory, a CAT-scan, digital radiology services, and a helicopter deck. They have a simulation bay to practice on. Following a 21 week curriculum, each week is dedicated to different scenarios for medical training—like a 'burn' week, during which the staff train for 15-30 minutes each day. The exercises build up to a mass casualty or emergency exercise, where the training gets progressively harder.
"This is the reason some people join the US Navy—it's a unique, one-of-a-kind experience. A lot of us have never been out of the country. It's not about how many patients you've seen, it's all about establishing relationships," Captain Boamah said.
According to the captain, the last major crisis the Mercy was dispatched to was the tsunami in 2004. Now, it usually visits countries for the Pacific Partnership for five months of the year. During the rest of the time, it is maintained by a much smaller crew and kept at a reduced operating status in San Diego. The officials on board, most who are volunteers who signed up for the five month journey, then return to their practice bases.
While it is at sea, the staff onboard organise numerous activities to keep themselves occupied. In addition to the daily training, they also have zumba, gyms, a 5km running area, and talent shows.
During this period, there are collaborative health camps, engineering projects, and performances by the navy band for school children.
You can find more images and detailed updates of the mission on the US Embassy Colombo's Facebook page.