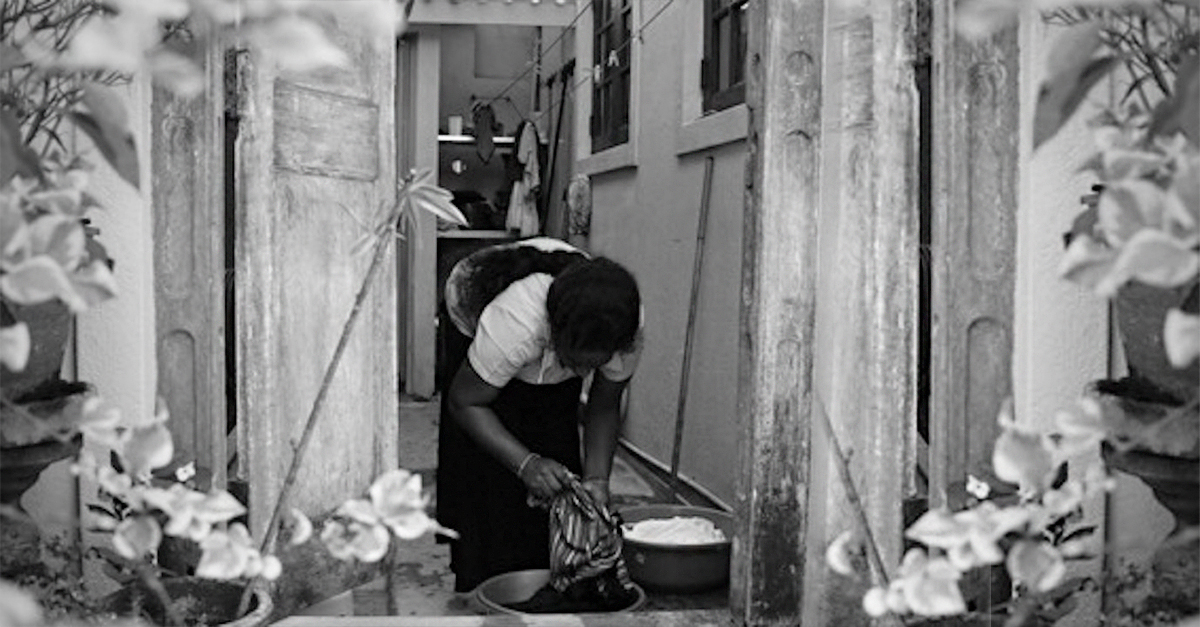 "Every day I would wake up at 5 AM and fall into bed, exhausted, around 11 PM. Most times I didn't have the energy to even change my clothes. From the moment I woke up till the moment I slept, it was work, work, work all the time," Shanthi* told Roar Media. 
"I ate leftovers, after the family had finished eating — a few bites at a time, while I washed the pots and pans. [My employers] rarely paid me on time and they would scold me for the smallest thing," she said. "They think we're machines, that don't need to eat or sleep — that we don't have aches and pains in our arms and legs."
Living on a plantation in Nuwara Eliya, in the central hills, without work that provided an adequate income, Shanthi took multiple loans to support her ailing mother. When her mother passed away, she pawned the jewellery she had, and made her way to the commercial capital, Colombo, in search of more lucrative prospects. For her, this was domestic work, and she has worked in four households in the 15 years since.
Shanthi told us how her first experience was positive. "[The family] treated me really well. The lady never said 'oya' [you] in that rude way, but called me by my name and spoke to me respectfully," she said. 
The children at the house also treated her well, always saying, "please" and "thank you", and making her feel welcome and comfortable. Shanthi recalled memories of her time there fondly, saying that she was well fed, had time to rest, and was paid adequately. 
Her second experience, however, was far from positive. "When I arrived at the house, the nona [Madam] took my identity card [away]," she said. "She told me that she'd give it to me when I left to go home."
Shanthi was inundated with work and had no time to rest. She also recalled a particularly disconcerting occurrence — she was expected to place small portions of food and drink in front of a Buddha statue by way of an offering — a Buddha poojawa ceremony every morning. Being Hindu, this made her very uncomfortable, but her objections were dismissed: her employer told her it shouldn't be a problem because Hindu and Buddhist traditions were similar. Besides, she was told, this was a requirement of her job. 
Shanthi's varied experiences demonstrate how domestic work in Sri Lanka is unrecognised and unregulated — the conditions of which are often dictated by the homeowner even to the detriment of the worker. 
No Legal Protection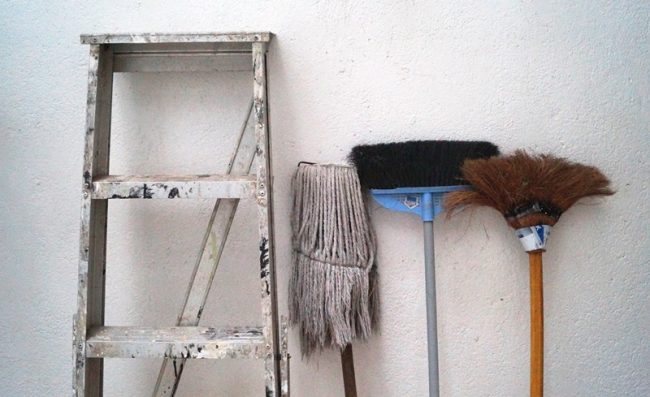 The living and working conditions of many domestic workers in Sri Lanka are in direct violation of a number of international conventions that Sri Lanka has ratified — such as the Universal Declaration of Human Rights (UDHR) and the Convention on the Elimination of all Forms of Discrimination Against Women (CEDAW). Frequently referred to by the undignified and unprofessional term 'servant,' domestic workers often lack key human rights provisions such as recognition and equal protection before the law; just and favourable conditions of employment; equal pay for equal work; rest and leisure, and the right to live free from degrading treatment. 
They are also excluded from a range of legal instruments. These include the Wages Board Ordinance (which mandates decent working conditions for those employed in trade, such as Overtime Pay for workers that work beyond their mandated hours, or on public holidays) the Shop and Office Act (which mandates when and how remuneration is paid to those employed), as well as the Employees' Provident Fund Act and the Employees' Trust Fund Act (which acts as a form of social security), and the National Minimum Wage of Workers Act (which sets out a national minimum monthly wage for all workers in any industry or service.)
The most pertinent piece of legislation relating to domestic workers presently is the Convention Concerning Decent Work for Domestic Workers, also known as 'C189'. The C189 guarantees standards relating to payment and wages, social security, maternity benefits, hours of work, living conditions, personal security, and dispute resolution for domestic workers. Twenty-nine countries have currently ratified it, and although Sri Lanka is not one of them, the government has, in the National Human Rights Action Plan for 2017-2021, committed to ratify it — which is something to look forward to. 
Societal Attitudes
But until then, not only does work that occurs within the home continue to be unrecognised in the legislature as a legitimate form of labour, but domestic workers also continue to be unrecognised by society. 
Sepali Kottegoda, Director Programmes, Women's Economic Rights and Media, at the Women and Media Collective (WMC) explained that Sri Lankan society does not typically consider domestic workers as workers with labour rights, because "most domestic workers have until the last decade or so been 'living' with the household and were/are expected to be at hand to respond to any family requirements." She added that although there are now an increasing number of domestic workers employed on a daily wage basis that do not live with the employer, they are still not regarded as employees or labourers, unlike those working in a factory or a shop.
Kusuma* has been working in a house in a Colombo suburb since 2009. She came to the capital from Balangoda, in the South, due to the scarcity of work in her village. Even though she has wanted to return home for many years, financial instability prevents her from doing so. 
"I am 65 years old now. I have cholesterol, diabetes, high blood pressure, and a lot of joint aches, especially in my knees," she said. "I find it difficult to work. But If if I go back to Balangoda, I won't have a way of making money."
Kusuma has been separated from her husband for over 30 years. Her son is a labourer, and she now has three grandsons as well. And although she knows her son would help pay for her medicines that cost Rs 3,000 a month, she does not like to ask him because she knows he doesn't make very much money himself. 
Although Kusuma has not been ill-treated and has even occasionally received cash bonuses from her employer,  the absence of social security in the form of a pension, makes her fearful for the future.
Former Director of the Women's Education and Research Centre (WERC), Selvy Thiruchandran, recalled that there were these same recurring themes of uncertainty and instability in research conducted on the topic at WERC, and expressed disappointment at how little publicity and resources are given to domestic worker issues in Sri Lanka. 
Looking To The Future
One reason for this may be that issues domestic workers face are very often not considered 'burning' or 'limelight' problems, like other civil and political issues, which are often considered more 'urgent', as evidenced in a study conducted by Verité Research. 
This is why domestic workers have begun to organise for themselves. 
On March 5, 2012, the Domestic Workers' Union (DWU)—the first and only of its kind in the country—was officially registered, and today it exemplifies the success that can be achieved when domestic workers organise to secure rights for themselves.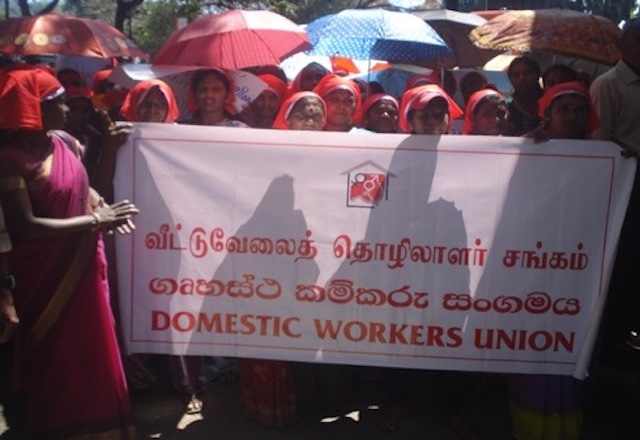 Menaha Kandasamy, Founder-Member of the DWU, explained the union's advocacy efforts over the years.  "We have lobbied the Ministry of Labour and the Commissioner-General of Labour to pass at least one law that will assure domestic workers security and protection," she said, explaining that the union prioritised having domestic work officially accepted as a trade in the Wages Board Ordinance, having the Minimum Wage Act apply to domestics and making EPF available to domestics. 
"Once domestic work is officially categorised and recognized as a trade, domestic workers will automatically be eligible for a number of entitlements that other workers recognised as such currently have," she said. 
Kandasamy is hopeful that if the conditions the union has lobbied for go to Parliament, they will successfully pass.
"It has been a long journey," she said. "[But] we still have a journey ahead of us."