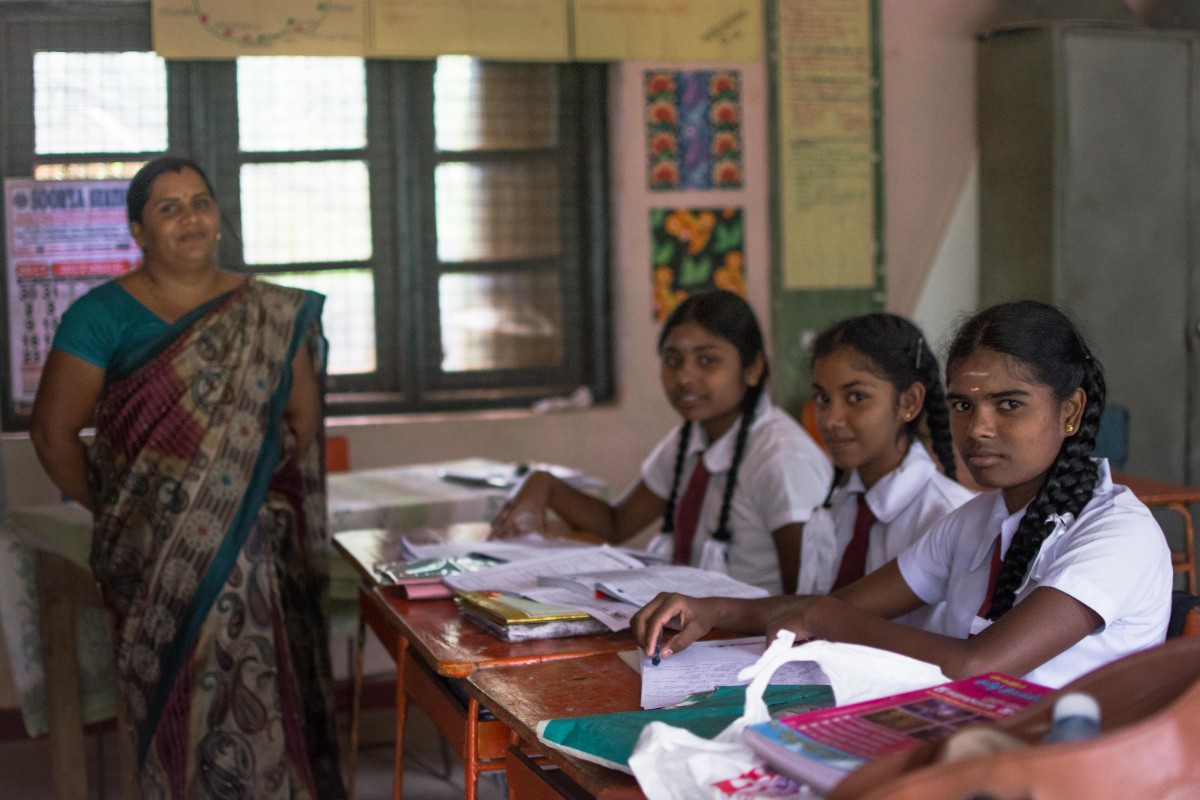 Sri Lanka's hill country has the power to evoke wanderlust even in the most ardent armchair anthropologists. The interior conjures pure romanticism: undulating green hills, serene mountain air, nineteenth century steam trains, and timeless tea plantations. It's a must-see for international visitors and a welcome retreat for citizens island-wide.
But all this loveliness shades a little known truth: that "these hills are home to the country's most impoverished population."
The Hill Country Tamils have borne the brunt of years of neglect from the state and the plantation companies. Although they have managed to secure official citizenship after years of being displaced, their statutory rights are still tenuous and many are very poor. Perpetuating these poor living standards is an arbitrary education system that is failing young people. According to The Economist, "More than half drop out of school by the age of 15".
"Tea" Is For Tamil
Today, the Hill Country Tamils number almost one million, amounting to 4.2% of Sri Lanka's population. They are people originally from South India, brought to Sri Lanka by the British in the nineteenth century to work in coffee, rubber and tea plantations. They are distinct from the other Sri Lankan Tamils, who are "descended from the Tamils of the old Jaffna Kingdom" and largely live in the north and east of the island.
Powered by this mass migration, "Sri Lanka has long been synonymous with fine tea". A smiling plantation plucker is one of Sri Lanka's most iconic images. Furthermore, in 2015, tea accounted for 14% of the country's export sales. Regardless of this emblematic and economic significance, the backbreaking effort behind the famous brew has gone unrewarded. Until recently, this beleaguered population were not even entitled to vote:
"Laws passed after Sri Lanka became independent from Britain in 1948 stripped them of citizenship. Subsequent repatriation agreements saw large numbers deported to India without their consent. Sri Lanka eventually granted citizenship to the rest, but only in stages. Some 300,000 were stateless until 2003—with an "X" on their identity cards to highlight their lowly status," reports the Economist.
Fake News
To this day, Hill Country Tamils are the most overlooked in the country. A 2015 study by international NGO Search For Common Ground (SFCG), revealed that "32% of the estate population lives under the poverty line and lack of access to nutrition, healthcare, education, water, and sanitation are daily challenges." However, headlines can report something very different.
As recently as 14th October 2017, the Central Province Council (CPC) Education Minister, Marudhapandy Rameswaran's, resoundingly positive statement read:
"The Hill Country Tamil society has now developed remarkably. It is due to the level of education that we have achieved over the years. There are scholars, directors, lecturers, teachers, lawyers and even judges in our society today."
While it may be true that a few people rise to the top of society, by only celebrating this minute percentile the desperate need of the majority is dashed.
Reality Is Very Different
Roar Media decided to investigate this potentially unfounded take on education upcountry, choosing the modest town of Nawalapitiya as an area of focus. Mr. Mohan—a primary school teacher who travels 90 minutes every day to teach at a school he wanted to keep  anonymous—said that the reality here was very different: "[Around] 90% or more of school leavers end up in the garment factories, as housemaids, or in other cleaning jobs," he said.
But what about the other 10%?
"Occasionally we get students who do well," Mohan continued, "In 2016 we had one girl who received her three O-levels, but her parents couldn't afford the cost for her to continue…there are no positive stories here. Only housemaids in Saudi [Arabia]," he said.
Along the hillside roads, Roar Media interviewed young people at random to find out more about education and their employment prospects.
Sixteen year old schoolboy Sharav* , from The Greenwood Tamil Vidyalaya, said he was completing his O-levels in Geography, Arts, Maths, English, Tamil. He planned to move onto nearby Nuwara Eliya to work in a restaurant or hotel next year.
Raja, a nineteen year old, had just returned from Colombo where he boards. He "cuts threads" (works at a garment factory) for a living and had previously attended Greenwood Tamil Vidyalaya. He had dropped out in tenth grade (aged fifteen) and left Nawalapitiya for the factories to escape vaṟumai or poverty.
Government School vs Estate School
Sri Lanka is justly proud of its education system. Education is compulsory from three to sixteen years and is free to all citizens. As is so regularly purported, "Sri Lanka has the highest youth literacy rate in South Asia at 98.77 percent."
That said, there are cracks in the system. The incremental blemishes on a fine literary record are fostered in the most marginalised communities. Geography teacher Sumanjith Bandara, from Central College Nawalapitiya (the government school on the fringes of the town for both Sinhala and Tamil children) said, "Schools in our towns are okay, but in the interior, they are very bad".
He continued, "Here, 99% of students complete Grade 9, with a further 98% successful completing their O Levels. [Around] 15 out of 35 [42%] of these move onto A Levels, and in my six years here, only one made the grade for university…but didn't actually go because they failed the Z-score."
The Z-score is the controversial system used to determine university entrance, based on regional quotas and average scores, and not only merit per se. Groundviews reported that the Z-score has "become an emotive issue, with repeated accusations that the system is unfair, arbitrary and non-transparent."
There was a distinct difference in the progression rate at the remote tea estate school Kadienlena Tamil Vidyalayam. High up in the cloud forest 13 kms above Nawalapitiya, this school is predominately for plantation workers' children. Principal R. Selvaraj told Roar Media that only 65% of his students complete Year 9, with many moving into domestic labour (aged 15). When asked about university progression, the principal only shrugged.
That is not to say that the facilities and provisions available at the government Central College were adequate. Eighteen computer stations were to supposedly serve 600 students, although not one worked. The five old computers at the Kadienlena estate school (serving a total of 196 students) did actually work, but they did not have internet connectivity.
Poverty Perpetuates The Problem
Education may well be free, and a generous welfare scholarship that provides textbooks, uniforms, medical care, lunches and travel costs is available, but the abject poverty of the plantation Tamils perpetuates the problem. Principal R. Selvaraj said, "the parents of our kids cannot give them the basic support they need to survive."
At the Kadienlena estate school, 156 out of 196 children receive the scholarship. To qualify, a student has to have a joint parental income under Rs 54,000 ($350), annually. Harish (who only wished to be identified by her last name), Education Officer for the Gampola Education Zone, spoke to Roar Media to shed light on the destitute:
"If a worker collects 18 kilos of tea in a day, they can earn Rs 400, but this is extremely hard work and rare… [additionally] plantation managers manipulate their working hours so they cannot "over earn". On a good week an individual can earn approx Rs 1,250, but this is before deductions: rent, tax, welfare, etc."
Cash flow is so low for the plantation workers that it is not unusual for the teachers to pay for the students' exam fees: approximately Rs. 70 a term, per student.
"It's a big expense for the staff when you consider we're covering the costs of nearly 200 students," said Principal R. Selvaraj.
Disenfranchised Youth?
Roar Media visited the Kadienlena estate school on the day after Diwali. Only 12 students out of 196 had came in, a poor turn out given that the majority live on the actual tea estate. But, it being the day after a holy festival, a caveat should be granted, right? A group of three manual labours that were interviewed described Diwali as a non-event this year. "How can we celebrate," one rhetorically asked, "when a kilo of rice costs Rs 130 and a coconut Rs 100?"
So what was keeping the students back the day after Diwali when school was reopened?
Regional Education Officer, Harish, confirmed that students do not end up working the tea plantations like their parents and ancestors: "parents refuse to put their children through the same—the terrible wages and the awful conditions outside—they don't allow it". Although, teacher Mahon (from the anonymous school earlier), suggested that "an uncle at home will always find a job for a young child to do".
The SFCG 2015 study argues that "Plantation Tamil youth [have] inherited the disenfranchised reality of previous generations while facing challenges of their own… This dynamic has created a culture of dependency that intensifies civic apathy… Hill Country Tamil youth feel powerless."
Administration And Education
Individuals such as MP Mylvaganam Tilakaraj, of the Nuwara-Eliya District Tamil Progressive Alliance (TPA), tell a different story: "My parents were plantation workers. From such a predicament, I studied and graduated from a Colombo University. I am the fourth MP from that particular estate. People have the aptitude to gain knowledge."
But, Tilakaraj observes, there is an imbalance in mechanisms of civic society. He puts forward the case of the number of administrative officers assigned to Upcountry Tamil communities versus towns and villages elsewhere:
"The other main issue is administration. If you take a Grama Niladhari [local administration officer], the ratio is 1000:1 (families) in other parts of the country. In some cases, you would find 120:1 (families) too. But in our case, the ratio is 3,000:1 (families)! There is no proper administration for us. We have to ensure that the administrative power is shared with our people."
It is valid point. But how can Hill Country Tamils produce more civil servants and government officials—so power is administered by the same people it serves—when the education system is seeing a high number of Grade 9 dropouts and very few progressing to A Levels and beyond?
Professor S. Sandarasegaram, a retired Dean of the Faculty of Education of the University of Colombo, has requested for a new Hill Country university be developed:
"We feel that the establishment of such a university would pave the way for creating a fresh demand for higher education in the upcountry and result in transformation of this community as a proud and much more effective and inclusive community in joining the emerging knowledge society in Sri Lanka… This move will go a long way in substantially reducing the sense of grievance and discrimination historically prevailing among these people, who were deprived of enormous opportunities for social mobility which was available for other communities."
* name has been changed to protect identity