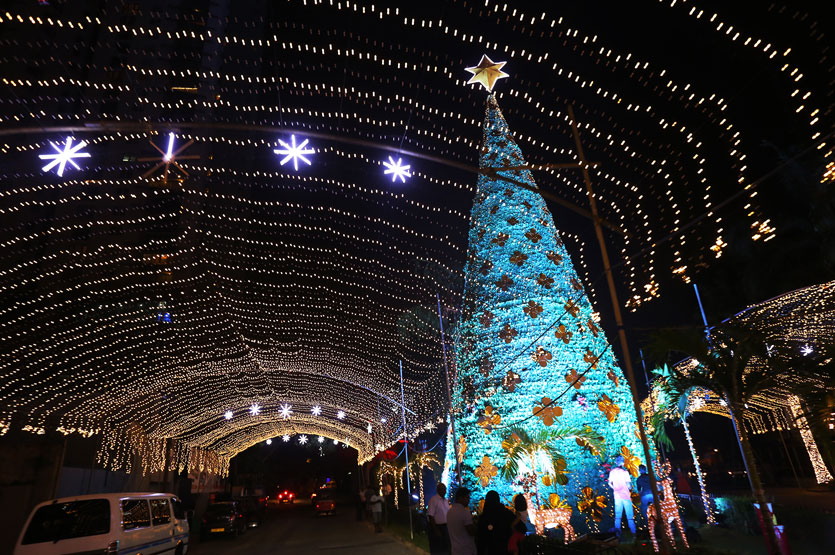 Brought To You By HSBC

The holiday season is almost here. But the season for giving also seems to be the season for spending, and even a Christmas bonus may not be enough to tide you over. However, Christmas shopping does not have to be so hard on your wallet. Here are some tips that may help you save a little cash this Christmas season.
1. Carpool
The annual consumption of petrol in Sri Lanka in 2016 was 2,837,890 litres, which means that Sri Lankans spend an estimated Rs. 332,033,130/- on petrol per annum. Not only is pumping fuel harsh on your wallet, it is also bad for the environment. In order to save a little more this Christmas, carpool with your friends and family. Sri Lanka also offers a wide range of taxi services that you can now pay for by cash or card. Splitting a cab with your friends is a good way to save money and have fun.
2. Buy Your Fruits And Veggies From A Street Vendor And Not A Supermarket
Purchasing your daily fruits and vegetables is much more convenient when shopping at a supermarket. A supermarket is a one-stop-shop for all you grocery needs. Nonetheless, the prices in a supermarket are higher than a street vendor.
Street vendors are an integral part of the urban economy of Sri Lanka. Furthermore, they depend on their sales to fend for their own family.  Better yet, don't use enhancers so the fruits and veggies are of good quality and are safer for consumption. So making a simple switch is not only better for your wallet but better for your health.
3. Eat All Your Meals From Home
The Christmas season is probably the busiest time of year. When our workload increases, it is more convenient to switch to fast food. Food cooked at home is not only healthier and contains fewer calories, but it is also a cheaper alternative. To save time and money, there are many easy recipe apps that can be downloaded onto your phone. Additionally, fruits are a good alternative snack to keep you full when you are out.
4. Discount Shopping
When the holiday season starts, retailers start their sales. Keep an eye out for discounts when you are Christmas shopping. Some retailers start their sales towards the end of November to get ahead of their competition. With that in mind, shopping early will help you save your December salary.
5. Use Your HSBC Credit Card
Apply for an HSBC credit card this season and get Rs. 100,000/- at 0% interest no matter where and when you shop. Additionally, HSBC will be partnering with retailers and restaurants around the island. Keep an eye out for such discounts if you are an HSBC credit card holder.
6. Hand Make Your Gifts
The most difficult task during the Christmas season is choosing the right gifts for your friends and family. What is worse is having your gifts handed over to someone else or it sitting on the shelf. One of the best alternatives is hand making your gifts. Here are six reasons as to why you should hand make your gifts: (1) it is comparatively cheaper, (2) it is one of a kind, (3) they are personal, (4) they are crafted with love (5) they are fun to make (6) you can use items you already have at home.
7. Spend Time At Home
When the holiday season approaches us, we spend most of our time away from home. Whether it's traveling, dining, or partying, most of our time is spent out and with other people. Additionally, spending time away from home means spending money.
The more time you spend with your family, the better chance you have of sharing quality experiences. This Christmas season, spend time with your family at home. Cook meals together, hand-make gifts, and decorate your home. Better yet, save some money.
This holiday season, think smart, save more and have a very happy, affordable Christmas.
For more details on HSBC's offers this holiday season. Click here
Cover image credit: life.dailymirror.lk