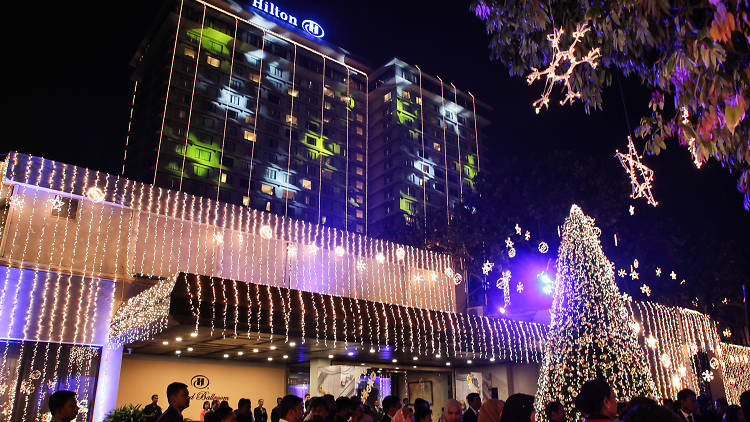 Brought To You By HSBC

The Christmas season—despite the fact that it is supposed to be festive—is a time which usually adds a little more hustle and bustle to the already slightly chaotic lives of us Sri Lankans. For most people, the season does tend to a bit hectic, as they have to balance the work of a busy year-end schedule, along with all the Christmas shopping and other seasonal activities that they have to take care of.
There's always little more traffic on the road during this time—especially during the rush hours on weekdays—as people hurry along the streets of Colombo and its surrounding suburbs, with their shopping lists and shopping bags in hand.
The stress of the of having to get so many things done in the nick of time is can be worrying —fortunately the Christmas season comes with its own brand of cheerful, festive music, which in a way helps to uplift our spirits.
Even if Christmas carols and cheery Christmas pop-songs don't do the trick, there is one song which tends to cheer up most people who are worried and stressed out—and it can be played or listened to at any time of the year. This particular number is Bobby Mcferrin's Don't Worry, Be Happy.
Many Lankans—regardless of their age—are familiar with the iconic opening words of the song:
"Here's a little song I wrote,
You might want to sing it note for note,
Don't worry, be happy."
Released in 1988, the song was a great hit in the US, stealing the No. 1 spot on the Billboard Hot 100 in September of the same year—the first acapella song to do so.
The encouraging lyrics and the catchy tune eventually took the world by storm. Since the late 1980's, several artists and musicians from different countries have made covers of the song and translated it into a few other languages.
Don't Worry, Be Happy  was eventually ranked as No. 31 on VH1's 100 Greatest One Hit Wonders of the 80s and also appears on Rolling Stone's list of the 15 Best Whistling Songs of All Time.
So it is no surprise that even in the Sri Lanka of the late '80s and early '90s, the song was popular among people of both older and younger generations.
Even a few Sri Lankan millennials who spoke to Roar Media admitted that they are familiar with the amusing, cheerful lyrics, as they have heard either the original song by Bobby Mcferrin or a cover of it, at least once in the recent past.
Don't Worry, Be Happy was made even more famous the world over with the introduction of an animatronic singing fish named 'Big Mouth Billy Bass.' The animatronic fish, mounted on a trophy plaque, sings a cover of the song, while moving its head and wiggling its tail in rhythm, and was a popular novelty item in the US.
Unfortunately nowadays many people—even in Sri Lanka—tend to think that it was Bob Marley who wrote and sang the original version of Don't Worry, Be Happy.
This may have happened because the opening lyrics of Marley's Three little birds—"Don't worry 'bout a thing, 'Cause every little thing gonna be alright"—are a lot similar to those of McFerrin's number.
This mix-up aside, both songs are inspirational, with a similar message of  encouragement that many of us need during this stressful time of the year.
Bearing this message in mind HSBC credit cards offers to ease any financial worries we may have to go through this season. When you apply for an HSBC credit card this season, you be receive the benefit of getting Rs. 100,000/- at 0% interest regardless of where or when you go shopping.
Better yet, HSBC will also be partnering with retailers and restaurants around the island, to offer discounts those who hold an HSBC credit card. So you really don't need to worry about anything this holiday season. HSBC has got you covered.
To know about HSBC's holiday offers click here.
Featured Image courtesy timeout.com