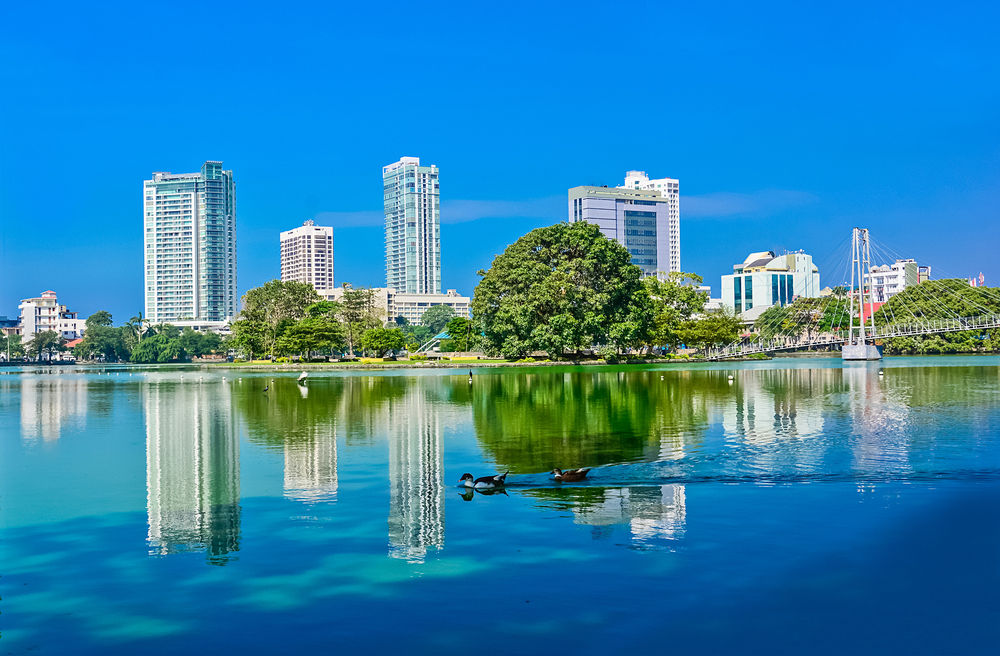 Brought to you by CFA
Travis Gomez – Product Head at Frontier Research (Pvt) Ltd speaks to Roar Media on where Sri Lanka's tertiary sector stands at present as well as its growth and challenges.
Since the end of the civil conflict, Sri Lanka has experienced a steady economic growth of 6.4% between 2010 and 2015. However, the country's economy isn't faring so well right now. Getting walloped like a ton of bricks by one natural disaster after another in the recent years has not only depleted resources, but also destroyed existing infrastructure. Economic growth dropped from 4.8% in 2015 to 4.4% in 2016 because of bad weather, and subsequently decreased to an estimated 3.8% in the first quarter of 2017. This decline is mainly attributed to a fall in agricultural production due to floods and severe drought in the Northern, Eastern, North Western, and North Central provinces. As a result, the inflation rate has risen from 4% in 2016 to 6% this year. It is predicted that if bad climatic conditions persist, Sri Lanka's economic activities will be further impacted and the inflation rate will continue to increase. In addition, Sri Lanka has one of the highest debt-to-GDP ratio in the region, which stands at 75% as of 2016. However, according to Sri Lanka's Department of Census of Statistics, the unemployment rate in the country has slightly declined from 4.4% in 2016 to 4.1% in the first quarter of 2017.
Considering the current economic climate, it is safe to assume that businesses and industries in Sri Lanka may be a little under the weather. Here, Roar takes a look at where the country's tertiary sector stands in 2017, as well as the challenges and growth they are currently experiencing.
Banking
Judging by the financial performance of the leading banks in the country as of June 2017, it can be gleaned that most banks are showing positive loan growth, albeit at a more gradual pace compared to that of the corresponding period in 2016. Consistent with the current increase in infrastructure, higher loan growth appears to be coming from sectors such as construction and housing, as well as small and medium sized enterprises. While this has added pressure to the loan books at banks, several banks have counteracted the impacts of this on their profitability by downsizing branch headcount, increasing the use of technological solutions and limiting the expansion of branches. Although the operating environment is more challenging under these conditions, there has been an increased focus on improving the efficiency of processes, and rigorous controls have been placed on credit quality so as to control higher gross and net non-performing loans. This has brought about a continuity in attractive ROEs (Return on Equity) in the banking sector, when compared to other industries.
Finance
While the banking sector is enjoying relative progress, the finance sector seems to be experiencing some setbacks. The performance of the Licensed Finance Companies (LFC) in Sri Lanka, especially in the automobile industry, has been affected unfavourably by higher interest rates and policy changes, such as increased taxes on imported motor vehicles and the higher loan-to-value ratio for vehicles. The frequency of leasing and hire purchase, which usually represent key loan categories and an important income source for most LFCs, appears to have declined. LFCs are also facing additional pressure on account of the recent Central Bank directives which require companies to maintain a higher level of capital. This is expected to particularly affect LFCs which have a lower asset base and less diversified loan books.
Consumer Durables And Fast Moving Consumer Goods (FMCG)
As a result of a rise in interest rates due to the Central Bank's tighter monetary stance, higher tax rates, and the subsequent reduction in household disposable income, there has been a decrease in the performance of firms in this sector. The overall credit growth in the private sector still remains high, though a downward trend can be detected as a result of the increase in interest rates. Interest rate movements have also affected the consumer durables sector, which include white goods and electronics. The FMCG segment, too, has experienced a stumbling block due to the changes in household disposable income and the tax environment.
Given that the Central Bank is likely to maintain its existing stance on what it perceives as excessive credit growth, the short-term outlook for the sector is expected to be subdued. However, growth in these sectors are expected to revive in the long-term due to shifting demographic trends and the recent increase in fertility rates, which could lead to faster population growth in the coming decades.
Hotel And Leisure
The tourism sector is still going strong, with the Ministry of Tourism expecting the number of arrivals in Sri Lanka to exceed 2.2 million this year, despite the spell of bad weather and runway refurbishment work at the Bandaranaike International Airport. This is an improvement on the first half of 2017, which saw a decrease in tourist arrivals because of the aforementioned reasons.
Leading hoteliers in the country have been refurbishing, expanding hotel space and opening up new establishments to meet the demands of the flourishing tourism industry in the island. Most of the revamping has been happening along the southern coast, which is particularly popular among tourists. However, a significant expansion of the City Hotel in Colombo is underway, with both local and international hotel brands collaborating on the project.
The rise in tourism has resulted in burgeoning rivalry among hoteliers. The increase in hotel occupancy rates, as well as the difficulty in finding trained staff, has put pressure on the industry financially. The competitive environment is expected to continue for the foreseeable future, with several international brands planning to open up city hotels in Colombo from 2017 to 2019, a phenomenon which would lead to a significant increase in room capacity in the metropolis.
Despite the relative success in the tourism industry, most of the listed hotels in the formal sector have experienced a decline in operating margins, which has affected their bottom-line profitability. This can be attributed to the adverse weather conditions in the country, which prompted many countries to issue travel warnings to those heading to Sri Lanka, resulting in cancellations and a drop in hotel occupancy rates.
However, tourist establishments in the informal sector, such as guesthouses, inns, and bed and breakfasts have witnessed a rise in popularity, thanks to online platforms such as Airbnb. These establishments, which appear to be successful in attracting experiential travelers, have experienced a faster growth rate in 2017 and currently account for 50% of total room inventory.
On the whole, while the tourism sector is likely to continue witnessing strong growth in terms of tourist arrivals and contribute significantly to the country's income, hotels in the formal sector are expected to experience significant setbacks to its bottom-line profitability in the short term.
The CFA program is the gold-standard global finance qualification. Admission for the June 2018 examinations are now open. Contact CFA Sri Lanka on Facebook or at +94 77 366 1931 for more details.
Featured image courtesy: www.lamudi.lk