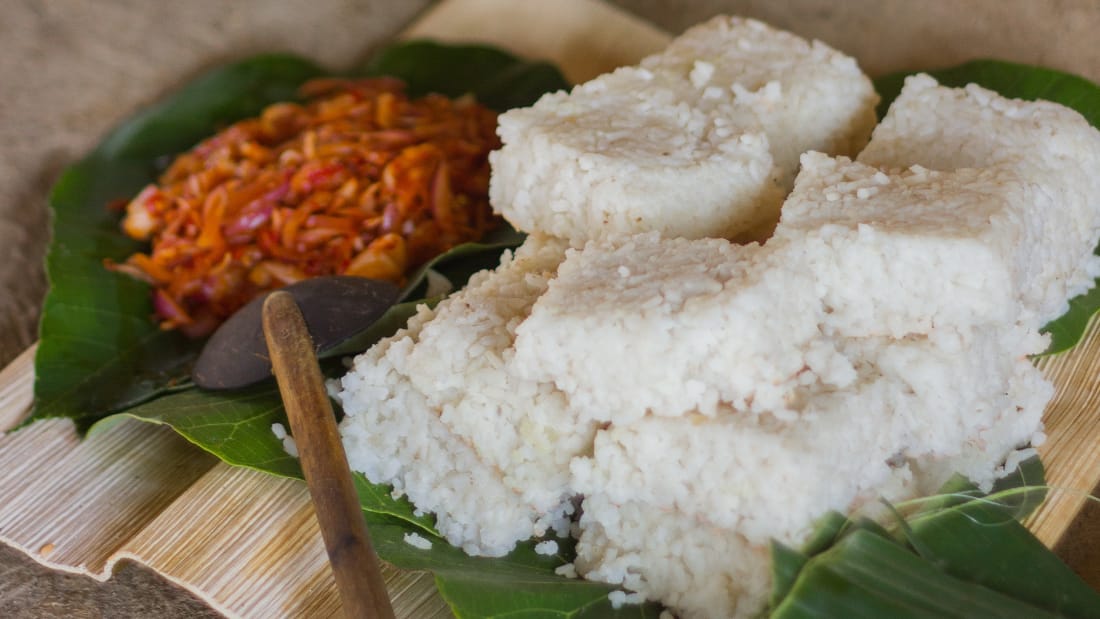 Sri Lankans are foodies who take pride in the tantalizing food combinations the island has to offer. With a diverse palette that craves anything incredibly spicy to a sugar rush, Sri Lankan taste buds are made for good food at all times. Be it breakfast, lunch, or dinner, Sri Lankans consume hearty meals that are savored to the fullest. While not all food pairings go well together some are 'must-try's' that you would not regret. What makes these combinations so special are their simplicity. They may not always be Instagram worthy, but the final outcome made using just a handful of ingredients bursts with flavour, making you crave for more.
Paan And Parippu
This is a classic combo that is a favourite amongst all Sri Lankans. Paan and parippu, which is basically bread and dhal, is Sri Lankan comfort food that is all about simplicity and flavour. The crispbread with its soft center and a crust that is baked to perfection is the kind of paan that goes best with parippu. There are so many variations when it comes to cooking dhal. Sri Lankans have a unique way in which they prepare their dhal when it comes to the paan and parippu combo. Made to a consistency that allows you to scoop some dhal using a piece of bread, the dhal is prepared using fresh coconut milk along with spices and a hint of chili. With a slightly creamy texture that is achieved through the coconut milk, the dhal has a perfect balance in flavour that pairs well with the softness of the bread.
Milk Rice And Lunu Miris
Milk rice is a dish that shares close ties with the Sri Lankan culture and traditions as it is believed to be a dish that draws good luck and prosperity. Milk rice or more commonly known as 'kiri bath' is a rice based dish that is cooked with rich and creamy coconut milk. While milk rice tastes good on its own, it tastes even better when served with its classic dish, lunu miris. Made using just five ingredients, lunu miris is a preparation that is all about the spice and the tang. Predominantly made using dried red chillies and onions with a dash of lime juice and dried fish flakes, this spicy dish balances out the richness of the rice making it the perfect pair.
String Hoppers And Milk Curry
This is yet another Sri Lankan favourite that is usually eaten for either breakfast or dinner. As much as the Sri Lankan palette longs for spicy food it also appreciates the mild and creamy milk based curries. String hoppers being a simple meal that has no particular flavour is always taken a notch higher with a flavourful milk curry. What makes this simple milk curry so unique is its versatility that allows you to eat it as it is or add in other ingredients  such as potatoes or hard boiled eggs. The typical Sri Lankan way of enjoying this light meal is by drowning your string hoppers in a pool of the milk gravy. This is best eaten with your fingers, to get the true experience.
Curd And Kithul
This combination is one that never gets old. Served as a dessert at almost any Sri Lankan party, curd and kithul treacle are one of those pairings that is a masterpiece. Kithul being a rich, syrupy treacle works its miracle on the tartness of the curd, making it a much loved combo amongst Sri Lankans as well as tourists who visit Sri Lanka. Curd and Kithul is the Sri Lankan version of an ice cream fix that gets us through the heat of the scorching hot sun.
Hoppers And Katta Sambol
This is another duo that is typically eaten for breakfast or dinner. A hopper is a bowl shaped pancake that is made using fermented rice flour and coconut milk. This is not like any other ordinary pancake, as it not only has a unique shape but is also unique in terms of texture. With a soft center and a crisp outer layer, hoppers come in a range of different varieties starting from plain hoppers, and egg hoppers, to milk hoppers. A hopper meal is never complete if it is not savoured with some katta sambol. This spicy sambol is made using maldive fish, chillies, salt, and a generous squeeze of lime juice. Giving those soft and crisp hoppers a spicy kick,together with some tanginess, hoppers and katta sambol is a pair that compliments each other very well.
Fruit Salad And Condensed Milk
Being a tropical island, Sri Lanka has a year round supply of many different fruits. While these fruits taste good on their own, Sri Lankans like to make it more interesting by chopping them up into a bowl and topping it off with a lavish drizzle of condensed milk. Despite condensed milk not originating in Sri Lanka, Sri Lankans sure do share a special bond with this sweet, sticky, and delicious milk product. Fruit salad and condensed milk is also one of those Sri Lankan desserts than can be whipped up in just a few minutes with minimum effort. The extra bit of sweetness from the condensed milk is what makes fruit salad a much-favoured dessert amongst Sri Lankans and is best eaten when served cold.
Tea And Biscuits
These are one of those combinations that reflect Sri Lankan hospitality. A warm cup of milk tea with some good old Sri Lankan biscuits is an essential in any Sri Lankan household. The coffee over tea debate can now be solved with the Maliban Real Temptation coffee biscuits that bring out the essence of a perfectly brewed cup of coffee.  Made to tantalize the taste buds of coffeeholics, Maliban Real Temptation coffee biscuits are made to perfection with the real aroma and flavour of good coffee. Coffee cravings can now be satisfied in an instant with coffee lovers being able to have their coffee fix in the form of a biscuit.
Regardless of all the gastronomical food experiences you could have across the globe, as Sri Lankans we always find comfort in indulging ourselves in our favourite, local food combinations. The effortlessness that is tied to these meals is yet another reason for these combinations to be cherished amongst foodies who appreciate good, comforting food that is packed with flavour.
Cover image courtesy: cnn.com