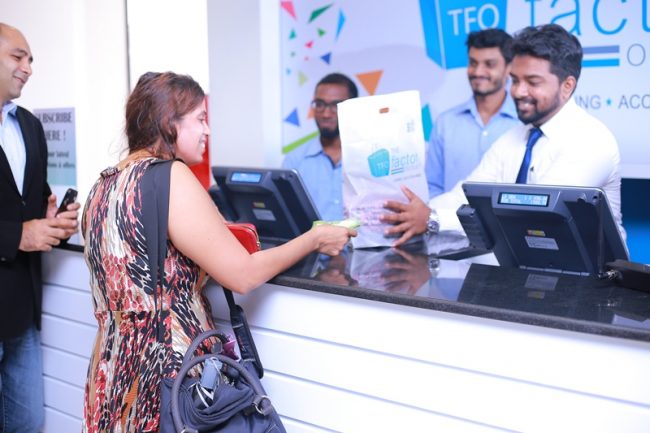 Another year-end, another Christmas season (Read: shopping season). But who's complaining, really? It's the best time of the year! Lights go up and holiday tunes pour out of radio stations, malls, and markets. In Sri Lanka, besides Christmas and New Year's Eve, the month of December is also a time for other celebrations; parties, weddings, and reunions between family and friends. So it goes without saying, it's the season for special gifts between loved ones, and also a time for stepping up our own fashion game.
The Factory Outlet (TFO) stays true to these festivities with its 'Dazzling December' promotion from December 1 to 31, so you can upgrade your wardrobe to have a stylish outfit for every occasion this season. TFO has become a household name since its first foray into retail, in the year 2011. In just five years, it has expanded to reach consumers across Colombo and its outer limits. Its customers, who comprise style-conscious individuals who make it a point to adorn the latest trends, are able to find a constantly changing collection of clothing and accessories that are trendy and high in quality.
So if you are already stressing about all the outfits you have to prepare for the season, you may want to keep in mind that the more you shop with TFO, the more you stand to receive. The 'Dazzling December' promotion offers you a chance to win Mega Gift Hampers and Gift Vouchers, every day this month. For every purchase over Rs. 5,000, you enter a draw to win a Gift Voucher for a value of Rs. 2,500. If you really splurge and spend over Rs. 7,500, you are eligible to win a Mega Gift Hamper, filled with edible treats. Over the next 31 days, TFO will select a winner each for both gifts.
TFO has become a go-to shopping destination, and has in store a range of men's, women's, and kids' clothing, shoes, bags, jewellery, lingerie, sportswear, and toys. For this season, you will be able to find a special range of clothing and accessories at every TFO store. So whether you are shopping for a glitzy party dress or a fancy dress shirt, or a more laidback outfit for a quiet dinner with family and friends, you will find something that will work for you. The latest collection also makes for great gifting, so you can delight the fashionable one amongst your friends and family.
It is a truly indulgent season and, at the end of a long, eventful year, you deserve it. So enjoy the shopping frenzy and the rewards it brings you. Drop by your nearest TFO store and start winning; they currently have outlets in Mount Lavinia, Havelock Town, Pelawatte, and K-Zone, Ja-Ela.