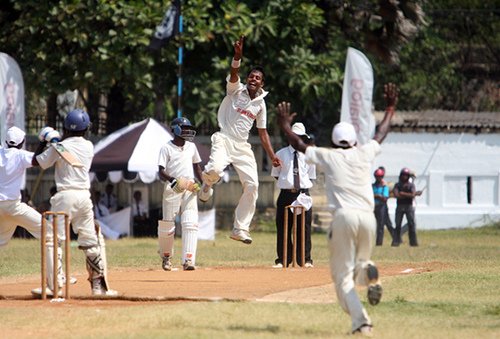 Being the third oldest cricket tournament in Sri Lanka, the 'Battle of the North' is a long-standing encounter played between two prestigious schools in Jaffna: Jaffna Central College and St. John's College. This encounter traces its roots back to 1904, and this year the Battle of the North will bring together current and past students. Much like the Royal-Thomian encounter, this match is also played over three days; with this 112th
match bringing the Big Match fever to the Jaffna peninsula, and allowing budding cricketers to showcase their abilities on the field.
From the available records of the 111 matches played in the past, St. John's is in the lead with a total of 35 wins, in comparison to 27 by Jaffna Central College. As for the rest, they have either been drawn or abandoned.
This year, St. John's will be led by Vasanthan Jathushan. To any cricket buff, it would seem that the Johnians would seem to have the edge because of their strong batting line up, comprising almost entirely of all-rounders. Jathusan has also led two successful seasons. In addition to being a member of the Northern Province U23 team, he has also led the Northern Province U19 team. Coupled with the fact that he won the title of Best Batsman in last year's encounter, and the man of the match in the last limited-over game, his team will certainly put up a fight against Jaffna Central College.
Sivalingam Thasopan will be captaining Jaffna Central this year. He will be coming into this encounter with an unbeaten record of having played ten matches and securing four outright wins against a number of schools across the island. For that matter, he was even able to score two centuries this season! Even with all of this talent under their belt, the Centralites will still have to be at the top of their game. Looking back at the performances of the two teams this season, it points out to a game with the possibility that the Johnians will have an edge.
A notable encounter in the recent past was in 2015 when St. John's College emerged victorious. They made a monumental 300/7, which resulted in the Centralites being all out for 164. St. John's then declared their second innings at 136/7, and sure enough got the better of their rivals, bowling Jaffna Central out for 188 and winning by 84 runs.
Even in a region that has been subject to severe trauma, these Big Matches are a vital platform for talented individuals to bring out their winning spirit and shine on the field. Despite the troubles, the boys up North have been consistently performing and showcasing their skills. Having said that, taking home the trophy and all of the fanfare accompanied with it is well deserved.
Cover Image Source: flickr.com
This article is brought to you by MILO.