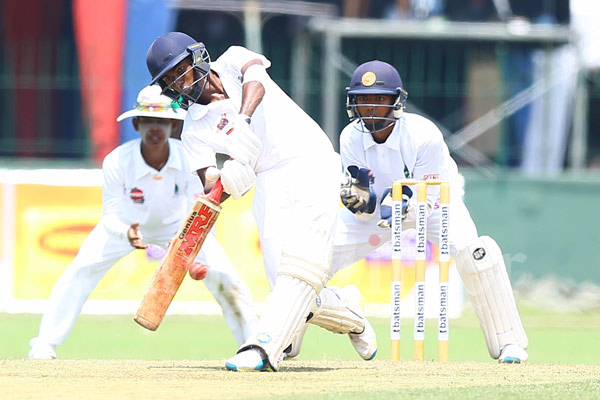 That time of the year is upon us again. Schoolboys, parents, teachers, 'old boys', and even papare bands are preparing themselves to support the teams of their alma mater during the annual Big Match season. Played for prestige and pride, these annual cricket matches between rival schools have been a part of the local school culture for decades.
To begin this year's series, Isipathana College and Thurstan College will meet on the field for the 55th Battle of the Brothers. Throughout the years, these matches have seen an array of young talent from both schools: youth that aspire to represent the national team on the world stage, thus resulting in a promising future for Sri Lankan cricket.
Isipathana College established themselves as a worthy contender right from the get-go. The crowds went wild back in 1964 when Priya De Mel scored a century of 136 unbeaten runs in their very first Big Match. This feat is one that has  not been forgotten. Following this, Thurstan did put up a fight,succeeding 26 years later when Kamal Mahendra made 146 not-out in 1990. As both schools have been battling it out for years, they have shown excellence on the field. Many centurions graced the field of the Battle of the Brothers.
List of Centurions
Thurstan
1990 Kamal Mahendra 146
1993 Chaminda Jayasinghe 105
2001 Dhammika Premadasa 101
2006 Shehan Perera 107
2012 Sanjeewa Salgado 114
2016 Kasun Abeyaratne 147
Isipathana
1964 Priya de Mel 136
1988 Sandun Lugoda 102
2002 Saman Nishantha 150
2005 Vishuddhi Kaluwitharana 102
2009 Pranama Sri Vimukthi 108
2012 Deshan Jayakumar 126
However this by no means meant that Thurstan was an easy opponent. Their phenomenal bowlers delighted crowds. Cricket enthusiasts recall Vernon Caldera, the first bowler to bag a 5/4 during during the Battle of the Brothers as he picked 5/21 in the first year of the encounter. Three years later, Isipathana responded with K. L. S. K. Sirisena becaming the first to reach and surpass the five wicket barrier, managing 7/79.
While Sirisena did make a name for himself, there hasn't been a fielder quite like Amitha De Costa. De Costa bagged 4 catches in 1964. This record still stands. While many have tried to steal the spotlight from De Costa, most of them only came close to the beating the record, falling short by one catch. As the old saying goes, "catches win matches".
Fielding (3 or more catches)
Thurstan
1968 2nd Inn Amitha de Costa – 4
1970 1st Inn Daya Boteju – 3
1975 1ST Inn Suhada Fernando – 3
1990 2nd Inn Lulitha Wickremarachchi – 3
1998 1st Inn Arjuna Dayananda – 3
2012 1st Inn Minhaj Jaleel – 3
Isipathana
1969 1st Inn H. R. J. de Silva -3
2009 1st Inn Chamara Waduge -3
Mahinda Wijeyaratne was another legendary player of Thurstan. During his time as wicket keeper in the 1965 game, his skills resulted in eight casualties from Isipathana, as he collected 6 catches and 2 stumps. This feat was only met, but not exceeded, by fellow keeper Thushara Rupasinghe in 1991.
Wicket Keeping (6 or more victims)
Thurstan
1965 Mahinda Wijeyaratne 8 (2 Stumps & 6 Catches)
1985 Upul Lokubalasuriya 7 (4 Stumps & 3 Catches)
1991 Thushara Rupasinghe 8 (8 Catches)
Isipathana
1974 Lanka Perera 6 (3 Stumps & 3 Catches)
1989 Aravinda Fernando 6 (6 Catch)
It's easy to see that the 'Battle of the Brothers' has had a colourful history, boasting many firsts in the world of Big Match Cricket. But regardless of who takes the gold home, none of the players on the field will walk away defeated. Cricket, as with all team sports, is a great teacher of life skills. The dedication and hard work that goes into competing at a cricket encounter at this scale builds character in the cricketers who play at the match, and no doubt, this will not be the last time we hear of these young talents.
Cover Image Source – dailymirror.com
This article was brought to you by MILO.