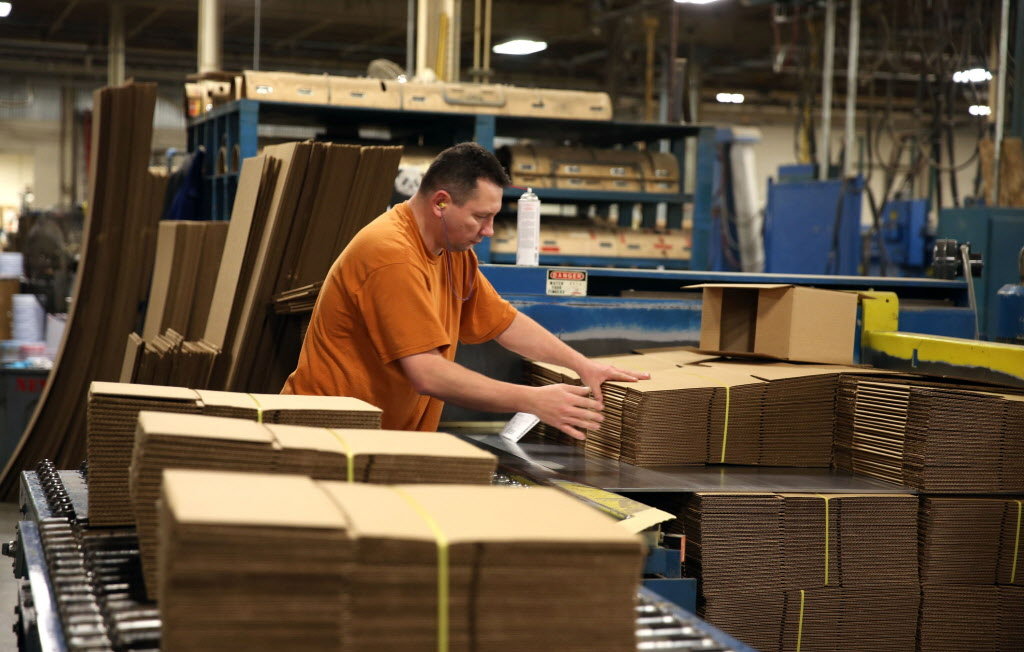 The cardboard box is not an object we often marvel at or wonder about, as we pour our favourite cereal out of one, or pile many of them in a storeroom with our belongings. But the fact that it has become essential to our everyday living—with its ability to be adapted for many purposes with little to no inconvenience—is what makes it an example of a truly great modern invention.
Since their first commercial use around the mid-19th Century, cardboard boxes have evolved from their earliest versions to be produced in many varieties. Amongst these different types is the corrugated box, which is one of the common means of transporting almost anything today, from food to mail to household items. It is designed to be very lightweight but also to hold a lot of weight. Back in the 1900s, it revolutionised the logistics of businesses by replacing wooden crates, which took too much labour, space and time.
Before we delve into how corrugated boxes are manufactured to have this remarkable ability to be both light and strong at once, let's trace the surprising origins of the cardboard box itself.
From The Han Dynasty To America's Early Industrialists
The first recorded use of a cardboard box goes back to 1817, when a popular German war strategy game called The Game of Besieging used it for housing. But cardboard itself is much older than that, dating way back to the Han Dynasty of Ancient China, between the Third and Second Century BC. It was formed by treating the bark of the Mulberry tree and was later used to wrap and preserve food.
Although there is little evidence to support it, the invention of the cardboard box has also been attributed to an English inventor named Malcolm Thornhill. It is believed that he created a single-paper cardboard box, but no one is sure what he used it for. But by 1840, cardboard boxes began appearing in the silk trade, when they were used to transport Bombyx mori moth eggs from Japan. In the 1850s, Kelloggs began mass-producing cardboard boxes to protect their much-loved cereals.
A few years later, Edward Allen and Edward Healy, two English businessmen who made and sold tall hats for fashionable gentlemen at the time, were trying to figure out how to make their hats stand and hold shape. They were able to make a stronger, 'corrugated paper', which uses unbleached wooden fibres, with a fluted paper attached to one or two linear boards. They patented this idea in 1856, before the American industrialist, Albert Jones, decided to use this material to create a single-side box in 1871. It wasn't until 1894 that the double-sided box, which is used today, was first created by another American industrialist, Oliver Long.
A Mistake That Led To A Revolution
In 1879, Robert Gair was a well-known producer of paper bags—until a mistake by his factory workers left 20,000 paper bags ruined. But Gair realised this 'mistake' could be used as a template for foldable boxes. In 1890, he invented the first machine to produce pre-cut cardboard boxes by folding flat pieces together. This paved the way for the modern corrugated packaging industry as we know it today.
The popularity of corrugated boxes inevitably found its way outside America, and since then, the industry has also seen many developments over the last 150 years. In Sri Lanka, one company continues to stay ahead of the latest industry trends and developments to provide high-quality, cost-effective corrugated packaging solutions to companies, both local and international. Expack, which was established in 2002, currently has a portfolio of over 300 clients, many of whom are manufacturers of prestigious brands and some of the most popular and highest-selling consumer goods in the market today.
Building A Modern Corrugated Box
At its sprawling manufacturing plant in Kelaniya, Expack Corrugated Cartons (Pvt) Ltd is able to produce custom-made quality corrugated cartons to suit the individual needs of their prestigious clientele, and has a capacity of producing over 25,000 metric tonnes of corrugated boxes a year. This has been achieved by employing highly sophisticated machinery as well as by Expack's efficient human resource management over the last few years, which is comparable to those seen in some of the best corrugated packaging factories in Europe.
The manufacturing process starts simply as kraft paper, which is made from the pulp of fast-growing pine trees. Expack takes pride in the fact that all their pulp is harvested from planned forests with a replanting programme and international FSC certification. They source their kraft paper from Poland and Australia. Currently, the kraft paper is produced from 100% pulp and the corrugated paper they use is 'medium-recycled', meaning it is from 100% recycled paper. As an initiative to preserve the environment, Expack has reduced their kraft paper consumption by 20% during the last 5 years. As a responsible manufacturer, they are planning to reduce Kraft paper consumption by another 5% within the next 5 years.
At the board production phase, in order to bond the paper, starch in powder form is produced in a Fully Automatic Glue Kitchen, where it is mixed with water and other chemicals and then fed to the corrugator. The glue is then spread on the corrugated medium—the fluted paper—and attached to the two layers of linear board. Next, these boards are cut and folded according to the requirements of their clients and left to cool down for around two to three hours before moving on to the printing and finishing phase. Here, dyes that have been mixed and processed, again according to the needs of the clients, are fed into Flexo printing machines to print pre-designed logos, product information and other visual elements found on the boxes. At the last stage, before they are transported to clients, they are folded and either glued or stitched together to be ready for use.
This process is carried out largely by computer-aided (CAD) technologies, as well as with the help of a highly-trained team of designers, technical sales experts and research and development personnel, who sit together to develop the product with the aid of a fully equipped laboratory. Expack believes in Performance Packaging which provides cost-effective, eco-friendly packaging solutions to their clients. Here, they are able to calculate the best sizes and strength grades for the needs of their clients, saving both money and energy. Expack considers this an integral component of their customer service, and works very closely with their clients. In 2014, Expack was selected by PUM Netherlands as the best corrugated factory in Sri Lanka and was awarded training in the field of advance manufacturing process in Europe.
The Industry Rethinks Its Carbon Footprint
It comes as no surprise, however, that the manufacturing of corrugated boxes comes at a cost to the environment, starting from the trees that lend their pulp to the chemicals and energy used in their production. Expack understands the need for creating sustainable solutions to reduce their carbon footprint, and has already found ways to minimise water and energy wastage.
At the top floor of the plant sits a treating facility for dye-waste that it produces, resulting in clean water that is used for cleaning and flushing purposes. The carbon residue from the treated dyes is compressed and sold to a nearby cement manufacturing plant as fuel. The plant is also entirely equipped with LED lighting and uses furnace oil boilers for more fuel-efficiency. Expack also aims at reducing their energy consumption by 50% in the next five years by implementing more environmentally-friendly practices within their factory and offices.
Nevertheless, cardboard boxes still remain one of the more sustainable forms of traditional packaging, as they are recyclable, biodegradable and have no toxic constituents. Also, used cardboard boxes can often be reused for a multitude of purposes. Only a few people would not have had a reason to use an old cardboard box, whether it is to store or move personal items, or to use as material for art and crafts projects. In fact, in 2005, the United States inducted the cardboard box to the National Toy Hall of Fame because they are "easily adaptable by children for creative play".
Cardboard boxes may often be taken for granted by individuals, but their simple design and signature brown hue only disguise their endless capabilities. So the next time you use one, take a moment to appreciate how far it's come from a hat liner to one of the most indispensable items in our lives today.