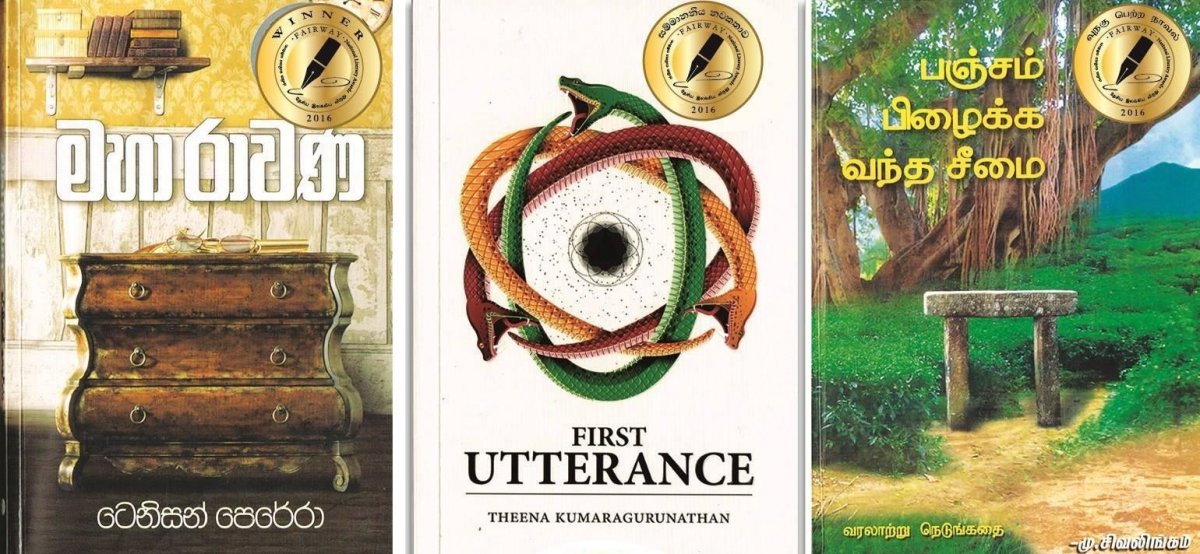 Sri Lanka is a land of legends and storytellers. History and folklore are an intrinsic part of our heritage. They have survived through the centuries by constant retelling. These stories, both ancient and recent, real and fabled, add a characteristic charm to the island's particular brand of magic. There is a wildness to our tales and a flavour to our imagination derived from the fabulous myths of yesteryear, which still reverberate in our modern prose.
With a wealth of traditional narratives and a protracted history of conflict to draw from, contemporary Sri Lankan writers do not lack creative content, and every year, hundreds of stories are published in all three of the country's predominant languages, Sinhala, Tamil, and English. The art of writing is flourishing more than ever on the island, with an increasing number of talented new poets and novelists emerging every year. In order to nurture this growing phenomenon, more than a few literary awards have been introduced, including the State Literary Award, the Gratiaen Prize, the Edward Lear Prize for poetry, and more recently, the annual Fairway National Literary Awards (FNLA), which was initiated in 2015 with the purpose of recognising and showcasing the work of outstanding Sri Lankan writers.
The Fairway National Literary Awards
The very first FNLA, for which entries were submitted in 2015, was presented at the Fairway Galle Literary Festival in January 2016. Entries in Sinhala, Tamil, and English underwent rigorous evaluation by an independent panel of judges for each linguistic category, before the shortlist of nominees for the awards was compiled. The joint winners of the inaugural FNLA in the English language category comprised of Rizvina Morseth de Alwis's novel, It's Not In The Stars, and Ayathurai Santhan's The Rails Run Parallel. Sepali Mayadunne's Mahasami made the cut for the Sinhala language category. Limited Tamil entries resulted in the jury withholding the award for the Tamil category that year.
The following year's FNL awards, presented at the Fairway Galle Literary Festival in 2017, were secured by Tennyson Perera for his Sinhala language novel Maha Ravana, M. Sivalingam for his Tamil language entry Panjam Pillaiki Wantha, and Theena Kumaragurunathan for his dystopian novella in English, titled First Utterance.
Introducing Some Of Sri Lanka's Latest Literary Talent
It's Not In The Stars by Rizvina Morseth de Alwis
Shortlisted for the Gratiaen Prize in 2012, de Alwis's debut novel is a coming of age story that deals with death, introspection, self-actualisation, and ties of kinship. It's Not In the Stars is about three individuals from different ethnic backgrounds, connected by friendship, on their path to self-discovery. Set against the backdrop of the sectarian violence and civil unrest of the 1980s and 1990s, the book focuses on the personal journeys of the three protagonists, Minu, a Sri Lankan Malay, Sam, a Sinhala Buddhist, and Pradeep, a Tamil. Minu is struggling to reconcile her family's marital expectations for herself with her own desire to live an independent life. Conversely, Sam, who is confident and unapologetic, does not have any qualms about challenging convention. Meanwhile, Pradeep is battling to come to terms with his identity in a hostile environment. The three characters, so different from each other, meet love, loss and heartbreak in the course of the story, re-evaluate their relationships and find that their destinies are intertwined. The novel won the Fairway National Literary Award in the English Language category, in 2016.
Rails Run Parallel by Ayathurai Santhan
This novel is a follow-up to Santhan's previous book, The Whirlwind, which is based on the separatist war in the North.
Set during the civil unrest in the late 1970s, Rails Run Parallel revolves around Sivan, a young Tamil trade unionist in Colombo, who is trapped in a changing political climate that could threaten his job and potentially displace him and his family. Fearing for their lives, Tamils in Sinhala majority areas are abandoning their jobs and fleeing to the North by buses and trains. Sivan is faced with the dilemma of losing his livelihood if he leaves the city. Prompted by the intensification of anti-Tamil sentiments in Colombo, Sivan, his friend Varathan, and their families, finally decide to relocate to Jaffna. They covertly leave for the Colombo railway station in the dead of the night, driven by a Sinhalese taxi driver they mistrust, who, surprisingly, turns out to be sympathetic to their plight. Their journey is fraught with suppressed tension and paranoia. In the second part of the novel, Sivan returns to Colombo after two years and is reinstated back in his job in the government sector, where he altruistically champions the rights of his entire clerical order, regardless of race or ethnicity. Interwoven into the narrative is the recollection of Sivan's doomed past love affair with a Sinhalese girl, a tale that emphasises the impartiality of love in the midst of conflict. On the whole, Rail Runs Parallel is a nuanced look at human nature, both good and bad, during the socio-political situation of the 1970s, through an impassive, yet keenly insightful lens. Santhan, an engineer by profession, draws upon his own experiences as a Tamil in the riots of 1977. This English language novel was shortlisted for the Gratiaen Award in 2014 and won the Fairway National Literary Award in 2016.
First Utterance by Theena Kumaragurunathan
First Utterance, the first book in Kumaragurunathan's trilogy, Miragian Cycles, can be loosely described as a science fiction novella set in a dystopian nation, Mirage, in an alternate reality that bears resemblance to our own. A self-published book that does not conform to any one genre, it employs both poetry and prose, as it follows the story of three men in a fantastical world where history, religion, spirituality, myth, and prophecy converge with elements influenced by human avarice, like betrayal, bloodshed, war and politics. These three men are ostracised and deemed mad because of their failure to conform to the status quo. First Utterance, which is Kumaragurunathan's debut novel, was met with widespread critical acclaim. The author himself is a fan of the works of science fiction writer, Arthur C. Clarke and Nobel Prize laureate, Gabriel Garcia Marquez, who famously employed the interdisciplinary genre of magic realism in his writing. It is believed that Kumaragurunathan's work may have been influenced by both Clarke and Marquez. First Utterance clinched the Fairway National Literary Award for the best English language novel in 2017.
This article is brought to you by Fairway Holdings. The Fairway National Literary Award (FNLA) offers the highest prize money for literary publications in Sri Lanka and recognises novels in Sinhala, Tamil, and English. The shortlist for the FNLA 2017 will be announced on Thursday, August 31 at the Jaic Hilton. Up to five novels in each language category will be shortlisted. Winners and shortlisted authors will receive their accolades at the 9th Galle Literary Festival, which will be held at Galle Fort, Sri Lanka, from January 24 – 28, 2018. FNLA submissions are judged by an accomplished panel every year, and each panel consists of an academic, an avid reader, and a literary critic. The winner of each category will be awarded Rs. 500,000, while the shortlisted authors will receive Rs. 100,000 each. The entry criteria for the award include any novel written in English, Tamil, or Sinhala, first published in Sri Lanka, and bearing a Sri Lankan ISBN number.