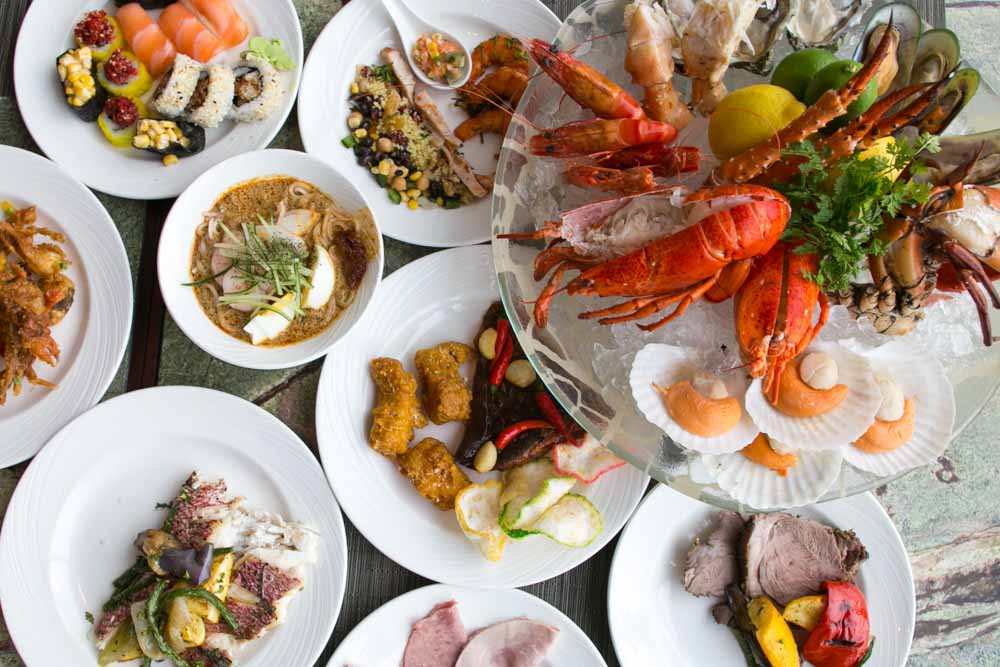 Brought to you by

Undoubtedly, the weekend of Avurudu is the time for delicious home cooked Sri Lankan food with your nearest and dearest.
That said, Colombo's burgeoning foodie scene means there's plenty of temptation to eat out too. And there always comes a time when you've had one serving of kiribath too many!
Not long ago, a meal out was a trip to the local Indian or Chinese restaurant. Today we're treated to a whole Smörgåsbord of international cuisines to sample, so if you're looking to dine out over the holidays, or treat someone close to you, here are a few alternative options for you to ponder.
Healthy Japanese food
Japan is the definition of foodie heaven. In 2011, Japan overtook France in its number of Michelin-starred restaurants and has remained number one in the world ever since. That's 234 Michelin stars in Tokyo, alone!
Fortunately, Japan's culinary expertise has not been shy in migrating and has become extremely popular throughout the whole world. In recent years, Sri Lanka, and particularly Colombo, have been blessed with some high quality Japanese eateries.
The most iconic Japanese dish, of course, is sushi in all its incarnations. Essentially, a sushi roll is a small piece of raw fish, often salmon or tuna, rolled in a tasty, sticky white rice, and wrapped with a thin sheet of crispy seaweed. It's super healthy and when you dip the delicate sushi roll in the spicy hot wasabi, it becomes a taste sensation.
If you haven't tried it, make sure you do soon. It is quite unlike any other international cuisine.
Japanese food is more than just sushi. It's filled with hearty noodle broths (ramen), refreshing salads, and the occasional deep-fried dumpling if you fancy a guilty pleasure amongst all the healthy ingredients.
Italian Food: A Gift To The World
Italian food might just be the most unifying cultural artifact in history. Everyone loves it!
While replicating the exact flavours of Italy might be tricky at home, many of Colombo's Italian restaurants are doing it rather well. The key, like true Italian food, is keeping it simple: and that's the charm of Italian cooking!
Rarely does a good Italian dish have more than a few key ingredients. A pizza at its traditional best is the dough base, a rich tomato passata, mozzarella on top, and a handful of fresh basil leaves. That's it!
Italy's countryside is terrifically bountiful and its great diversity of dishes reflects that. The Alps and their sister ranges dominate the north and the centre of the island and bring a distinctly different array of flavours to the tavolo. Bold meats such as lamb and boar, slow cooked in earthy herbs such as rosemary and sage are a world away from the fresh seafood, lightly seasoned with salt and lemon, of Sicily, Sardinia, and the south.
Of course, pasta is their other legendary export. As is cheese.
Mama mia, indeed.
Is German cuisine a thing?
German food does not have an altogether good international reputation.
Ask anyone to list their favourite international cuisine and the list will surely be a combination of Indian, Italian, Mexican, and then maybe one of your in-the-know friends will say Peruvian or Ethiopian! No one ever says German.
So why does Colombo have so many German eateries?
It's because German food is surprisingly rewarding when you need a break from Sri Lanka's beautiful array of colourful, coconut-infused curries.
They do a few things very well indeed: bread, sausage and cheese..
You wouldn't want to live off it, but a bratwurst hotdog covered in fried onions and mustard is undeniably delicious.
Bistro Culture
A bistro has its origins in Paris, one of the global arbiters on what is good taste.
Traditionally, a bistro is a small, humble restaurant serving hearty home cooked fare such as cassoulet and bean stews. The modern bistro, however, has mutated into something much more appealing for the international market.
Today, bistros generally serve dishes across the international-mix. Their chefs do not specialize in a specific food, per se, rather, they dabble here and there and create exciting, fusion dishes from across the globe.
At most bistros in Colombo you'll find international a la carte favourites such as gourmet beef-hamburgers, pasta carbonara, and Caesar salads, alongside exciting catch-of-the-day seafood platters and steak served rare.
Desserts are always of a high standard at a bistro too, as are generally the coffees.
It's the ideal place for the family outing as everyone can get what they want. So if there are arguments about where to go, play it safe with a bistro.
Foodie Heaven
Chilling-out and dining-out are becoming synonymous with each other these days. And with time off work this over Avurudu, it's a great time to take your taste buds on a gastronomic tour.
SampathCards has partnered with Sri Lanka's top restaurants and cafes to satisfy all your Avurudu cravings. Eat to your heart's content with SampathCards this Avurudu Season and enjoy special offers from merchants island wide.
Dine this Avurudu with SampathCards
https://www.sampath.lk/en/sampath-credit-card-offers/seasonal-offers-april-2018
Cover image courtesy: thebeaconkolkata.co.in