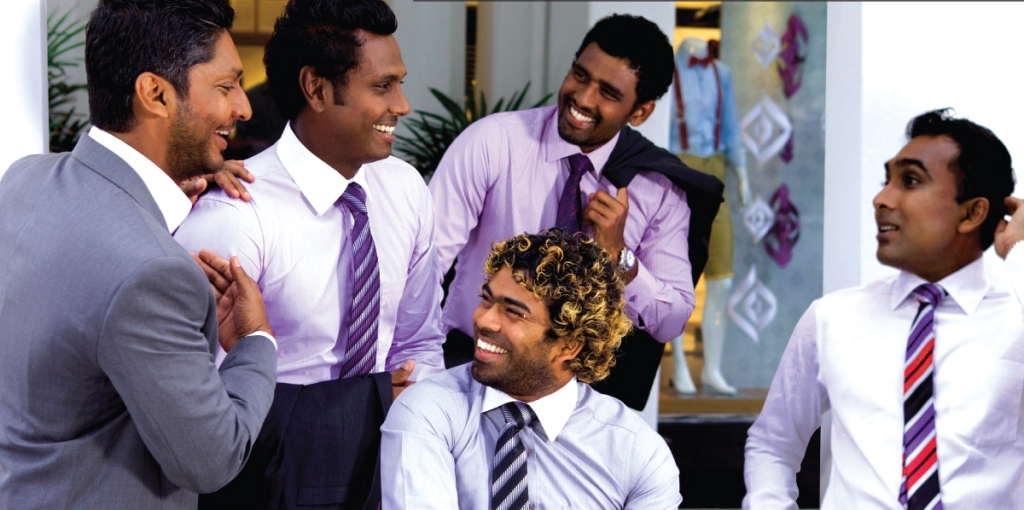 It wasn't too long ago we entered the slightly shady realm of classifying our boys into "types". Yes, we're well aware that we all defy stereotypes, but that doesn't mean it's not fun, right? While our little list was met with quite a response (and we thank the male population for taking it in the intended good humour and happily identifying themselves as rattarang puthas or ah nangi types), we discovered that there are a few more types hiding in the woodwork; which meant that it was only a matter of time before a deuxième partie was rolled out for your kind perusal. Long-winded preamble aside, we've listed out a few more types of boys you would doubtless have encountered (perhaps in the mirror).
1. Always A School-boy Boy
Where to begin with this type? How about with: we don't quite know what to make of them. This type you'd find in droves around the big match season and they confuse us endlessly. Why, you may ask? Well, to begin with (and we're certain a lot of these types are reading this article, highly incensed and ready to attack this humble writer): there's actual school boys and then there's the "I-passed-out-of-school-50-years-ago" boys… who are, for some reason, just as attached to school as they were back when they were in school. It's puzzling because it makes one wonder… you see, we understand why school boys are so hyped about, well, school, because they're still in school and school at this point is their world. They haven't lived life beyond school, naturally resulting in taking school related events and activities seriously. What we don't understand is how, after leaving school and entering university, the workforce, adult life, probably married life, parent/grandparent life, and nearing close-to-grave life, the lustre of school hasn't diminished. Looking back, doesn't all this inter-school rivalry seem at least slightly trivial and laughable? No, no? Well, we sincerely hope it isn't because school was the best time of your life because that's a little sad, no?
2. The Minister's Son
Oh boy. This type. This type thinks that they can captain sports teams just by existing, can thrash any nightclub just by breathing and can open the door to any aircraft just by… well… being stupid. You know who we're talking about. We have a theory to go with this type: we think that, in some ancient jungle, some Nostradamus-type soothsayer took a peek at the island's future and discovered it overrun by sleazy ministers. He did the only thing he could think of: he put a curse on them, a curse which ensured that every sleazy minister's male offspring would have mush for a brain. Sadly, this soothsayer, being human, didn't realise that the rest of us would be saddled with this type, too, and here they are… thousands of years down the line, proving Darwin right, time and time again. We did descend from apes. Some just stayed that way.
3. The
Boru Show
Type
It's hard not to be taken in by these types. They're the new modern Sri Lankan male – schooled by the internet, straight out of a fashion catalogue, and almost give hope for humanity. That is, until you realise that beneath the veneer of pop culture references, he's only slightly better than a hollow shell. This city boy goes out of his way to carefully curate his life, his jokes, and his one-liners in an attempt to sound cool, profound, and what he imagines is what a sudu kolla would sound like. You might be taken in by them until you realise that all their lines are right out of TV shows like Californication or (wait for it) How I Met Your Mother or The Big Bang Theory. He's funny at first, but after he quips "if you know what I mean" for the nth time, it get a little wearying. He over does internet jokes and catchphrases, is all about the buzz-words ('synergy' being his favourite) and gives you internet motivational quotes as a response when you say you have a headache (how dare you feel anything but grateful for having a headache? At least you have a head, right?). This type regurgitates unverified internet "facts", uses them in discussions or arguments, all the while forgetting that his arguments are valid only if you live in America and not in woods of Thimbirigasyaya. It's all good when it comes to small talk and discussions about TV shows and movies, but the moment you move into deeper waters, you soon realise he's out of his depth, completely ill-equipped to living a life outside the internet, and will forever be consigned to the shallow end.
4. The Flasher
Nothing is private for these types, least of all their private parts. Driven by an insane urge to show a hapless victim the existence of their genitals, this type is rather indiscriminate and partially democratic. They don't discriminate according to age – only gender. Even 10-year-old girls stand the risk of being flashed. It could be an old toothless uncle sitting at his doorway, or the clever type who stops to ask you for directions with his hands on his crotch, leaving nothing to the imagination. Even if you didn't want lessons in the male anatomy, they'd give it you free of charge, with the bonus of trauma.
5. The Jock
The buff, well-built, body-is-his-temple type that are getting less rare to find in Sri Lanka. We salute their efforts to stay fit despite days where we wonder if the brain shrink is in proportion to the muscle mass. This type is, however, usually a good machang-type to hang around and even handy in tight situations where an Ah-nangi type (refer previous list if you want a refresher) or a Flasher might be lurking. We're not calling you stupid, we promise. Just slightly under-read. We're also a bit concerned about the fact that your conversational abilities usually stop at different types of protein shakes. You might find the extreme example of this type lurking around in gyms, showing off to his gym buddies how much he can lift and chest bumping them, all while flecks of sweat smack into the faces of other unsuspecting gym-goers. And did we forget to mention those sweat-saturated gym selfies and those hideous man-cleavage-exposing gym tank tops?
6. Don Juan Fail
This Romeo tries to put the legendary Don Juan to shame. He makes the people around him seem like sexual prudes when he brags about his exploits with women, the number of women he's managed to bag, and the number of times he's gotten laid. He's somehow convinced that no woman can look beyond his (extremely creepy and pointed) gaze at your chest and that his bottom pinch is equivalent to a blessing by the Pope. He tries to pass himself off as an extremely broad-minded guru of sorts, but his thinking is only "broad" in terms of how attractive he thinks he his. These types think they are extremely enlightened fellows whose purpose in life is borrowed straight off a (badly packaged) Mills and Boons novel ‒ and people might fall for it, too, especially in countries like Sri Lanka where sexual freedom is, at best, a dream. Their foray into a different sphere might be appealing to some just because it is "different", but is sadly tinged with insecurities and misogyny, which they paint over with the lacquer of "loving all women". Sorry, but just no.
7. The (Ever So Slightly) Creepy Software Guy
He somehow knows things about you that even you wouldn't suspect. How's that, you ask? Because he's some geeky computer whiz always lurking in the background, liking your Facebook posts, secretly learning them by rote and saving your profile pictures on his phone. You accidentally find in his possession one which you took in 2010, something which you never uploaded or shared, which you took even before you got to know him and…*creepy background music*
This type could sometimes do with a Spiderman-esque reminder: "with great power (aka ability with computers), comes great responsibility."
8. The Man-child
This is when the "raththarang putha" experiment goes wrong. This type has zero emotional intelligence and probably an anger management problem, but don't try telling him that because he cannot and will not take any constructive criticism. For that matter, he cannot even take care of himself and constantly needs someone to either massage his aching ego or make him a sandwich. While ancient lore says that there is no getting over this man-child phase, we believe that once past it, there may be an actual gentleman lurking in there. Getting him to stop being a man-child, though…
9. Modern Narcissus
This type is convinced that everything they do is the greatest thing anyone could ever do. Your achievements are nothing compared to theirs, even if theirs only happen to be a post on Twitter or Instagram. They market themselves as being the funniest, wittiest, most profound thing since the Big Bang and sadly… most people believe them because they are THAT good at selling themselves. Suddenly, after their first day at work, you'll find a Facebook page where they call themselves a "Public Figure". Soon there will be pictures of their faces plastered with a pseudo-profound quote of theirs. You'll find them everywhere, passing opinion on subjects they have no idea about and having people nod their way in agreement even when they seem to have gotten their facts and numbers completely wrong. Of course, pointing it out would mean inviting the wrath of these Venerable-Opinion-Leaders and their fanbases. What's more, considering how small Sri Lanka is, the density of these self-proclaimed messiahs seems greater than it should be.
10. 'High' Society Boy
Perpetually high, this type makes even birds seem down-to-earth. Depending on the high, they can actually be fun, funny, and witty, but you can't help but worry about their health, lifestyle, and, in extreme cases, their sanity. It's also fun to watch them flail around dangerously while dancing or even walking (from a safe distance, of course), but you may want to reconsider that impending conversation, unless you don't mind your only point of discourse being different types of rolling paper, the pros and cons of the last drag, peace, love and freedom, the system and transcendental bong shots, the different types of bongs, preferred hallucinogen(s), how you should try this shit, puff puff and like more peace, love and freedom maaaaaan.
We could go on and on, of course, but where's the fun in a list if it doesn't end, right? Feel free to add and embellish; we're sure there are still a few more types hiding out there just waiting to be discovered.  
Featured image courtesy kumardesilva.com