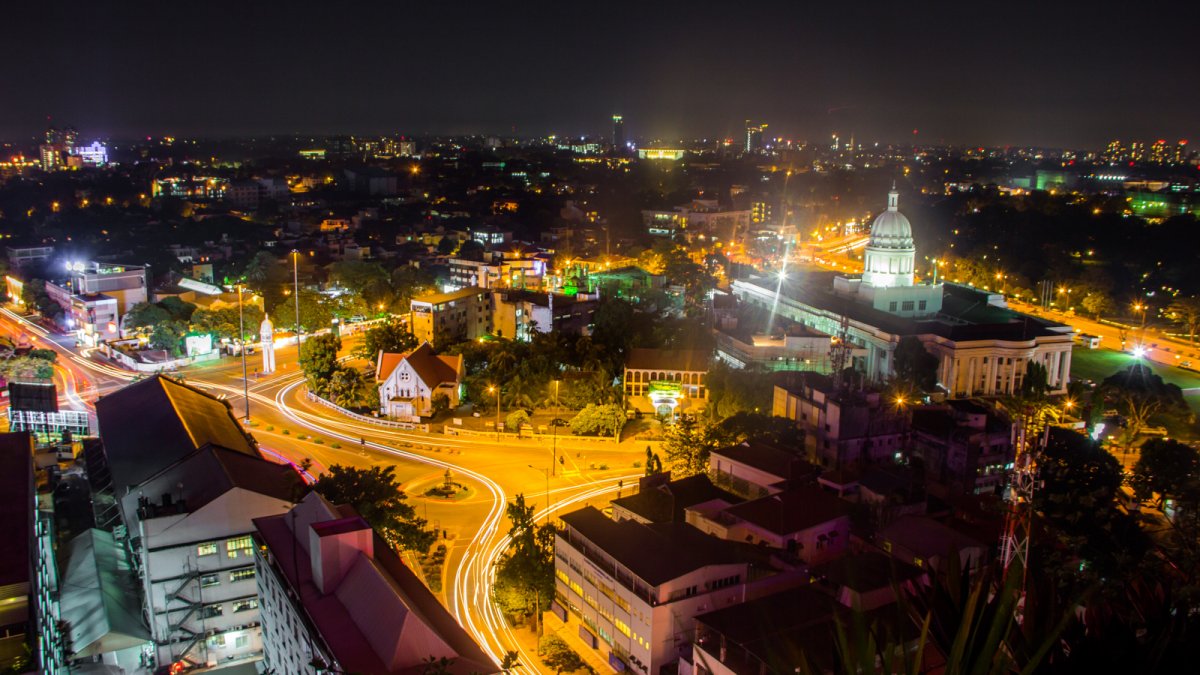 Hard as it may be to believe, another year is drawing to an end. Compared to the previous years, Sri Lanka had a relatively mellow one this time (not counting the cyclone which whipped through town out of the blue, or an explosive garbage dump…okay, maybe it wasn't all that calm). However, the year has not only been about natural (and manmade) disasters. From having represented the country in Miss Universe to hosting several international events, Sri Lanka is moving forward slowly but surely.
Economics: Colourful Budgets, and China's New Port
Sri Lanka's national budget for the coming year is a far cry from what we're usually accustomed to; its highlights weren't on concessions and allocations to numerous ministries but on loan schemes and taxes. Shiran Fernando, Chief Economist at the Ceylon Chamber of Commerce, stated that the budget focused on bringing stability to the country in the long run. Calling it a Blue-Green Budget, the government hopes it will help build a liberal economy. The government also introduced several new taxes—on SMS advertisements, bank transactions, and cell towers for instance—to help pay off the country's outstanding debt which is currently at $64bn.
In addition to this, the Hambantota Port was formally signed over to China on a 99-year lease earlier this month. Addressing the Parliament, Prime Minister Ranil Wickremesinghe claimed that "we have started to pay back the loans,' with this agreement.
Meanwhile, the Bond scam (initially dating back to 2015) made headlines on an almost daily basis. The scam involved the Employees Provident Fund (EPF) selling securities at a low price and buying them back at a much higher rate, while an intermediary made a profit. Subsequently, the Minister of Foreign Affairs Ravi Karunanayake resigned from his portfolio when Karunanayake and his family's name was linked to Arjun Aloysius of Perpetual Treasuries, one of the key suspects involved in the scam.
Education: Fewer Protests After 'Abolishing' SAITM
The last four years or more have been peppered with water cannons, tear gas, and road-blocks courtesy of agitating student unionists who demanded 'free education' and the abolishing of SAITM. SAITM—namely the South Asian Institute of Technology and Medicine—has been receiving flak from those in the state education sector alleging the institute was substandard.
In November, the government announced that SAITM would be placed under the Sri Lanka Institute of Information and Technology (SLIIT) as a non-profit institution. This announcement was preceded by one in October when the Government Information Centre issued a statement claiming that a new degree-awarding institution would be established instead, in accordance with the State's minimum standards for medical education.
Thanks to this move, there have been fewer roadblocks in Colombo and people are able to commute in relative peace.
Environment: From Exploding Dumps, To Polythene Bags And Cyclones
Despite residents' continuous battle against their neighbourhood being used as Colombo's dump yard, the government (both this and the last) turned a deaf ear to it. Following a human rights case against the Colombo Municipal Council (CMC), the Supreme Court ruled in favour of the Meethotamulla area being used as a temporary garbage dump for a two-year period, and that the dump be limited to two acres. Needless to say, this was conveniently forgotten or ignored, and the dump continued to grow across 20 acres and as high as 300ft. The dump eventually split in half and resulted in a landslide of sorts: hundreds of people were affected and displaced in April during the Sinhala-Tamil New Year.
This served as a wake-up call, and the government finally decided to pass a polythene ban effective from 01 September. It must be noted that the ban doesn't ban all polythene—just those under 20 microns. Following the disaster, garbage collectors were instructed to instruct residents to separate their garbage into food-waste and non-food waste when disposing of them. However, garbage collection is erratic, especially out of Colombo, and we are yet to see an effective method of waste disposal.
It's also been a rather harsh year where natural disasters are concerned, as floods and mudslides in May killed over 200 people and displaced thousands more. Conversely, the country is also going through one of the worst droughts in 40 years, affecting 1,665,961 people. The tail end of November saw sudden gales and heavy rainfall, resulting in power-shortages, uprooted trees, and damaged property.
International Events: Making It To Miss Universe, Hosting Global Voices, And More
For the first time since 1955, when Maureen Hingert was second runner-up in the pageant, Christina Pieris, representing Miss Universe Sri Lanka 2017 made it to the semi-finals.
Meanwhile, Sri Lanka's professional bodybuilding champ Lucion Pushparaj bagged two medals at international bodybuilding championships. Pushparaj won gold at the Asian Bodybuilding and Physique Sports Championship in South Korea and was awarded fourth place at the Mr. and Ms. Atlas and Fitness Expo 2017.
Global Voices, an organisation bringing together over a thousand writers, analysts, and media experts, hosted 2017's Global Voices Summit in Colombo. Spread over the first weekend of December, the event featured multiple panels, workshops, plenaries, and talks by people from around the world.
The same weekend saw Southbank Centre's Women of the World festival, which eponymously, was mainly women-focused. The festival featured inspirational speakers, all-girl bands, and several women-centric films.
Breaking (or making) Records
Last year's Galle Face Christmas tree fiasco finally got official recognition. The tree was a subject of controversy—a gargantuan contraption which could possibly have looked great was halted due to a comment made by Cardinal Malcolm Ranjith who stated it was a "wasteful expenditure." However, construction recommenced after a short delay, which resulted in completing the tree on an extremely tight deadline, hence its stunted appearance.
The tree, however, did break the Guinness World Record, and Prime Minister Ranil Wickremesinghe accepted the Guinness World Records Certification for the tallest artificial Christmas tree on 13 December.
Overall, it hasn't been the worst of years for Sri Lanka by far; except for the weather wreaking havoc, which we blame on global warming anyway. Sri Lanka is in a good place now, with a lot of potential for growth, despite the many hurdles in its way.
As far as Roar Media goes, we've had a good year too. Our team has grown tremendously, we won the Etisalat Social Media Day award, Venture Engine's annual entrepreneurship award, and have expanded to provide content in five languages across South Asia. We couldn't have done this without our readers, and we thank you, and wish you a great year ahead, with many more exciting things to come!
Cover image: Nazly Ahmed