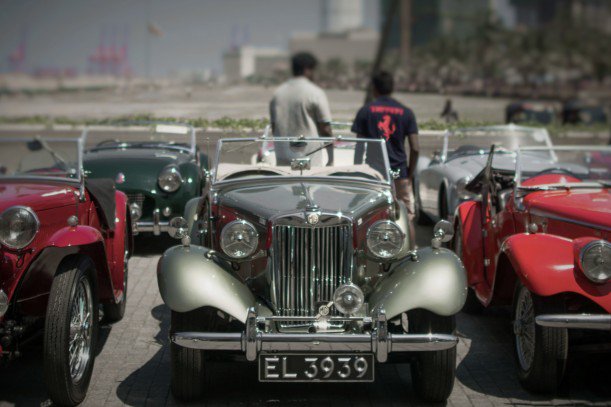 The Classic Car Club of Ceylon recently organised a 'British Car Day' at the Galle Face Hotel, which saw a coming-together of some of Sri Lanka's finest vintage vehicles. We managed to capture quite a few dashing automobiles on camera, and learn their fascinating stories straight from their owners.
Tony Ambrose appears to be a big fan of the Morris Minor and currently owns more than one specimen. He has owned this particular car for 58 years: "I purchased her for Rs. 2,250 when I was the cashier of a big company called Morris Roche Ltd. which paid me only Rs. 225 per month. Petrol was Rs. 2.80 per gallon,  license duty was Rs. 20. A full service was only Rs. 12.50, and a tyre from Firestone (the white sidewall tyre) was Rs.73.12," he reminisces.
He says that the car was a tourer when he first bought it. "I did a mass modification in 1972; I didn't replace the whole body, but I cut and chopped and made a salon. It's a lovely job. Nowadays I can see people converting a salon into a convertible. This is my first love. I have three or four other Minors as well."
According to Panini Edirisinghe, this Hillman Minx is the only car that he's ever owned. "When I bought it, it was just a car to me. But now I find that this is an exhibit, an antique, and it's hardly a car that you can use for day to day running. But I've got it into good shape. It's in good condition and so I've done quite a few trips upcountry on difficult roads, and even climbs. I'm not the best of drivers, and I just like having the car and the family likes having the car. We also meet a lot of interesting people as a result of having joined this club, and what we value most is meeting people when we come on trips like this."

This car, unlike the others at this British car exhibition, was made in Japan. "The Rootes group was known to make very good, solid family cars," explains Edirisinghe. "Not top of the range, but they were good cars. Then the Japanese thought that they should start manufacturing cars in a big way; they wanted to get a reasonable British car and manufacture it there. So they got Isuzu to manufacture this model there. There is a difference between the British car and this ‒ the British cars came in a light blue tint. Some of the cars came in a light green tint, some even came in pink glasses. Isuzu got permission to manufacture this model only once the British stopped production, and the Japanese added a few extra refinements so there's a blower in this, a radio, and things like that. Almost all the meters are working on this."
Sixty-seven year old Geepal Fernando has very fond memories of his car. "If my father was here to see this today, he would have been very happy. I remember going for my honeymoon in this! Well, those days the roads were so clear, we went up to Nuwera Eliya and all those places. But today you can't go in this, with this hot sun and dust. We don't take these cars out daily; I only take it out to exhibitions like this." He points out that a vintage car such as this one would not fare so well on the street of Colombo as they are today.
"It's not practical to use it as a daily drive because one thing is that it's strenuous to drive, keeping the three-wheelers and buses away from this, because if somebody scrapes the liquor painted buffers, you can't get it done locally. Also, if somebody breaks a lamp or something, it's very difficult to replace. We only take them out for an occasion or a Sunday morning drive."
He plans to pass the car on to his son, he says, who shares his fondness for automobiles.
Arjuna says that driving this car always 'brings a smile' to his face. "I've always loved old cars. One of the first cars I liked was an MG A, but unfortunately I haven't had the opportunity or luck to own one."
Naresh Subramaniam says he's owned the Turner for around 15 years. He bought it off a Sri Lankan doctor who had lived in the UK and had brought the car down to Sri Lanka. "When I first picked it up, it was in terrible shape and I had to tow it back to the garage, and all the way on the road there were people stopping us and asking if we were going to sell it. There are 18 [of these cars] left in the world, and this is the only one in Asia. It's also the world's first fibreglass car. I've always liked classic cars, they've got a lot of character, a lot of idiosyncrasies as well: you can smell the petrol, you can smell the fumes, you can feel the road. It's very different from driving a new car."
"It's a two seater, very, very light, it's got a 2500cc engine, and twin carburettor. It was the British Ferrari of its time," says Nimal Rambukwelle of his Triumph TR2, which he's had for around six years. He said the car had been fixed up by Clive de Silva, former president of the Classic Car Club.
"I'm a pilot in SriLankan Airlines, so it was easy for me to bring down some of the parts. Even the wheels were brought on four flights from London, and the Customs guys there were so happy to note that a British car is being done up in Ceylon. It took Clive 4-5 years to make because we had to get the shape and everything right. And it took time. Even the instruments were sent to Speedograph in England to be redone/recalibrated and brought back. So it was a major task. Everything is original, there's nothing put on, because Clive is very strict on cars."
Kishan de Silva says he bought his Land Rover off a friend, and that it's had four previous owners. "I think it's something that I've grown up with. I've always enjoyed the old cars, and always wanted to own one," he says. "It's so different from the cars you drive now; there's nothing electronic, nothing fancy, very straightforward, and that's the beauty of it. That's why we enjoy driving."
However, he also says that it's "not a very practical vehicle" for Colombo. "It's very difficult to drive this in traffic. The clutch is heavy, and it's not meant to be driven in bumper-to-bumper traffic, but it is nice to cruise on a Sunday, and driving out of Colombo is still nice. It's a legendary vehicle, and although they have stopped production, the legacy of it will continue as long as they make the parts for us to be able to maintain them like this."
David Todd has owned this Austin Mini for around 8-9 years. "I've done a few motorsport events in this, many years ago when I used to race. A classic and a modern car are two different things. I would say that this is genuine motoring, unlike the modern cars which are fully computerised and you have everything at your beck and call."