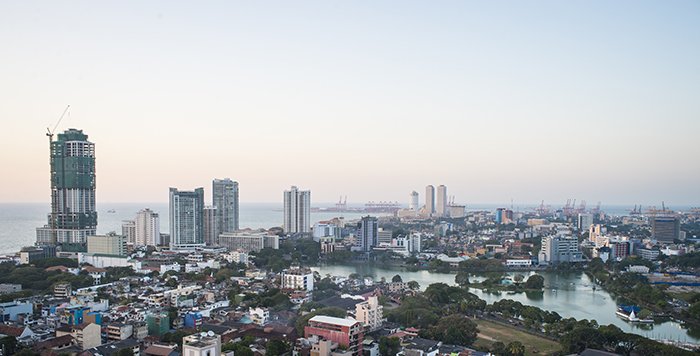 "Colombo is urbanizing rapidly, which is why this is a good time to create a landmark that will set a benchmark for further development in the capital." – The architect of Altair, Moshe Safdie
The Colombo Skyline has seen very few skyscrapers in the past years. The World Trade Centre, built in 1996, has towered over most of Colombo unchallenged for many years. Residential properties such as Iceland Residencies and The Monarch have also risen during conflict times. For many years our skyline consisted of a handful of properties but post war development has brought in an influx of foreign and local investment to create more giants in the skies.
Roar.lk has compiled the list of the significant high-rise properties that with will transform the Colombo skyline.
Grand Hyatt Hotel
Initially supposed to be the Celestial Residencies owned by a local business tycoon who after bankruptcy sold it off to make way for the first Hyatt Regency Hotel in Sri Lanka. A global hotel brand that needs no introduction, the Grand Hyatt Hotel will feature 475 rooms in the heart of Colombo. This 42 floor tower currently is the tallest structure in Colombo.
Completion Date: 2015
On Three Twenty
A project by John Keells Land – part of John Keells Holdings, Sri Lanka's premiere blue chip corporation that is a market leader in many sectors. Build on top of the old John Keells Head office at #320 Union Place, On Three Twenty is a monolith in the sky. With 3 towers, 37 floors and 475 apartments, a new age of living is ushered in to those residing in On Three Twenty.
Completion Date: October 2014
Altair
The developers of the Marina Bay Sands in Singapore and the Kauffman Center for the Performing Arts in Kansas City, United States have turned their attention to our little island. Contracted by Shapoorji Pallonji Co & Ltd and designed by Moshe Safdie, Altair is developed by global powerhouses. Standing at an epic 240 meters with its unique design will stand out in the Colombo Skyline.
Completion Date: September 2017
Cinnamon Life
Known first as "Waterfront," John Keells Holdings introduces Sri Lanka's largest private sector investment at a whopping $650 million. This mixed development resort will consist of a 800 room luxury hotel, large high end retail mall, luxury residencies, state of the art office space and convention, ballroom & banqueting space. Spanning over 4.5 million square feet it will be designed by world acclaimed British based Sri Lankan architect Cecil Balmond who designed the Beijing Olympics structures. More than a building, Cinnamon Life aims to be the epicentre of modern South Asia.
Competition Date: 2018
ITC Colombo One
There was confusion of where the ITC was to be set up, but eventually a decision was made for it to be built next to Shangri-la and the Taj Samudra, whilst Sheraton was moved to Colpetty. The 350 room and 130 residencies will cost a whopping $300 million. A little known fact about the ITC, is that it stands for the "Indian Tobacco Company" that not only sticks to selling cigarettes. They have diversified interests in Hotels, Paperboards and Specialty Papers, Packaging, Agri-Business, Packaged Foods and Confectionery, Information Technology, Branded Apparel, Personal Care, Stationery, Safety Matches and other FMCG products.
Completion Date: 2018
Lotus Tower
Every city needs a monument to highlight its skyline. Paris has the Eiffel Tower, New York has the Statue of Liberty and Colombo will be getting the Lotus Tower. Standing at 350m high, making it taller than the Eiffel Tower and the tallest structure in South Asia. The Lotus Tower will be used for communication, observation and leisure facilities such as a restaurant and hotel rooms with a spectacular view. Costing $104 million, loaned by our Chinese friends the tower's main income will be from tourism and radio & television broadcasting.
Completion Date: 2015
Clearpoint Residencies
The long-time goal of famed Sri Lankan architect Milroy Perera, Clearpoint Residencies upon completion will be the world's tallest vertical garden. The skyscraper will feature 46 floors each with a private balcony garden. Clearpoint Residencies believes that it will be more cost effective with its well-designed apartments and sustainable energy processes. Windows that have reduce exposure to the sun, solar panels, rain water harvesting, cross ventilation air conditioning, the plants that absorb sounds, provide shade and generate fresh air and an automated drip irrigation system which not only saves water but will save the hassle of watering the plants. A truly revolutionary project, Clearpoint residencies is a building of the future.
Completion Date: 2016
A journey to reach the skies that we have begun to climb after so long. Skyscrapers make a city standout, generating aspiration and a feel good vibe to its citizens. The increase in investment and confidence of both foreign and local parties are making this dream come true. Soon Sri Lanka will have a skyline to rival that of others in the Asian subcontinent, an accomplishment a long time in the making.