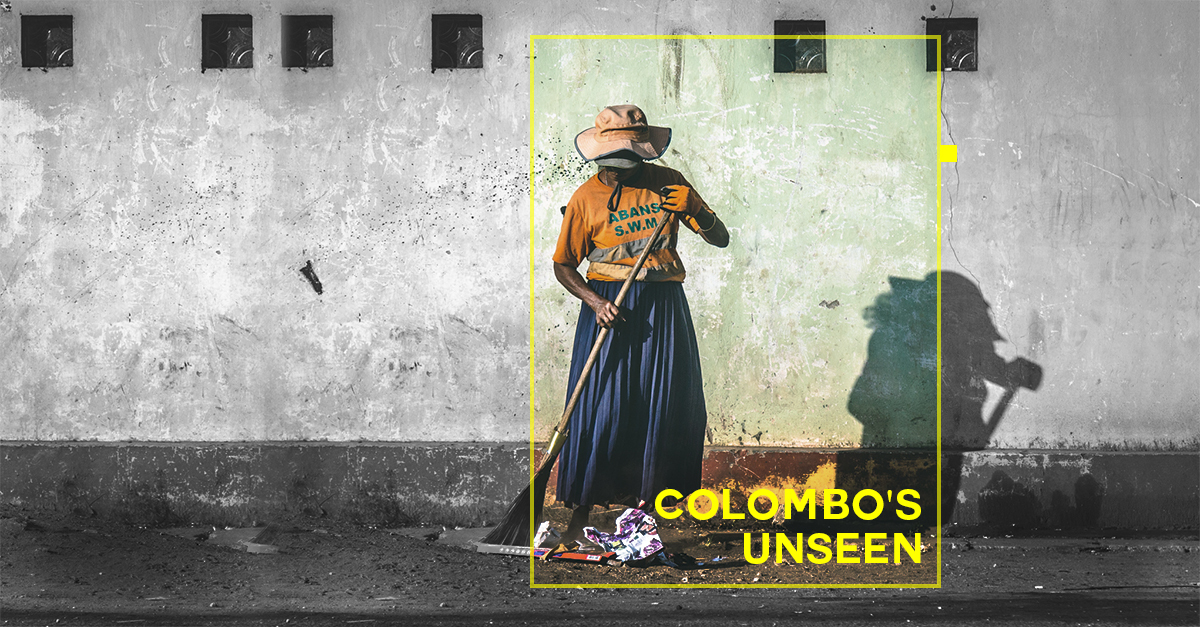 It is 6:30 a.m.  A woman sits on the side of the pavement, resting her back against the rusted brown cart that she uses to collect fallen leaves, plastic sheets and other refuse. As the city around her springs to life with the rising sun, Lakshmi* savours a few more moments of rest before standing up and returning to sweeping the streets.
She begins work on this pavement, long before the break of day, burrowing her broom into the crevices of the pavement, and sweeping away the crumpled up bits of paper and polythene bags that have been cast aside. Once it has all been heaped on to her cart, she hauls it away from view.
Although she is only in her late 40s, her thinning hair and the veins bulging from her bony wrists suggest otherwise. Her face has been worn down by the tiresome labour her job demands. For eight hours each day, the cart gets heavier with every shovel, until she finds herself dragging her body's weight in trash.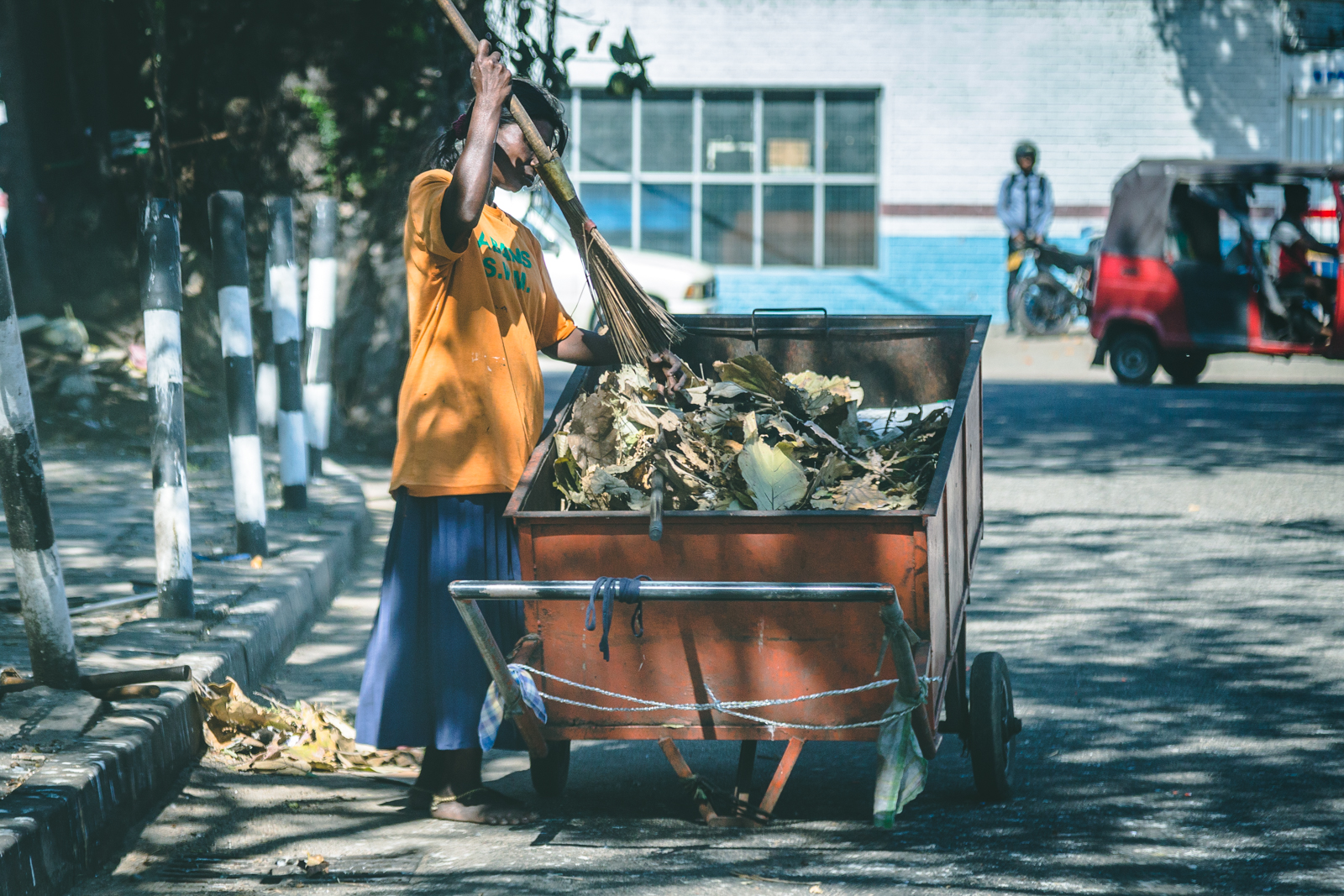 Lakshmi currently lives in Grandpass, on a square patch of pavement where she lays a piece of cloth every night to sleep on. The area where she currently 'lives' is tucked behind a commercial building, allowing for a modicum of privacy, and a semblance of protection from the shadowy city at night.
Lakshmi's situation is not an uncommon one amongst street cleaners in Colombo. Despite having full-time jobs, many are homeless and live in poverty; a well-hidden reality of a rapidly urbanising city.
A History Of Servitude
Lakshmi is a member of Sri Lanka's growing unorganised sector, and her employment is part of a large waste management initiative conducted by the Colombo Municipal Council (CMC). The CMC works in conjunction with several private companies, who dispatch street sweepers to different locations around the city. Sweepers like Lakshmi are hired directly by the private companies, who also oversee their employment.
Born in Slave Island, where her family still resides today, Lakshmi  first began working as a street cleaner in 2013. At the time, she lived with her husband in Slave Island, and would commute to work by bus everyday. Two years ago, her husband died of heart failure, leaving her devastated — and homeless.
"When that happened, that's when I felt like I no longer had a home," she said. "After a few months, I was kicked out of my house because I couldn't afford the costs of rent on my own. That's when I began sleeping on the road. I would sleep in one place until I got kicked out, and then I would find somewhere else."
Lakshmi refers to herself and her family as 'sakkili'—a slur that means scavenger—which is commonly used among many Tamil street cleaners. The term 'sakkiliar' refers to members of an untouchable caste, who were historically assigned the task of cleaning feces. Although there are only some street cleaners in Colombo who identify themselves as such, factors such as caste and class do play a part in the jobs that are assigned to certain groups of people.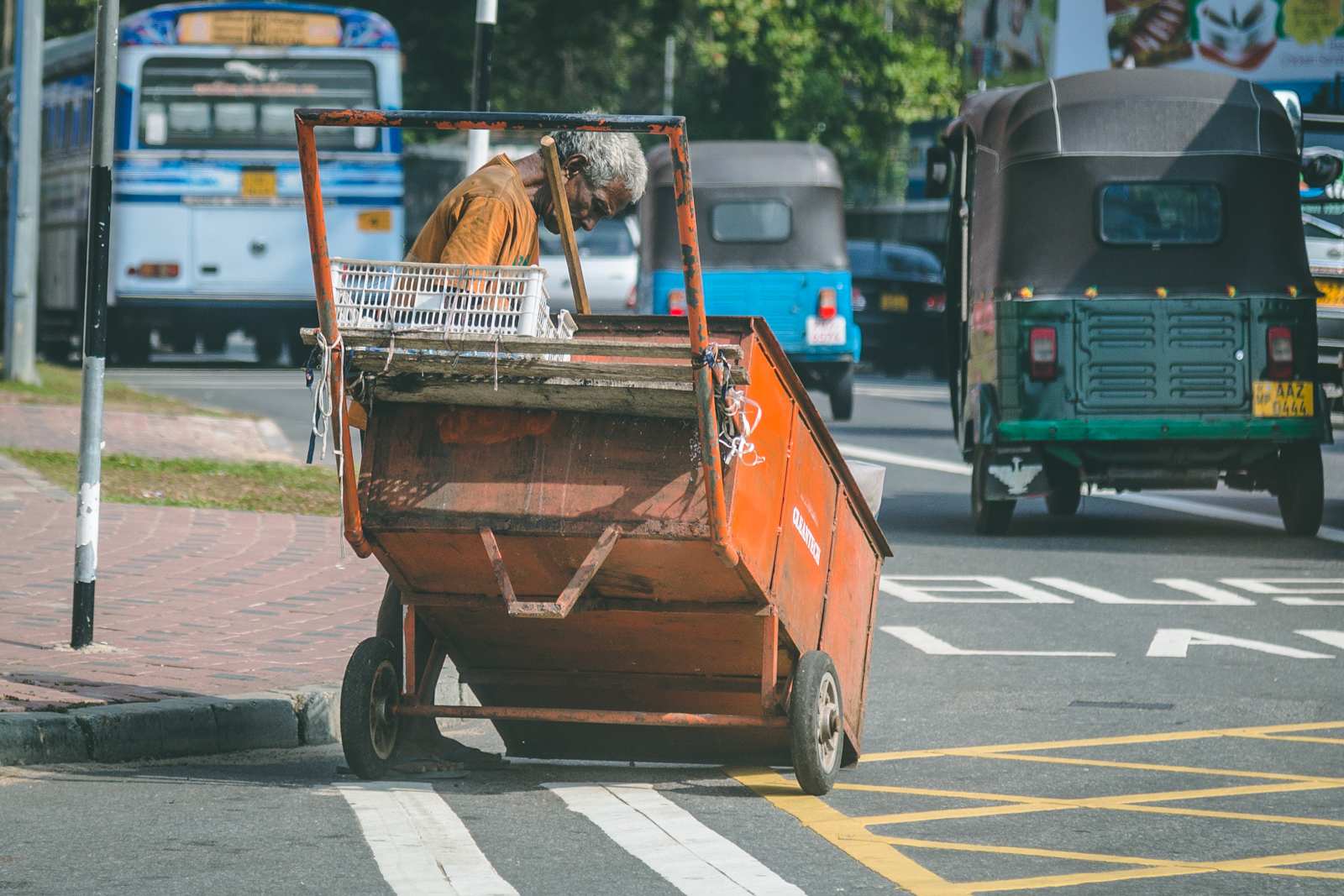 According to research that was conducted by the Centre for Poverty Analysis (CEPA), different elements of a person's identity (such as class, caste, gender and so on) can play a role in determining the outcome of their lives. Among the street cleaners in Colombo, many share common histories of marginalisation that have contributed to their current state of poverty.
"Caste is one of the factors that culminate in the marginalisation of these forms of labour," said Dr. Vagisha Gunasekara, Executive Director of the American Institute of Sri Lankan Studies, and visiting lecturer at the Faculty of Graduate Studies at the University of Colombo.
"Caste plays a role among Tamil street sweepers. Many will be historically from lower castes."
The prevalence of the caste system in Sri Lanka manifests mostly in the North.
"In Jaffna, you have traditionally caste associated jobs. If you belong to the pariah community, which is an outcast community, then it is predetermined that you do this job of sanitation work," said Aftab Lall, a former researcher at CEPA. "This is very strongly practised in the North. Those who are known as street cleaners or scavengers belong to the particular pariah caste."
Amongst Sinhalese street workers, many are landless, and hail from poor suburban communities.
"Caste is much less of a factor among Sinhalese communities when it comes to jobs, especially in Colombo," said Lall. "However, in places like Kandy, families with a history of being in lower castes usually don't own land. In Colombo, many of the Sinhalese workers come from landless families, which means that historically, their families were also of lower caste."
The companies that hire street cleaners don't look for people from specific socio-economic backgrounds.
"Our hiring process is to advertise vacancies, with  the payment conditions attached to it," said an employee who handles recruitment for a large conglomerate. "People usually respond to us, and then start work, just like any other employment process."
However, many of those who do respond belong to the urban poor, and share similar histories of caste and class marginalisation. This is usually because they are more likely to accept the terms of the job being offered, without question.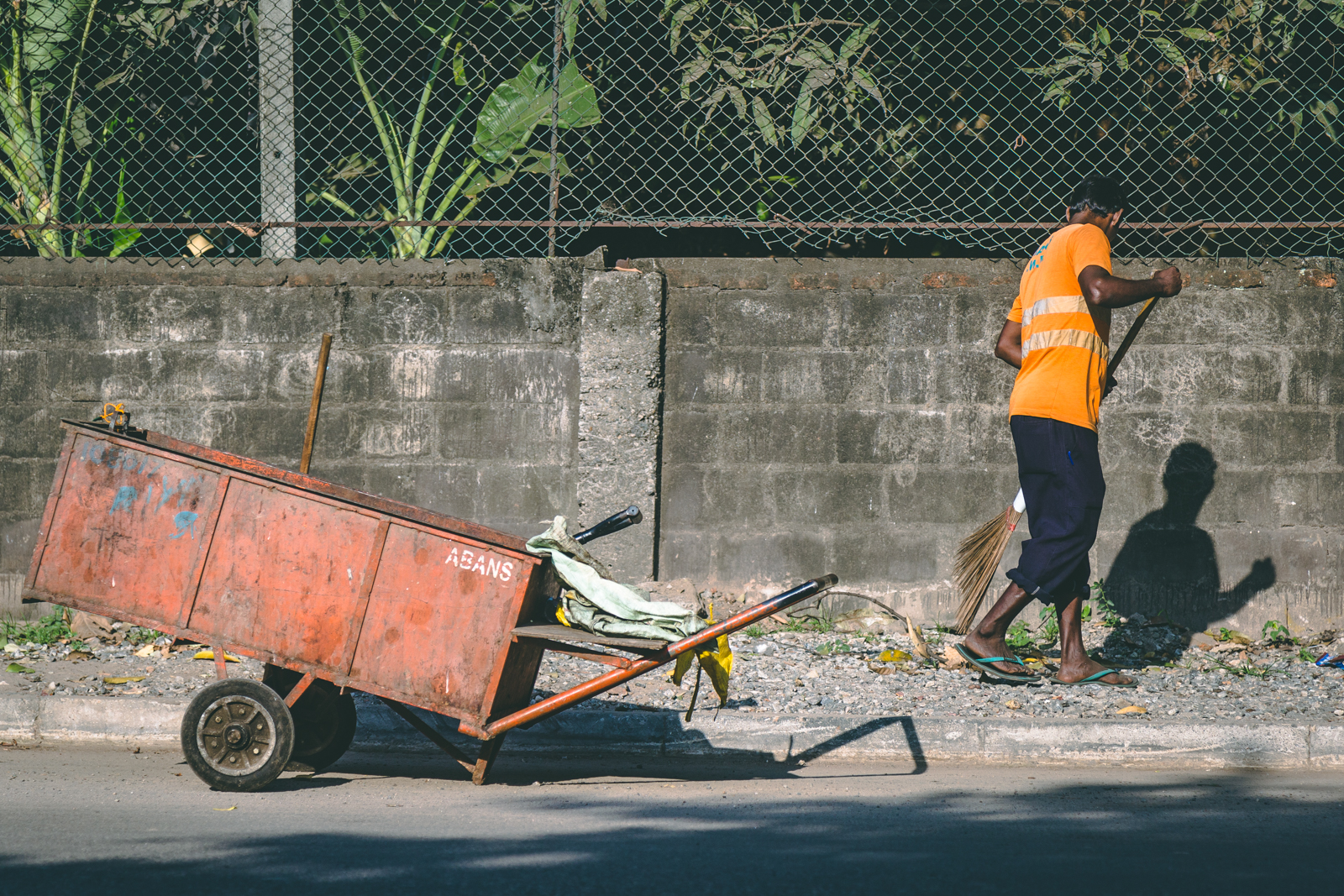 Quantifying Poverty
Despite their striking visibility on the streets, marked by the conspicuous, bright orange vests that they wear, the struggles faced by street sweepers in Colombo remain largely unseen.
On average, street cleaners earn between Rs. 500 to Rs. 700 per day, amounting to roughly Rs. 24,000 monthly, most of which is spent on food and transport.
As per the international poverty line—which was updated by the World Bank in 2015—a person is officially classified as poor if they earn less than $1.90 (or approximately Rs. 336) per day. However this line was measured using the national poverty standards of the poorest countries in the world, and does not reflect Sri Lanka's regional poverty standards.
Considering narrower poverty margins presented by the World Bank, Sri Lanka is classified as a lower middle income country, and therefore has a median poverty line of $3.21 per day (approximately Rs. 546) per day.
Furthermore, the Department of Census and Statistics has come up with national and regional poverty lines, based on the World Bank's data. According to this data, if a person earns less than Rs. 4,711 per month, they are officially classified as poor. For Colombo, the rate is set as Rs. 5,114 per month.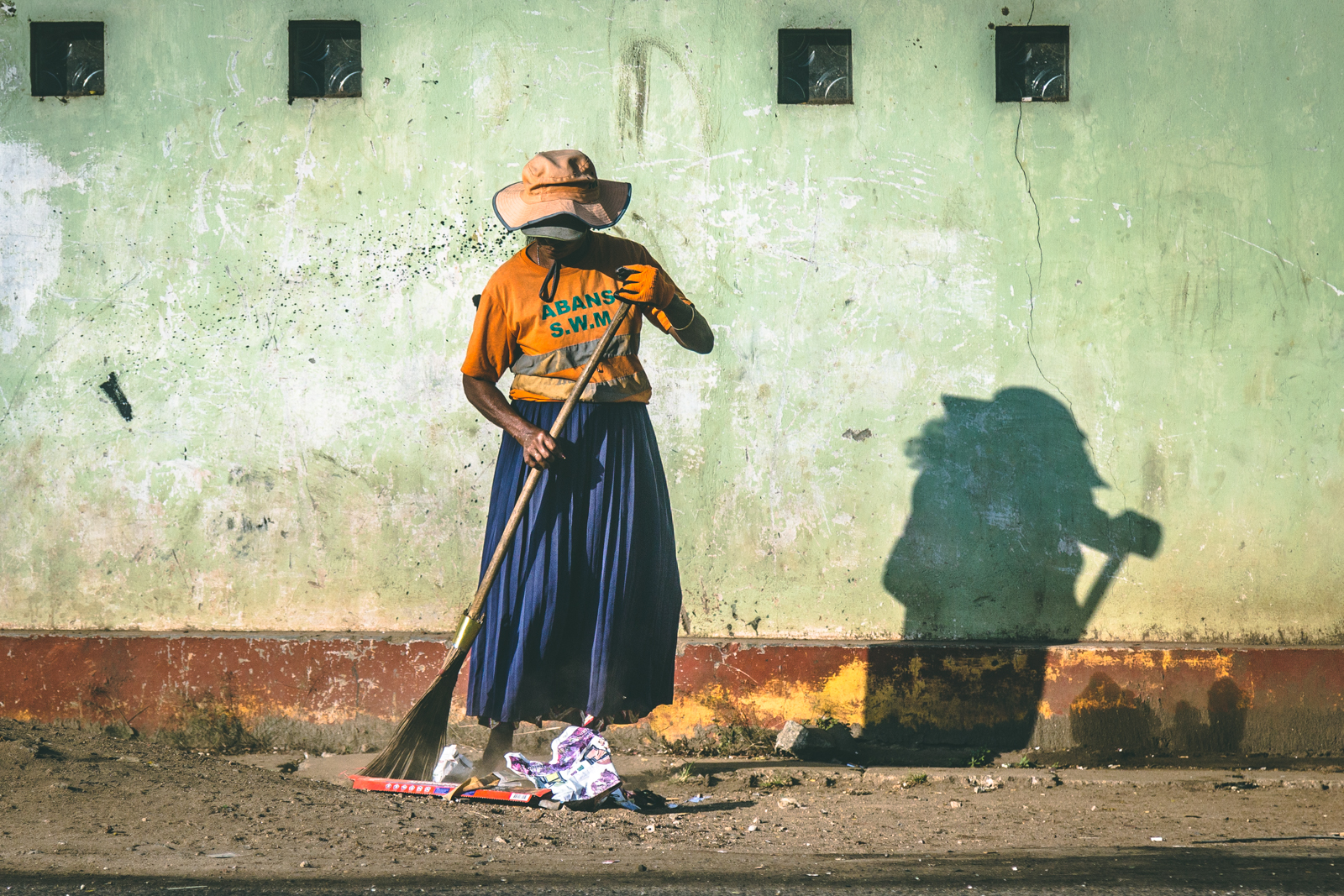 By any of these measures, the wages earned by those in Sri Lanka's unorganised sector fall above the poverty line. Therefore, they are not classified as poor.
However, these definitions of poverty do not account for variable factors such as working conditions and family size.  
"This poverty line is calculated keeping in mind both food and non-food expenditure," said Dr. Gunasekara. "How it works is they come up with a basket of consumer goods that [approximate] how much a poor person would consume. This takes into account only the bare necessities a person would need to survive."
Official poverty statistics been contested several times. According to research done by Monash University's School of Business, there are many discrepancies with the data provided by the World Bank. Not only is it impossible for a non-World Bank researcher to cross check the accuracy of these figures, but the organisation has also been dogged with accusations of data manipulation.
It is clear that data alone provides only a fractional understanding of the challenges of a street sweeper's life, especially in the urban context.
Sunara* works as a street cleaner in Colombo 05, and earns Rs 24,000 per month, which amounts to Rs. 750 daily. Being well over 50, her job takes an immense physical toll on her.
On average, street cleaners accumulate up to 70-150 kg of trash per day, which gets deposited into trucks at the end of the day. Workers are also in constant contact with toxic chemicals and fumes, against which they receive no protection.
"We don't really get gloves, or anything like that. When I began working, the only thing they provided me was a shirt," said Sunara. "I sometimes have trouble breathing, and this problem is much worse now since I am older."
At 10 AM, Sunara takes a break and walks into a nearby kade to buy tea. This is the first thing she consumes for the day, after four hours of work.  Considering the amount of hard labour that goes into her vocation, she needs a lot more nourishment than the average person.
But the fact is that with inflation constantly on the rise, her daily wage is becoming more and more difficult to subsist on.
Many sweepers such as Sunara sacrifice food in order to have money for other expenses, such as transport, clothes and expenses for their children. Sweepers who live in rented homes find budgeting much more difficult, and often find themselves in debt.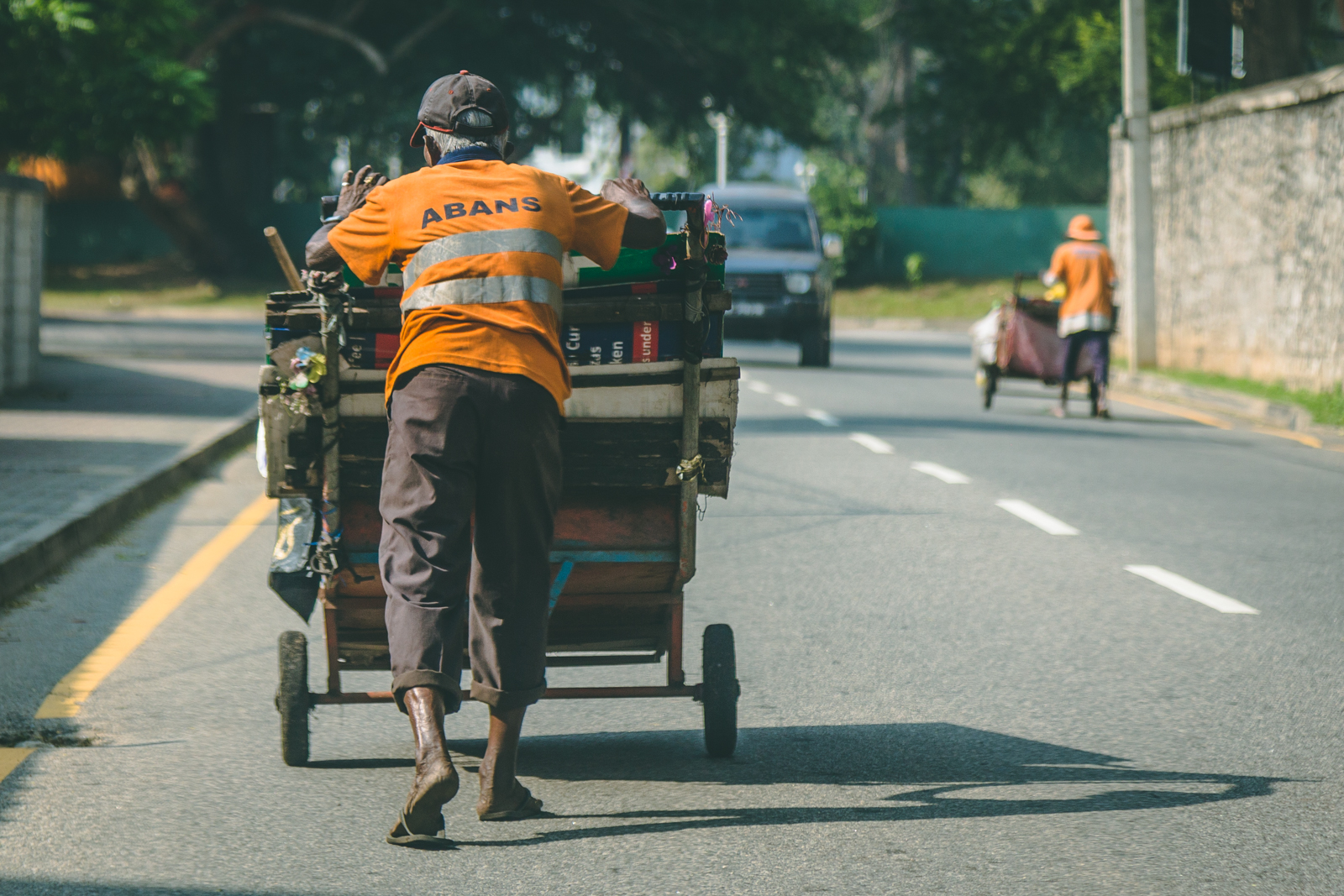 "When you look at the situations these people are in, look at what they can afford to consume and their level of nutrition, it really isn't enough. They don't even receive any medical services. It is very clear they are in a situation of urban poverty," said Gunasekara. "But then, because of these international statistics, they are not even counted as poor, and become invisible to the state. As a result, they are not on any of the government lists to get houses or compensation of any sort, and end up living on the streets."
Despite their gruelling labour,  street sweepers in Colombo experience homelessness and malnutrition, and are trapped into a never-ending—and self-perpetuating—cycle of servitude. All these factors work against their upward mobility. According to Gunasekara, this reality serves to dispel the notion that success and wealth can be earned through hard work alone.
"They exist in society as residual humans. That is how we treat them, so why not just call it such," said Gunasekara. "In order to change this, we need to seriously challenge our social norms around poverty and how it is classified."
Editor's note: An earlier version of this article did not include all of the current statistical analysis of poverty presented by the World Bank. It has been amended to include the multiple definitions presented.
The article has also been amended to include a more accurate quote by Dr Vagisha Gunasekara.