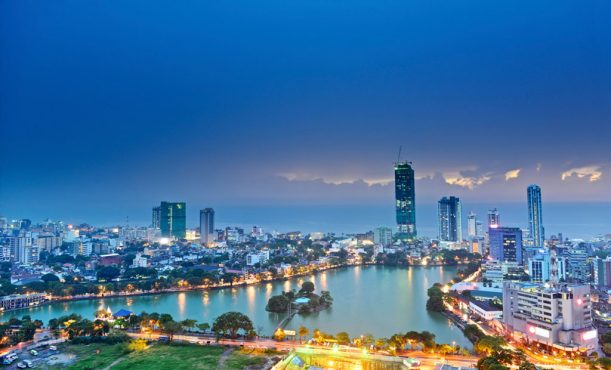 Last year we wrote about Colombo's rapidly evolving skyline – this article caters to the new developments that have come up since then.
The traffic may be horrendous at times, and the heat unbearable, but no one can deny that Colombo and its outskirts are slowly but surely morphing into a bigger, more modern metropolis. Just ask Mark Mobius, the famed Emerging Markets investment guru, who had this to say:
"We were encouraged to see lively conversations and commerce taking place in Negombo — and even the congestion — which to us is a sign of growth and opportunity taking place in the country at large."

–Dr. Mark Mobius in his blog, Investment Adventures in Emerging Markets (December 2015)
Good ol' Mark has been investing in EMs for more than 40 years. As part of his job, he's visited pretty much every city, in every emerging market. Those words are from someone who has seen it all. If that does not constitute what is basically a seal of approval, we don't know what would.
So we know we can expect some pretty significant developments, bound to change Colombo's skyline in the near future ‒ but what exactly will constitute these changes? Here are some newcomers that you could keep an eye out for:  
Shangri-La Colombo
When Shangri-La decided to invest in Sri Lanka, it drew much attention for both good and bad reasons. It was one of the first major investments to enter the country following the conclusion of the war in 2009, and was greeted with much fanfare. However, it also had its fair share of minor hiccups along the way.
Fast forward to 2016, and everything is running like clockwork. Construction is well underway, both for a luxury hotel, and another block which will house luxury apartments, premium office space, and a high-end shopping mall. The entire development is branded as an "Integrated Lifestyle Destination" and goes by the name "One Galle Face". There's not much information about when construction will end, but we can expect things to be up and running by the latter half of 2017 or mid 2018.
Mövenpick Colombo
Visitors to the Gulf would definitely recognise the name, since Mövenpick is a giant in the region. Movenpick hotels are also famous for their legendary Swiss ice cream, so if you have a serious sweet tooth, you're going to love this place. Located in the heart of Colpetty, the property is expected to open later this year. As is the norm in the luxury hospitality game, Mövenpick will serve as operator, while teaming up with a local partner ‒ in this case, the Softlogic Group, which will be the owner.
Colombo City Centre
CCC is a tie up between the Abans Group, and SilverNeedle Hospitality, a Singapore-based hotel operator. Located right opposite the Gangaramaya Temple, this project will have a shopping mall, a residential unit, and also a NEXT-branded hotel aimed at catering to business travellers. From what we know, the project is expected to be completed this year.
AVIC Astoria
Astoria is a very high profile project and as such, has some big names in the global real estate game attached to it. Let's start with the developer, the Aviation Industry Corporation of China (AVIC). AVIC is a giant Chinese state-owned conglomerate with interests in quite a few industries, ranging from Aviation to Real Estate. In terms of size, it is a Fortune 500 company, and occupies the 159th slot on the list. The project is marketed by Jones Lang LaSalle, perhaps the world's best known real estate advisory firm. Going by these two factors alone, it is quite reasonable to assume that AVIC will set the bar for luxury urban living in Colombo. Located down Duplication Road, the project is expected to be completed next year.
Krrish Square
Few local projects have attracted more controversy than Krrish, a set of four multipurpose skyscrapers. With allegations of corruption, and rumours of outstanding payments making occasional forays into newsprint, one would be forgiven for thinking that the project was doomed. However, since the parent firm has somehow managed to sort things out, the $650 million project is all set to tower over Echelon Square. Krrish is expected to take around five years to complete.
Sheraton Colombo
Sheraton is the flagship brand of Starwood Hotels, one of the world's largest hotel operators (now a part of the Marriott Group, it is now THE largest hotel operator in the world). Located in Colpetty, this 306-room hotel is nearing completion, and is expected to open in December this year.
The Destiny
The Destiny is actually not one, but two projects. The development will house two towers: The Destiny Mall & Residency, and The Destiny 2. Both blocks are expected to house luxury apartments, and shopping malls. Located in Slave Island, the first block is expected to be completed in 2017, while the second will be completed in 2018.
Judging by the pace at which these high-rises are being built, one thing is for sure: five years from now, Colombo will start to come of age. It will go from being something slightly more than a large town, to being a true metropolis. Ultimately, the old city will be replaced with a newer, much shinier version; one that could redefine what it's like to live on a little island, somewhere in the Indian Ocean.
Cover image: makemytrip.com