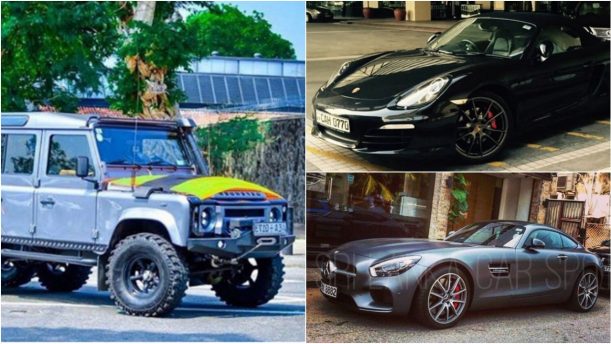 Driving on Sri Lankan roads can be a nightmare, especially during the morning rush hour, the after-school rush hour, and the evening rush hour. Also, yes, we have three rush hours, because this is Sri Lanka.
Speeding buses, annoying tuk tuks, and road-rage-inducing bikes aside, it is occasionally also possible to spot an outrageously good looking car on the streets. And usually, for that brief moment, all your annoyances are replaced by a feeling of awe. But how many good looking cars do we have in this country?
Enter Sri Lanka Car Spotters, a community of gear heads/Instagram aficionados dedicated to documenting all sorts of nice cars roaming the streets of Sri Lanka through… well… Instagram photos.
Though only a couple of years old, the account has managed to garner a dedicated, and passionate bunch of followers. At the time this story was published, the page boasted 15.6k followers, which is pretty impressive.
Here are some of the cars featured on the page.
Defender 6×6
The Defender may be out of production now, but it is one tough vehicle that is also just plain cool. We're not quite sure whether this 6×6 is the Kahn Auto Flying Huntsman, or a separate, custom build, given the distance and the angle the photo has been taken from. However, we can totally imagine Mr. Hinx driving one of these.
BMW i8
If the future was a car, it would be an i8. Also, if Bruce Wayne existed in the present, this would be his daily driver. The i8 represents BMW's vision for the future (which also happens to be a smart, multi billion dollar gamble), and is probably the most futuristic-looking car on the road today. The best thing about the i8 is the fact that it takes technology belonging in cars like the LaFerrari, or the McLaren P1, and puts it in the hands of consumers at about one tenth of the price. Plus, it looks way crazier than any of those cars, in a good way. Arrive at an event in one of these, and the car is going to steal the show, period.
Mercedes-Benz AMG GT/ GT S
The GT S, and it's milder younger brother, the GT, were conceived to steal buyers from Porsche's legendary 911. The typical customer for this type of car is a retired baby boomer, with enough money ‒ and time ‒ on his hands to have fun. A significant segment of these buyers are speed fiends, who can be spotted having fun at the local race track. Thus, in order to steal those customers from Porsche, Mercedes had to create a vehicle that could not only rival the 911's performance, but also its all-round amazing driving experience. What they actually ended up creating was a sexy, elegant, and indecently fast beast of a car. If you've driven one of these cars, you'll know that they were designed to take the fight to Porsche, which they do.

Pro tip: If you someday end up owning nice cars like these, don't ever, ever, try to show off on a regular old Lankan road. You'll only be putting everyone's lives in danger, including yours. Instead, take the car down to a race track, where you'll be able to have the time of your life, away from all those other pesky drivers. And it won't cost you much either. *wink wink*
Maserati GranTurismo
It's not everyday that you get to see an exotic, hand finished, Italian sportscar with timeless styling that demands to be seen. Introduced in 2007, this particular iteration of the GranTurismo has ended production,  but a newer, better version is due to be unveiled in 2018. The new version will share the architecture of Maserati's two prize horses, the Ghibli, and the Quattroporte.
Rolls Royce Ghost
Rolls Royce is synonymous with luxury, and the brand itself is an icon in its own right. After all, you don't get to make the 'best cars in the world' by being average. The Ghost is a smaller, and more measured alternative to RR's flagship Phantom. Riding around in one of these is like staying at the Ritz-Carlton in New York; you'll feel very, very special.
Cadillac Escalade
A perennial favourite of rappers and reality TV stars, the Escalade is much more than a car. It is, in fact, very much a part of popular culture. The 'lade is one really big, powerful machine Straight Outta Detroit. Say what you may about General Motors, they somehow showed the world what a really, really big SUV should look like. Having said all that, it is quite surprising to see an Escalade in a country like Sri Lanka, with its narrow by-lanes. The sheer size of the vehicle is why it remains popular in the US, where gas is cheap, while the roads are straight and wide.
Porsche 981 Boxster
The Boxster is the cheapest Porsche you could get your hands on. However, don't let that fool you. The Boxster has always been the best in its class, and it is widely considered to be far ahead of any accepted rivals. If you're in the market for one (assuming you're rich enough to own one), you shouldn't even bother looking at the other options, because this car is just one brilliant all rounder. It's comfortable, handles well, has enough room, and is just… brilliant.
Ferrari F355 Spider
Introduced in the mid-90s, the F355 is considered by to be the last 'pretty' Ferrari to come out of the stables at Maranello. It is also one of the best, and most desirable cars in the world. That shouldn't be a surprise, since this car was designed by Pininfarina, the legendary automotive design house. Driving an F355 is like biting into a soft, delicious, Italian pizza baked in a traditional wood-fired oven ‒ every inch of it is just perfect, and satisfying. Given the brand value of the Prancing Horse, this might perhaps be the most valuable 20 year old car in the entire country.

And finally, do head over to the Sri Lanka Car Spotters Instagram page, where you'll be able to check out all these cars, and more!