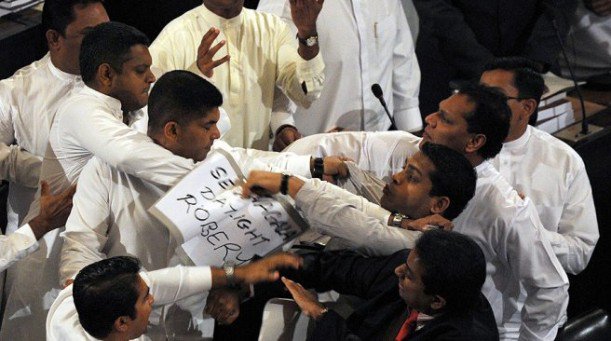 The Parliament of Sri Lanka – where leaders of our nation gather together to debate on national issues, make and pass laws, and rule the country in general. Over two hundred members, whose election into power (for the most part) we hold ourselves responsible for.
We cannot, however, always claim that these upholders of national values (?) mirror our own ideals. Or, for that matter, behave themselves in a manner that befits a state's policy makers. Many a time, critics have questioned the educational qualifications of our parliamentarians – but we needn't go that far, really. Higher levels of education don't necessarily have an impact on people's behaviour; in fact, decency and basic etiquette are things taught to children even before they begin schooling. Sadly, the members of Sri Lanka's Parliament have, time and again, made us doubt their ability to do the best for our nation. And we're not talking about high level decision making – we're referring to their ability to conduct themselves, if not anything else, by basic kindergarten values: be nice, be polite, listen when others are speaking, don't interrupt, and avoid unruly behaviour, to name a few.
Here's a list of times when Parliament really, really let us down on this front.
That Time MPs Protested By Sleeping in Parliament Overnight
It isn't unusual to hear of toddlers throwing tantrums or going on strike to get what they want. But in Sri Lanka, it also isn't unusual to hear of (adult) MPs protesting to voice their displeasure, either.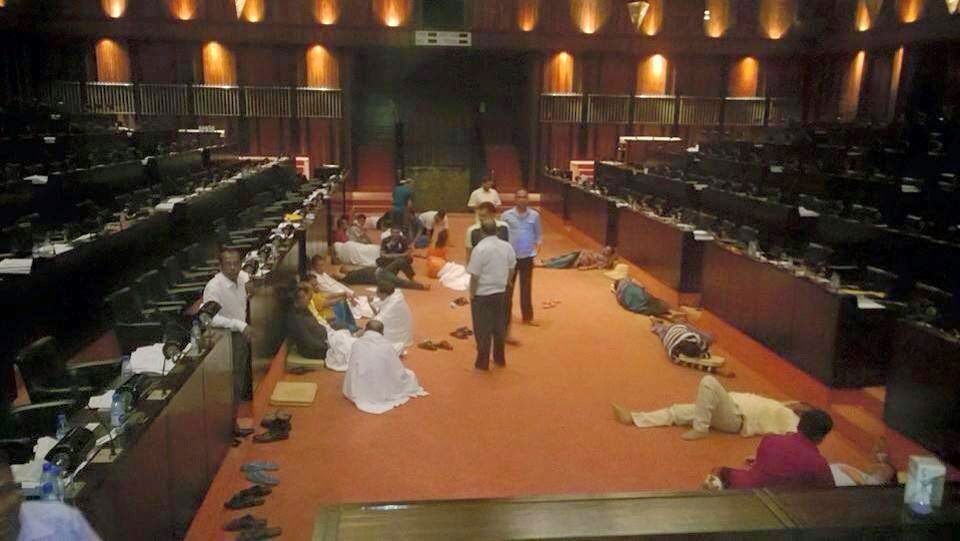 The nature of one recent protest took things to a whole new level: furious at the Bribery Commission for daring to call in former President Mahinda Rajapaksa, UPFA MPs, including Namal Rajapaksa, staged an overnight sit-in protest at the House, in April last year. Photographs of the protest showed MPs sitting or sleeping on the floor of the Parliament.
The Time(s) The Mace Went Missing
When Sri Lankan MPs aren't in the mood to carry out full blown protests, they have been known to sink to more immature levels to disrupt parliamentary proceedings. A stellar example would be all the times an MP has tried to remove – sometimes successfully – the ceremonial Mace.
The Mace is a symbol of authority in Parliament, and is carried in by the Sergeant-at-Arms, who precedes the Speaker into the House before every sitting.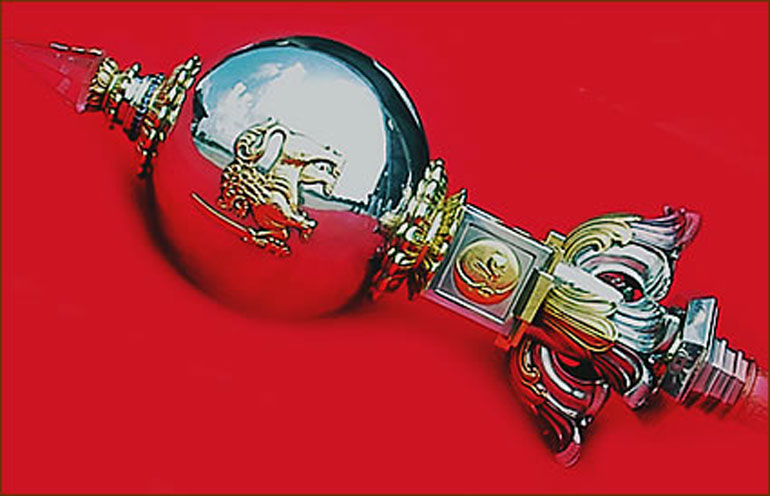 Most notably, the Mace was removed during a scuffle in 2004, which turned quite violent, when ruling party MPs objected to the swearing in of a JHU MP. During the ensuing pandemonium, Power and Energy Deputy Minister, Mahindananda Aluthgamage, was reported to have made away with the Mace. It was also reported that government MPs had "threatened to smash the Mace". It took four hours for the chaos to die down, and officials were finally able to retrieve the Mace and return it to its rightful place.
The Sunday Leader carried out an extensive coverage of the day's proceedings in Parliament, and you can find all the dirty details here. (It was a rather eventful day, so scroll down if you want to read about the Mace in particular.)
In a more recent incident, Parliament sittings were suspended in October last year, when UPFA MP Dinesh Gunawardena attempted to run away with the Mace, during a debate on the UNHRC resolution on Sri Lanka.
That Time When A Minister's Sexist Comments Made Sri Lanka Briefly Famous
An article published by The Guardian on June 14, 2013, titled The Top 10 Most Sexist Moments in Politics features our very own miracle of Asia (or our politicians, at least). And let's face it, being anywhere on a list that also features the controversial antics of Italy's Silvio Berlusconi cannot be a good thing.
The incident that placed us on this list features former Transport Minister, Kumara Welgama's comments directed at MP Rosy Senanayake, in December 2012. When Senanayake had posed a question to the Minister, Welgama had responded with "I am so happy to answer a question by a beauty queen like Rosy Senanayake. You are such a charming woman. I have no words to describe my feelings." And if this wasn't inappropriate enough, the Minister was also reported to have said, "I cannot explain my feelings here. But if you meet me outside Parliament, I will describe them."
Although Senanayake is a former Mrs. World, she has since become a popular politician and advocator of women's rights. She said that she considered the Minister's comments an "insult" and is also reported to have said, "I'm still being recognised as a beauty queen, but I've been a high commissioner and in politics for such a long time. As a woman you are not recognised as a person who has done so many portfolios, but always referred to as the beauty you were in your heyday."
Minister Welgama meanwhile responded with "I never insult women. It is a fact known to everybody." The incident was covered by the local media, too, although in all honesty, the Daily Mirror report was rather cringe-worthy in itself.
All Those Times The MPs (Physically) Fought It Out
Yelling out verbal abuse, interrupting other MPs' speeches, and causing disruption in general, aren't unusual behaviour within the Sri Lankan Parliament, so nobody really bats an eyelid when such incidents occur. We should, however, be concerned when MPs start getting physical – pushing, shoving, and dealing blows at each other. Here's video footage that proves this actually happens:
Yes, it really does get this violent.
Few incidents however, beat the uproar Parliament was in, back in 2011. We are, of course, referring to:
That Time All Hell Broke Loose In Parliament During The Budget Speech
On November 21, 2011, the then President Mahinda Rajapaksa rose to deliver the budget speech in Parliament – only to be interrupted again and again, as MPs proved once more that they lacked knowledge of basic decency in human behaviour.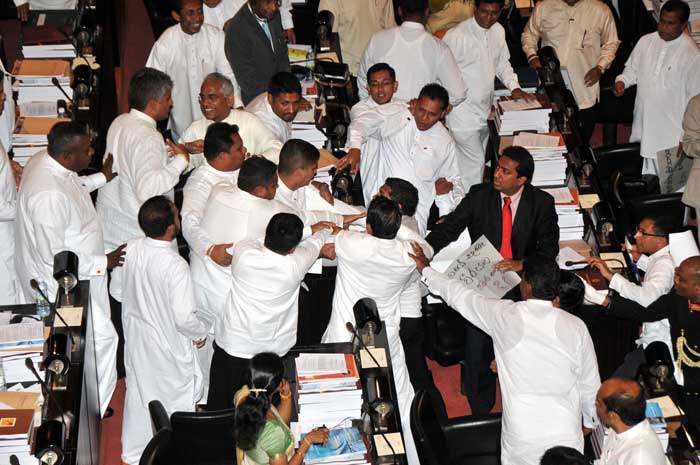 What resulted, as D.B.S Jeyaraj described in this article, was "a shameful spectacle" of punches being thrown, sarees being tugged at, and water bottles being flung, amidst the yelling of threats, yelling of abuse, and yelling in general.
Those of you who pay closer attention to what goes on in Parliament (and have a better memory than the rest) can probably call to mind many more incidents when we Sri Lankans were left cringing in horror or gasping in shock at the behaviour of our MPs while in Parliament (what they get up to while outside of Parliament is a whole other story altogether). Feel free to share your memories of any such incidents in the comments below – and with that, we leave it for our readers to decide: who behaves better, MPs, or pre-schoolers?