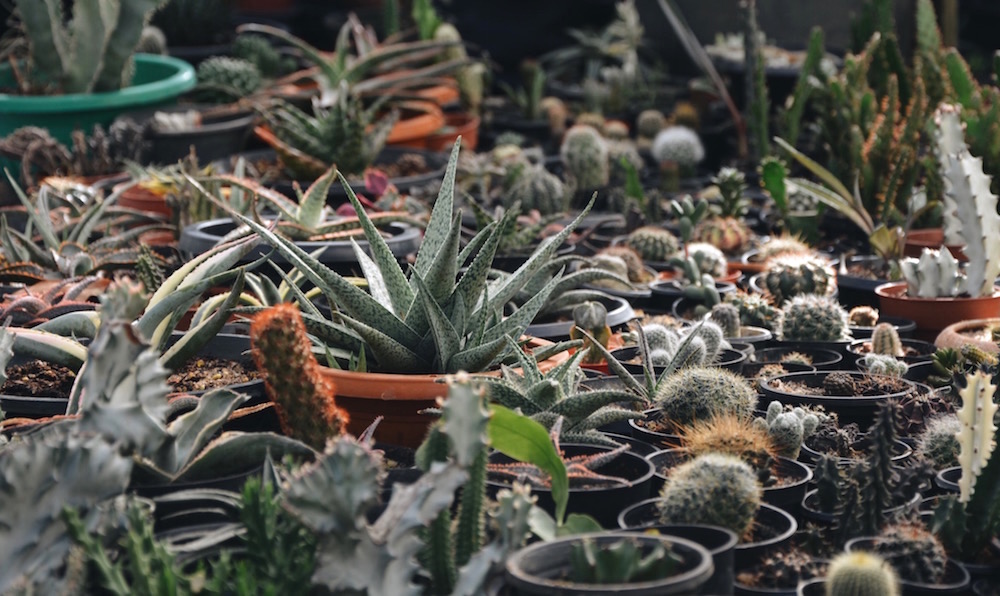 Sri Lanka is by no means a desert country, but there is still an intriguing niche market for plants we usually expect in much drier regions. These plants are, of course, the ones we warn our children not to play with ‒ cacti.
Unknown to many, and away from the bustle of the city, is a cactus nursery run by a man who cares deeply for these prickly wonders. What began as a hobby over seven decades ago is now a comfortable business for Nimal Ramachandra, now in his early 80s.
After having discovered him selling cacti and succulents at the Flower Show in Diyatha Uyana, Battaramulla, Roar decided to visit the unassuming yet pretty little nook its owner has dubbed the "Sirilak Nursery" in Katunayake.
The Caretaker And His Cacti
"Rearing cacti, succulents, orchids, and Tillandsia (air plants) was always a hobby of mine long before I made a business out of it," Ramachandra said fondly. "I started showing interest in nurturing cacti when I was a schoolboy of maybe ten years old. It was only very recently, that is, 15 to 20 years ago, that I made a business out of it."
His vigor for cultivating these plants, which range in size from being able to fit in the palm of one's hand, to those that tower over your head, began after studying under a master tutor from Jaffna. It also helped that his background included a skilled agriculturist for a father.
"My father was a plant enthusiast and he encouraged us to help in his garden. That was when I realised I too had a green thumb and, naturally, his enthusiasm was instilled in me."
Ramachandra reminisced the days when his father would let him accompany him when visiting other plant enthusiasts, including Dhanapala Weerasekara ‒ a former MP, who was the only entrepreneur who imported plants from Singapore, Bangkok, and Hawaii at the time.
"They would both teach me how to take care of the plants, what to do and what not do," he recalled.
The Sirilak Nursery's Exciting Collection
From Peyote to Echinocactus to Gymnocalycium, the 'Cactus Uncle', as he is fondly known, nurtures cacti of all kinds of shapes and sizes.
Several of his special cacti did hold our attention longer than the others. For instance, if you're the type of person who likes things that look cute and disney-like, Opuntia Microdasys a.k.a. The Bunny Ears is the cactus for you.
However, if you want beautiful but deadly, you should definitely go for the Acanthocalycium, which has a gorgeous flower that comes in various shades including white or yellow.
In addition to them, the Pincushion Cactus, Beaver-tail Cactus, and the Gymnocalycium are all ideal cacti to decorate your home or office.
A Hobby And A Business
How many of us can claim that we make a living doing what we love? Well, Ramachandra can certainly lay claim to that statement. As the owner and caretaker of over 700 species of cacti and over 3,000 types of other plants, Ramachandra effectively created a source of income out of his hobby.
His collection of cacti is indeed magnificent, as we witnessed first hand, and some of the larger ones, he says, are nearly 25 years old!
The Man Behind The Cacti
A background in greenery notwithstanding, Ramachandra, whom even we now fondly call Cactus Uncle, was not always selling cacti at Diyatha Uyana. He started out as ‒ believe it or not ‒ a pilot, going on to become an accomplished aviator in the following years.
"To start with, I was a pilot,"he said, relaying his journey up the ranks. "Then I became an Air Traffic Controller, and I was at the top of Air Traffic Control in this country," he reminisced happily.
It seems a little hard to grasp that this charming old man who spends his time among thorny little plants and earns a living doing what he loves once served as the manager of Air Traffic Services, and later as the Chief of Air Traffic Control, back when Sri Lankan Airlines used to be Air Ceylon.
"Later, I became the Superintendent of Civilians in Training at Kandawala, in charge of all the Civil Aviation trades and served as the principal for some time, as well," he said with a smile, adding that in addition to cacti-rearing he often serves as a visiting lecturer for aviation matters at various institutions. "I also conduct lectures for pilots, air traffic controllers, and dispatchers. I have been in aviation for nearly 45 years. It was after I retired that I made my hobby into a business," he explained.
Rearing Cacti – The Do's And Dont's
After seeing the cacti which were over two decades old, it didn't take long for us to wonder just how long it takes a cactus to grow that big, and just how much care it takes for it to come into bloom with those beautiful flowers, which (in our opinion, at least) puts the everyday rose to shame.
According to Cactus Uncle, rearing cacti is pretty easy, mainly because the plant likes to be left alone.
"Cacti are some of the easiest plants to grow," he said, adding, "the key is to not do anything the plant dislikes, like watering it frequently."
Excess water can be the cause of destruction for most cacti and succulents; they are desert plants for a reason, after all!
Cacti Myths
Asians are known to have myths pertaining to just about anything and everything, and, as it turns out, even cacti have not escaped this predicament. Many Sri Lankans, especially from rural areas, believe that cacti bring ill faith because they are (literally) thorny by nature.
Ramachandra only barely managed to hold in his scoff of disdain when asked about such myths.
"Yes, there are several myths surrounding the cacti. But as a person who has handled these beautiful plants for nearly a century, let me just say this is all complete and utter nonsense. I have had thorny cacti in front of my house for over three decades, and at the age of 80 I am still alive and in good health. I am living proof for dispelling all these myths. I deeply abhor the fact that some animals and plants are deeply disgraced and undermined," he said.
Cacti are sturdy plants that are self-sufficient by nature. According to Ramachandra, some even believe they are also useful in absorbing harmful rays emitted from computers.
"These days there is a very good appeal and a demand for cacti. Some foreigners, especially Europeans, buy cacti and leave them near their computers or televisions because they believe it is very good at absorbing harmful radiation," he said.
One Last Note
As we left the nursery, we couldn't help but think that this garden of thorns ironically made for an idyllic location.
Blanketed by Negombo weather, almost out of the way of daily life, and gently supported by an elder's practical love, the Sirilak Nursery may not be featured on many tourist stops, but it nonetheless offered something of the peacefulness and wonder that defines Sri Lanka.
If you have any questions on cacti, succulents, or air plants, or would like to pick up one for yourself, Nimal Ramachandra is available on Friday to Sunday every other week at the Diyatha Uyana.
Featured image credit: Roar.lk/Minaali Haputantri