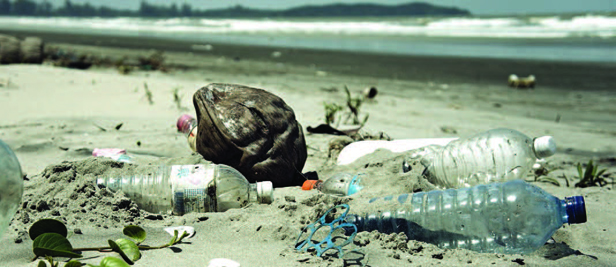 Nearly a month has passed since the Central Environment Authority (CEA) announced a ban on plastics coming info effect on September 1, 2017. Since the announcement, there has been no subsequent news, leaving consumers and retailers at a loss as to what happens next.
Undoubtedly, this is a bold and progressive new piece of legislation. But, as Roar previously cautioned, a blanket ban without proper guidance and supportive measures could have counterproductive repercussions. That said, with Sri Lanka participating in independent movements such as Zero Waste Week, and a burgeoning eco start-up culture, the country could be on the path to progress.
The Mess We're In
Sri Lanka's label as the fifth worst marine polluter in the world may have been discredited, but the population's insatiable appetite for plastic remains unmistakable. The problem with plastic is that it is non-biodegradable. That means, every single piece of plastic that has ever been created since plastic's mass-explosion in the 1950's is still in existence today, probably in the ocean. This has dire consequences for sea life that ingests plastics' toxic chemicals or simply chokes on the detritus. This has grave consequences for human life, too. Plastic toxicity damages coral reefs, Sri Lanka's natural defence against disasters such as tsunamis. Plastics kill fish, destabilising one of the country's most crucial industries, while also poisoning the food chain. On land, plastics block drains and contribute to devastating flooding and water pooling—the breeding ground for dengue mosquitoes.
The Government's Reaction
Until July's announcement, the CEA's response to this critical issue in the past year has been prosaic. A ban on the sale of carbonated drinks in plastic bottles under one litre came into effect and has somehow been largely unobserved by manufacturers. A prohibition of plastic bottles on fishing vessels at sea is a pragmatic step forward, but arguably difficult to police. The garbage-segregation initiative introduced last November has been poorly executed and has contributed to the recent "Garbage Apocalypse"—the garbage collection fiasco that clogged Colombo's streets.
Many countries have implemented strategies to curtail plastic usage, that have proven successful. Consumers across the world, from Denmark to Rwanda, pay the equivalent of Rs. 10 for plastic bags in supermarkets and other large retailers. When the tax was introduced to the UK in 2015, it was met with public outrage, but it quickly became the accepted norm, and plastic bag usage has dramatically reduced.
In bypassing this popular method, it remains suggestible that an outright ban—without better supportive measures—will suffer the same fate as Sri Lanka's attempted plastic ban of January 2016.
Business As Usual
In light of the proposed changes, Roar caught up with some of Sri Lanka's biggest retailers to find out what changes the new ban will bring and what provisions they have in place to ensure they comply with the legislation.
Sri Lanka's largest online e-commerce retailer, Takas, is unfazed. The Director, Murtaza Moosajee, explained:
"The new Plastics ban doesn't have much bearing on our business as the plastics used in our delivery service (bubble wrap etc.) is not affected by the ban of plastics under 20mg. However, we are presently exploring options of charging a nominal fee and giving customers the choice of more eco-friendly packaging. This should be available soon on our checkout process."
The nationwide supermarkets of Cargill's Food City and Keells Super were waiting for more information from the CEA before committing to any radical changes. Both supermarkets pointed to their already in existence reusable bag scheme.
For example, as pointed out by a spokesperson for Keells Super, the Red Bag (which is a reusable bag and comes in two sizes) can be purchased from their stores and reused. Customers can also Bring Your Own Bag (BYOB). All customers reusing a Keells Super Red Bag or BYOB receive a monetary discount of Rs. 4 for every bag reused.
In each case, these retailers were concerned about the ambiguity of the proposed legislation. The companies say they cannot pledge wholesale changes because it is unclear what the ban actually entails, what alternatives are available, and what are the consequences for noncompliance. With the ban now less than one month away, and without new information from the CEA, the ban risks falling apart before it has even taken shape.
Who Is Making A Difference?
Anyone can see that Sri Lanka's foodie culture—as vibrant and delicious as it is—is plagued with unnecessary plastics. People are literally force-fed straws with coconuts and laden with a dazzling array of un-reusable plastic bags for takeaways. Good Market, a community of nearly 400 nationwide vendors that aims to do "good for the planet and good for the people", has been spearheading a campaign to guide the catering industry away from this over-reliance on plastics.
Good Market vendors have to meet strict standards to sell food and drink. For example, they have to offer dishes that can be collected and washed (made of glass, stainless steel, ceramics, bamboo etc.) or are fully compostable (organic by-products such as banana leaves or coconut shells). These standards could become a dynamic blueprint for caterers nationwide if the new plastic legislation is to be upheld.
Clearly, the plastics ban should be big business for eco-manufacturers such as Ananta, (an new eco-arm of MSH Packaging). They provide a whole raft of eco-alternatives for caterers: such as areca (plant-based) take-out food packaging, plates and trays. Roar asked Ananta CEO, Savera Weerasinghe, for her perspective:
"As a packager committed to providing sustainable options, the government's imposed ban on plastics is invigorating, but we should remember the failed ban of January 2016… The high price of alternatives and the scarcity of options is what perpetuates the problem and keeps us returning to plastic… Concerns remain as to whether the government is willing to help eco-packaging companies bridge the price gap. Most retailers are not willing to bear the higher cost of environmentally sustainable alternatives, but if producing sustainable packaging was to cost the same as plastic, then we might be looking at a long-term solution."
Campaigning to end the use of single-use plastic straws has been gathering pace in the USA, whilst Matara-based, eco start-up, The Camel's Back, is also trying to make a difference in Sri Lanka. They have been changing drinking habits by replacing polluting plastic straws with their reusable stainless steel straws. Founder Dylan Prins told Roar his story:
"I realised I regularly used straws for my smoothies at home so I started making steel straws for myself. Friends encouraged me to sell them and now I'm supplying restaurants and hotels all over the country. But I would love to see more of a take up from ordinary people… People should try saying "straw epaa" next time they're buying a drink on the street and save one more little bit of needless plastic flying in the wind to float in the sea".
Get Involved
Implicit in Prins' comment is the need for individuals to make more environmentally-sound decisions. To develop this idea, Roar caught up with environmental expert and leader of volunteer non-profit ECO-V, Kanchana Weerakoon. ECO-V is a 1,000-strong island-wide network of volunteers that hosts awareness days and workshops in workplaces and public spaces, and provides information across the eco-mix: from global conversations such as climate change to more personal, practical matters like urban home-gardening. Weerakoon explained:
"It's all about Conscious Consumerism. Anyone can make one small lifestyle change and create a more sustainable habit. For example, stop buying water in plastic bottles and buy a reusable water bottle instead. Take this everywhere you go and refill it at taps—it's that easy. Then, once you've bought this simple step into your life, look to change another habit. A great way to start is with an initiative such as Zero Waste Week."
Zero Waste Week is a grassroots campaign raising awareness about the environmental impact of waste, starting September 4, 2017. The campaign is conducted almost exclusively online via their website, e-newsletters, and social media. It began in 2008 with 100 UK participants. The year after, people from America, Canada and across Europe joined in, and it is has been growing worldwide since.
The platform's potency lies in how social participants are. Their social feeds buzz with success stories, ideas for alternatives, and people talking about how much of a difference it has made to their lives. By registering, a member is provided with inspirational information on how to refuse single-use plastic and reuse, recycle, and repurpose material for a longer life. For the first time, Sri Lanka is participating in Zero Waste Week, allowing individuals to freely sign up. The information on their website is unique to the needs of people in Sri Lanka and plastic usage here.
The founder, Rachelle Strauss, spoke to Roar about the initiative and its continued growth:
"In 2016, Zero Waste Week had 20 million impressions on Twitter [amount of views], the hashtag trended non-stop for nine hours and it reached 16 countries worldwide. For 2017, I'm thrilled to welcome Sri Lanka for the first time. The key with Zero Waste Week is to remember it's a starting point. It shouldn't really just be for one week, but ideally would become a lifestyle choice."
The online world's vitality at spreading eco-messages and building communities in novel and diverse ways cannot be overemphasised. Initiatives such as Zero Waste Week bypass the need for populations to wait for governments to pass new laws by putting the power into the hands of individuals.
Progression in the face of lethargic legislation is Reforest Sri Lanka's mission. The eco-volunteer organisation is currently looking for support on an ambitious, new project to bring the gamification zeitgeist to Sri Lanka. Gamification is the application of online game concepts—points, badges, and rewards—to real-world tasks to inspire motivation or create competitive drive. Eco-gamification, when the game has a sustainability incentive, has kicked-off globally, pioneered by Recyclebank in the US, where it has 4 million registrations. Recyclebank allows users to log their recycling efforts on an app and points are awarded which can be redeemed for cash discounts at responsible retailers. Dependent on quality sponsorship and committed volunteers, a comparable product will be available here in the near future.
More Progress, Please
The government's blanket ban certainly caught the headlines back in July. But what it ultimately entails remains unclear, and this is inhibiting any real change from the big retailers. A decent model for compliance can be found at Good Market, but for their vendors to lead the way, new financial regulations will need to benefit eco-manufacturers, so they can increase production and make their prices comparably lower. Evidently, the plastic ban needs more careful imposition from the government.
Regardless of this mismanagement, Sri Lanka's eco-mindset is changing, and this can be best realised through individual choices. The population is linked into the global conversation about the environment through social media. For the first time, people in Sri Lanka can actively participate in popular programmes such as Zero Waste Week. Becoming a conscientious consumer is easier than ever; the secret is to spread the word.
Featured image courtesy raeng.org.uk