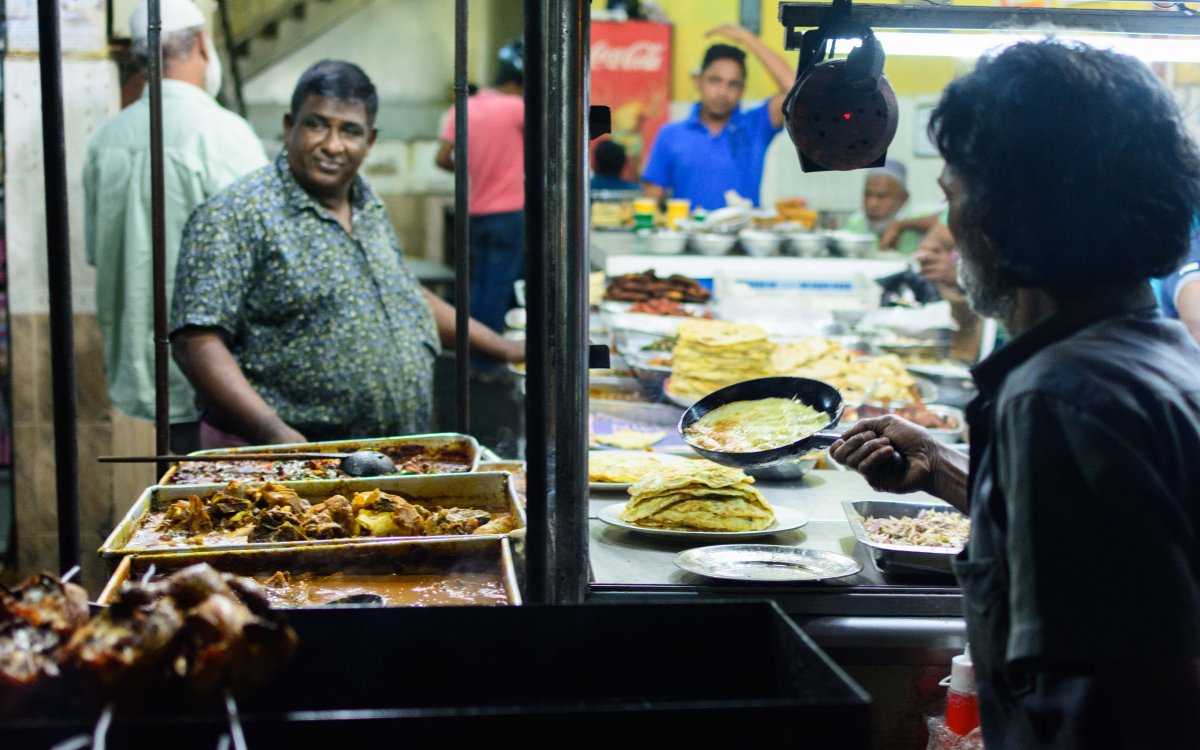 From the famed Nana kade outlets at the Galle Face Green to Burger's King (now unflatteringly re-christened to Fazly's) in Slave Island, experiencing Colombo's street food is a popular pastime for those who dare to do so.
There are revered institutions where one knows precisely where to go for what: Pilawoos for creamy dishes of kottu, Nana's for minced meat and naan, paired with isso wadey and ice-cream off a truck for dessert. Moving further inland, you get Slave Island and Hulftsdorp for short-eats, meats, barbeques, biryanis, and well, pretty much everything else.
This particular street lined with food in Hulftsdorp is slightly hard to find—the roads are a maze, and look alike for the uninitiated. However, an easily identifiable landmark is the Aluth Kade police station, almost right at the top of Abdul Hameed Street, the street lined with the eateries in question.
Possibly Overwhelming First Impressions
One of the first things you notice is the chaos: pedestrians and vehicles weave across the street and dodge each other without batting an eyelid. The area is constantly in motion: carts with fruit lumbering along, men tossing over-sweet tea between jugs and glass tumblers to build froth. In between all this, you get children, cats, dogs, and glimpses of rodents running underfoot.
It is a very busy street, often getting busier deeper into the night. It is also quite overwhelming for a first visit.
The culinary options are seemingly endless. In addition to the array previously mentioned, one of the shops specialises in nothing but soups—huge vats of beef soup at that, swimming with marrow and bone.
Another deals in imported food from the Middle East, from regular candy to more unusual items like basil seed drink in different fruity flavours. The prices are affordable, and not marked up like other stores one would find in the higher end of Colombo.
Rasik Kadey Askar Hotel Dudley Maama Samayal
Almost right opposite the police station, the Rasik Kadey Askar Hotel Dudley Maama Samayal has a name as long as that of the average Sri Lankan.
The restaurant has been up and running since 1956, and boasts of 24 hour service with specialised menus for breakfast, lunch, and dinner.
A family business, it was first owned by a Mr. Razik, then a Razik Asghar, and is now under by M. Naleem, a rotund and casually authoritative man. He tells us that he's the head chef, has been running the business for the last 42 years, and has never taken a day off in his life.
While the restaurant's seniority makes it a household name in the area, it's also become a popular experience for tourists from Colombo's fancier hotels. Naleem whips out his phone and scrolls through his photo gallery showing us all the tourists he's had over the last few days alone. He informs us that hotels and 'tuk-tuk tours' include a visit to the eatery as part of the Colombo experience. To top it all off, he says that he's rarely called Naleem, and that the whole neighbourhood knows him as Dudley maama (uncle) instead.
The Rasik Kadey Askar Hotel Dudley Maama Samayal (which translates to The Rasik Shop Askar Hotel Dudley Uncle Eatery) is not just the oldest outlet in the area, it also offers the widest array of dishes, some of them most unexpected.
Behind its glass-walled exterior are dozens upon dozens of silver trays, all of them bubbling with meats in gravy. Some of the dishes include goat brain curry, cuttlefish egg curry, tripe, fish heads, and chicken innards, in addition to regular items like tandoori chicken, beef curry, prawns and lentils. Alongside are a variety of flatbreads—variations of khubbus, regular paratas, rottis, naans and more. The skewers roasting whole chicken outside rotate slowly throughout the night.
Despite the plethora of meat, Dudley maama says they also have something to offer for vegetarians. This is, however, limited to kankun, chickpeas, raita, and lentils.
A Shot Of Sugar
Should you visit the area, take your time exploring your options and space your food out. Everything here is heavy and packed with flavour, including the short-eats of peppery curry-rottis, and pani-pol filled patties. You can ask for almond milk or baadam paal as it's colloquially known, or more familiar drinks like iced Milos, or bottled Cokes and sodas. All the shops offer tea and plaintea, while a several others specialise in the Milos and almond milk. Prices are quite cheap, with short-eats being around Rs. 20 or Rs. 30, and half a grilled chicken approximately Rs. 270.
Most of the stores don't have menus or prices listed up. Even the Rasik Kadey gives you a hastily-scribbled piece of paper with your total instead. That said, it is still quite affordable—five adults could order a variety of meats, rottis, and even rice, and still keep it under Rs. 2000.
Given that washing food down with a drink is the norm, dessert is where Hulftsdorp falls short. What some of the restaurants do provide are small, plastic tubs of watalappam. Others have faluda.
However, the best way to wash everything down is with their teas—extremely strong, sweet, and quintessentially Sri Lankan.
Editor's Note: We previously (and erroneously) mentioned that 'an easily identifiable landmark is the Slave Island police station'. This should have been the 'Aluth Kade police station' instead. We apologise for the error, and have updated the article with the correction.
Cover Image by Thiva Arunagirinathan.