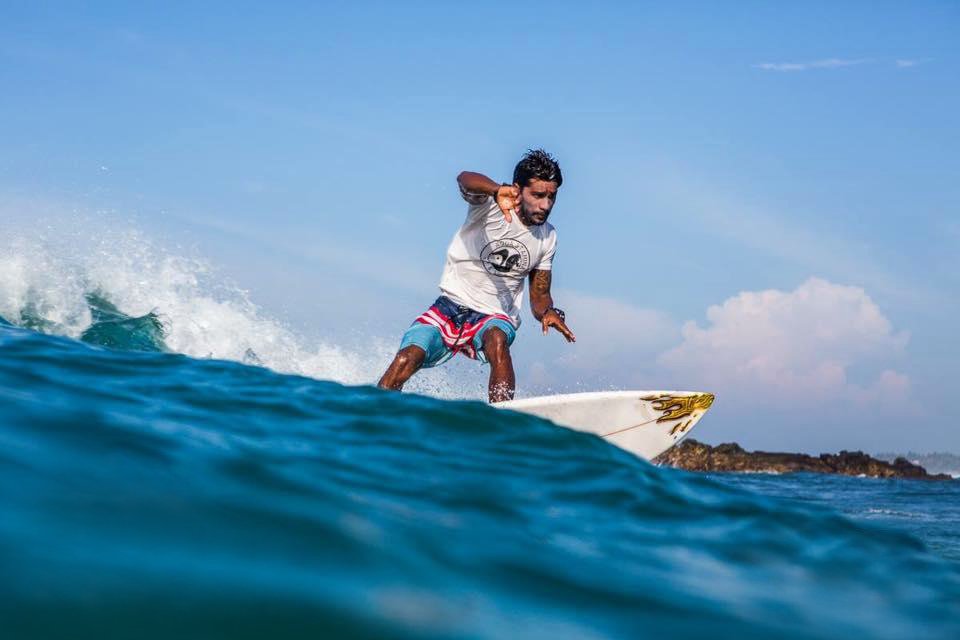 Over the past few decades, surfing has caught the hearts of adventurous Sri Lankans across the island. Surfing hotspots along the coast from Mirissa all the way to Arugam Bay provide surfers of every level with plenty of perfect locations to try out their skills. Surfing is steadily growing in popularity among Sri Lankans and has become more than just a sport for many local surfers who have built their lives around it.  This is the story of one such surfer, whose life changed when he experienced the thrill of surfing the cyan-tinged waves of Midigama for the first time. 
Thirty-year-old Sampath is a self-taught surfer. The first time Sampath knew he truly had a knack for surfing was during a local surfing competition at his home break, where he was placed third. After a long road filled with competitions, both local and international, Sampath now rides every wave confidently, but the journey to get here wasn't easy.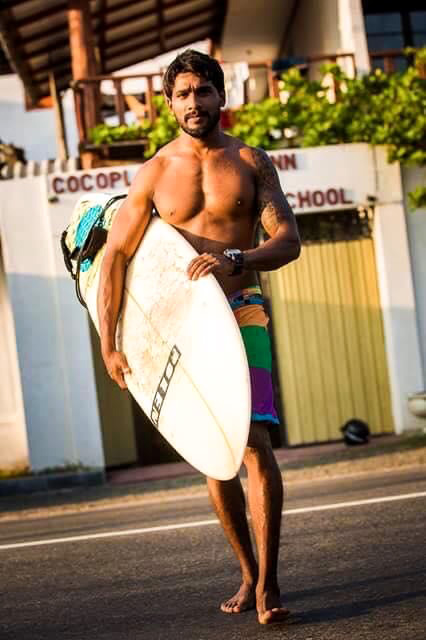 His story began when he was 13 years old, a teenager's curiosity that soon turned into a lifelong passion. Inspired by foreign tourists who used to surf at his hometown in Midigama​—a place known for its waves, Sampath, along with two of his closest friends, decided to try it out.  Although they were interested, they had no one to mentor them in the various techniques or safety measures necessary, which lead the boys to pick it up on their own.  
Unable to satisfy their curiosity by merely watching others surf, Sampath and his friends found a broken board, picked a break in Midigama, and experienced the thrill of surfing for the very first time. After that day it was a long-drawn game of finding broken boards left behind by tourists and learning from their own mistakes until they perfected the art of surfing.  
For about one-and-a-half years Sampath and his friends resorted to surfing on a broken surfboard but soon luck turned to their side when a Japanese surfer who saw their talent and enthusiasm gifted them with his own board so they could practice better. The boys shared this new board between them for over two years, before they were gifted more boards by tourists who saw their talent. Once they all had their own boards they were all able to perfect their own style of surfing even better and with the growing tourism industry many more surfers started coming to the Southern shores of Sri Lanka, making surfing popular in the small town of Midigama.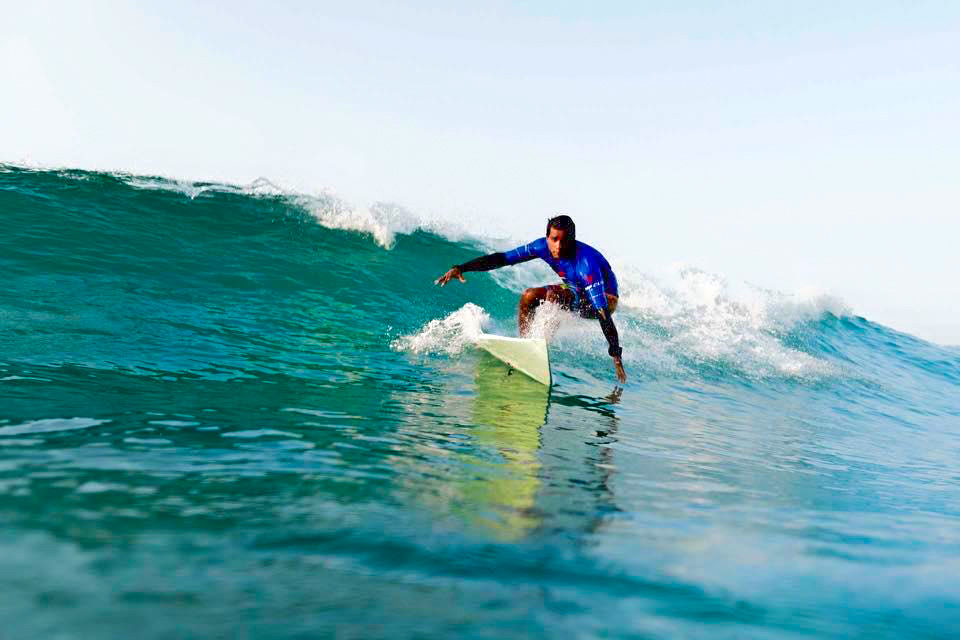 Sampath and his friends taught enthusiastic local youngsters what they had learned themselves and gradually built a local surfing community in Midigama. Even Sampath's parents, who at first were opposed to the idea of him surfing, slowly warmed up to the idea. As he got more involved in surfing, teaching, and developing a culture around his beloved sport, his parents began to see it positively, both as a lifestyle as well as a livelihood that Sampath is passionate about.  
Reminiscing about his past Sampath recalled the very first time he surfed and the fear that naturally came with it. The first time he was truly terrified, the depth of the sea and the strength of the current took over his body and mind, but he persisted, wanting to satisfy his curiosity about surfing. 
Today, his whole lifestyle revolves around surfing and he spends at least two hours a day catching waves with his friends around Sri Lanka. Surfing is a sport that requires a lot of energy as they have to paddle out in the ocean for long periods of time, fight the current, and navigate the waves while maintaining perfect balance. In order to keep up the stamina required for surfing, Sampath maintains a steady fitness routine with simple cardio exercises and thoroughly stretches his muscles before he gets into the water and after he is done.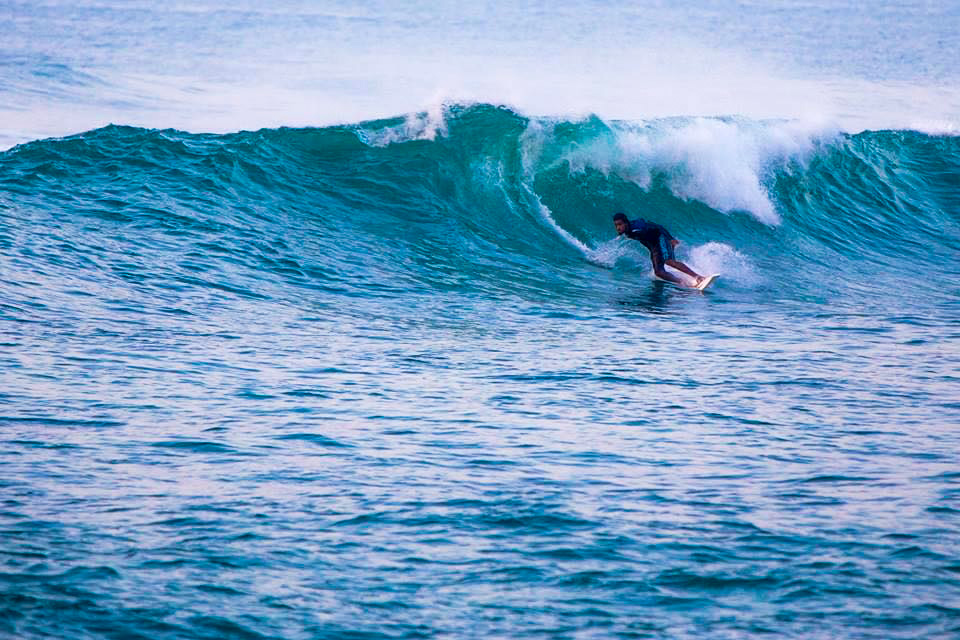 Sampath states that experience makes the biggest difference and practice shapes a surfer's habits in and out of the water. He recommends his three favourite surf breaks in Sri Lanka – Midigama, Hikkaduwa, and Arugam Bay as the prime locations to catch a perfect wave for every enthusiastic surfer. 
For Sampath, there's nothing that compares to the thrill of surfing, and his words reflect that. 
"If a person experiences surfing and the incredible feeling of it just one time, that person will want to go back to the water every day. We keep surfing because the feeling of surfing is incomparable, and I don't think it can be achieved with another sport. It's a unique kind of freedom. You have to try it to feel it​—​it simply can't be put into words."