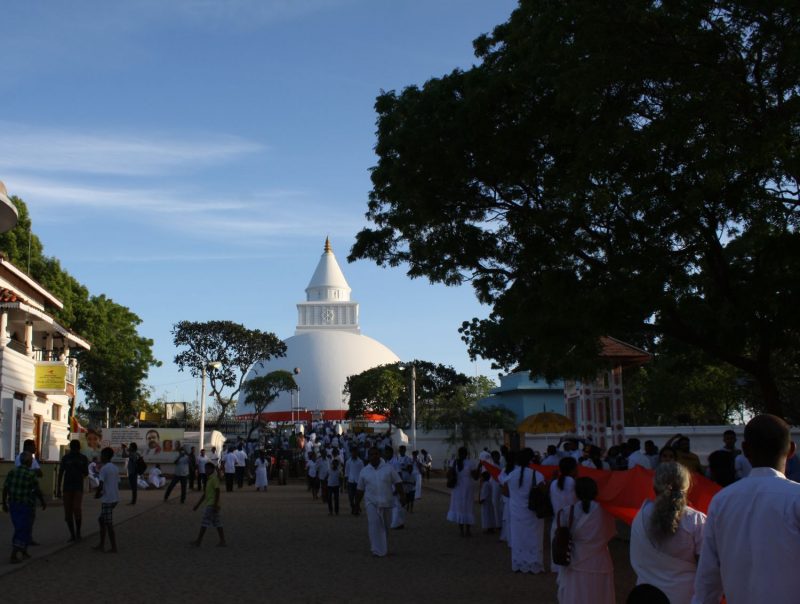 By now, I have brushed past the forests in south-eastern Sri Lanka a couple of times. Unlike fellow foreign travellers, my trips there weren't carried out with the hope of spotting a leopard at the Yala national park. Both times, I have chased a far more revered figure, one that many Sri Lankans know as the 'warrior god'. The more I got to know of him, the more I was intrigued by this divine figure who, legend has it, migrated from the Himalayas to the Pearl Island and called it his home.
The first time I heard of him was through a friend in Kotte, who, over dinner one night, mentioned a shrine close to the forests of Yala, where both Hindus and Buddhists pray together.
I was also told that the Kataragama deviyo was known to bless new vehicles, so it was a tradition among many residents of Colombo to make the first trip in their brand new vehicles to this site. His shrine is flanked by forests, and appeals to both Sinhalese Buddhists and Tamil Hindus.
"Must be a special god", I told myself.
The feeling of awe eroded a fair bit, however, after having had to brave an eight-hour bus ride from Pettah all the way south to Kataragama.
As a town, Kataragama was nothing very special. It reminded me of the many South Indian temple towns that I had come across during my travels around the country. But this town, abode of the Sri Lankan warrior god, was adept at deception. I settled in a nondescript lodge, and a couple of hours later, decided to walk towards the Kataragama complex. Slowly, as the light faded, it dawned upon me that this truly was an incredible place.
Shrines, big and small, were scattered over the multiple acres of this devotional complex. Even with onset of darkness, the place buzzed with devotional fervour. That was the first time I encountered Skanda, the handsome six-faced god seated on a peacock. As a Hindu of South Indian origin, I was expecting a huge and beautiful statue and a magnificent kovil. But all I saw was an image of Skanda painted on a cloth used to partition the inner sanctum from the rest of the maha-devale as the temple is called. This place by no means was grand; on the contrary, Skanda's maha-devale is quite humble and smaller than most shrines on the sub-continent.
But there are some places where time moves at a different pace, and that evening I realised Kataragama was one such place. Things slowed down, life seemed simpler, and it took me some effort to remember that I was still in 21st century Sri Lanka. Buddhist devotees were dressed in white and had brought along offerings of fruits like plantains and melons. It was probably a sight that would not have changed much since the 15th century, which is when the first written record of Kataragama appeared. But most academics agree that the place was of devotional interest much before scholars or travellers made mention of it.
So Who Is Skanda?
Skanda or Kanta Kumara or Murukan ‒ the name you use to refer to the Kataragama deviyo may depend on which faith you belong to. Author and scholar Maureen Seneviratne states in her article, The Cult of Kataragama, that:
The cult of Kataragama is that of the war-god of the Hindu pantheon. At first he dwelt with the other gods and his terrible father, Siva the Destroyer, third and awesome lord of the great Hindu Triumvirate, on the mount Kailasa. To his devotees the god of Kataragama is known by many names and many powers are attributed to him. Kandasamy they call him, or Kanda Kumara, Skanda or Subramanyo, the second son of the high, majestic Siva; Muruga: the god of youth and tenderness and beauty, especially in Ceylon, because all these things, and love of a maiden, brought him to the island—so legend has it, thousands of years ago. But Muruga is a name only spoken in fulsome awe; it is never written for it is too holy a word for that. Kartikeya is another of his names denoting his origin: "the one coming from the Plieades"; Gangeya: "born from the Ganges", sacred river of the Hindus in India; Sanmugam: "the one with six faces".
But beyond the onomastics, Skanda's story is pretty gripping. Maureen's article further goes on to state that this son of Hindu god Siva and goddess Parvati lived on Mount Kailasa with his family. It was Narada, son of Lord Brahma and the wanderer of three worlds, who was responsible for Skanda's long trip to Sri Lanka. Narada enticed Skanda towards a girl named Valli whom he had spotted in the South Eastern forests of Sri Lanka.
Many adventures later, Skanda reached the island and professed his love for Valli, who then became his wife.
But every mythical story has its twist, and this one is no different.
Skanda, apparently, already had a wife back home, and it was none other than Thevani-Amma, daughter of Lord Indra. She decided to trace her wavering husband and to bring him back with her. But despite her attempts, she could not manage to convince Skanda to let go of Valli-Amman. Finally, Thevani-Amman decided to compromise and the three of them went on to live happily ever after in Kataragama.
That is why you see Skanda flanked by two ladies, and there is a shrine dedicated to each one of them close to the maha-devale.
But Why Is The Kataragama Deviyo Revered By Buddhists?
This is where the cult of Kataragama showcases its intriguing and inclusive syncretism. So Skanda-Murukan, son of Lord Siva, is, in Kataragama, also a deified form of King Mahasena. An article which appeared in the July 1992 issue of Bhakti sheds more light on this marvellous religious overlap.
It is believed that Lord Buddha visited Kataragama on one of his three visits to the island. It was at the time ruled by a popular and just king called Mahasena. This king could also have been Karthikeya, a warrior-god who was born to slay a super demon. The article also goes on to suggest that this is how Kataragama got its name ‒ from Karthikeya-grama, which means 'village of Karthikeya'.
The Kataragama deviyo could thus also be a deified form of this great king who is said to be the protector of Buddhism on the island. After receiving Lord Buddha's wise words, the king had vowed to protect and promote Buddhism on the island.
That could be the reason why the bo-tree stands right behind the maha-devale.
And It's Not Just The Hindus And Buddhists…
…because even the Veddas, one of the indigenous communities of the country, worship this warrior god. Vedda legend and mythology has close associations with the Kataragama deviyo, as Professor S. Pathmanathan explains in his paper, first published in 1999, which you can read here.
Let's go back to the handsome, young god who came to the island to profess his love for a beautiful girl called Valli-amman who later went on became his wife.
This young girl was none other than a Vedda princess, the daughter of a chieftain. It is said that Skanda was close to the community and fought forces of evil for them ‒ making him a hero for Veddas as well.
Kiri Vehera, Where Lord Buddha Met King Mahasena
Skanda's ‒ or the Kataragama deviyo's ‒ story may seem interesting enough to make one forget that Kataragama is also home to the majestic and grand Kiri Vehera.
It was during my second visit that I was able to fathom the appeal of this Dagoba which attracts people by the thousands during poya days. Devotees were deep in prayer as I made my way to the Kiri Vehera after crossing the maha-devale.
It is believed that this is where King Mahasena met Lord Buddha in Kataragama. After listening to the teachings of the Buddha, the king decided to build a temple right at the spot where it is situated to date.
But That's Not All
As it turns out, Kataragama isn't only home to Hindu, Buddhist, and native Vedda legends.
The Kataragama devotional complex also houses the mosque of al-Khidr. And many Muslims believe that water from one of the streams around the area could provide immortality. I looked for the stream, but unfortunately, traces of it have been lost with time.
Asiff Hussein, an anthropologist (and incidentally a contributor to Roar), talks about the Islamic legends and traditions of Kataragama in this blog. Most of the legends revolve around 'Khidr'  or 'The Green One', who is believed to have been one of the prophets or a saint.
Interestingly, the mosque's Kataragama Makam ceremony coincides with the Esala Perahera of the maha-devale.
Kataragama: A Model For Sri Lanka?
Though the Khidr mosque at Kataragama is not linked to Skanda's legend in any way, it would be safe to say that this complex still brings together followers of three of the main faiths on the island. And therein lies the uniqueness of Skanda, and of Kataragama as a place itself.
It is not a place narrowed by description; Kataragama is more than the river of gems or Manik Ganga that flows through it. It is larger than the legend of King Mahasena and his deification. Neither is it solely about Skanda-Murukan, and the lord's heroism. And yes, Lord Buddha may have come here, but its significance is greater than that, too.
Kataragama, beyond the faith and myths, may just be a great concept for Sri Lanka to keep in mind. A land where a Buddhist basnayake takes care of a shrine that belongs to a god of a Hindu pantheon. A land where Tamil Hindus from farthest parts of the island walk barefoot for two months in a bid to please the handsome god. A land that holds a place of pride in the hearts of Veddas and Sri Lankan Muslims too.
For a curious traveller like myself, Kataragama is a model for humanity. It is proof that although we may all have different faiths and beliefs, that should not stop us from co-existing and prospering.
All images courtesy writer